"Flexibility requires an open mind and a welcoming of new alternatives." ― Deborah Day

"You can choose between having an open mind and being a skeptic. There is no in-between." ― Brownell Landrum
Anyone keeping their eyes on the equity market realizes that stocks have risen dramatically with new found expectations of an improving economy. The election fooled many, not because of the outcome, because of what they believed would happen if the unbelievable occurred, a Trump victory.
The immediate attention turned to recession and market crashes. While none of us knows for sure exactly what will transpire in the next couple of years, I find it best to look at many different possibilities before I decide which one I will follow. While the initial thoughts were all negative, the market quickly started to see things a bit differently.

Regardless of what one thinks about this or that issue which face the equity market, what he or she must do is get the underlying trend correct. If an investor doesn't have that correct, they have little chance of success. So with that in mind, it is time to keep it simple. No need to start reading tea leaves and come up with all sorts of reasons why the trend has to end tomorrow or the next day.
There now exists the possibility of what many were saying was impossible, a market that grinds higher, commonly known as a market melt up. Of course we have the existing uptrend as a backdrop, but the melt up scenario took on more life when the S&P broke out of its 18 month trading range to make new highs.
A confirmation if you will, reinforcing the uptrend. There is little reason to sit here and rehash any of the new administration's policies, as none of us really know the answers to what will actually take place. Additional commentary on that subject are just opinions, and for the most part speculation.

I have discovered over many years of working at this that it really doesn't pay to attempt to call the change in trend, commonly known as being a top caller. Many try, and just about everyone fails miserably. History tells me that, and this particular bull market is the King of killing anyone that decided to be in the top calling clan. Wall street research firms, blogs and investment sites are littered with their bodies. If you have the underlying trend right you have the keys to the kingdom.
Looking around now I see no reason to give those keys up and change my philosophy. Successful investors don't get caught up in the influences that are all around them. Success usually come from considering various points of view, but ultimately shaping a strategy that is simple, yet thoughtful. Only after ALL of the data is digested.
The latest consensus is calling for investors to "sell the inauguration," due to concerns over policy complications and limitations. Maybe so, but I do start to wonder if that line of thought will come to pass. We all need to be reminded of the old adage, "When everybody thinks the same, nobody's thinking."
I debated whether the next paragraph would be a timely topic for this week, but then realized that it has been solid advice for a while now and worthy of conversation.

It is common to watch investors eyeing the market, and while they are optimistic about where things are headed longer term, they are looking for a good deal. Always waiting for better entry points and are therefore wishing for a pullback. Of course we all want to do that, as it makes sense to buy at levels we think offer good value. However, refusing to buy in as prices continue to rise can be a huge mistake. Especially when we have seen the sector rotation that has taken place.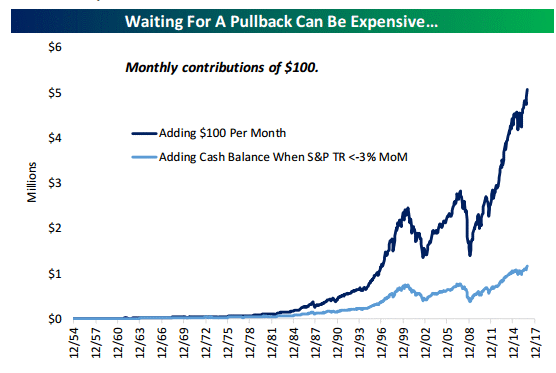 Source: Bespoke
The graphic above is a result of a study conducted by Bespoke Investment Group. If a saver contributed $100 to the S&P 500 (total return) each month, never making withdrawals or deferring contributions in the time period above, they would have an account worth a bit more than $5 million today. Young investors with time on their side, please take note.
The second investor (blue line) sets aside $100 each month, but they only put the accrued money to work in the S&P 500 when the index was down at least 3% Month over month. That investor does net a tidy amount of $1.1 million, but it's only about a quarter of the value of the account that buys a little bit each month no matter what the market is doing.
Bottom line, the exercise shows how we can get into trouble by believing we can always outguess the other market participant, and outsmart the market. Think about that the next time you utter the words, "I'll get in at lower prices."
That comment sure sounds good, but also remember when the pullback does come, it comes with a lot of negativity surrounding it. Market drawdowns don't occur when the sun is out and the sky is blue. You may have a loaded gun, but pulling that trigger becomes more difficult. I wonder how many stepped up and were buying when the S&P corrected down to 1800 in the midst of all of the bearish rhetoric.

Have a plan. You always have to have an idea about when you will buy or sell or do nothing in a number of different market scenarios. Having a plan in place, and sticking to it during January and February of 2016, turned out to be very useful. Take yourself and your emotions out of the equation as much as possible.
Above all else, know yourself. How you choose to invest should always come down to the type of person you are and what you can and cannot handle in the markets in terms of risk. Everything else will fall into place.

Economy
Gallup reports the highest reading in their consumer confidence index since the recession.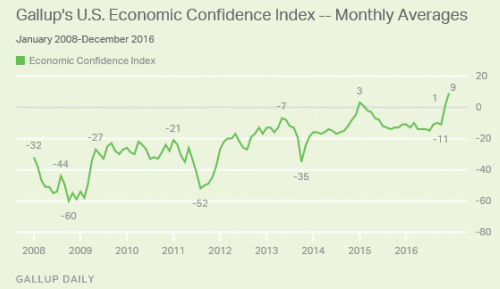 We can now add small business optimism to the list of sentiment surveys surging in the wake of the November election as this month's sentiment survey from the NFIB moved higher in December. According to the NFIB, its index of small business optimism surged to 105.8 from 98.4 in November and expectations of 99.1. The internals revealed the same issues are plaguing business owners, taxes and government red tape. Added to that list this month was the quality of labor that exists today.
U.S. Mortgage application data came in very strong to start the year, with the largest increase since last November.

Most analysts have commented that the December jobs report came in a tad lower than anticipated. The point that has to be gleaned from that report was the strong wage growth reported. Wage growth accelerated for all private workers, reaching 2.9%. Average Hourly Earnings increased at their highest annual rate since June 2009.
Strongest wage growth has come from Leisure and Hospitality, while Information, Finance, Professional and business services, and Nondurable Goods Manufacturing all saw wage growth in excess of 3% year over year. That's the highest level of the expansion and the steady acceleration of wage growth is highly consistent with a tightening of the labor market overall.
The latest Jolts report for November didn't show much in the way of change. Just about every sub category came in at about the same rate as the October report.
Retail Sales for December were reported in line with expectations increasing 0.6%. Real sales are +4.1% year over year (nominal) to new all time high. Retail ex-gas +4.0%. None of this suggests a recession is around the corner.

Global Economy
The World Bank sets its 2017 global growth forecast at 2.7%. Last year at this time the forecast was for growth of 2.9%.
The Japanese Leading Index for November improved to 102.7 from the prior month's 100.8. The highest level since October 2015.
India announced a surprising surge in Industrial Production. Expected to rise a modest 1.2% year over year, the actual release revealed 5.7%, the largest surprise versus expectations going back to July of 2010. This has been a volatile data point in the past but this increase is welcome news for their economy.

Eurozone Industrial Confidence along with Economic Confidence, and the Business Climate indicator all hit their strongest levels since 2011 and are accelerating. When we stop and think about the issues with Monte dei Paschi in Italy, political stress in France and Germany, the specter of a hard Brexit, and concerns over migration and terrorism, that is quite remarkable.
The Citi Eurozone Economic Surprise Index is currently stronger than that of the U.S.
U.K. Industrial Production increased 2% year over year in the latest report for November. That was the largest increase since July 2016.
Italy's industrial production also rebounded nicely in the latest report for November. In fact the entire Eurozone Industrial production results for November increased significantly, and is closing in on the January 2016 high.
These reports are good indicators of where other economic data is likely to go. It would be wise for investors to pay attention to this type of information and pay less attention to what the media is saying about the latest tweet.

Theresa May came out with some definitive statements on where the U.K. stands on the Brexit situation.

Earnings Observations
While valuations can move higher and stay high for long periods of time, that can only be done with the condition that earnings must resume growth in order to justify the current multiples.
Below is a look at the historical earnings and revenue "beat rate" (% of stocks that beat consensus estimates) for all stocks reporting each earnings season going back to 1998. As shown below, last earnings season saw a 62% beat rate on bottom line EPS estimates, while it saw only a 53% beat rate on top line revenues estimates. Over the last couple of years, earnings have beaten at a much higher rate than revenues, and the earnings beat rate reading has been in a very tight range.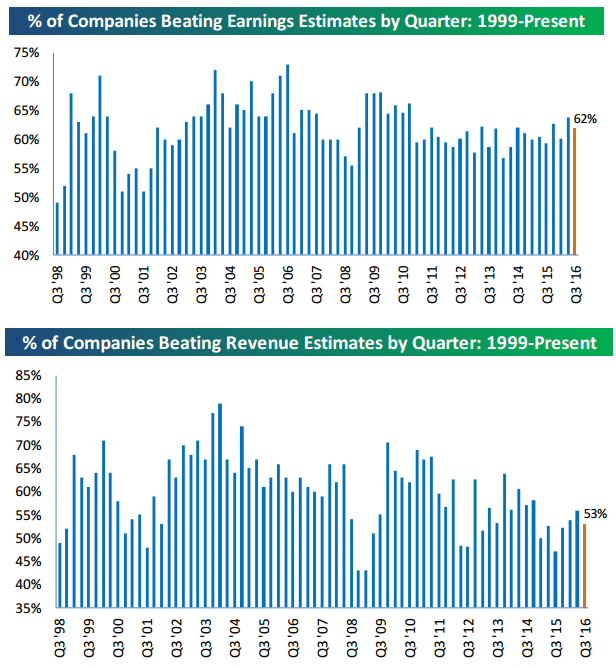 Source: Bespoke
Brian Gilmartin does his usual great job in keeping us all apprised of the earnings picture. His latest missive contains his take on the recent outlook from Thomson Reuters;
Forward 4 qtr. est: $132.73, up from $128.57 last week, and typical with the roll into the new quarter.

PE ratio: 17(x)

PEG ratio: 3.5(x)

S&P 500 earnings yield: 5.83% vs. last week's 5.74%

Year-over-year growth of forward estimate: +4.81%vs last week's 5.03%.
Realize that those forecasts do not include the ramifications of any of the growth proposals that have been mentioned. There are various models being analyzed, and the latest from Ned Davis research on the implications of just one of the issues, tax cuts.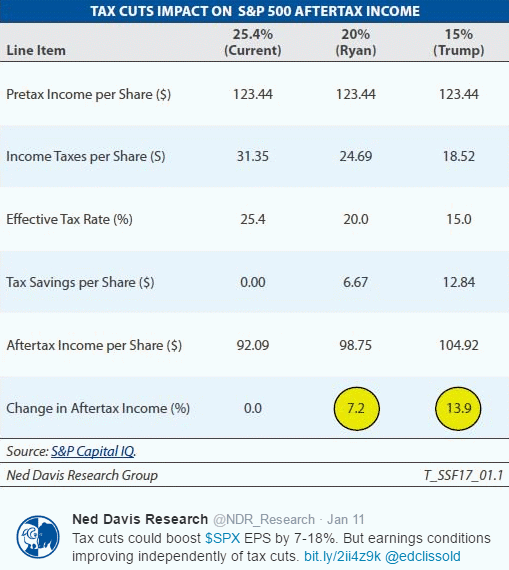 The wide range being displayed with the different proposals that are out there show how difficult it is to nail down this part of the equation.
Recapping my views on 2017. The fair value case that I put together applies a P/E multiple in the 18-19x area to my $128 - $130 earnings expectation. That arrives at a potential S&P 500 range of 2130-2450 over the next year or so.
The Bear case range is 1900-2250 on a P/E of 15 -18x, slower earnings of $124-125.
The most Bullish scenario of $130 - $132 in earnings and 18-20x P/E, with the idea that the path to actual policies shows progress and perhaps implementation. The S&P has the ability to trade up to the 2400- 2600 level down the road. The path of fiscal policies will remain a key variable affecting forward earnings and current valuations as 2017 progresses.
These views are nice to toss around in an attempt to devise a forward looking plan. However, instead of getting locked into any scenario and potentially ignoring changes that are taking place, it is my view to take any plan in much smaller time increments. That leaves me with the opportunity to assess, then reassess as things play out. Open minded and flexible.

The Political Scene
All I want for Christmas (oops that has passed) is a functioning congress.
The first round of cabinet confirmations took place this past week, I do expect knee jerk, up down reactions, as the media focuses on every word. Each pro or con being presented will be put under the microscope as congress does what it does best, grandstand and put forth their selfish personal agendas.
It's all noise.

Sentiment
After 18 months of equity fund outflows, the last two months have seen a turnaround.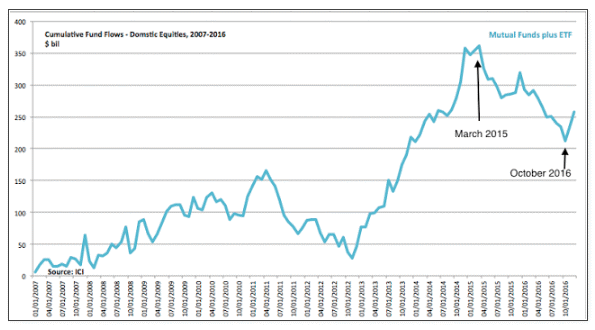 Source: ICI Research
Approximately $50B has made its way back into equities. One interesting fact that is apparent on the chart. Notice how investors shunned the market at the exact time the S&P broke out of its multi year trading range on its run to new highs. It confirms what I have been saying now for years. Most investors, analysts, and pundits are afraid of new highs.

According to this week's survey from AAII, bullish sentiment dropped by about two and a half points, falling from 46.20% down to 43.64%. The 2+ year streak continues at 106 weeks under 50% and counting.

Crude Oil
WTI continues to intrigue and to some degree frustrate investors. First, there was a break above resistance that had some bears wondering what the next move would be. Then a quick move back below the $52 breakout level has the bulls questioning their ideas and making the case for lower prices.
Rumors were swirling about how the OPEC cuts won't materialize. Concerns over crude production in Iraq, despite an OPEC agreement to curtail production, continued to weigh on global oil prices. It has to be assumed that these reports come from people that have access to the Barrel police. You know the group that sits there and checks, then double checks each barrel of oil that every country produces. Somehow I need to get a subscription to this information. (sarcasm intended).
The whipsaw wasn't finished and a bearish oil inventory report was shaken off and WTI crossed and closed a back above the $52 level. It confirms my thoughts from recent missives that the crude oil market takes on a life if its own. For myself, using technical analysis is one of the better ways to approach the situation.
Looking over the recent data on the improved industrial production recently reported, it would appear that demand will remain strong and a case can easily be made for improvement on that front.
WTI closed the week at $52.49 down $1.50 for the week, the close above the $52 breakout level is a positive for the bullish chart watchers.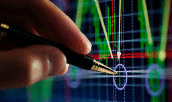 The Technical Picture
I posted this long term chart of the S&P back in December, stating
"If the index does indeed move above that area (red line) with some conviction, it would be a very bullish signal, indicating this move is not over."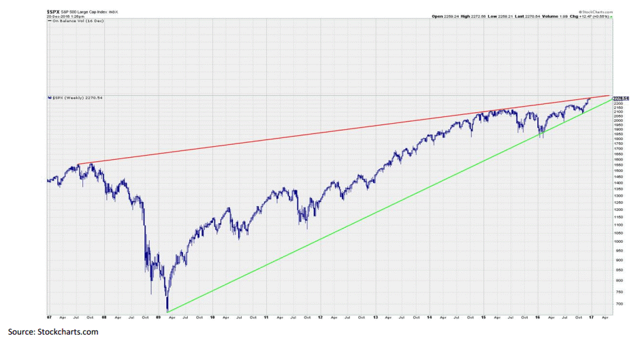 At that time the upper band sat right around 2270. I believed a move above with conviction would give us that signal. Well, the S&P did break above, but not with the gusto I think is needed to confirm my original thoughts. A move back into that channel looks more likely and we may test the green support line which coincidentally sits right around the last breakout at 2193.
So while we may not see more upside in the short run, it also appears we will have solid support about 3-4% from where the index closed this week.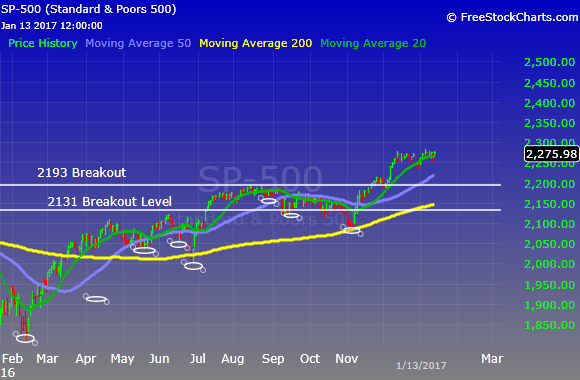 Source: FreeStockCharts.com
The Index dipped below the 20 day moving average during the day on Thursday, but rebounded to keep the streak of closes above that trend line intact. Short term support is set at the December low of 2233, followed by the 50 day moving average trend line at 2219. Resistance is set at 2286, and unless that can be cleared in short order we could see weakness emerge. The first sign would be a close below the rising 20 day MA.
The positives remain in place as we recently witnessed the S&P, DJIA, Nasdaq Composite and the Nasdaq 100 all make new all time highs. Furthermore, all moving averages from the 20 day to the 200 day are in synch and rising. The epitome of an equity market that is in a strong uptrend. The present narrative is that the equity market needs to consolidate the recent gains with a huge pullback. I will offer another alternative that suggests more sideways action. Take your pick.

Individual Stocks and Sectors
At the sector level, the areas of the market that did the best in 2016 have lagged so far in 2017, while areas that did the worst last year are outperforming so far.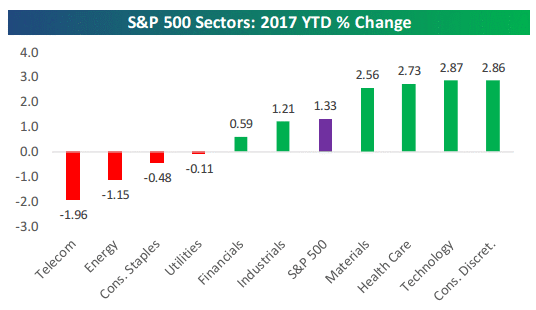 Source: Bespoke

Biotech was one of the very worst performing groups in U.S. markets in 2016, but it got off to a hot start this year, up 8%. It's called reversion to the mean and Healthcare despite the reaction to the Trump press conference is among the better performers so far in 2017. If you aren't aware, traders took the words of bidding for drug prices uttered by the President elect on Wednesday as being the death knell for the entire drug industry.
After the quick jump this year it was a reason to sell, and as we have seen before, the standard procedure is hit the sell button and ask questions later. The biotech space is now up 5.6% on the year. The individual companies I own or follow have been reporting news with positive pre-announcements and encouraging drug trials. At some point the fundamentals will matter.
It is not surprising how the perceived negatives being put forth by the new administration are being highlighted, yet the positives that are proposed by the same administration are overlooked. I guess it is being assumed that the drug companies will somehow be excluded from the corporate tax cuts and repatriating money from overseas accounts. In fact the entire industry would be huge beneficiaries. For those that can stand headline risk, and have a time horizon of more than 6 months, the sector is begging to be bought. We just may be on the cusp of some breakthroughs that will change our lives for the better.

The Technology sector was lost in the shuffle after the election, but now it seems many are looking at the strategy I have mentioned, owning growth in a pro growth environment. The tech laden Nasdaq made another new high this past week. Apple (NASDAQ:AAPL) recently closed at a two year high, while the FANG stocks that were tossed aside late last year, have outperformed in the first two weeks of trading. Facebook (NASDAQ:FB) up 11.3%, Amazon (NASDAQ:AMZN) up 9%, Netflix (NASDAQ:NFLX) up 8%, and Google (NASDAQ:GOOG) up 4.6% on the year.

Despite recent price action, oil remains in a well defined uptrend after breaking out to a new one year high recently. Admittedly, the commodity was at the top end of its trading range, and suffered some weakness this past week. Anyone looking to add exposure, might want to consider eyeing this drop back into the lower end of the uptrend band as a chance to add or initiate exposure. Marathon Oil (NYSE:MRO), with its great balance sheet, and Oasis Petroleum (NYSE:OAS) are two standouts as oil drifts higher.

Investors got their first taste of the earning season as the major banks started the season with positives reports from Bank Of America (NYSE:BAC), JPMorgan (NYSE:JPM) and PNC Financial (NYSE:PNC). Wells Fargo (NYSE:WFC) disappointed on both the top and bottom line as they work through the issues surrounding their recent scandal with new leadership now. The standout was JP Morgan as they are operating on all cylinders even before any of the proposed changes are enacted. Bottom line, the banking sector is now looking at growth. The stocks have run, but they are still under owned.

The media talk this week was centered around the Trump Rally being over. Financials and cyclicals stopped going up and were moving lower. Oh my, now I hear that this is just a sugar high that won't end well. Eerily reminiscent of the naysayers version of the Fed and their punch bowl. That's the skeptics view of the situation, and I do seem to recall how wrong they have been. Predictions from 2014, followed by commentary from 2015, have me wondering why I should listen now.

The rest of us saw something else happen. Money rotating into other areas that were left behind in the rally. As already noted, Healthcare and select Technology are rallying nicely. We saw a Nasdaq rally with the index closing out the week at new highs. Global data is still arriving with a decided slant to the positive. Confidence is screaming higher, and all of those things are important. We won't see a difference tomorrow, but down the road these issues matter.
This past week was the 8th birthday of this bull market, surely we need to add that to the list of reasons why this bull market can't continue. (Sarcasm intended).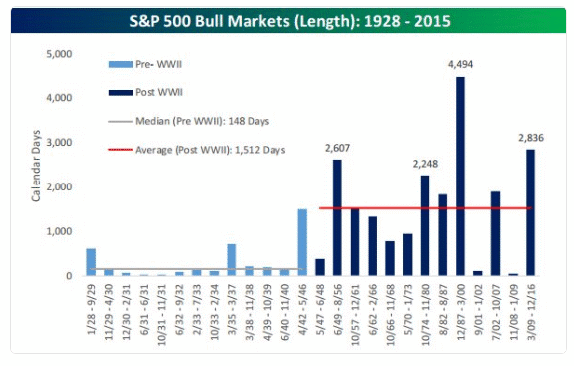 Source: Bespoke
The graphic shows that this secular bull market has now vaulted into second place as the longest bull market in history.
It is time to put aside all of the speculative talk about what the crowd in D.C. will or won't do. It's also worth noting that one political party or elected official does not, and cannot control the giant complex adaptive system that is the U.S. economy or the worldwide financial markets.
I have chosen for quite some time to cast aside the top calling, trend changing rhetoric, along with dispelling the ideas that the market can't move ahead because it is too old. Despite an expansion that turns 91 months old this month, interest rates and inflation are still very low. Those two facts alone tell me that this expansion is not coming to an end in the next few months. Anyone that wishes to dismiss that and hang their hat on the time and age factors to form a strategy will continue to be disappointed.
I do think that ultimately what will come out of D.C in the future will be important to the equity market, and I don't dismiss that fact. The media blitz surrounding the new administration has drowned out everything else. It seemingly has somehow afflicted investors brains with amnesia.

I am hoping the following comments will act like a drug to end this temporary amnesia that many are suffering from. The first upward break of the trading range that the S&P was mired in for 18 months, occurred BEFORE the election. The global economy was turning positive, BEFORE the election. Earnings started to turnaround, BEFORE the election. Liz Ann Sonders also believes there was plenty to cheer about before the election, as she notes in her view on the equity market for 2017.
Over time, some of the best gains an investor will harvest comes from stocks purchased while they were making a new high in a market which was also momentarily expecting the top. As I have already pointed out the absolute price of a stock is unimportant. It is the direction of the price movement that counts. Why? Because it is always probable, but never certain, that the direction of the price movement will continue.
Putting together a strategy that is necessary for a satisfactory, enriching investment performance, starts with the direction of the underlying trend.
Looking at the landscape now, while Wall Street is cautious on the year, it is difficult to argue that investors have not become overly bullish in the short term. The recent turnaround in fund flows, along with the optimism that is being shown, along with other factors (low VIX level) could be signaling an intermediate term top. Some now suggest that the drama for equity markets is likely to come sooner than many currently expect.
There is an old market saying, "Buy the rumor. Sell the fact." The recent increases in the stock market and in both consumer and business confidence reflect the "rumor" part of this old adage. Many are suggesting that once Trump takes office on January 20 the "fact" part of the equation will come into play as reality sets in.

Not even the staunchest of bulls is looking for an easy path to new highs. This will be the first of undoubtedly many bumps in the road to a faster rate of growth for the economy. But do not get discouraged when those bumps materialize. Economic activity is picking up, inflation will rise slightly, and rates will increase very slowly. That is the reality come January 20th. Nothing will have changed when that day rolls around. I plan to stay the course.
All of the sell the news commentary could indeed be the way this plays out, but my game plan continues to move ahead with the idea that any pullbacks will be held in check. Not many are paying attention to the alternative I mentioned earlier. Sideways action that brings about a trading range as a form of consolidation. That would indeed leave a lot of pundits scratching their heads, as they await their view of the election reality to hit us like a tsunami.
I put forth my ideas of how the S&P might perform this year, but it's time to take a deep breath and absorb all that has been thrown at us in a very short period of time. Simply said, let's all just take it easy. If you have remained bullish, you are in the pilot's seat.
Best of luck to all!
Disclosure: I am/we are long AAPL,AMZN,FB,BAC,JPM,OAS,MRO.
I wrote this article myself, and it expresses my own opinions. I am not receiving compensation for it (other than from Seeking Alpha). I have no business relationship with any company whose stock is mentioned in this article.
Additional disclosure: The opinions rendered here, are just that – opinions – and along with positions can change at any time. As always I encourage readers to use common sense when it comes to managing any ideas that I decide to share with the community. Nowhere is it implied that any stock should be bought and put away until you die. Periodic reviews are mandatory to adjust to changes in the macro backdrop that will take place over time.