The latest Baker Hughes North America Rotary Rig Count report is less surprising than it appears at first. The Permian basin is up again and is back at the level last seen in April 2015. Every other basin is down. The decline by 7 of the headline figure, the oil (NYSEARCA:DBO) rig count, is more than accounted for by the disappearance of 11 vertical rigs. A bizarre news came from Canada, where all of 110 rigs made an appearance. The analysis below will show that such a seemingly massive increase should not be taken at face value.
Blame the vertical rigs for this week's decline
The total rig count dropped because of a loss of 11 vertical rigs. This development is an unsurprising manifestation of ongoing replacement of vertical rigs by more productive horizontal rigs. In general, traditional vertical drilling is a legacy technology that in most onshore basins has been superseded by more efficient horizontal drilling. As this trend is fully expected to continue, it will not come as a surprise to any company. For instance, Schlumberger Limited (NYSE:SLB) and Halliburton Company (NYSE:HAL) are showing 0.6% and 1.2% declines, respectively, at 4 PM market close on January 13, both likely unrelated to the rig count report.
To understand the future trend in onshore oil (NYSEARCA:USO) production, it is probably best to set aside the vertical rigs and focus solely on horizontal ones. The recent picture is one of weekly increases during 9 most recent weeks. We can see a longer-term picture by looking back to the week ending June 3, 2016 that marked the start of a rarely-broken sequence of increasing horizontal rig counts. Since then, the average of 6.75 additional rigs appeared each week, while the greatest weekly loss of 3 rigs occurred only twice.
The following chart presents the history of the horizontal rig count since the start of 2014.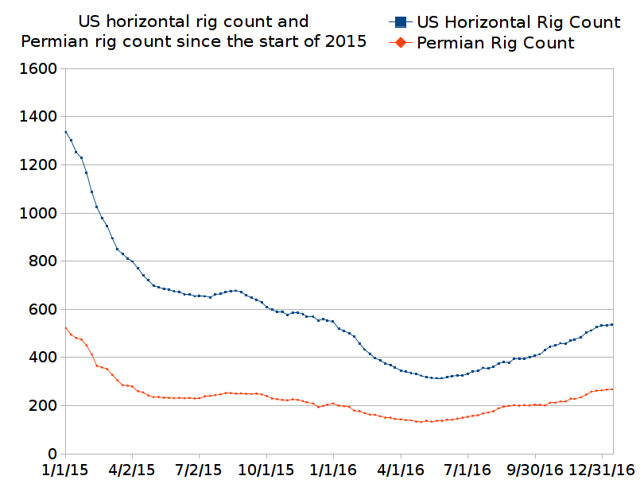 Source: Baker Hughes North America Rig Count
Changes in vertical rigs confound analysis of changes by basin
Baker Hughes provides rig count data, split by trajectory and separately, split by basin. However, there are no data for rigs, split by both trajectory and basin. I would guess that single rigs lost by each of Barnett, Granite Wash, Haynesville, Marcellus, Mississippian, Utica and Williston basins and two rigs lost by DJ-Niobrara represent liquidations of vertical rigs. DJ-Niobrara, in particular, is where companies such as Anadarko Petroleum (NYSE:APC) plan to maintain active drilling programs, with the breakeven oil (NYSEARCA:SCO) price little different, in Anadarko's case, from that in the Permian. Hence it would not make sense for DJ-Niobrara to experience a genuine decline in horizontal rig count.
The Permian basin is the lone star of this week's report, being the only basin with an increased rig count. The increase by one rig is potentially the combined outcome of an increase in the horizontal rig count (by more than one rig) and a corresponding decline in the vertical count. The basin is also undergoing the wholesale transition to all-horizontal drilling. Nonetheless, Permian is where a significant amount of vertical drilling was done not just in distant past, but also recently. For instance, Pioneer Natural Resources (NYSE:PXD) claimed in July 2016 that it earned higher margins from Permian verticals than from wells in Eagle Ford (presumably, drilled horizontally).
The Permian rig count was up during 25 out of 31 most recent weeks. However, the country-wide vertical rig count declined during 4 out of 6 weeks when the Permian rig count failed to rise. While in the absence of data broken down by both direction and basin it is impossible to say for sure, I find it likely that the count of horizontal rigs in the basin increased or remained steady during as many as 29 weeks out of the latest 31.
Canada's gain of 110 rigs should not be taken at face value
Baker Hughes' Canadian data indicate that large weekly changes are not unusual. For example, week ending December 30 saw a loss of 67 rigs, while the first report for 2017 was a gain of 48. However large this week's gain of 110 might appear, it certainly is not the largest, even if only relatively recent history is considered.
On December 26, 2014, an even greater loss of 135 rigs was reported. In contrast, January 9, 2015 saw a gain of 158 rigs.
The greatest gain of 273 in Canada's rig count occurred on January 11, 2013. The largest loss of 189 rigs was reported on December 22, 2010.
From the US domestic point of view, the rig count changing by this much in the course of a single week simply does not make sense. It seems that there is a great deal of noise in the reported figures. I invite readers familiar with oil (NYSEARCA:UWTI) exploration and production in Canada to share their expertise in the comments, hopefully, to shed light on what a gigantic increase such as this week's 110 looks like in practice.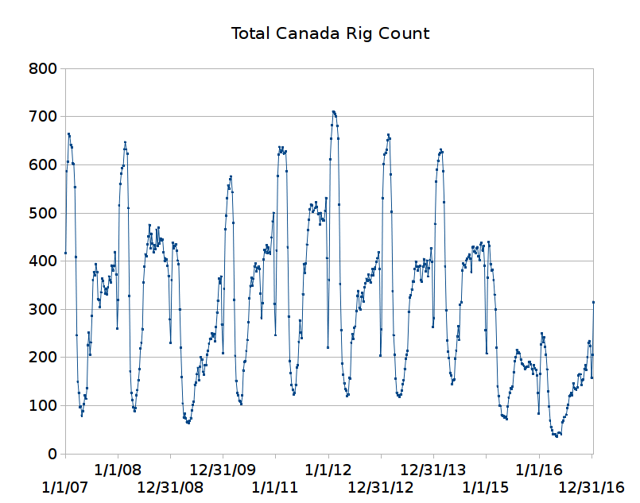 Source: Baker Hughes North America Rig Count
Conclusion
The Permian basin is expected to provide the greatest contribution to domestic oil production over the next year or so. While this week's rig count report is confusing due to a rare and sizable decline in the count of vertical rigs, the Permian stands out as the only basin with the reported increase in rigs. The actual change in horizontal rig count, the one that truly matters for future oil (NYSEARCA:OIL) production, is probably greater than the single rig reported. In other basins, particularly in Eagle Ford and the Williston basin, the horizontal rig counts might indeed have increased as well. Alas, we cannot see it this week due to the outsized liquidation of vertical rigs.
Note from the author: Thank you for reading. If you like this article, please follow me by clicking the "Follow" link at the top of this page and choosing "Real-time alerts on this author" to be informed of my latest ideas.
Disclaimer: Opinions expressed herein by the author are not an investment recommendation and are not meant to be relied upon in investment decisions. The author is not acting in an investment, tax, legal or any other advisory capacity. This is not an investment research report. The author's opinions expressed herein address only select aspects of potential investment in securities of the companies mentioned and cannot be a substitute for comprehensive investment analysis. Any analysis presented herein is illustrative in nature, limited in scope, based on an incomplete set of information, and has limitations to its accuracy. The author recommends that potential and existing investors conduct thorough investment research of their own, including detailed review of the companies' SEC filings and consult a qualified investment advisor. The information upon which this material is based was obtained from sources believed to be reliable, but has not been independently verified. Therefore, the author cannot guarantee its accuracy. Any opinions or estimates constitute the author's best judgment as of the date of publication and are subject to change without notice. The author explicitly disclaims any liability that may arise from the use of this material.
Disclosure: I/we have no positions in any stocks mentioned, and no plans to initiate any positions within the next 72 hours.
I wrote this article myself, and it expresses my own opinions. I am not receiving compensation for it (other than from Seeking Alpha). I have no business relationship with any company whose stock is mentioned in this article.