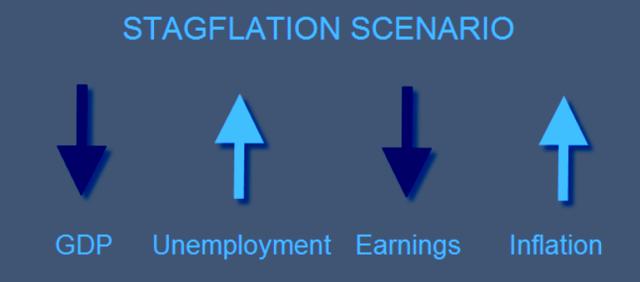 For those who remember, the era of stagflation in the 1970s was fairly traumatic. There were two surges of stagflation, one in 1973-1975, and the second in 1978-1981. During this decade of elevated inflation and the one that followed, real weekly earnings fell about 21% from a peak in 1974 to the trough in 1991 (Chart 1). Simultaneously, unemployment soared to a high near 8.8% in 1975, fell back to about 5.7% in 1979, and then rose back up to about 8.2% in 1981 (Chart 2). Inflation also soared to a peak of around 12% in 1974, and reached a second peak of about 14% in 1980. Recently the specter of incipient stagflation appears to have arisen from the grave that former Fed Chairman Paul Volcker placed it in 35 years ago, and according to some observers, it may be causing problems for us going forward (Julie Verhage, 2016; Zero Hedge blog, 2016; James Mackintosh, 2016; Bob Bryan, 2016). How serious is this risk, and what factors will control whether it happens? Will a recession accompany stagflation as it did in the 1970s and 1980s? We will examine these questions in the discussion that follows.
Chart 1: 1970s-1980s Stagflation Pummeled Real Wages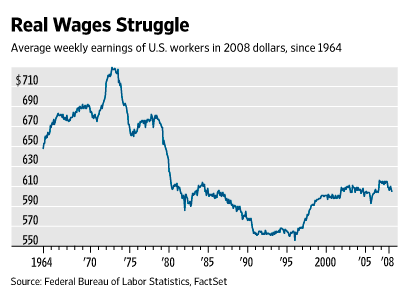 Chart 2: 1970s-1980s Stagflation Came in Two Waves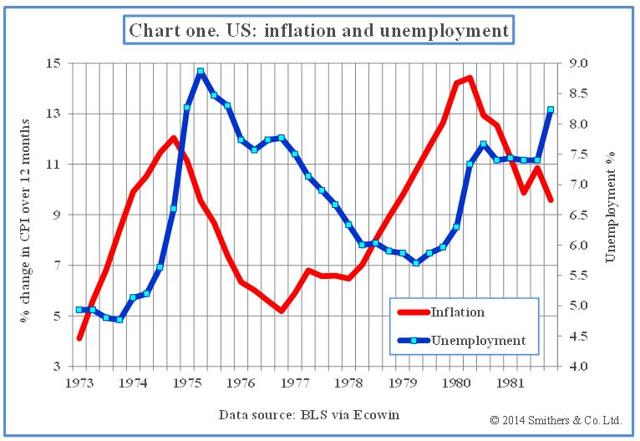 The inference of incipient stagflation is based on several lines of evidence. For example, in recent months, GDP growth has declined simultaneously with gradually rising (but still low) inflation (Chart 3). Furthermore, the markets expect yields to continue to climb (Chart 4), and the Philly Fed's Index of Leading Indicators implies further weakness in GDP growth in the months to come (Chart 5). The rising US dollar is likely to keep downward pressure on GDP growth going forward, assuming the trend continues (Chart 6). There has also been a decline in the utilization of chemical capacity (Chart 7) and a 5% decline in railroad traffic (Chart 8). Finally, the sharp increase in the spread between productivity and unit labor costs observed back in 2010 set up the conditions for stagflation that were last seen in the 1970s (Chart 9); conditions have improved only slightly for these parameters since then (Chart 10), in spite of a recent surge in wages and a relative decline in the rate of productivity growth.
Chart 3: A Mild Form of Stagflation Appears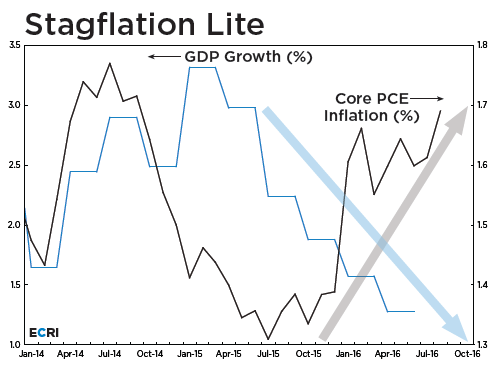 Chart 4: Markets Expect Yield Curve to Continue to Steepen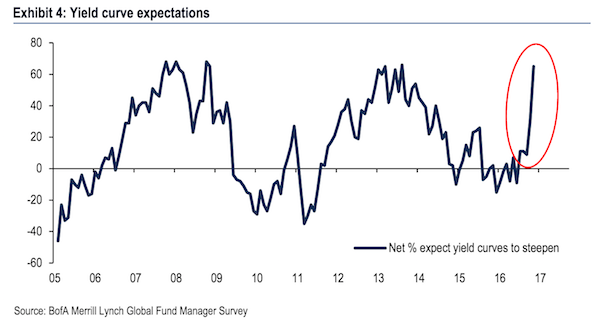 Chart 5: Philly Fed's LEI Is Declining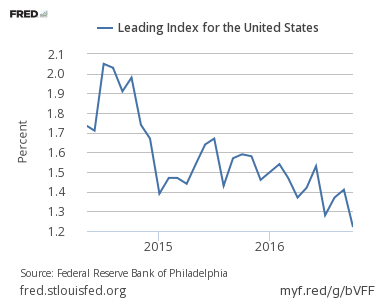 Chart 6: Recently Rising US Dollar Is Impacting Growth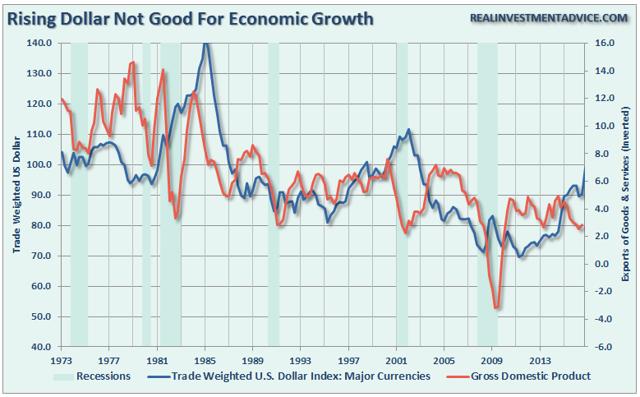 Chart 7: Recently the Chemical Industry's Activity Has Declined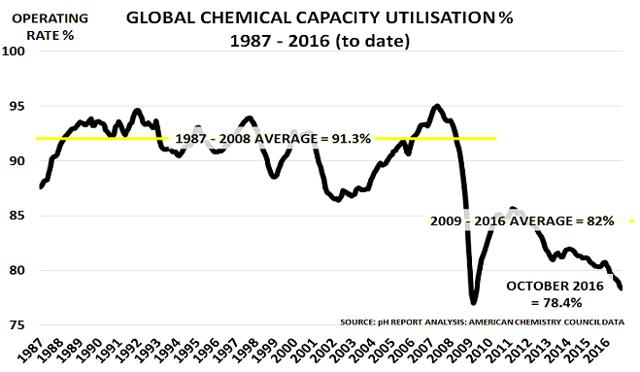 Chart 8: Recently Rail Traffic Has Declined by 5% YOY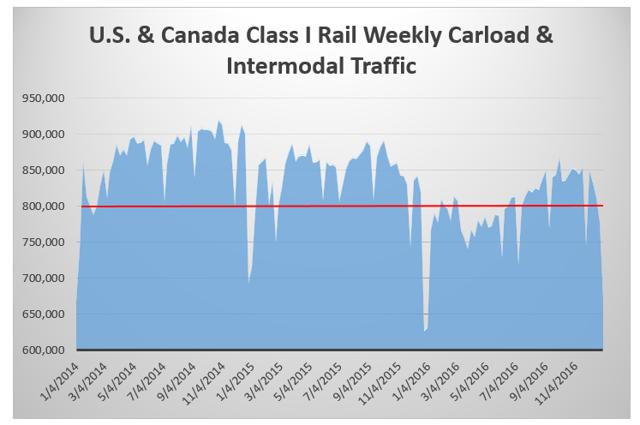 Chart 9: Productivity-Labor Cost Spread Suggests 1970s-Style Stagflation Became Possible After 2010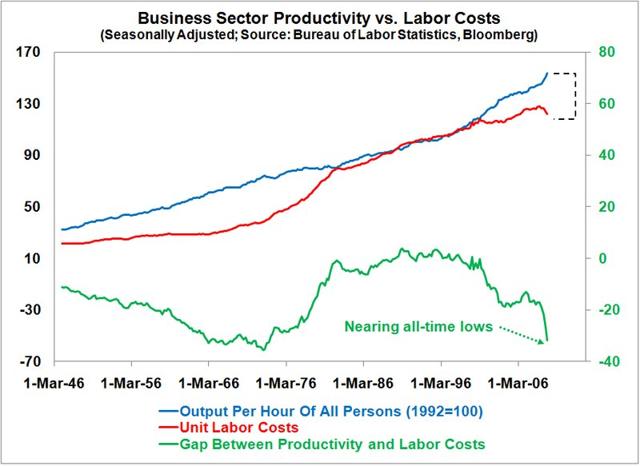 Chart 10: Productivity-Wages Spread Only Slightly Improved Since 2010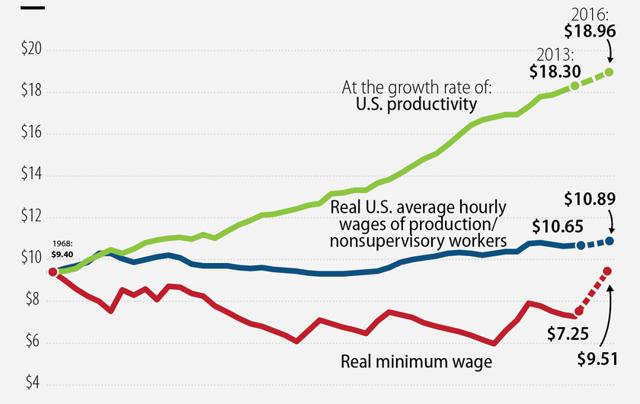 It is a useful exercise to recall the economic circumstances that led to the so-called "Great Stagnation" in the 1970s and 1980s, and to evaluate the theories about why it occurred. Then it might also make sense to compare current conditions to those in the "Great Stagnation" and evaluate whether a similar turn of events could happen again. There are in fact some obvious differences between then and now. For example, the monetary base expanded rapidly in the period from 1974 to 1981, when stagflation arose (Chart 11), and as Milton Friedman and Anna Schwarz famously wrote in 1963, "Inflation is always and everywhere a monetary phenomenon." However, the explosive growth of the monetary base (Chart 12) during and after the crisis of 2008 (as a result of Federal Reserve QE Program purchases of bonds) paradoxically did not lead to higher inflation (Chart 13) because the money was trapped in the banking system and never made it into the economy. Another obvious difference is that we are now facing a potential oversupply of oil in the short term, whereas in the 1970s there were repeated supply shocks that caused prices to double in 1973, and then double again in 1979.
Chart 11: Rapid Increase in the Monetary Base 1974-1981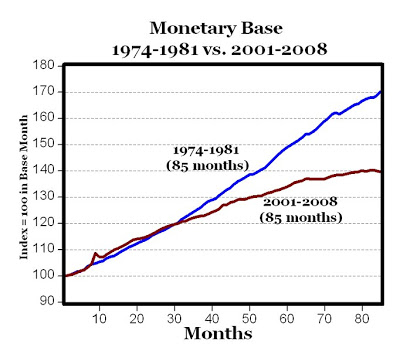 Chart 12: Explosive Growth in the Monetary Base 2008-2015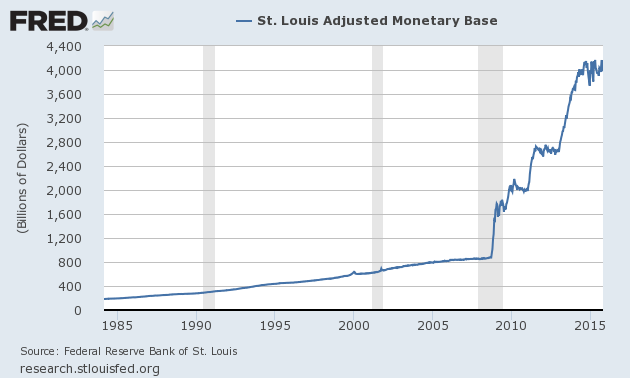 Chart 13: Mild Inflation In Spite of Fed's QE Program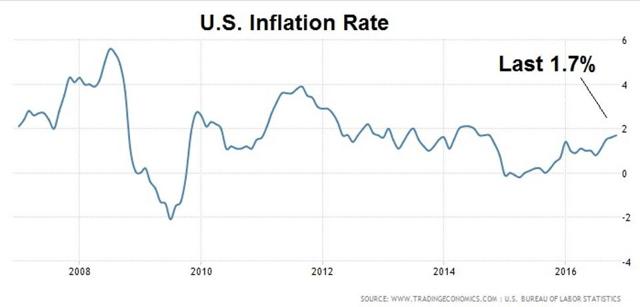 There have been many articles and books written about why the "Great Stagnation" occurred (e.g., Alan S. Blinder and Jeremy B. Rudd, 2008; John Butler, 2016). The simplest explanation for the inflationary part of it is the monetary one: too much money was chasing too few goods. This theory has been criticized as a sole explanation because the upward trend in inflation caused by expansive monetary policy in the 1972-1982 decade was punctuated by two major supply shocks that came and went in 1973 and 1979, respectively (see Chart 2 above for the effects resulting from these causative factors). The supply shock explanation is by far the easiest to see in the detailed economic data, according to Blinder and Rudd, 2008 (Op.Cit.), and the two major oil supply shocks of 1973 and 1979 are the obvious proximate causes of the inflation spikes (cf. Chart 14 below and Chart 2 above). It is true however, that the Fed's reaction function in response to the supply shocks made things worse in a way. This is because although raising interest rates (Chart 15) did help fight inflation, it also caused demand to fall and therefore GDP growth to plummet. The result was two recessions, one in 1974 after the first oil supply shock, and one in 1980 after the second oil supply shock. A third recession occurred in 1981, but it was caused by multiple economic factors, as real oil prices were already falling by then.
Chart 14: Historical Oil Price Shocks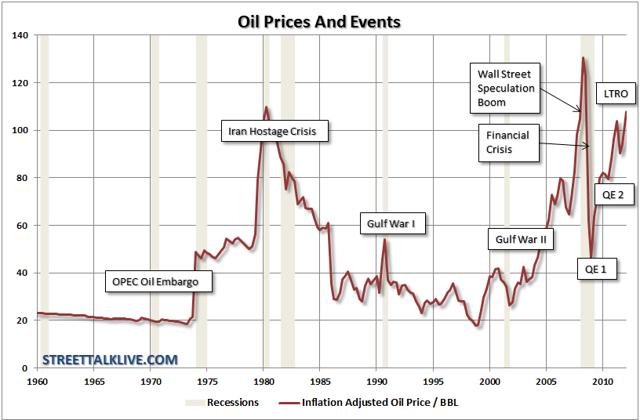 Chart 15: Federal Reserve Reaction Function to Supply Shocks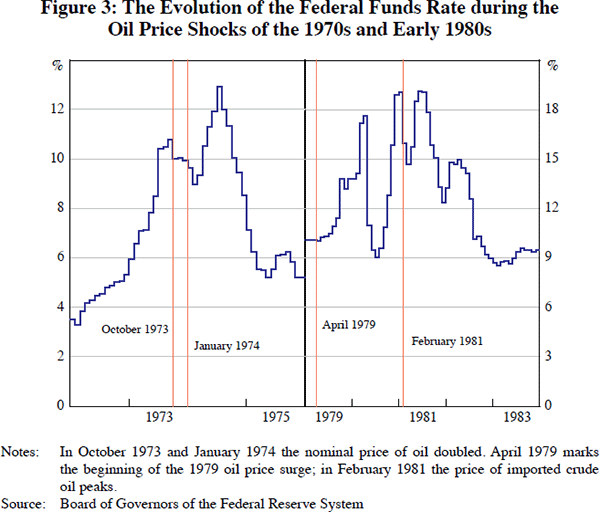 A third theory for why stagflation took the economy hostage between 1972 and 1982 is the idea that stagflation is primarily the result of Keynesian economic policies, as discussed by John Butler, 2016 (Op. Cit.). He argues that the oil price shocks were a natural result of the breakdown of the 1944 Bretton Woods Accord and the subsequent devaluation of the dollar in 1971. This devaluation, triggered by the US terminating its currency peg to gold, severely impacted oil producers because oil was priced worldwide in dollar terms. The Fed kept the money supply growing rapidly as a form of Keynesian stimulus after the dollar devaluation (see Chart 10 above), which allowed for easy financing of deficit spending (Chart 16). Deficit spending arguably crowded out real private capital over time, with long-term negative consequences for productivity growth (Chart 17).
Chart 16: Note Surge in Deficit Spending (1976-1998)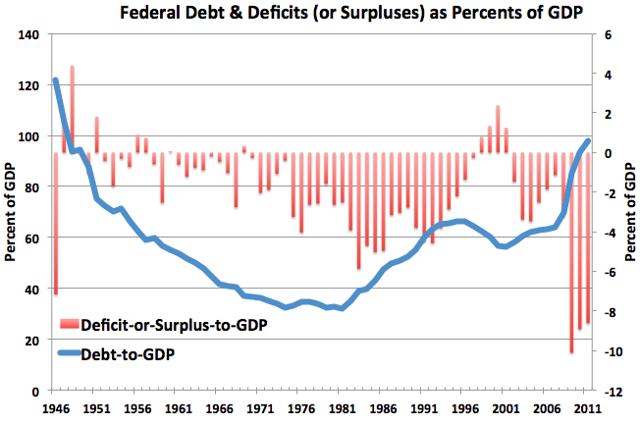 Chart 17: US Productivity Changed Trend Permanently When Deficit Spending Soared in the 1970s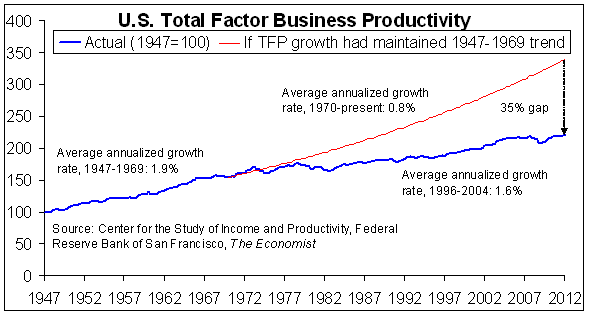 Could we see stagflation return in 2017 and beyond? It is true that wages and inflation are finally rising a bit, and research by the Federal Reserve suggests that these trends will continue (Charts 18, 19, 20). The problem is that this has been occurring under conditions of weak GDP growth (Chart 21). Oil prices are up very sharply in the last few months as the huge oversupply since 2014 has slowly bled off under conditions of mildly rising demand. Forecasts from the IEA (Chart 22) suggest that oil prices will continue to rise gradually because the supply surplus is nearly gone and may soon be replaced by a supply shortfall (Chart 23). Given the huge number of exploration projects that have been trimmed back or canceled, discovery rates have fallen off a cliff (Chart 24). We can probably anticipate an actual oil supply crunch once demand exceeds the ability of OPEC spare capacity and American shale oil production to offset it, which might occur in 2018 or 2019, assuming there is no recession (or Middle East war) first. Commodity prices in general are also rising again after hitting what may be a long-term low mark in early 2016 (Chart 25).
Chart 18: Wages and Inflation Have Been Rising In Tandem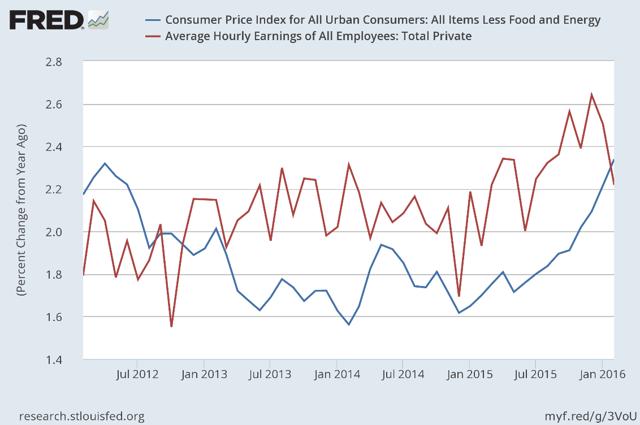 Chart 19: Federal Reserve Projects Continued Wage Rise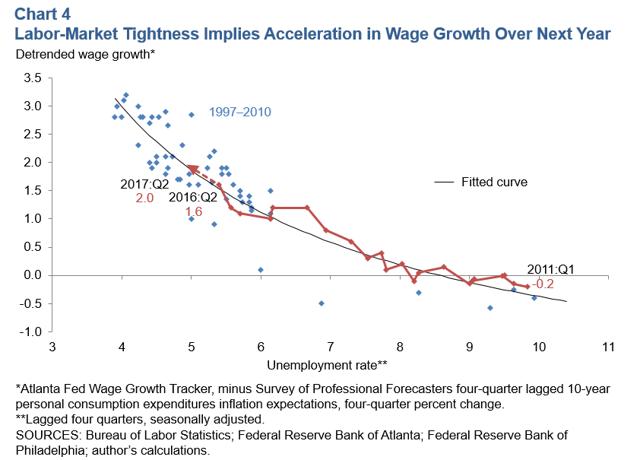 Chart 20: Low Unemployment and Rising Inflation at End of 2016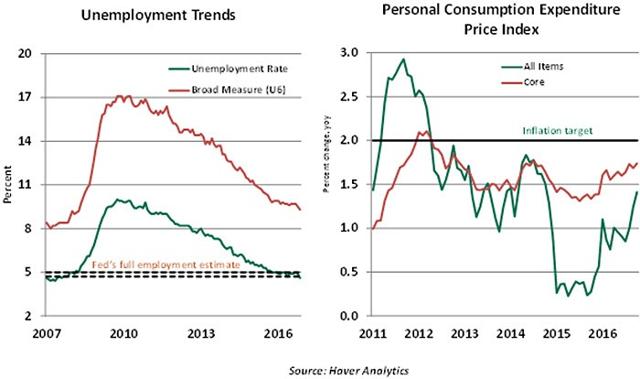 Chart 21: Low Level of GDP Growth Since 2015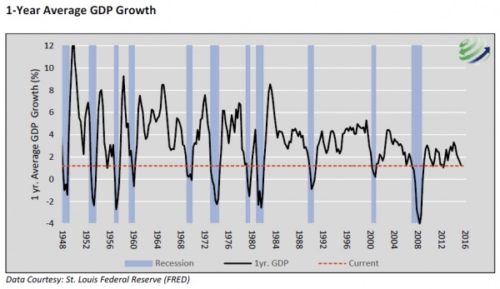 Chart 22: IEA Forecasts Gradually Rising Oil Prices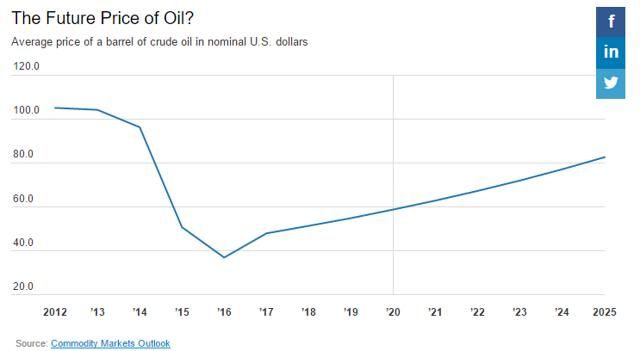 Chart 23: Oil Demand/Supply Balance Shifting to Bullish in 2017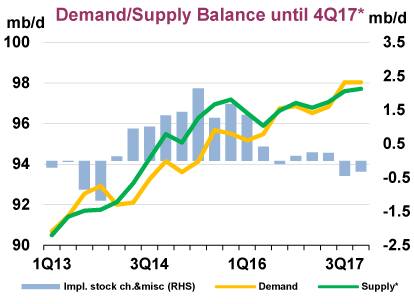 Chart 24: Offshore Oil Projects Trimmed Back or Canceled Have Cut the Rate of Discovery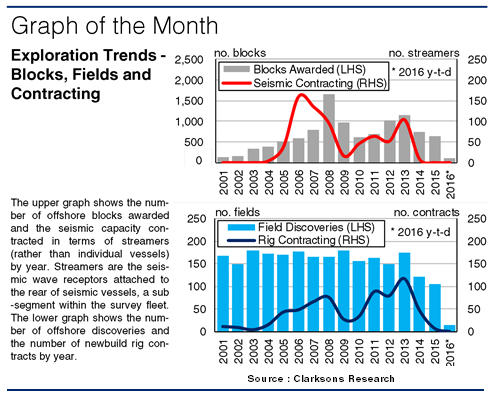 Chart 25: Commodity Prices in General Are Rising Again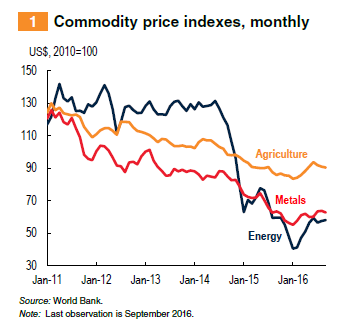 In spite of all these economic trends that seem to support a stagflation episode straight ahead, so far it seems likely to pale in comparison to the stagflation of the 1970s and 1980s; indeed, it has already been termed "stagflation lite" by several observers (e.g., Economic Cycle Research Institute, 2016). Indeed, some economists have been calling for stagflation since 2010, to no avail (e.g., Morgan Stanley; as reported by Gregory White, 2010). Other economists, upon evaluating more recent data, think it's highly unlikely to amount to much, since inflation is still low (Edward Yardeni, 2016). If one examines the so-called "misery index" (inflation plus unemployment) that came into vogue in the 1970s, its recent level (as of 2015) appears to be extremely benign (Chart 26); a quick calculation suggests that it has perhaps risen slightly above the near-60-year-low seen in 2015. If stagflation is coming, it at least has a ways to go before we can state with certainty that it has arrived.
Chart 26: Okun's "Misery Index" 1950-2015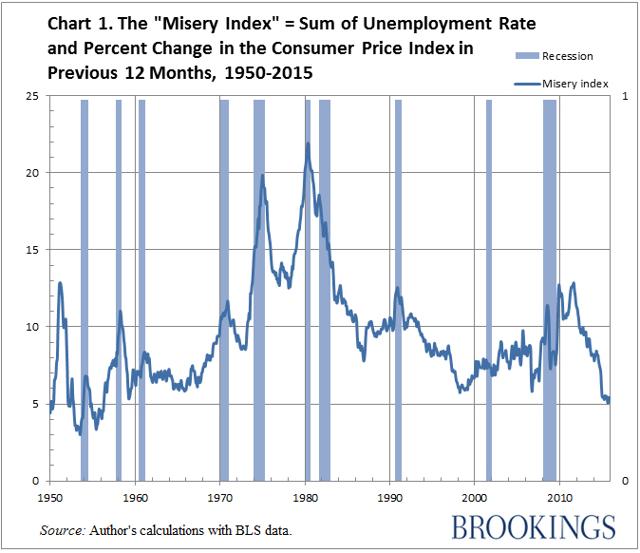 Nevertheless, if oil prices and other commodity prices were to spike, or President-Elect Trump's proposed tariffs and trade restrictions actually come to pass, but his infrastructure and tax plans are delayed, the situation could worsen rapidly. Assuming that this turns out to be the case, a recession might accompany the onset of stagflation, much as it did in the 1970s (cf. Chart 14 above). What likelihood is there of a recession that would end the great bull market and terminate the current business cycle? There are several lines of evidence we can follow to see what the tea leaves have to say. One interesting piece of evidence comes from a plot of the Conference Board's Leading Economic Index ("LEI;" Chart 27), which shows that recessions begin a few months after the LEI hits its maximum value. Note that we are nearly there now.
Chart 27: Conference Board's LEI Peaks Right Before Recessions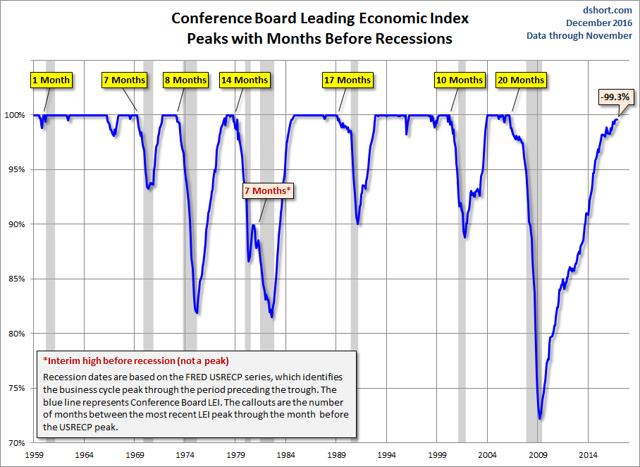 Deutsche Bank's Dominic Konstam recently suggested that the US labor market is about to experience a huge decline in monthly job growth. This is due to the fact that the labor vs. productivity gap (i.e., the difference between productivity growth and aggregate hours worked) went negative about 20 months ago (Chart 28). In the past, this circumstance has been followed by a sharp drop in the demand for labor within a year, as the spread between prices and unit labor costs declines (Chart 29) and employers stop hiring to preserve profit margins. This would hit Middle Class incomes pretty hard. If this trend turns out to be predictive, then a recession or at least the high unemployment of the stagflation years may be revisited upon us soon.
Chart 28: Labor vs. Productivity Gap Goes Negative (right)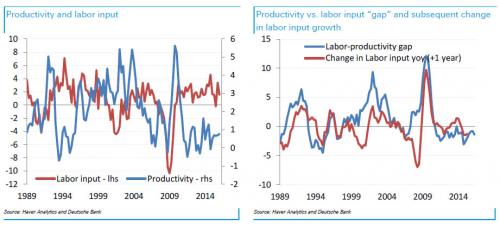 Chart 29: Aggregate Hours May Be Reduced Going Forward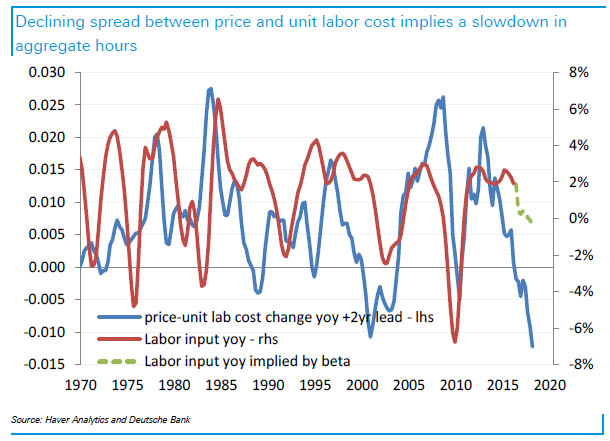 It is also worth noting that home prices are rapidly rising above median incomes, which is not supportive of continued economic growth, and is comparable to some degree to the situation in 2007 (Chart 30). More evidence for this is provided by the Fed's Labor Market Conditions Index ("LMCI"), which has gone negative YOY for only the eighth time in 40 years (Chart 31); five of these instances were followed by recession. The New York Fed's Recession Probability Indicator (Chart 32) is reaching new highs similar to those seen right before other historical recessions.
Chart 30: Home Prices Unaffordable for Many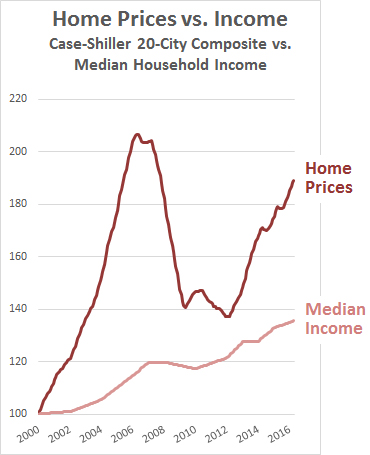 Chart 31: LMCI Negative for Only Eighth Time Since 1977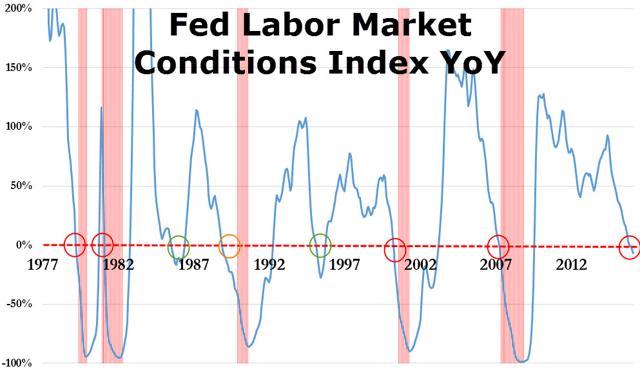 Chart 32: NY Fed's Recession Probability Spiking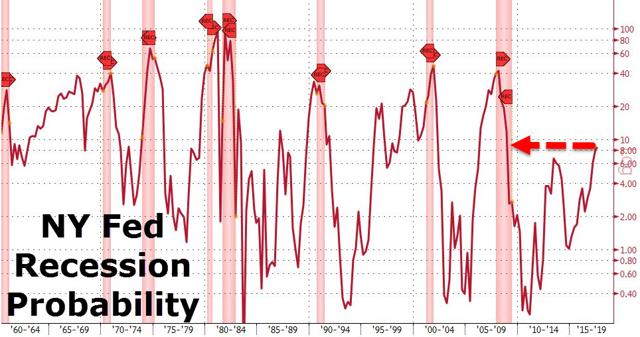 An absolute host of firms and economists are suggesting that recession risk is rising in 2017, including JPMorgan (Bob Bryan, 2016), UBS Group (Lawrence Pines, 2016), and Deutsche Bank (Tyler Durden, 2016; Charts 33, 34). We can't predict when a recession will happen, but we can say that the odds are high that one will occur within two years. Any kind of serious geopolitical shock could accelerate into a major downturn pretty rapidly right now, in my opinion.
Chart 33: NY Fed's Recession Probability Spiking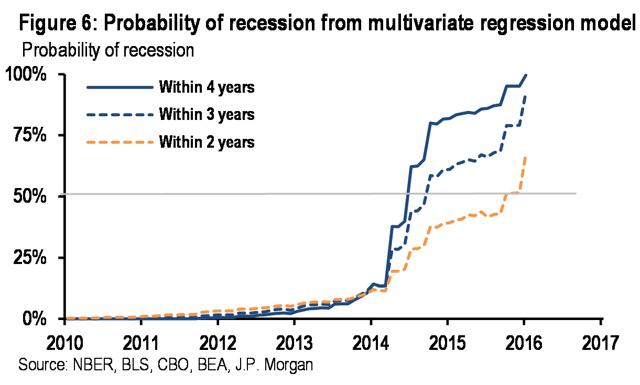 Chart 34: Deutsche Bank's Recession Probability Spiking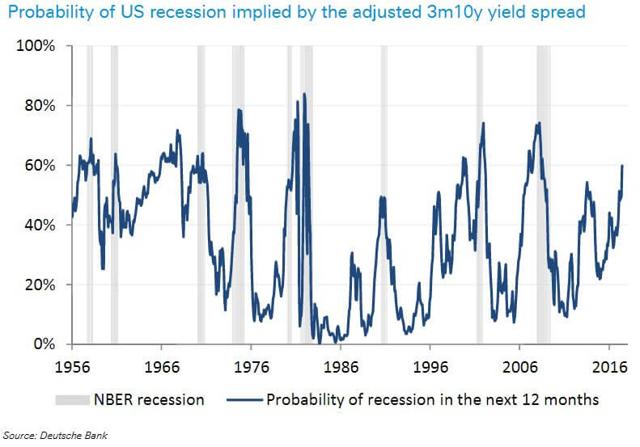 Of course, many would hope that President-Elect Donald Trump's stimulus plans will get things going well enough to keep the wolf from the door. However, his infrastructure spending plan seems likely to be delayed in its impacts, and his supply-side tax cuts will likely take a while to have an impact as well. On the more positive side of things though, Trump's deregulation efforts actually seem likely to bear fruit almost immediately, and could serve as a boost for some sectors of the economy. Obviously, this will all become clear in the fullness of time. In the interim, the uncertainty about policy and the weak economic trends suggest a certain amount of caution in the year ahead. Some real positives may be seen for investors in the short run based on deregulation, which may preferentially benefit the financial and energy sectors. Stocks benefiting from corporate tax reform may also be worth a look.
Sector ETFs like the SPDR Financial Select Sector Fund (NYSEARCA:XLF), the SPDR S&P Regional Banking ETF (NYSEARCA:KRE), the SPDR S&P Insurance ETF (NYSEARCA:KIE), the SPDR Energy Select Sector Fund (NYSEARCA:XLE), or the Guggenheim S&P 500 Equal-Weight Energy ETF (NYSEARCA:RYE) should do well over the short run in this environment; if stagflation is taking off, the energy sector funds will likely do extremely well over the long run as well. Under a stagflation scenario I would also expect the mining sector to do well, so the SPDR S&P Metals & Mining ETF (NYSEARCA:XME) is worth a look. Those feeling aggressively bullish about the reflation trade may want to consider holding other real assets like bank loans (e.g., iShares Floating Rate Bond ETF (NYSEARCA:FLOT)) or Lord Abbot Floating Rate Fund (MUTF:LFRIX), high yield bonds (e.g., SPDR Barclays High Yield ETF (NYSEARCA:JNK)), REITs (e.g., iShares US Real Estate ETF (NYSEARCA:IYR)), and emerging market stocks (e.g., iShares MSCI Emerging Markets ETF (NYSEARCA:EEM), but especially country funds like iShares India 50 ETF (NASDAQ:INDY) or iShares MSCI Hong Kong ETF (NYSEARCA:EWH)).
Investing in a gold fund like iShares Gold Trust (NYSEARCA:IAU) may be in order for all investors, but perhaps one-third or one-half positions should be held for now, pending the results of near-term central bank decisions, and prospects for recession in the next twelve months. Also for those discounting a possible recession, some liquid alternatives like the otter Creek Prof. Mngd. Long/Short Fund (MUTF:OTCRX), the AQR Long/Short Equity Fund (MUTF:QLENX), and the AQR Managed Futures Fund (MUTF:AQMNX) could be held to protect assets in the event of a market dip associated with deteriorating economic conditions.
Disclosure: I am/we are long XLF, FLOT, LFRIX, INDY, IAU, OTCRX, QLENX, AQMNX.
I wrote this article myself, and it expresses my own opinions. I am not receiving compensation for it (other than from Seeking Alpha). I have no business relationship with any company whose stock is mentioned in this article.
Additional disclosure: Disclaimer: This article is intended to provide information to interested parties. As I have no knowledge of individual investor circumstances, goals, and/or portfolio concentration or diversification, readers are expected to complete their own due diligence before purchasing any stocks or other securities mentioned or recommended. This post is illustrative and educational and is not a specific recommendation or an offer of products or services. Past performance is not an indicator of future performance.