Introduction:
The more I study investing, the more I realize just how brilliant Warren Buffett is. It's rare that the more you peek under the hood of something, the better it seems, but Mr. Buffett is just such a phenomenon. Buffett's annual letters to shareholders are just one example of the Oracle's thoughtfulness when it comes to the structure of things. On the surface annual letter doesn't seem like much, just a communication with shareholders. But Buffett could have chosen to write a quarterly letter, or just a memo whenever he felt like he had something important to say. Yet, every year (and essentially only every year) Warren writes to shareholders. It strikes a great balance between too much time consuming communication and too little accountability.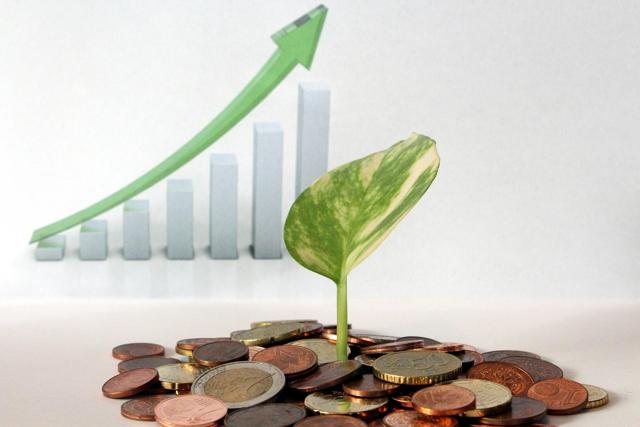 For the first half of this year I wrote quarterly updates on the Multiple Model Portfolio (the portfolio that tracks my SA recommendations). This was a good exercise for me when I didn't have too many stocks to write about and when I had a little extra time to write about them. It worked especially well in helping me really think about how I wanted to measure performance. But once the portfolio had grown to a couple dozen stocks, and once I had a little less free time on my hands, I realized that I simply didn't have to time to do a true portfolio review every quarter.
One alternative to the quarterly review would be not to do a review at all and simply write about my stock picks on an individual basis when it was convenient for me. The trouble with this approach is two-fold: First, I would probably end up writing about my winners far more often than my losers (it's just human nature). And second, it would be difficult to see how everything was functioning as a portfolio rather than in isolation. (If I only wrote about one sector, this wouldn't be as important, but I try to use multiple strategies in multiple sectors, so for me, the way those strategies work together at the portfolio level is very important.) It seems that the annual review is the best way to make sure I am adequately reflecting on and analyzing my investments, without spending too much time doing so.
I've decided to break this annual review into two parts. The first part will be a review of my realized positions for 2016. The second will be how the unrealized positions are currently performing. This article will focus on those positions realized in 2016.
The strength of focusing on the realized positions of the portfolio is that these are finished trades with actual results. There isn't much ambiguity or spin that can be put on these results. The weakness of focusing on the realized positions is that I could be holding on to future losers in the portfolio and simply not realized the positions yet. This could make things appear better than they may actually be.
I will attempt to do two things to offset those weaknesses. The first is that I will also publish my unrealized portion of the portfolio to be judged on its own merits. The second is that I place a five-year maximum holding period on my investments, and after that I consider a holding "realized" even if I personally haven't sold it. This prevents me from holding a permanently impaired stock indefinitely without counting the losses as realized.
For the purposes of this analysis I use the SPY as my benchmark in all cases except where I explicitly recommend one stock over another or recommend one stock be swapped for another. In those cases, the benchmark will be the alternative stock. There were three of these such stocks in 2016, Regal Entertainment vs. Disney, Berkshire Hathaway vs. Realty Income, and Twin Disc vs. Chevron.
First, I'll briefly discuss each idea and present a chart that demonstrates the performance of the each idea. And then at the end, I'll post a table that summarizes the overall performance. I was personally invested in each idea presented, and all of the ideas were long ideas except the first one which was closed in January when I started the Multiple Model Portfolio (which is a long-only portfolio). I'm not going to link to each article, but if you click my profile you can easily look up all the articles by ticker symbol.
The returns:
It seems like an eternity ago that we were worried about potential problems in the oil sector and the banks and investors who lent money to them, but this short junk bond (NYSEARCA:SJB) idea, presented via instablog, served as a good short-term hedge against potential troubles. I closed the position when I decided to only present long ideas on Seeking Alpha, but it served its purpose well for the short time it was held.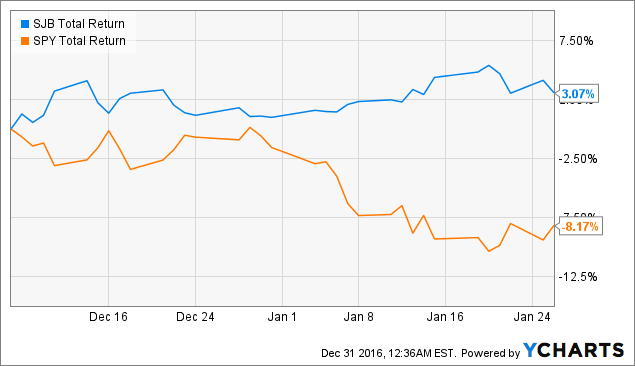 SJB Total Return Price data by YCharts
Target (NYSE:TGT) was another instablog idea. It was essentially a turnaround idea that started out quite promising, but I decided to exit the position because I didn't like the way the CEO had unnecessarily inserted his company into the political debate over transgender bathrooms. While I'm neutral on the issue itself, I didn't think it would be good for business over the medium term and decided to exit the position with a modest gain. Target was the only realized position that underperformed the SPY in 2016.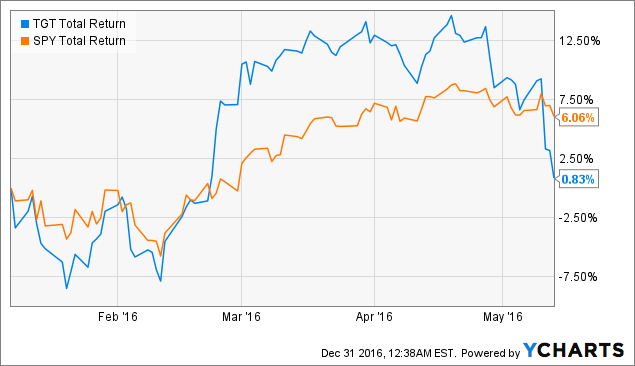 TGT Total Return Price data by YCharts
Foot Locker (NYSE:FL) was an early instablog idea that had suffered an unjustified selloff in the fall of 2015. Essentially, it had been dragged down with big box retailers like Macy's and Kohls when it shouldn't have been, and it eventually corrected back to a more sensible price. It would have been better if I would have sold in February, and this investment is one of the reasons I decided to start categorizing my thesis ideas in the portfolios reviews as a way to remind myself the primary reason I made the investment in the first place. I had two reasons for Foot Locker, both value and growth-at-a-reasonable-price, but it was a much better short-term value investment than GARP investment. Had I realized that earlier the relative performance would have been better vs. the SPY.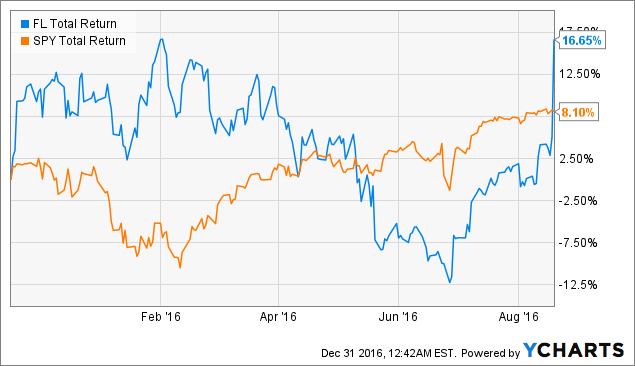 FL Total Return Price data by YCharts
Berkshire Hathaway (NYSE:BRK.B) was a swap trade idea I had last April for owners of Realty Income (NYSE:O) who thought that O had become overvalued. I suggested that they swap their shares with Berkshire because a sizeable spread was likely to open up between the two companies. By mid-November, that had come to fruition and those who followed this idea could now purchase about 20% more shares of O than they owned in April.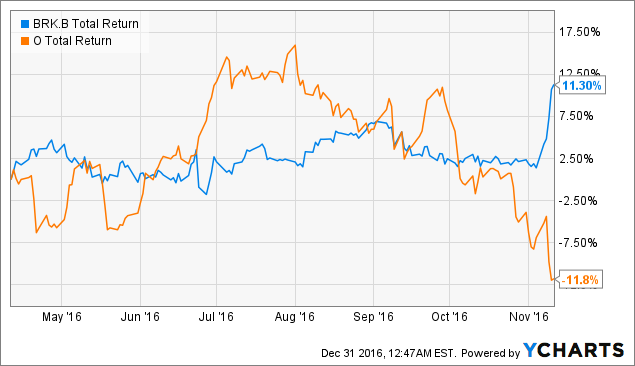 BRK.B Total Return Price data by YCharts
In December of 2015 I presented the idea that Regal Entertainment (NYSE:RGC) was a better investment than Disney (NYSE:DIS) for those who thought the new Star Wars franchise would be a success. This turned out to be a fantastic call, and 40% spread opened up between the two companies just 8 months later.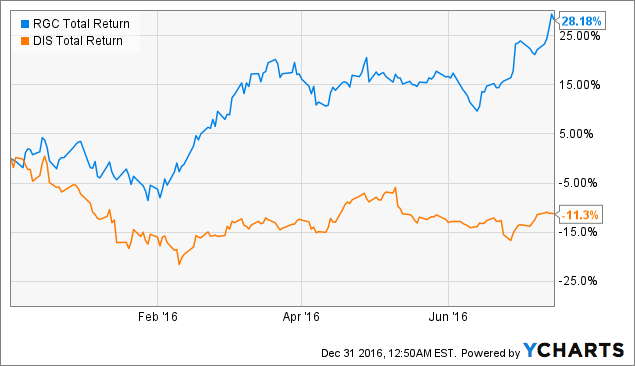 RGC Total Return Price data by YCharts
I made a second call to buy Regal Entertainment just after the new year, when we knew that Star Wars and the movie business was doing well, but after Regal's stock price had actually fallen. Regal went on to significantly outperform the SPY over the next 7 months before I took profits.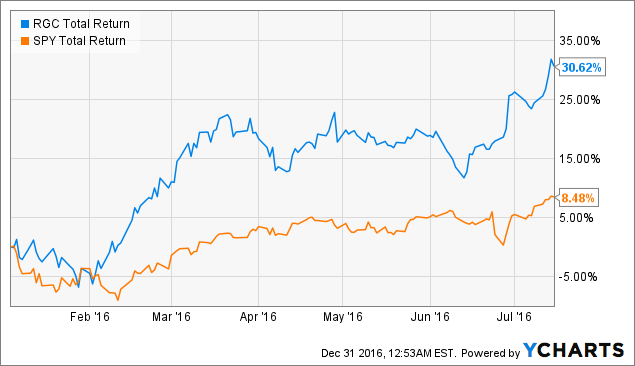 RGC Total Return Price data by YCharts
I suggested buying Hilton Worldwide (NYSE:HLT) before their three-way spin-off. Once the market had priced in the certainty of the spin-offs last month, I took profits with a significant gain over the SPY.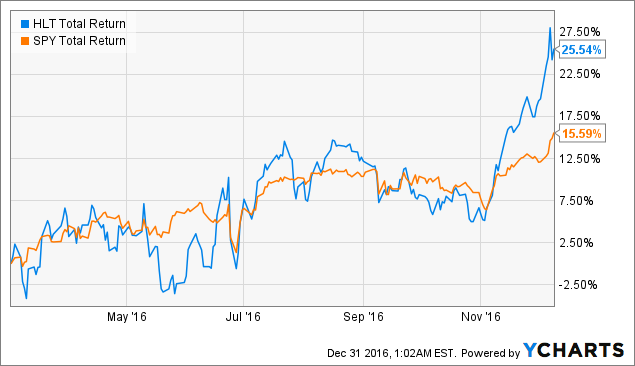 HLT Total Return Price data by YCharts
This next idea was another swap trade idea. I suggested that owners of Chevron (NYSE:CVX) should swap their shares for Twin Disc (NASDAQ:TWIN). There was quite a bit of resistance to this idea in the comments section and I was really pleased when it worked out after only 4 months. I decided to hold on to my Twin Disc shares since Chevron hadn't really moved much, and instead purchased Valero (NYSE:VLO) to potentially offset some of the risk with holding Twin Disc.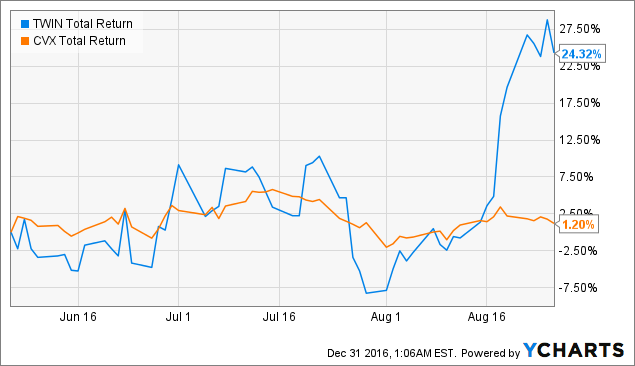 TWIN Total Return Price data by YCharts
Valero turned out to be a great investment, too, and within three months it returned over 25%, which was my target return when I purchased it, so I took profits in mid-December 2016. I continued to hold Twin Disc and it will appear in my upcoming 'unrealized' article as well.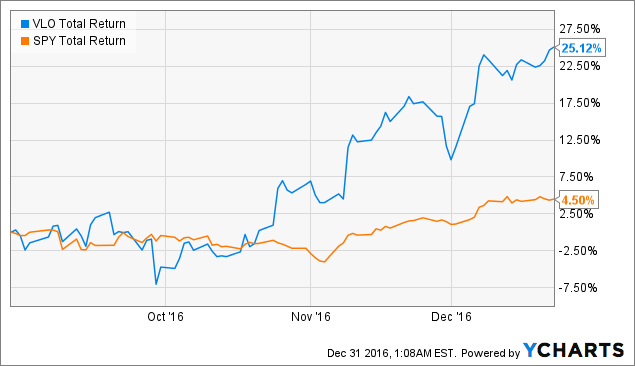 VLO Total Return Price data by YCharts
Below is a table that summarizes those statistics that interest me as an investor. The "Type" column I added at mid-year as a way to remind myself the primary reason I bought the stock. One of the benefits of this is that it helps me focused on my theses so that I understand what I'm looking for out of the stock. It also can help me identify categories of strength and weakness. For example, I don't think I am particularly good at identifying 'Turnaround' stocks whose future performance is based on company specific improvements in their actual business (as opposed to more cyclical macro changes). If I see more evidence that these types of stocks are simply not my strong suit, then I'll avoid them going forward. Conversely, I think I'm pretty good at swap trades and cyclical value stocks, so I might focus more on those in the future. Also, even though there aren't any dividend stocks in this chart, if I primarily purchase a stock for its dividend, I might be less concerned with total returns than I am with high and consistent dividends, so I might measure performance differently for dividend stocks.
The 'weight' column is self-explanatory, but important because I think that weighting strategy is one area where I'm really trying to improve and have more confidence in. I plan to write more on this later because I'm making some adjustments to my primary strategies for 2017.
The simple total return is the unweighted total return gathered from y-charts data. The main thing I like to see here is that the investment isn't negative. And none of these were, so that is very good.
The 'Alpha to Index/Alternative' is how the investment performed relative to the SPY or the stated alternative stock from the article. Target was my only loser here.
The 'Effect on Portfolio' is specifically designed for readers of my articles. I recognize that there isn't anyone out there who perfectly follows all of my recommendations. Maybe some people have followed two or three. This is a way to see what effect the investment, purchased in the suggested portfolio weights, would have had on your overall portfolio. If someone would have tracked the suggestions perfectly, it would have occupied a maximum of 14% of their portfolio (because some of the positions were sold before others were bought), and would have added 2.98% to their overall portfolio. That's pretty good for only occupying such a small part of one's portfolio. The alternative investments, made at the same time, would have had a -0.203% effect. (This is assuming my math is correct. I do it quickly on a calculator, so feel free to double check it with the charts posted above.)
Also worth noting is the duration for all of these investments was under a year. I'm not going to do the math, but if one were to annualize the returns, they would be even better, provided one was using a tax sheltered account.
| | | | | | | | |
| --- | --- | --- | --- | --- | --- | --- | --- |
| Ticker | Type | Weight | Simple Total Return | Alpha to Index/Alternative | Effect on Portfolio | Index/Alternative Effect on Portfolio | Duration |
| SJB | Hedge | 4% | 3.07% | 11.24% | 0.123% | -.327% | 2 months |
| TGT | Turnaround | 2% | 0.83% | -5.23% | -0.105% | .121% | 4 months |
| FL | Value | 2% | 16.65% | 8.55% | 0.333% | .162% | 9 months |
| BRK.B | Swap Trade | 4% | 11.30% | 23.1% | 0.452% | -.472% | 7 months |
| RGC (1) | Swap Trade | 2% | 28.18% | 39.48% | 0.564% | -.226% | 9 months |
| RGC (2) | Value | 2% | 30.62% | 22.14% | 0.612% | .170% | 8 months |
| HLT | Special Situation | 2% | 25.54% | 9.95% | 0.511% | .312% | 9 months |
| TWIN | Swap Trade | 1% | 24.32% | 23.12% | 0.243% | .012% | 4 months |
| VLO | Value/Hedge | 1% | 25.12% | 20.62% | 0.251% | .045% | 3 months |
The Simple Weighted Return = 15.53% I'm very pleased with this number. I hope I can do this every year, only with a larger portion of my portfolio.
Simple Weighted Alpha to Indexes= 16.54% I'm extremely pleased with this number. If I could do this over the long term I would consider myself a successful investor.
Conclusion:
The main reason I do these reviews (other than to share my over-all performance as a stock writer) is to look for areas of improvement. In my opinion, in 2017 I'd like to see either more stocks in the realized review or higher weightings. I think I'll probably aim for a little bit of both. I want to be cautious, because I still think we are in the later innings of our bull market, but I also need to build a portfolio up in five years' time, so at the end of five years I can truly begin measuring portfolio dynamics.
We have had the MMP running for about a year and currently I have a 17% weighting over in the 'unrealized' portfolio, which I'll write about in my next article. While I realized each year will be different, I'd like to be somewhere close to 40% in the unrealized portion of the portfolio by the end of 2017 and I'd like to realize about the same amount (20%) as I did this year. One thing I plan to is increase my basic weightings as long as we don't have a correction or bear market. The other thing I plan to do is to get just a tad more aggressive on the cyclical value and basic value fronts. There were several stocks that I was watching, yet didn't pull the trigger on, where I could have netted solid 20-30% gains. I'm going to try to capture a few more of those this year if I can.
Within the next couple weeks, I should also be publishing a review of my unrealized positions. Those positions are a lot more choppy and I'll probably write more thoughts about each position. Some of the positions are way up, some are way down, and some are even. I expect I'll learn a lot from examining them. If you'd like to follow my future reviews, picks and strategies, click the 'follow' button at the top of the page.
Disclosure: I am/we are long BRK.B, TWIN.
I wrote this article myself, and it expresses my own opinions. I am not receiving compensation for it (other than from Seeking Alpha). I have no business relationship with any company whose stock is mentioned in this article.