Overview:
As the week comes to a close we look to wrap up our retail sector coverage with the analysis of December 2016 retail sales figure and overall 2016 performance. Retail sales data is a critical piece of the macro puzzle given the fact that 2/3 of the US economy comes from service sector performance. Over the past 2 weeks we released several articles, which included an analysis on non-Manufacturing ISM and retail sector valuation dashboards.
Retail Sales - December Analysis
For the month of December, retail sales came in at $469.1B besting our estimates. Over the month, the figures were up 0.6% while over the year the figures rose 3.3%, faring better than the prior year's 2.3% rise. The month of December saw gains in auto sales, food and beverage services, and online sales driving the beat while department stores continued to lag. The retail report suggested that the US economy continues to move along at a modest pace with gains from the service sector pushing growth forward.
FY 2016 Review:
Below is a graph chronicling sales mix via pie chart.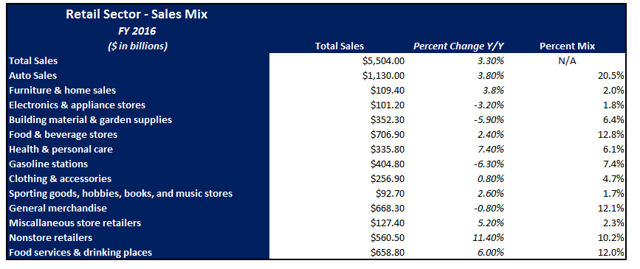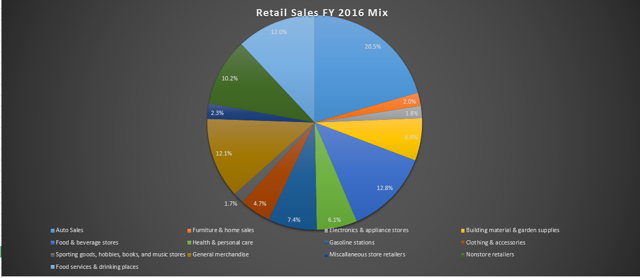 All data is pulled from the census bureau's release, which can be viewed here.
Retail sales for the year contained a mixed bag of results that suggested divergent sector performance. Consistent with our valuation findings in department stores and clothing & apparel, sales in these categories were sluggish, down 5.6% and up 0.8% respectively sequentially. Meanwhile, spending at nonstore retailers rose 11.4% for the year as Americans continued to favor online options vs. traditional brick and mortar.
Further adding to brick and mortar woes was the continued shift away from apparel spend in favor of leisure. Overall spending at categories such as sporting goods and hobbies rose 2.6%. Restaurant and bars spending rose 6.00%.
On a more positive note, Americans continued to splurge on cars and trucks as well as healthcare and home decor. This trend has been consistent with the past 2 years of the recovery, perhaps detailing that apparel woes aren't a sign of a weak economy, but rather a shift in spending patterns.
Overall, 2016 was a modest year for retail that continued prior trends. We thought the increasing pace of sales from 2015 (3.3% increase vs. 2.3% prior) was a positive for investors that have been positioned in sectors that are showing signs of positive sales data (healthcare, restaurants, and home) while a negative sign for clothing and apparel stocks.
Q1 2017 Look-ahead and Conclusion
December retail sales handily beat our estimates suggesting that the overall retail environment is set to enter 2017 on a stronger footing than the previous year. We enjoyed seeing continued performance in the auto sector, which proved doubters wrong yet again and drove upside risks against our forecasts with a 3.8% gain y/y. Meanwhile, continued shifts away from traditional retailer outlets in favor of e-commerce and leisure give us more confidence in our decision to underweight clothing & apparel and department store stocks. We continue to rate retail sales as yellow while rating auto sales as green. In order to upgrade our score we would like to see continued strength in retail sales.
Below we have listed our Q1 2017 Retail forecasts as well as 2016 figures. All research is done by our macro team at BlackVault Investments.

Supporting Documents
Disclosure: I/we have no positions in any stocks mentioned, but may initiate a long position in AMZN, URBN over the next 72 hours.
I wrote this article myself, and it expresses my own opinions. I am not receiving compensation for it (other than from Seeking Alpha). I have no business relationship with any company whose stock is mentioned in this article.
Additional disclosure: The views expressed in this article contain the opinions of BlackVault Investments and in no way are an offering and/ or solicitation of investment advice.