It's time to discuss coincident indicators again. The December retail numbers are the first very important coincident indicator we saw this month.
A coincident indicator is a leading indicator that tells us what is currently going on in the economy. Coincident indicators are predicted by leading indicators and tell us what we can expect in terms of GDP growth.
-----
Note: if you want to know more about leading indicators, feel free to read my article about this very topic.
Article: Establish A Solid Macro View Using The Top-Down Method
-----
The importance of the current retail numbers is very high because we got very strong leading indicators during the last few months. The ISM manufacturing index hit a fresh post-slow down high while the ISM non-manufacturing index is currently at historically high levels.
Retail sales hit 4.3% growth in December after growing 3.7% in November. All numbers in this article are in comparison to the same month one year ago.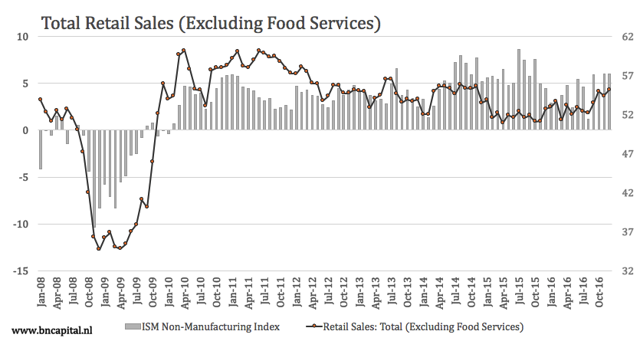 Not only are retail sales growing fast, we also see a strong growth trend after retail sales went below 1.5% for quite some time in 2015. Current numbers are typical for a strong economy as we saw in 2012 and 2013.

Food service & drinking places are only growing 2.8% versus one year ago. Numbers like these are devastating in a business that is as competitive as the food business. Furniture and home furnishings are growing at 3.1% - a solid number if we look back 10 years.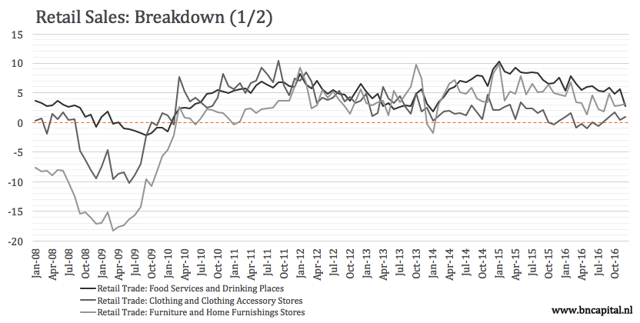 The interesting thing is that clothing is doing better. Clothing retail is growing 1% after bottoming at -1% during the second quarter of 2016. This could be huge news if the rally continues.
The biggest winners are motor vehicle and parts dealers. Motor vehicles and parts are back at 6.8% growth. This is important because this industry offers great trades and because motor vehicle and parts sales are a very large part of total retail sales.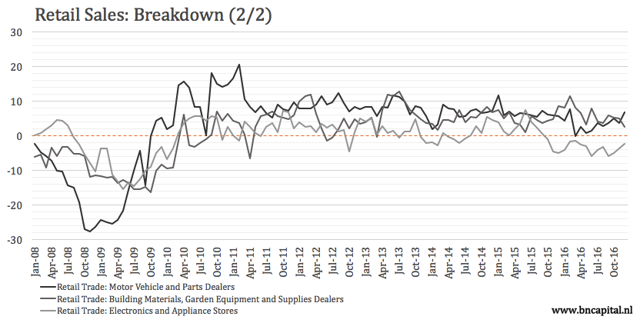 Electronics and appliances saw a 2.4% contraction. Electronics and appliances are contracting since September of 2015. September of 2015 saw a 0.6% increase.
Conclusion
Retail sales are confirming the outlook given by leading indicators. This means that the economy is in a growth acceleration phase. I believe that we are going to see nice returns in the motor vehicle industry and a likely start of a rally in the clothing retail industry. I will cover all of these industries in my next articles. Keep in mind that these are just thoughts based on the information in this article. My next articles will contain all info to establish a trade.
Many thanks for reading my article. Please leave a comment below if you have questions or remarks.