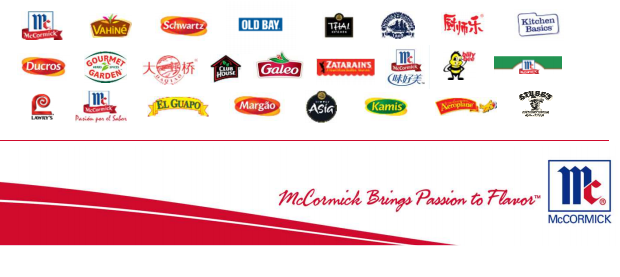 McCormick & Company (NYSE:MKC) bills itself as the global leader in flavor. It's a great company with a long history of dividend increases, but it's too expensive at the present time.
Is MKC a good investment partner?
If you cook, other than popping a prepared item into the microwave or oven, you have likely seen some of MKC's products. I use a bunch of them. I cook a lot of dishes made either with ground beef or chicken. Adding spices is important in both making meats taste good and in making the taste distinctive. When I use multiple products from a company, I get a good sense of how strong a player it is in its market. In spices and flavorings, the products of MKC are ubiquitous.
To get a more quantitative view of MKC, I pulled this presentation from its website. It's worth it to study the whole presentation, but as is my usual practice, I will include the slides that support my analysis of whether or not MKC is a good investment partner.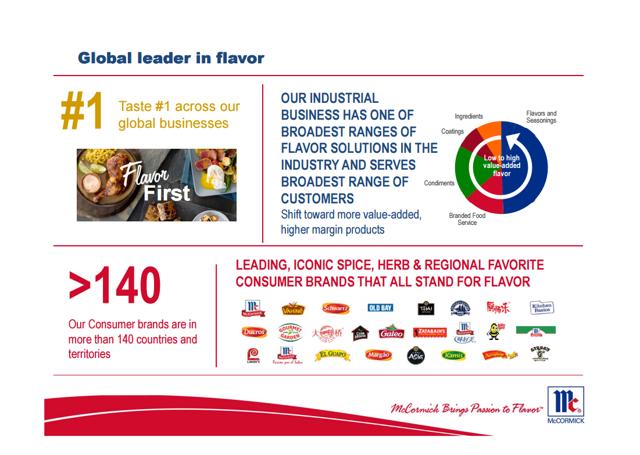 This first slide demonstrates the breadth of the MKC product line. To me, this slide says that MKC has a wide presence with a mix of products that covers most activities that use flavor enhancements.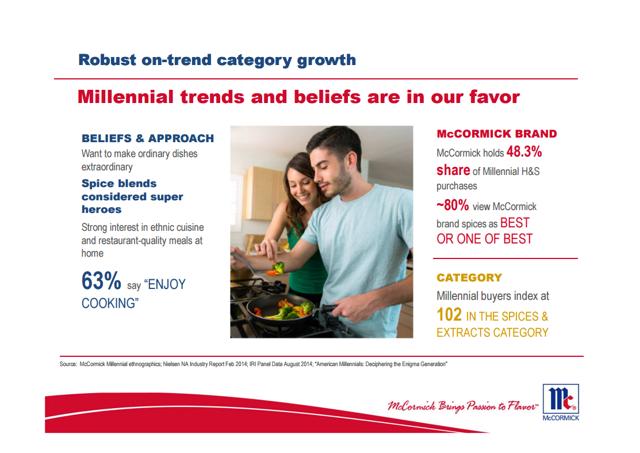 This next slide shows me that MKC is actively working to identify what segments of its existing markets are growing and where there are opportunities to grow the market through new customers or new products.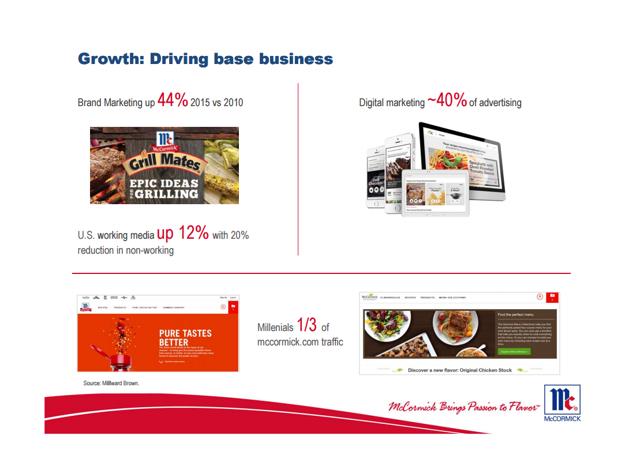 Consumer products are a commodity business, and marketing is important to developing and maintaining brand loyalty. This slide shows that MKC has an ongoing effort to identify ways to connect to potential customers and to then identify the best way to communicate the benefits of MKC's many products.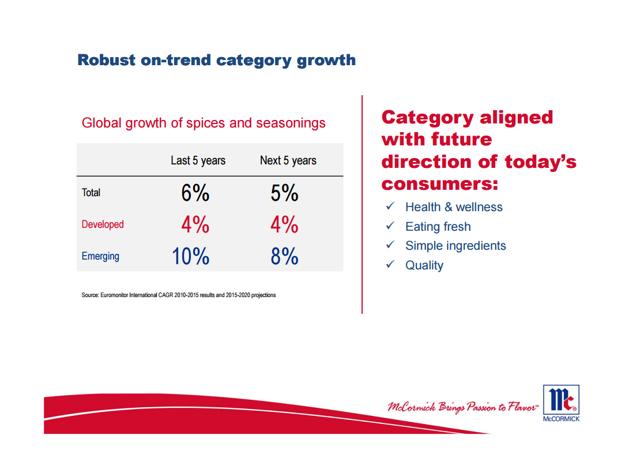 Presented in this slide are projections for the category growth for spices and seasonings. Since MKC is a leader in this category, its growth will provide additional opportunities for MKC to grow its market.
Between these 4 slides, I am confident that MKC has a good market for its products and has identified ways to grow its customer base and distinguish its products from competitors.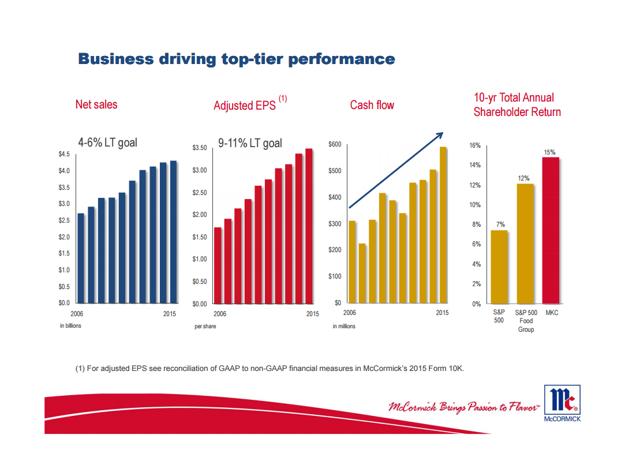 This next slide addresses the next item on my checklist: profits. I want a partner who has been growing sales, profits and cash flow over the last 10 or so years. With this slide, MKC demonstrates that it has been doing that. Also included in this slide are projections for future growth in sales and profits. The high single-digit projections for EPS growth make MKC even more attractive.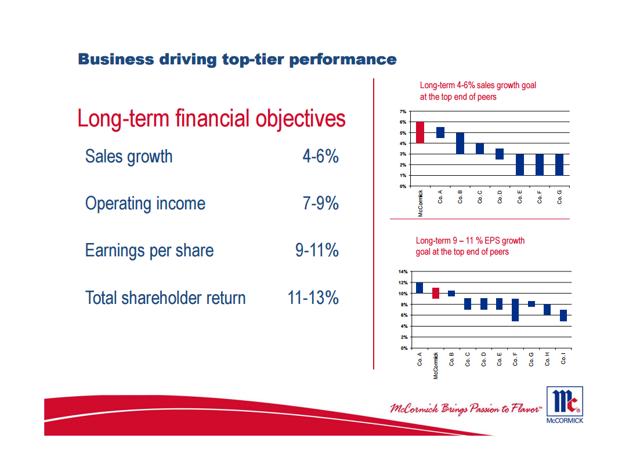 This next slide lays out MKC's long-term objectives and provides context in comparing those objectives to what the competitors are doing. I particularly like that a competitor predicts bigger EPS growth than MKC. Having a larger long-term EPS growth than its sales growth caused me some concern that the EPS projection was too optimistic. That a competitor with lower sales growth is projecting larger EPS growth provides some assurance that management isn't projecting too rosy a scenario. That combined with similar sales growth in the past generating even more EPS growth provides me with even more assurance.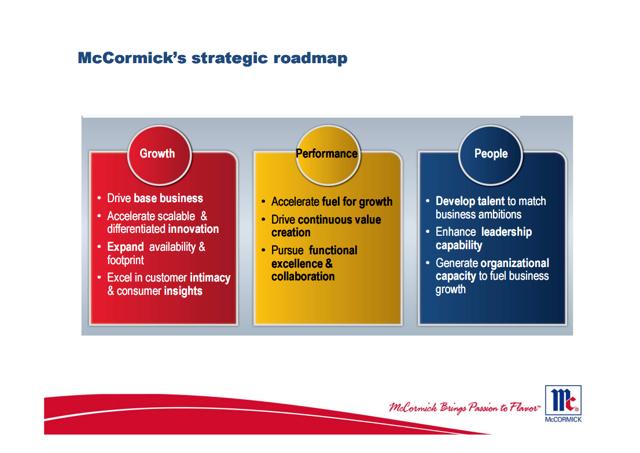 Finally, for the profits item on my checklist, I want to see a plan for the future to grow the company and its profits. The slide above is a summary of management's growth plan. This multi-faceted plan builds on existing business, innovates product lines, expands product availability, acquires new assets in line with current business and cuts costs. The whole presentation has a large number of slides devoted to explaining this plan.
I like it much better when a company tells me its credit rating on its website, but it's not required for companies that don't have a lot of debt. Moody's rates MKC as A2, which is pretty good.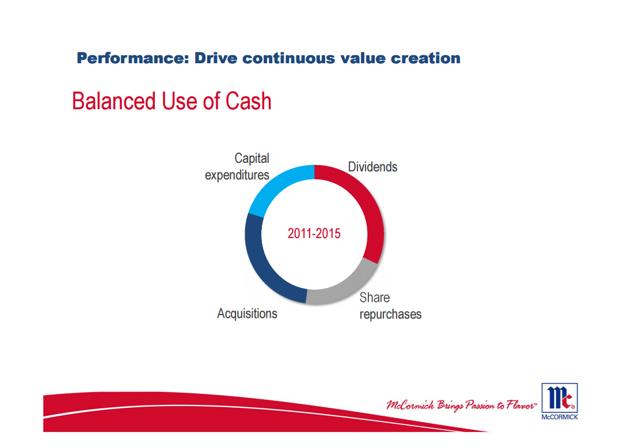 Part of handling debt well, is using your cash well. The slide above shows that management has a balanced approach to using cash.
Having a target for debt levels and providing investors with metrics to measure how well the debt is covered is also important. MKC has a separate document that shows how well its debt is covered by showing the ratio of debt to EBITDA.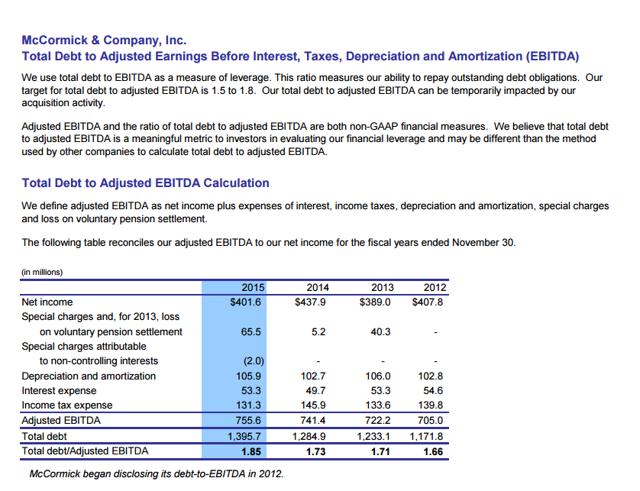 Next, I want to see what the company says about its dividends. While I like pretty pictures better, MKC does provide a page on its website where it shows its historical dividend payment history.
Looking at the CCC List, I can see that MKC has increased its dividends annually for 31 years and that its current annual dividend is $1.88. With this final piece, it's clear that MKC makes a good investment partner for a dividend growth investor.
What's a good price?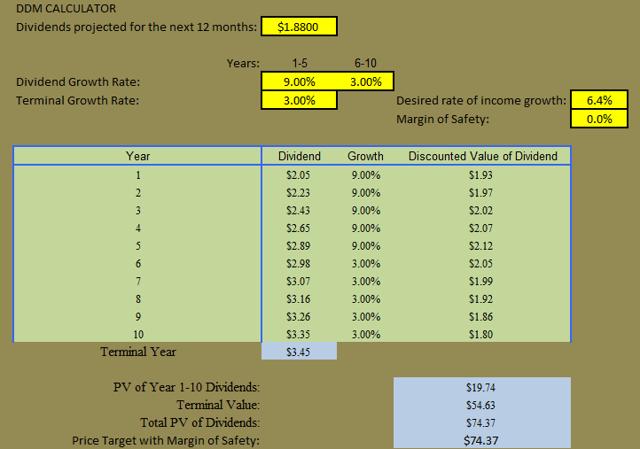 To figure out a good price, I do a DDM calculation using my Excel-based DDM calculator (pictured above; you can see the web-based calculator I based it on here and read a discussion on how the formulas were developed here). For MKC, I used the current annualized dividend payment of $1.88 and a dividend growth rate of 9%. I used 9% because that is the 5-year CAGR for dividend increases and that is in line with earnings growth expectations. I used a 3% terminal growth rate as I typically do for consumer staples companies.
Using those numbers, I get the PV of my prediction of the dividend payments to be $74.37. That is quite a bit below the current market price of about $91.56. It's also well below Morningstar's fair value number of $91. However, at $74.37, the $1.88 works out to be a yield of about 2.5%, which is my minimum. Also in this article, Eli Inkrot seems to think it's roughly $15-$20 ahead of the price the company's performance justifies. Eli goes even further in this newer article and gives a fair value range such that my buy price falls into the middle of his fair value range. My PV value for the dividends and my minimum yield requirement agree with Eli's assessment.
Can options help?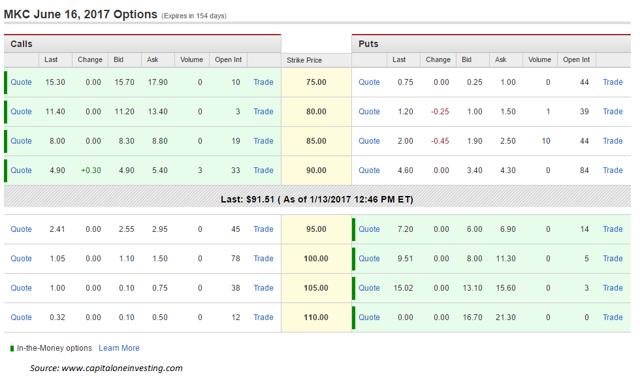 Options will have to do some heavy lifting to make up the approximately $15 that the current market price is above my buy price. However, the June $75 put does do that, although the premium isn't great and there is less than a 1 in 10 chance of getting the shares.
Writing a covered call might be more lucrative, since you should be able to get more than $2.55 for the June $95 call. But with a nearly 50% chance of getting exercised, an investor might not want to risk his/her shares. The $100 strike still pays more than $1 and leaves the investor with a much better chance of keeping the shares.
Conclusion
MKC is a very good company and an excellent investment partner. However, at the current market price, it's just too expensive. Paying too much even for a great company is a sure way to slow income growth for a dividend growth investor. Keep MKC on your watch list and wait for a better price.
Note: I hope you all got something out of this article. I do appreciate the time you took reading it. If you are one of those who follow me here, I appreciate it; if you'd like to include yourself amongst those individuals, please hit the "Follow" button next to my name as well as following other contributors whose work you enjoy. As always, please leave any feedback and questions you may have in the comments below.
Disclaimer: This article is intended to provide information to interested parties. As I have no knowledge of individual investor circumstances, goals, and/or portfolio concentration or diversification, readers are expected to complete their own due diligence before purchasing any stocks mentioned or recommended. The price I call fair valued is not a prediction of future price but only the price at which I consider the stock to be of value for its dividends.
Disclosure: I/we have no positions in any stocks mentioned, and no plans to initiate any positions within the next 72 hours.
I wrote this article myself, and it expresses my own opinions. I am not receiving compensation for it (other than from Seeking Alpha). I have no business relationship with any company whose stock is mentioned in this article.