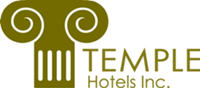 The BUSINESS of Hotel Real Estate
For this week's bond review, we take our third look at a Canadian hotel operator with 29 properties located throughout Canada. Temple Hotels (OTC:TMPHF) recently released its third-quarter results showcasing increased net operating income and profit margins along with outstanding interest coverage.
Q3 net operating income increased 15% over Q3 2015.

Q3 operating profit margins increased to 35% from 30% in Q3 2015.

Bond interest coverage for the first nine months of 2016 registered at an astounding 4x.
Temple's recent rights offering generated sufficient capital to redeem its December 2016 bonds. In addition, real estate juggernaut Morguard Corporation, which already had a controlling interest in Temple, continues to increase its interest, growing to 56.1% with its recent addition of shares from the rights offering. This puts some economic muscle behind Temple as Morguard likely sees growth opportunity within the hotel operator. With the company's Fort McMurray properties recovering from the recent oil wildfires in Alberta, the company stands to benefit from the area's pending redevelopment. Temple's 7.25% couponed bonds, priced about 97 and maturing in under 9 months, are currently offering a high yield that's about 12%. This provides a nice boost to both cash flow and yield for most fixed income portfolios, so we are selectively targeting this issue for addition to our FX2 and FX3 portfolios.
Update Since Our Last Review
(Note: All dollar figures indicated are in Canadian dollars, CAD)
We reviewed Temple Hotels initially in January 2014 and again in July 2016. Our last review covered developments with Temple through Q1 2016 as results for Q2 were not yet available. Over the past two quarters, Temple's management continues to focus on growth, especially in light of recovery from the recent Alberta wildfires which affected nine of the company's properties in Fort McMurray, Alberta. Some of the highlights from the past few quarters that we will discuss include:
Temple's recent rights offering,

Temple's strategic review,

Reopening of its Fort McMurray properties, and

Results for the quarter ended September 30, 2016.
Rights Offering and Strategic Review
In mid-December, Temple Hotels announced the successful completion of its previously announced rights offering. Upon the closing, Temple issued approximately 73.9 million common shares, generating proceeds of $50 million. Temple used the cash generated from this offering to repay its Series C convertible bonds which matured on December 31, 2016, as well as for general corporate purposes. Notably, of the new shares issued via the rights offering, Morguard Corporation, which already owned a 38.9% stake in Temple, acquired approximately 54.6 million new shares, increasing Morguard's ownership to 56.1% of Temple's issued and outstanding common shares. Morguard, a North American real estate and property management corporation with an owned and managed portfolio in excess of $19.5 billion, had already attained a controlling interest in Temple. In March 2016, Morguard announced the effective takeover of Temple after six months of increasing ownership culminating with the resignation of Temple's top management, replaced by Morguard executives.
Then in late June, Temple announced its intention to undertake a strategic review of the company in order to determine the best path forward. The review will evaluate Temple's portfolio of properties, along with analyzing operational efficiencies. Morguard's recent management takeover along with its increasing stake in Temple can be viewed as a positive for both investors and bondholders. Morguard is a large company with nine hotels already in its portfolio and significant assets across all types of real estate investments. Its recent purchase of nearly 74% of Temple's newly issued shares appears to indicate that Morguard's interest in Temple is more long term than short term. The fact that Morguard has invested over $80 million in Temple likely means it sees opportunity in Temple. It also means Morguard is unlikely to walk away or risk losing its investment.
Recovery at Fort McMurray
As of September 30, 2016, all nine Fort McMurray, Alberta, properties had been reopened following the mandatory evacuation for wildfires in early May 2016. Some properties were only closed a few days, most were operational within four or five weeks, while the longest closure lasted until mid-September. The impact of the lost revenue was evident in the company's Q2 results, with Fort McMurray properties posting a 33.8% decline year over year. By Q3, however, revenues in Fort McMurray had all but recovered, with hotel revenues down only 6.5% year over year. Another encouraging statistic out of the Fort McMurray properties for Q3 is the operating profit margin, which increased to 58% during Q3 compared to 47% during Q3 2015.
Another factor working in favor of Temple's Fort McMurray properties is the increase in rig count experienced over the course of 2016. As the following chart indicates, Canada's inland rig count, although showing a decline in the last week of 2016, grew tremendously since its low in April 2016.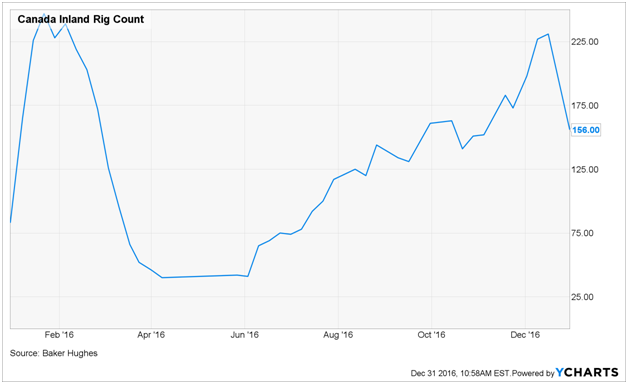 It is important to note that Temple's hotel properties in its Other Canada business segment (properties outside Alberta) registered an increase just over 5% in total revenues for the first nine months of 2016. This illustrates the effects of the decreases in the Fort McMurray portfolio (due to the oil and gas downturn) on Temple's total revenues. As oil and gas prices continue their recovery, this should provide a level of revenue recovery for Temple's Fort McMurray properties.
Temple also notes in its Q3 results that the occupancy rates at its Fort McMurray properties have been affected by the delayed rebuilding efforts in the region, mainly due to the time required for clean-up as well as insurance claim processing for those individuals and families affected by the wildfires. However, the company does anticipate that those involved in the rebuilding effort will create demand for accommodations, putting upward pressure on occupancy rates.
Q3 Results
Temple's results for its quarter ended September 30, 2016 show a company that is continuing to focus on long-term growth. Its net operating income registered a 15% increase over the same period for 2015, growing from $14.0 million to $16.1 million. This increase was attributed to increases in the Temple's Other Canada hotel segment (outside Alberta) as well as increases within the Fort McMurray properties.
Also encouraging is the increase in Temple's Q3 operating profit margins. For Q3 2016, Temple registered an operating profit margin of 35%, as compared to Q3 2015 operating profit margin of 30%. For the nine months ending September 30, 2016, operating profit margin remained level at 29%, the same as the first nine months of 2015.
Third-quarter revenues were essential flat year over year, with Q3 2016 coming in $35.4 million as compared to Q3 2015 revenues of $35.9 million.
About the Issuer
Temple Hotels Inc. was formed in accordance with a Plan of Arrangement which converted Temple Real Estate Investment Trust (TREIT) to a corporation, effective December 31, 2012. Temple Hotels Inc. continues the business of TREIT, which acquired its first property, Temple Gardens Mineral Spa, and became a publicly listed real estate investment trust on the TSX Venture Exchange on October 1, 2006. The primary investment objectives of the company are to generate stable and growing dividends, enhance the value of the company's assets and maximize long-term share value through the active management of its assets, and expand the asset base and increase earnings through an accretive acquisition program with the objective of producing a geographically and sectorally diversified portfolio of hotel properties and assets.
The general strategy of the company for external growth is to pursue the acquisition of hotel properties and assets in markets across Canada, and possibly in the United States, based on an investment criterion which focuses on return of equity, security of cash flow and potential for capital appreciation. The target capitalization rate for hotel acquisitions is generally between 9% and 12%. The overall investment strategy of the company also encompasses the acquisition of hotels in regional clusters and of similar asset sizes in order to create economies of scale. In general, new property acquisitions are funded by arranging new mortgage financing or by assuming existing mortgage financing, with the remaining equity portion to be funded from the reserves of investment capital. The equity portion of new property acquisitions may also be partially funded by the exchange of shares.
Interest Coverage
When looking at interest coverage ratios, it is important to consider the interest expense for Temple includes both debenture interest as well as mortgage interest due on its hotel properties. When considering only its debenture interest, Temple has an interest expense for the first nine months of 2016 of $9.1 million. Its operating income for the first nine months of 2016 was $36.1 million giving Temple an outstanding interest coverage of nearly 4x.
Risks
The default risk is Temple's ability to perform. As discussed in our last review, the company has done well to diversify outside of the oil-reliant regions in Canada. The wildfires affected revenues in its Fort McMurray properties, but there may still be a surge in demand for accommodations once rebuilding gets underway in earnest. Morguard Corporation's increasing interest in Temple should reassure stockholders and bondholders alike as the company is one of the largest, most successful real estate investment companies in North America. The nearly 12% yields on these 9-month bonds appear to outweigh the risks we can identify.
With the denomination of these bonds in Canadian dollars, bondholders will be exposed to the Canadian economy and the exchange rate of the loonie to U.S. dollars. However, as the Canadian dollar is still relatively cheap as compared to the U.S. dollar, this makes travel to Canada cheaper for U.S. citizens. This may help boost some of Temple's properties outside the Fort McMurray area (which primarily focuses on the oil and gas industry).
These bonds have similar yields or durations to other bond issues reviewed on Bond-Yield.com, such as the 14% Broadview Networks (OTC:BVWN) or the 14% IASIS Healthcare bonds.
Summary and Conclusion
Temple Hotels is rebuilding its Fort McMurray business after the wildfires earlier this year. The high-margin Fort McMurray properties should provide a nice boost when occupancy demand increases as the area rebuilds. The company posted stellar interest coverage in its latest results. The continued increasing interest from Morguard Corporation appears to be an extremely positive development for Temple as Morguard brings real estate experience. These 9-month Canadian dollar bonds, couponed at 7.25% and currently priced about 97, offer investors an excellent short-term opportunity to diversify into the real estate and hospitality industries as well as add 12% yields to fixed income portfolios. In light of these factors, these bonds are marked for addition to our Fixed-Income2.com and Fixed-Income3.com global high yield income portfolios.
Temple Hotels
Ticker: TPH.TO
Toronto: $0.69 1/5/2017
Debenture : TPH.DB.E
Coupon: 7.25%
Maturity: 09/30/2017
Conversion Price: $ 6.68
Rating: none
CUSIP: 879854AC1
Pays: Semi-annually
Price: 96.84
Yield to Maturity: ~12%
Debenture : TPH.DB.F
Coupon: 7.0%
Maturity: 03/31/2018
Conversion Price: $6.52
Rating: none
CUSIP: 879854AE7
Pays: Semi-annually
Price: 95.0
Yield to Maturity: ~11.5%
Disclosure: To obtain higher yields and keep costs as low as possible, we typically bundle smaller retail orders into larger institutional sized orders with many global trading firms and bond platforms. Our main priority is to provide the best opportunities for our clients. Our bond reviews are published on the Internet and distributed through our free email newsletter to thousands of prospective clients and competitive firms only after we have first served the needs of our clients. Bond selections may not be published if they have very limited availability or liquidity, or viewed as not being in the best interests of our clients. Some Durig Capital clients may currently own Temple Hotel convertible bonds.
Please note that all yield and price indications are shown from the time of our research. Our reports are never an offer to buy or sell any security. We are not a broker/dealer, and reports are intended for distribution to our clients. As a result of our institutional association, we frequently obtain better yield/price executions for our clients than is initially indicated in our reports. We welcome inquiries from other advisors that may also be interested in our work and the possibilities of achieving higher yields for retail clients.
Disclosure: I/we have no positions in any stocks mentioned, and no plans to initiate any positions within the next 72 hours.
I wrote this article myself, and it expresses my own opinions. I am not receiving compensation for it. I have no business relationship with any company whose stock is mentioned in this article.