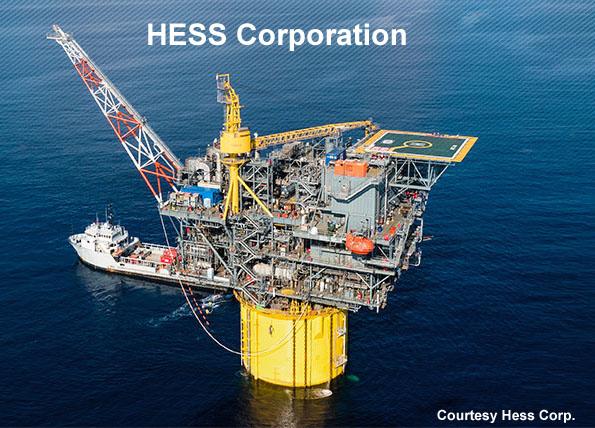 Hess Corporation (NYSE:HES)
Investment Thesis:
Hess Corp. is the perfect size oil and gas company, in my view, that small and large institutional investors like to invest in because of its simplified business structure, diversified source of production and efficient business model that present a significant growth potential with the recent increase in oil prices, now well over $50 per barrel, assuming that positive momentum in oil prices will remain strong, which is still "up in the air" depending on many conflicting elements (OPEC and non-OPEC cut of 1.8 MBOPD reality check, Libya oil production increase, production in the USA).
Hess is active in:
1 - Unconventional oil and gas production in the U.S. - North Dakota Bakken and Three Forks formations, where the company produces shale oil and gas, and the Ohio, Utica Basin, where it primarily produces natural gas and natural gas liquids.
2 - Deepwater development and production - HES is the sixth largest producer in the Gulf of Mexico and also has offshore assets in Europe, Asia Pacific and West Africa.
3 - Hess' exploration strategy consists of several exciting prospects such as the Liza discovery in Guyana.
Hess indicated yesterday that its 2017 E&P CapEx budget will be $2.25 billion, up 18.4% compared to its 2016 CapEx of $1.9 billion.
Hess expects its 2017 production to average between 300K-310K boe/d, excluding Libya. Production is anticipated to jump 8-12% early 2017, partly as a result of the restart of drilling at Valhall field in Norway, and start-up of North Malay Basin in Q3 '17.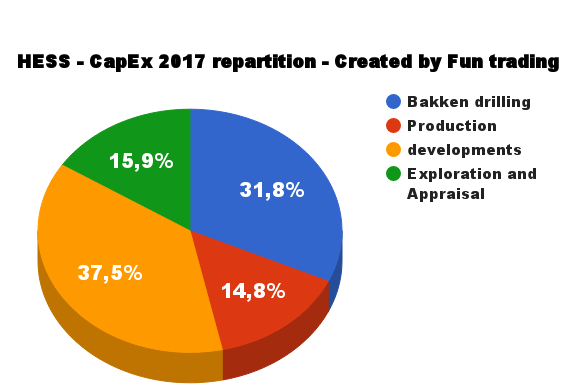 This includes increased capital for additional rigs in the Bakken: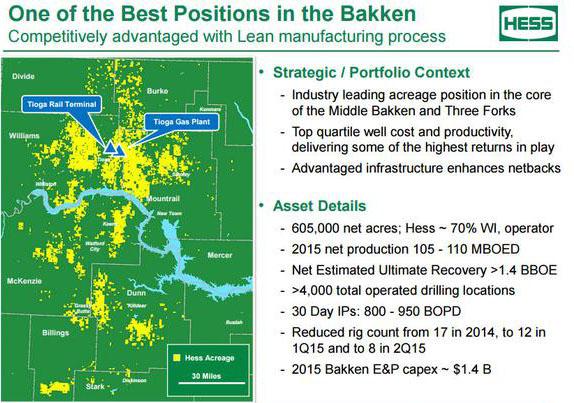 $700 million or 31.1% will be allocated for unconventional shale resources.
Development activities at the Liza discovery offshore Guyana ($125 million Liza discovery), Hess 30% interest, and $350 million for the Stabroek in general: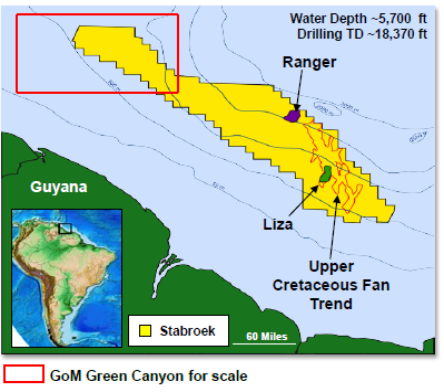 A quick look at the offshore Stabroek block in Guyana.
The Stabroek block covers an area of 26,800km2 and is operated by Exxon Mobil (NYSE:XOM) subsidiary Esso Exploration and Production Guyana Ltd., which holds a 45% operating interest in the block alongside Hess Guyana Exploration Ltd. (30%) and CNOOC Nexen Petroleum Guyana Ltd (25%). A first well, Liza-1, was spud on March 5, 2015 drilled by the Transocean (NYSE:RIG) Deepwater Champion drillship.
On June 30, 2016, Exxon Mobil announced the following:
Today said that drilling results from the Liza-2 well, the second exploration well in the Stabroek block offshore Guyana, confirm a world-class discovery with a recoverable resource of between 800 million and 1.4 billion oil-equivalent barrels.

[...] The Liza-2 well was drilled by Exxon Mobil affiliate Esso Exploration and Production Guyana Ltd., approximately 2 miles (3.3 km) from the Liza-1 well. The Liza-2 well encountered more than 190 feet (58 meters) of oil-bearing sandstone reservoirs in Upper Cretaceous formations. The well was drilled to 17,963 feet (5,475 meters) in 5,551 feet (1,692 meters) of water.
The second well was drilled by the Drillship Stena Carron. Stena Drilling indicated in its website.
A one-year contract for Stena Carron was signed during the year. The contract also includes options for extension and is valid from January 2016. However, market conditions mean that the daily rate is significantly lower than what would have been normal in years of high demand. This is a very important contract for the company and it is very gratifying to see Stena Carron back in operation after a year laid up outside Las Palmas.
On January 12, Exxon Mobil and Hess announced that the appraisal drilling at Liza-3 identified an additional high quality, deeper reservoir directly below the Liza field, which is estimated to contain between 100 MMBoe to 150 MMboe.
Hess will also use $350 million to drill wells on the Stabroek Block, including appraising Liza discovery and the recent Payara discovery, and new exploration prospects (Suriname block 42). Hess' website indicates:
In 2016, Hess Suriname Exploration Limited, a wholly-owned subsidiary of Hess Corporation, acquired a one-third non-operated interest in the Block 42 contract area, which is located offshore Suriname in the Guyana-Suriname basin along the northeast margin of South America.
And restart of drilling at the Valhall field in Norway: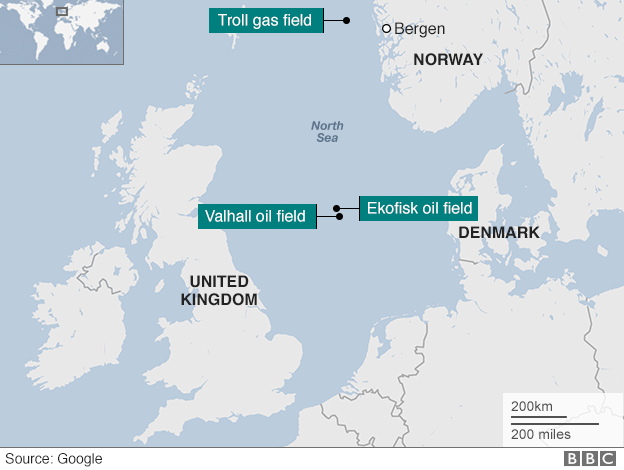 Hess owns 64%. The company expects drilling to restart in late Q1 2017.
Greg Hill, Hess president and COO, said:
We plan to resume drilling at the Valhall Field from the existing platform rig and we will continue to progress our two offshore developments to first production, which will add a combined 35,000 boe/d once online.
$375 million production activity in the Gulf of Mexico (including Penn State field/Norway) and $425 million for the Stampede field:
...including the drilling and completion of a production well at the Penn State field - Hess-operated owns 50%.
The company has assigned $425 million for its Stampede field in the deepwater Gulf of Mexico. Two wells will be drilled and three wells will be completed. Progress development to be able to achieve first oil in 2018.
The drillship Ocean BlackLion owned by Diamond Offshore (NYSE:DO) commenced operations for Hess in the Gulf of Mexico in Q1 '16.
For more information about the project and the BlackLion please click here.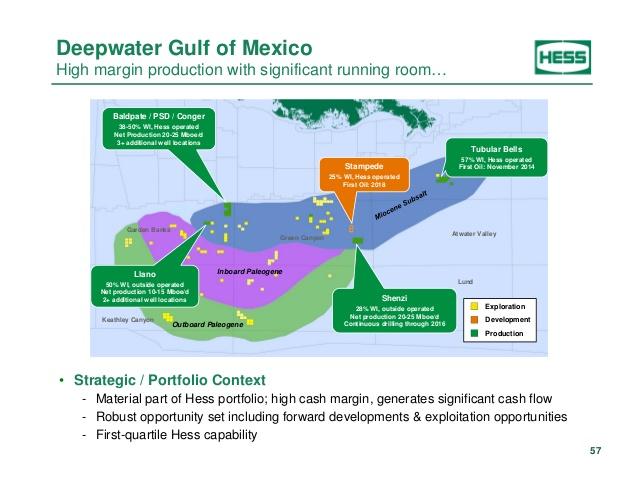 $275 million for completion of initial full field development of the North Malay Basin in Malaysia (HESS is 50% and is the operator).
Decision to delay Equus gas field in Australia.
The company made the decision in Q4 '16 to delay further development of the Equus natural gas fields on blocks WA-390-P and WA-474-P in the Carnarvon basin, offshore the North West Shelf of Australia. Hess owns 100% of Equus fields.
The Equus project entails development of eight gas fields discovered by Hess in WA-390-P between 2008 and 2012 with reservoirs in several stratigraphic horizons. The fields lie southeast of Exxon Mobil Corp.-BHP Billiton Ltd.'s Scarborough gas field and southwest of Exxon Mobil's Jansz-Io gas field.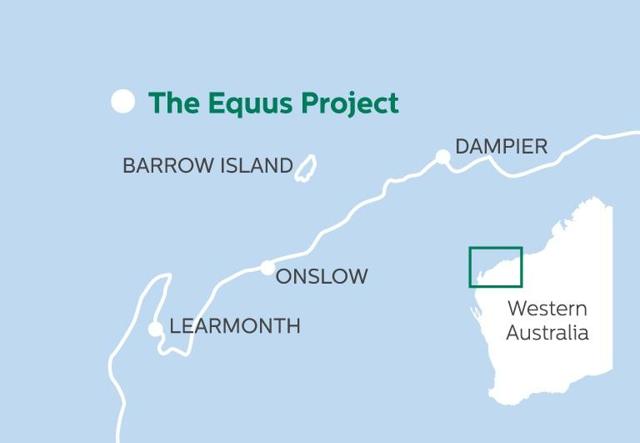 Hess has drilled 16 exploratory wells on the block, 14 of which were natural gas discoveries. The Warrior-1 well in WA-390-P was drilled by the semi-submersible rig Transocean Jack Bates which is now working for ONGC in India.
As a result of delay, the Q4 '16 results will include an after-tax charge of approximately $700 million to fully impair the carrying value of interests in Equus.
Capital expenditure will be allocated to projects that generate higher returns for shareholders, such as the Bakken and Guyana.
Conclusion:
The 18.4% increase in CapEx this year is another sign that the oil industry is slowly awakening from years of lethargy. The offshore segment is not forgotten and represents a great part of this new budget. It has been recently corroborated by the "industry watchdog" Wood MacKenzie.
Wood Mackenzie points out that capital costs for offshore projects have fallen 20% since 2014. A fact they say will raise internal rates of return on new projects to an average 16% this year, well above the 9% average IRR for projects launched three years ago.

All of which shows lower commodities prices are manageable, for the right projects. The consultants say the biggest winners will be smaller projects that benefit most from cost reductions - watch for announcements on project go-aheads for small to mid-sized fields (and likely a few bigger ones) as the year goes on.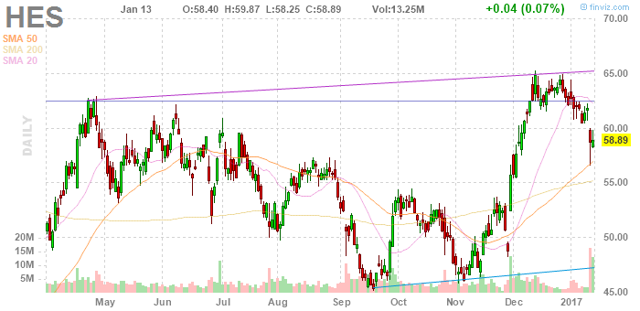 HES reached a resistance at $65 and was clearly overpriced. The right strategy was to sell a large part of your HES holding when the second attempt to breach the $65 level was not successful and the RSI was around 80.
The stock is correcting slowly to its next support that I see around $55 and eventually $50, if the first support cannot hold.
The paramount element here is the oil prices in 2017. I am cautiously optimistic that oil will remain above $55 a barrel in 2017; however, it is obvious that oil prices have stalled and the market is waiting for tangible facts about production to allow the oil prices to resume their positive momentum and trade in the $60s per barrel.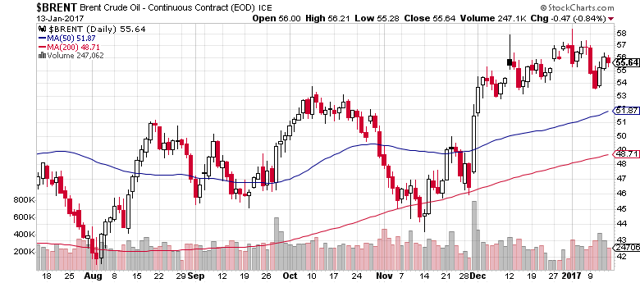 The correction is likely to continue until the market has gathered sufficient data to decide its next move. Meanwhile, I believe any weakness should be recognized as an opportunity to accumulate for the long term.
Important note: Do not forget to follow me on HES and the oil industry in general. Thank you for your support.
Disclosure: I am/we are long RIG, XOM. I wrote this article myself, and it expresses my own opinions. I am not receiving compensation for it (other than from Seeking Alpha). I have no business relationship with any company whose stock is mentioned in this article.
Additional disclosure: I may initiate a long position with HES