In JPMorgan Chase (NYSE:JPM) investors get a growing balance sheet and revenue streams and the prospect of a little improved operating leverage: the current added juice of US Banks.
Strengths on show in 4Q
The fourth quarter offered encouragement to long term holders of JPM. First, loans grew well and the loan deposit ratio has maintained its improved level. What JPM terms "core" loan growth was 12% YoY.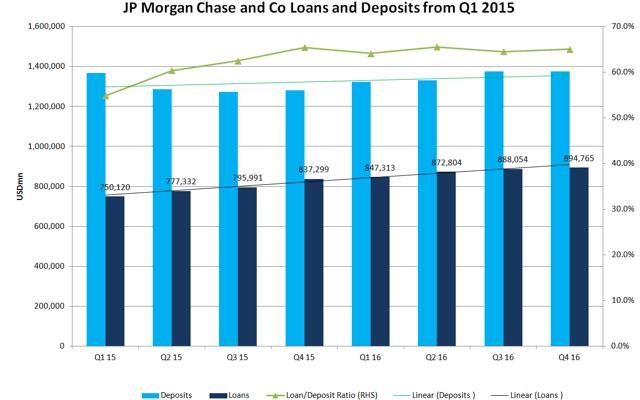 Source: Company Data
Interest margins were stable and with improved cost of risk on the back of a falling NPA ratio (1.75% from 1.79%) RANIM saw a gentle improvement: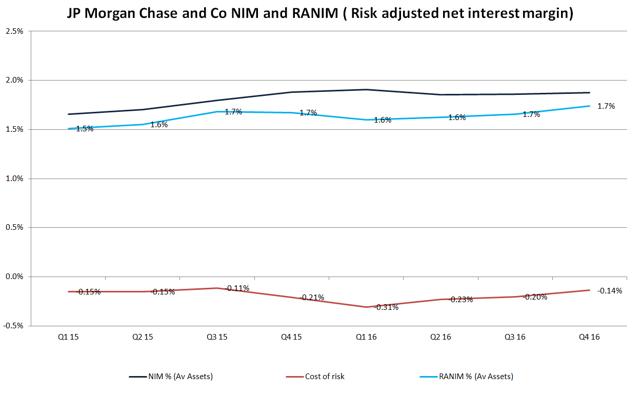 Source: Company Data
So much for the trauma of 1Q'16! It's amazing that the panic of that period overlay an actual elevation of JPM's LLP charge by all of 10bps. Jamie Dimon knew what he was doing when he leaned into his own stock in February last year and helped put in the bottom for many names in the sector globally.
As you can see on the chart below, the basic income dynamic at JP Morgan is positive. Of course, since JPM's non-interest revenues are larger in general than its net interest revenues, lower trading quarters such as the one just passed can hold back progress in overall income growth. The point though is this: JPM's non-interest lines have a clear floor of around $11.5bn per quarter while net interest revenue is growing steadily, which is what you would expect given the loan growth we have already looked at (above).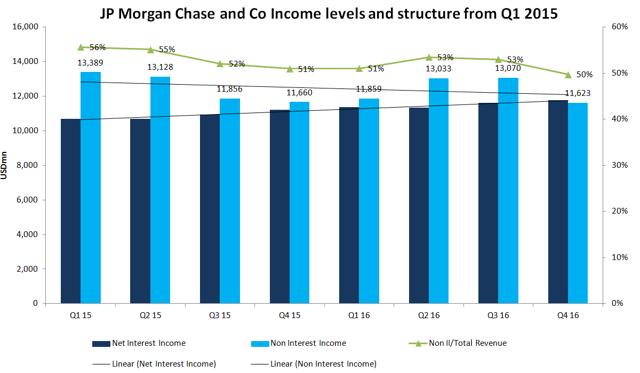 Source: Company Data
So far so good. JPM has given a cost reduction target of $4.8bn to be achieved by the end of this year, which started in 2014. I would expect this to be refreshed during 2017 to encompass a new medium term horizon. This should allow the company to achieve modest operating leverage with 4-5% revenue growth through 2017-18 and cost growth about 50bps behind that.
Capital improved too with a CET1 ratio of 12.2% over 11.9% at 3Q 2016. This reflects de-risking in the trading business and it's a positive to see a capital ratio build while the loan book continues to expand. While Dodd-Frank might be relaxed enough to allow JPM to carry less capital, the investment case in no way depends on this and while I see prospective looser regulation opposite capital levels as a positive at the current time there are bound to be investors who reasonably will question whether it is desirable, at least for the biggest banks.
All told, I get these numbers for the outlook: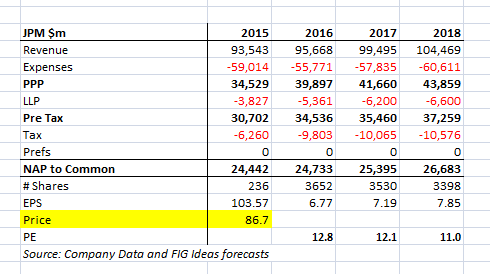 Conclusion
Bank of America (NYSE:BAC) is a bit cheaper than JPM out in 2018, with a PE of 10.3x vs. JPM on 11x and while 4Q provided optimism that BAC will get to where it wants to be on costs, the PE discount reflects some execution risk around the target. JPM should grow EPS at 6% in 2017 and 9% in 2018 through loan driven revenue growth and share buybacks. And don't forget a yield upwards of 2% a year. I've also been quite stingy with the revenue growth forecasts in the table above. It's just that trading may be a little constrained in a rising rate environment - though JPM will already have adjusted its books through 4Q to an extent. The shareholder economics here are attractive and the stock is too modestly valued for a hot sector. Yes, big banks are the cheap end for this sector, and JPM is one of the best.
Disclosure: I/we have no positions in any stocks mentioned, and no plans to initiate any positions within the next 72 hours.
I wrote this article myself, and it expresses my own opinions. I am not receiving compensation for it (other than from Seeking Alpha). I have no business relationship with any company whose stock is mentioned in this article.