The iShares MSCI New Zealand Capped ETF (NYSEARCA:ENZL) has outperformed its sister ETF, the iShares MSCI Australia ETF (NYSEARCA:EWA) over the last five years. This is demonstrated by plotting the ratio of EWA to ENZL, as shown in the chart below.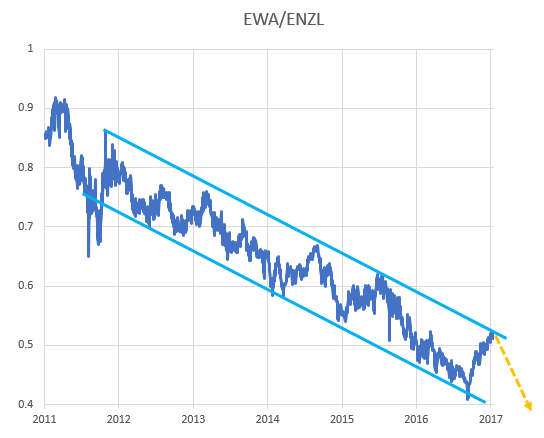 Ratio of Australia TO New Zealand Country ETFs
This is the type of chart that I love to trade, a well defined descending channel, butting up against one of the channel lines. This is a decision point, either the descending channel will be broken, or it won't. If it is broken, the price ratio will rise moderately and may even start trending lower again. If the ratio stays within the bounds of the channel, then some good profits are there for the taking with a long ENZL / short EWA trade.
Positive Factors
ENZL has a lower P/E Ratio than EWA. ENZL also has a higher distribution yield (6.50%) than EWA (5.02%), providing net positive dividends of almost 1.5%. In addition, ENZL currently has a discount to NAV of 0.33% while EWA is trading at a premium of 0.22%.
| | | |
| --- | --- | --- |
| | ENZL | EWA |
| P/E Ratio | 14.50 | 18.99 |
| Distribution Yield | 6.50% | 5.02% |
| Premium/Discount | -0.33% | 0.22% |
Note: These factors are not a justification for making a trade but it is nice to see that they are to the trade's advantage.
Checking Under the Hood
The make-up of the two ETFs are radically different, and explains the difference in P/E Ratio and distribution yield.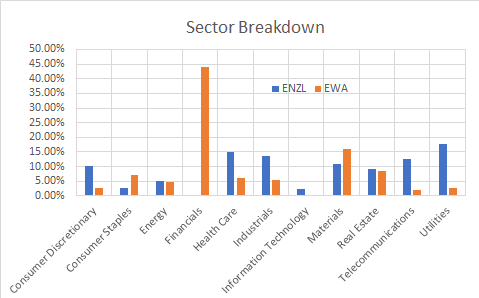 ENZL and EWA Sector allocations
ENZL has a much more even distribution of sector holdings, with highest weightings in Utilities, Health Care, Industrials, and Telecommunications. Financials are noticeably absent. Other than the holdings in industrials, ENZL is very much a defensive portfolio, and explains the lower P/E Ratio and higher dividend. ENZL is positioned for a slowing economy and there is some evidence of a slowdown both in New Zealand and Australia.
In contrast, EWA is heavily weighted in Financials (44%) and Materials (16%), a portfolio that will do well with an improving economy. Australian banks have been on a tear since the US election, in anticipation of higher interest rates and reduced financial regulations. Mining companies have benefited from increasing commodity prices. But some believe that the optimism has been overdone. The Trump rally won't last forever, and with very high global debt, interest rates only have much room to move higher, despite what Yellen and Trump would have you believe.
In addition, Australia is hoping to avoid a recession, as the GDP shrank by 0.5% in the third quarter of 2016, only the fourth time this has occurred in 25 years. Australians, government included, have not been spending, investing, or employing due to global uncertainty.
Adding to Australia's problems, ratings agency S&P Global is threatening to downgrade the country's triple-A rating if the Australian government doesn't maintain its path toward generating a surplus by 2020. Such an action would lead to increased borrowing costs for banks and mortgage holders.
The Trade
The proposed strategy is to go long ENZL and short EWA in equal dollar amounts. The trade should be held long term providing the ratio of EWA / ENZL remains in the descending channel. If EWA / ENZL breaks out significantly from the channel lines then the trade should be closed.
Disclosure: I/we have no positions in any stocks mentioned, and no plans to initiate any positions within the next 72 hours.
I wrote this article myself, and it expresses my own opinions. I am not receiving compensation for it (other than from Seeking Alpha). I have no business relationship with any company whose stock is mentioned in this article.