With thousands of investing possibilities, it can be hard to determine which one is the "right one." The bad news is that there's not sure fire way to figure that out. Indeed, there will always be a more optimal route in hindsight. The good news is that you don't have to pick a single "right" security in order to do well. The investment world is overwhelmingly filled with positive long-term results.
This idea comes in handy especially when you're building a portfolio. Not only are you not limited to a single selection, but a group of securities can provide an aggregate and stabilizing benefit.
Still, it can be challenging to select a securities one by one through time. (Many simply opt for a "why not all" approach and use a low cost index fund - certainly an effective and positive strategy.) To combat this, stock screens are often used. The limitations are notorious - hindsight bias, inadvertently disqualifying prime candidates, screening for the wrong items and so on. However, I find that they can still be useful as a starting point (not an end).
For instance, suppose you're looking for a high quality business with a reasonable valuation and solid starting yield (aren't we all). Depending on the information you have available, you can come up with a list that fits these criteria in rather short order.
Here, I'll show you. It's not a perfect gauge, but financial strength tends to be a reasonable proxy for "quality." After all it requires pricing power and profits to build up financial strength and an ongoing moat to protect it. So you could look at something like the Value Line Financial Strength score as a starting point. Remember, this isn't going to be perfect - those supplying the rating make mistakes - but in a quick and high level way it demonstrates the point nicely.
Value Line's highest financial rating is "A++." If you searched for companies with only this designation you'd whittle your potential list down from thousands to just 75. Your typical Coca-Colas (NYSE:KO), Johnson & Johnsons (NYSE:JNJ) and Exxon Mobils (NYSE:XOM) of the world show up here.
From there perhaps you want a sensible valuation, so you could screen the 75 names down by requiring a starting P/E ratio of less than say 16. This is arbitrary, but it does the trick: bringing down your potential list to roughly 18 names.
And for a third slicing of the data, perchance you're interested in securities yielding north of 3%. In this case you're left with eight names.
Now before I reveal those names, it should once again be reiterated that this is not going to be a perfect process. You could be eliminating securities like FedEx (NYSE:FDX), Disney (NYSE:DIS) or Visa (NYSE:V) that could have very well been impressive investments that you would have enjoyed partnering with. A lot of people get in trouble with arbitrary valuations or starting yields. Still, it gives you a place to begin - from thousands down to eight:
AT&T (NYSE:T), Verizon (NYSE:VZ), Public Service Enterprise Group (NYSE:PEG), Cisco (NASDAQ:CSCO), IBM (NYSE:IBM), Qualcomm (NASDAQ:QCOM), Williams Sonoma (NYSE:WSM) and Wal-Mart (NYSE:WMT).
Here's what that looks like in table form: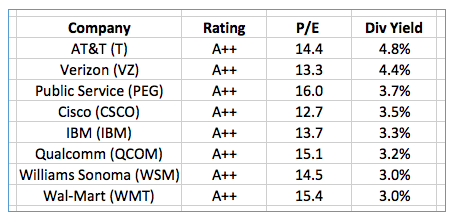 The point is not that these eight securities will outperform or anything of the sort. Instead, it's about what Peter Lynch would refer to as "flipping over rocks." Peter Lynch had this thing where he would compare investing to flipping over rocks and finding grubs. If you flipped over 10 rocks, you might find one grub. If you flipped over 20 rocks, perhaps you'd find 2 grubs and so on. And if you don't flip over any rocks then naturally you won't find anything at all.
That's as good of a life lesson as any, but in this particular instance we're talking about investing specifically. So we flipped over some rocks. Granted we did so haphazardly, but we flipped them over nonetheless. The above names meet a set of criteria that thousands of other securities could not.
Now your job is to start to see if any of them are actually interesting. As an illustration, in comparison to a lot of your alternatives, AT&T with a near 5% yield and earnings multiple under 15 might look appealing. And indeed, you have a solid and increasing income stream supported by $15+ billion in underlying earnings ability.
Yet at the same time you might bake in some caution as the business tends to be quite slow moving and shares are already up 20% in the last year. Perchance coming to the conclusion that the high yield - which has often been north of 5% - "should not be chased."
The point is not about picking a "winner," at least for this discussion, the takeaway is finding a place to begin and then creating a baseline judgment. You can always circle back and dig a bit deeper. If you were slugging through thousands of securities it might be weeks or months before you get to an AT&T. Alternatively, we've put it in the "maybe" pile in the matter of minutes. And while that may not be a decision, it does allow your limited time allocated to researching to be more productive.
Looking at the remainder of the list, perchance you have similar "slow growth" apprehensions about Verizon and Public Service as well - possibility justifying the lower starting valuations. And maybe you're not particularly keen on retail, taking Williams Sonoma and Wal-Mart off your consideration list or at least requiring an even better valuation.
You still have some prime research candidates - Cisco, IBM and Qualcomm - all offering very profitable businesses, starting yields north of 3% and still quite manageable payout ratios. When you start to dig in, there can be some exciting things like Cisco's $71 billion in cash and investments alone against $63 billion in total liabilities (hence the superior financial strength rating).
In short, it's not about a particular screen or security. Instead, it's about figuring out a set of circumstances that fit your investing ambitions and working to learn more about those types of opportunities. In the above example we used a "high quality and reasonable price" short-cut. This is the beginning, not the end. Of the above names perhaps one ultimately makes sense as a potential investment and another one or two you'll keep your eye on. Once that task is complete, you can start to expand your possibilities and see what other interesting things are out there.
Disclosure: I am/we are long JNJ, T, KO, XOM, IBM.
I wrote this article myself, and it expresses my own opinions. I am not receiving compensation for it (other than from Seeking Alpha). I have no business relationship with any company whose stock is mentioned in this article.