Natural gas (NYSEARCA:UNG) prices finished the week up 3.95%.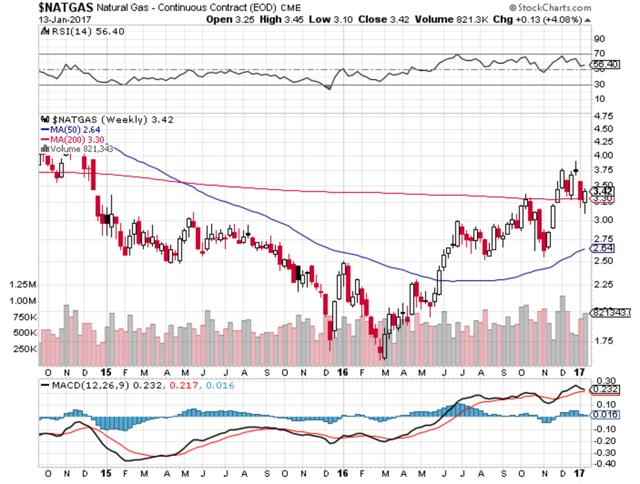 The week saw natural gas prices pushing below $3.10/MMBtu at one point on the back of a torch pattern developing for the second half of January. The bearishness quickly corrected itself after weather model updates show 1/25 to start with colder than normal temps across most of the US. Over the past week, each subsequent model updates reflected more and more bullish weather outlook for the end of Jan, and forecasters are now starting to see the trend continuing into Feb.
In our Friday NGD, we said the following:

The issue with the natural gas market at the moment is that the long-term outlook will tend to change very rapidly in a very short amount of time. As a result, traders are trading in and out of positions and very few are holding conviction longs or shorts at the moment. The issue is also intensified with the long-term bullish outlook as the next two weeks are expected to be very bearish. The current storage draw forecast for 1/20 and 1/27 are expected to be much lower than the average, while next week Thursday's EIA storage report (week ended 1/13) is expected to be bullish as storage deficit is expected to widen. Overall, the exact trend in price is uncertain until we get past at least 1/20, and by then, we will have a better idea of how February will look like.
What traders and investors in natural gas should expect however is that if the weather outlook in Feb is bullish, the probability of the price range moving up increases greatly. According to our analysis, we see prices moving to a range between $3.75/MMBtu and $4.25/MMBtu. We warn again that long-term model forecasts can vary greatly, but the current trend has been to the bull side.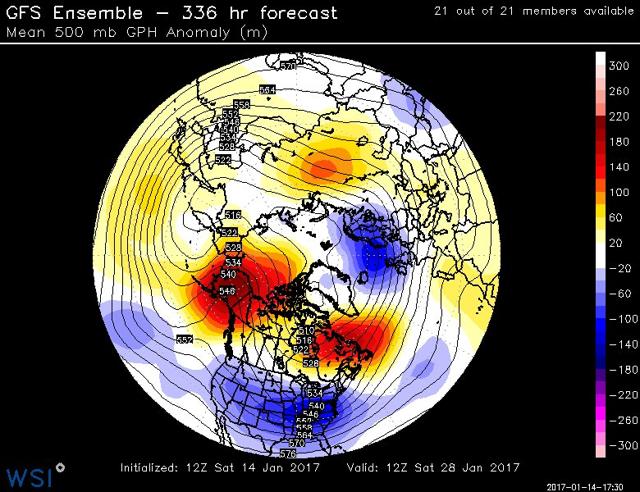 Source: Michael Ventrice
We will be updating premium subscribers daily on the weather model revisions and storage changes, if you are interested, you can sign up here.
8-14-Day Outlook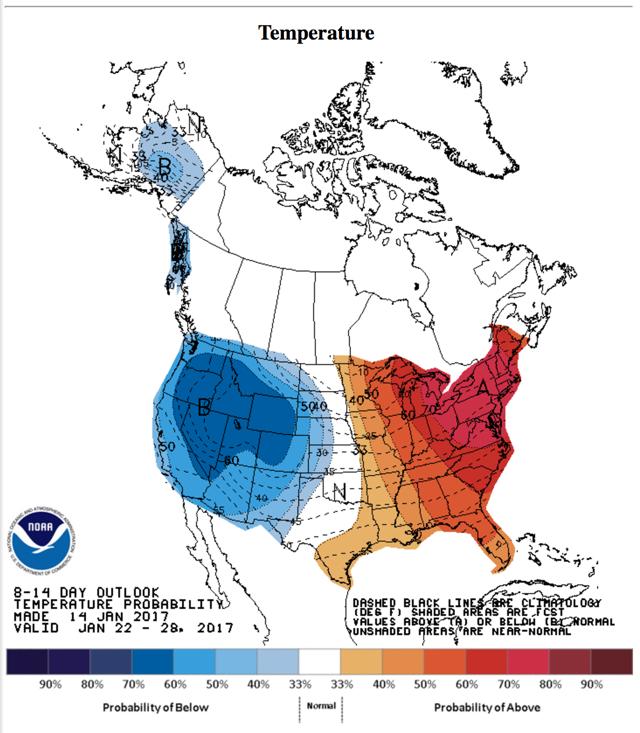 Disclosure: I/we have no positions in any stocks mentioned, and no plans to initiate any positions within the next 72 hours.
I wrote this article myself, and it expresses my own opinions. I am not receiving compensation for it (other than from Seeking Alpha). I have no business relationship with any company whose stock is mentioned in this article.