WTI (NYSEARCA:USO) finished the week lower by 3%.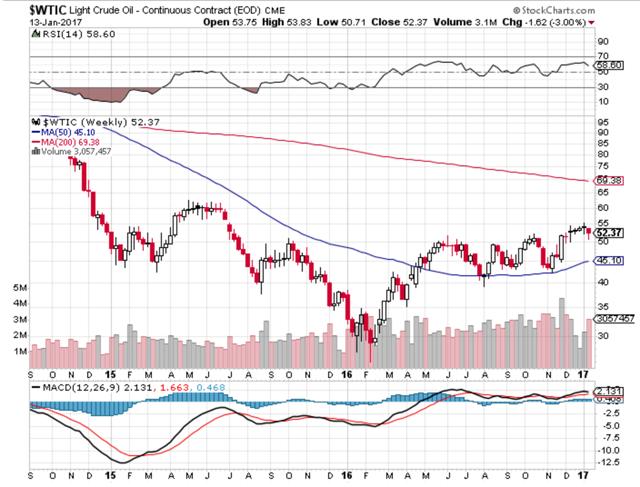 Volatility in the oil markets has been practically nonexistent since early December. WTI has stayed between $50 to $55. Surplus global storage is falling, but continues to put a cap on oil prices, while any short-term sell-off is short lived as OPEC is currently complying with the production cuts. We saw earlier this week when Brent sold off below $55 that Saudi came out and said they are reducing production below 10 million b/d, which led to oil prices rallying again. We said in our OMD this week that Saudi's attempt to cut production below 10 million b/d is a tactic to boost sentiment rather than something that's fundamentally material. This also tells us that Saudi is not willing to let oil prices fall, and has effectively become the price floor.
What's increasingly interesting from our perspective is the desperation out of the Saudis to prop oil prices higher. The timing of the production cut release coincided with oil prices selling off, and the language of the release signals to us that current oil prices are not sufficient to value Saudi Aramco at $2 trillion. To understand why Saudi wants oil prices to move higher, readers should revisit our write-up back in November detailing why we thought there would be an OPEC production cut deal.
A combination of fiscal budget pressure, long-term energy outlook, regime change, and economic incentives explain quite perfectly as to why Saudi needs higher oil prices. IMF calculates that Saudi's breakeven oil price is around $76, while Saudi's self-claimed breakeven price is somewhere in the mid $60s. Whatever the case may be, it's not $55, and it's not currently priced in the curve.
This sense of desperation from the Saudis and other OPEC members will only help accelerate the rebalancing. Weak oil prices will act as an automatic enforcer for the OPEC production cut agreement forcing countries to actually cut production versus lip servicing it. Current technological advances in tanker tracking will also make it less likely for OPEC members to cheat (not saying they won't), and monthly monitoring will make enforcement more likely. All in all, we see a combination of desperation from Saudi's need for higher oil prices, technological advances in tanker monitoring, and economic incentives to make this OPEC production cut agreement more likely than the previous ones.
As a result of our analysis, our current forecast remains to be an outlier amongst the many forecasts we've seen, and we believe global surplus storage will dwindle away by Q3 2017 and oil prices moving above $65 and potentially going over $70 sometime in Q3 2017. We regularly update our thoughts on the oil markets in our premium dailies, and if you are interested, you can sign up here.
Disclosure: I/we have no positions in any stocks mentioned, and no plans to initiate any positions within the next 72 hours.
I wrote this article myself, and it expresses my own opinions. I am not receiving compensation for it (other than from Seeking Alpha). I have no business relationship with any company whose stock is mentioned in this article.