On January 5th, President-elect Donald Trump aimed his Twitter bazooka at Toyota (NYSE:TM) with the tweet:
Toyota Motor said will build a new plant in Baja, Mexico, to build Corolla cars for U.S. NO WAY! Build plant in U.S. or pay big border tax.
The question is, why?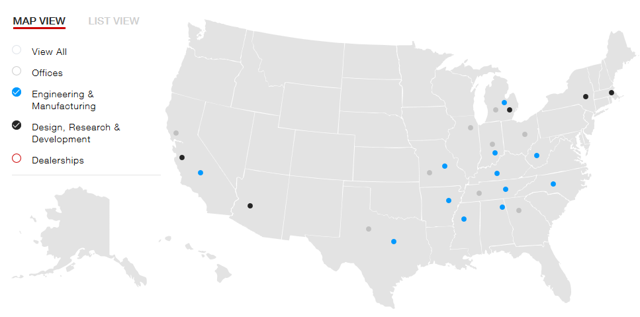 Source: Toyota U.S.A operations webpage.
Toyota has engineering, manufacturing, design, and/or R&D operations across 18 states. Some relevant statistics include:
70% of Toyotas sold in America were built in America.
That includes over 1.3 million vehicles.
Toyota has directly or indirectly created 365,000 jobs in America, many of these high paying manufacturing jobs.
Toyota has invested over $21 billion in the U.S.
Toyota has a long and rich history in the United States dating back to 1957 when it formed Toyota Motor Sales, U.S.A. In 2015, Toyota broke ground on its new North American Headquarters in Plano, TX.
In 2015, over 150,000 Toyota vehicles built in the United States were exported to over 40 countries.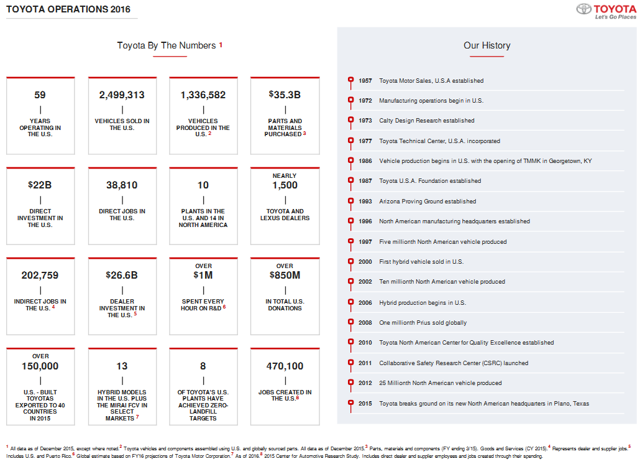 2016 was another excellent year for Toyota U.S.A. December 2016 highlights include:
Camry earned #1 passenger car sales title for 15th consecutive year.
Light trucks up 17.7% - a best-ever month.
Toyota division SUV up 27.6% in December.
Highlander posts all-time best-ever month up almost 58%.
RAV4 posts all-time best-ever month with sales up 16.8%.
4Runner sales were up 15.4% for the year.
Tacoma up 6.7% for the year.
Lexus LUVs up 26.3% in December and up 12.5% for the year.
Clearly, Americans are in love with Toyotas and clearly Americans benefit from the very large presence of Toyota design, R&D, manufacturing, assembly, and retail sales sights across the country.
So the obvious question: is Toyota announcing it's going to build a plant in Mexico reason for an impulsive and castigating tweet by the incoming president-elect? Is it really reason to slap a 35% import tariff on Toyotas made in Mexico? I think not.
And, of course, the Japanese were quick to respond to the tweet and quickly pointed out that they were an "important corporate citizen" in the United States.
In addition, Trump's tweet apparently confused Toyota's existing Baja plant with the planned $1 billion plant in Guanajuato, where construction got under way in November, just days after the election. The existing Baja produces around 100,000 pick-ups and truck beds annually. In September, Toyota said it would increase output of pick-up trucks by more than 60,000 units annually.
The new Guanajuato plant will build Corollas and have an annual capacity of 200,000 when it comes online in 2019, shifting production of the small car from Canada, not the U.S.
Toyota Shares As An Investment
Toyota Motor Corp.'s ADR currently yields 3.2% and shares at $120 are down roughly 20% from its 2015 high of over $140. In general, Toyota is thought to be a beneficiary of the strength of the US dollar versus the yen: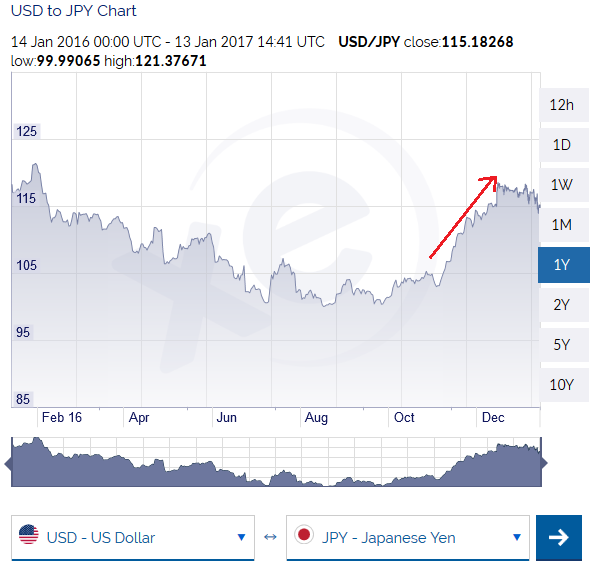 Source: XE.com
As can be seen in the chart above, the US dollar is up roughly 10% versus the yen since the election in November. However, most of the shine from this potential benefit to Toyota's share price has been taken away by the trade rhetoric coming in from the new administration. However, as Akira Kishimoto - a senior analyst at JP Morgan - was quoted in the Reuters article earlier said:
We think the impact on business performance is limited.
Kishimoto went on to say that even an "extreme case" tariff of 20% would hit Toyota's operating profit by around 6%. He also said:
A cool judgment is needed.
One was left wondering if that last comment was directed at Toyota shareholders or at president-elect Trump. Regardless, despite Toyota's excellent December and full-year 2016, it is hard to recommend the ADRs given the high level of uncertainty facing the company (and seemingly all companies...) this year. I suspect there will continue to be headline (or tweet) risks from the incoming administration.
Summary & Conclusions
Americans should be wondering where the "trade-by-tweet" policy of the incoming Trump administration will take the country. That is especially true of Americans who want to buy Toyota vehicles who may be hit with up to a 35% import tariff if their particular model happens to be made in Mexico. But if there is any company out there that does not deserve to be singled out in a "Trump-tweet", it is Toyota. The company has made high quality fuel-efficient cars for many decades in America. Full-disclosure: I am partial to the vehicles. My Dad (who served on General Douglas MacArthur's staff in Tokyo following the war, and who predicted Japan would become a manufacturing powerhouse) bought one of the first Toyotas ever sold in Louisiana back in the 1970s. It was a funny looking Corolla that all the neighbors made fun of. But during the energy crisis of the late 1970s, early 80s, the neighbors began to ask what kind of gas mileage our Toyota. When I told them 35-36 mpg, all of a sudden our car was the envy of the neighborhood. Since that time, I have owned three Toyota trucks and have never had a single quality issue with any of them. This is the underlying reason why Toyotas are so popular in the United States to this day. To slap an import tariff on Toyota vehicles made in Mexico is likely to hurt U.S. consumers much more than it will hurt Toyota. It is bad policy, period. One can only hope that the Trump team will figure this out and encourage the president-elect to stop his impulsive and destructive "trade-by-tweet" initiative and craft trade policy based on facts - not emotion.
Meantime, Toyota Motor Corp.'s ADRs are a HOLD.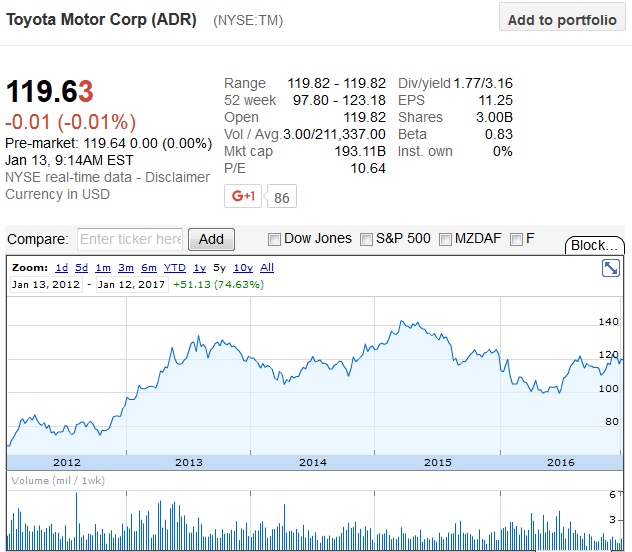 Disclosure: I/we have no positions in any stocks mentioned, and no plans to initiate any positions within the next 72 hours.
I wrote this article myself, and it expresses my own opinions. I am not receiving compensation for it (other than from Seeking Alpha). I have no business relationship with any company whose stock is mentioned in this article.
Additional disclosure: I am an engineer, not a CFA. The information and data presented in this article were obtained from company documents and/or sources believed to be reliable, but have not been independently verified. Therefore, the author cannot guarantee their accuracy. Please do your own research and contact a qualified investment advisor. I am not responsible for investment decisions you make. I also own and much prefer Toyota vehicles.