By some measures, US shale already seems pretty victorious. By most accounts, US shale has benefited greatly as a result of the Saudi-led oil strategy. Then there are great new discoveries (from CNN):
Geologists say a new survey shows an oilfield in west Texas dwarfs others found so far in the United States, according to the US Geological Survey. The Midland Basin of the Wolfcamp Shale area in the Permian Basin is now estimated to have 20 billion barrels of oil and 1.6 billion barrels of natural gas, according to a new assessment by the USGS. That makes it three times larger than the assessment of the oil in the mammoth Bakken formation in North Dakota.
And then there was this surprising development (from Rystad):
A new independent estimate of world oil reserves has been released by Rystad Energy, showing that the US now holds more recoverable oil reserves than both Saudi Arabia and Russia. For US, more than 50% of remaining oil reserves is unconventional shale oil. Texas alone holds more than 60 billion barrels of shale oil according to this new data.
One has to combine this fact with the following (from WorldOil):
Rystad Energy's latest North American Shale Report shows that the average wellhead break-even price has decreased on average by 22% year-over-year from 2013 to 2016. The most commercial wells currently exhibit breakeven prices between $25 and $30/bbl. Among the key shale plays, Permian Midland has experienced the largest drop in breakeven prices, falling by 33% year-over-year on average from 2014 to 2016.
Then there is the recent OPEC capitulation, after their market share strategy cost them hundreds of billions of dollars in lost revenue and brought quite a few of its member countries on the brink of financial disaster.
So at first sight, there is a good deal of tailwind behind the US energy sector and there seems little need for the assumed policy blitz that incoming President Trump might unleash on the US energy sector, in the words of the President elect:
America's incredible energy potential remains untapped. It is a totally self-inflicted wound.
The potential is indeed there for all to see, but whether it remains untapped or is victim of a self-inflicted wound remains very much to be seen.
Deregulate
While we have yet to wait for most of the policy details (the intentions can be read in the link just provided above), it's basically a program of deregulation. For starters, here is Bloomberg:
An obscure Washington policy group that opposes almost any government aid for renewable energy has emerged as an influential force in shaping Donald Trump's plans to dismantle Obama administration climate initiatives... "There's not a material energy or environmental policy on which they are not involved -- and most of them, they own," said Michael McKenna, a lobbyist who advises the alliance... The alliance already has recommendations for how Trump can expand drilling and make good on his campaign promise to rescind "job-killing" regulations by targeting fuel economy standards and Obama's Clean Power Plan to slash power-plant emissions.
We know that Trump is already looking at stuff like reviving the Keystone XL oil pipeline, connecting Canadian tar sands with Gulf refiners.
One can have at least a modicum of doubt whether this is looking to the future though. For starters, we are probably already at or close to 'peak gasoline,' according to the International Energy Agency (from Bloomberg):
After fueling the 20th century automobile culture that reshaped cities and defined modern life, gasoline has had its day. The International Energy Agency forecasts that global gasoline consumption has all but peaked as more efficient cars and the advent of electric vehicles from new players such as Tesla Motors Inc. halt demand growth in the next 25 years. That shift will have profound consequences for the oil-refining industry because gasoline accounts for one in four barrels consumed worldwide.
Then there are these tar sands. Getting oil out is more expensive, requires more energy and releases 3-4 times the carbon compared to ordinary oil (per the DOE).
At present oil prices, much of it is struggling to make a profit, new projects incurring the full-cycle cost are basically off limits (from IHS):
On a full-cycle basis, IHS estimated that a new greenfield oil sands mine (without an upgrader) required a WTI price between $85 to $95 per barrel on average in 2015-to breakeven. An steam-assisted gravity drainage (OTCPK:SAGD) project required between $55 to $65 per barrel to breakeven. Expansion of an existing SAGD facility required about $5 per barrel less to breakeven.
Something similar can be said with respect to the promised revival of coal. One can have considerable doubts from an environmental or greenhouse gas perspective, but it also goes against market forces. Here is Barry Ritholtz:
It now appears that natural gas overtook coal as the top U.S. power source last year. That trend is likely to accelerate: as of 2015, about 20 percent of the country's coal-fired power plants were facing retirement. Expect those to be replaced or retrofitted to burn natural gas. This matters because the electric-power generation used 92.8 percent of the total U.S. coal supply as of 2014. Coal accounts for 29 percent of electrical generation.
There is also reason (besides cutting greenhouse gases) behind the regulation that are not entirely without merits (from Clean Air Taskforce, emphasis ours):
This latest report finds that over 7,500 deaths each year are attributable to fine particle pollution from U.S. power plants. This represents a dramatic reduction in power plant health impacts from the previous studies. This reduction reflects improvements due to a variety of federal and state regulatory and enforcement initiatives that CATF has supported, including the Mercury and Air Toxics Rule (MATS) and the Cross-State Air Pollution Rule (CSAPR) and the active enforcement of existing regulations such as New Source Review (NYSE:NSR). Since 2004, these measures have dropped Sulfur Dioxide (SO2) pollution by 68% and Nitrogen Oxide (NOx) by 55%, the leading components of fine particle pollution. This was achieved through the near doubling of the amount of scrubbers (the technology used for reducing SO2 pollution) installed at power plants and additional retirements of coal capacity. Yet, despite this progress, some in the power industry and several recalcitrant states persist in trying to overturn the MATS and CSAPR regulations in court and reverse this life-saving trend.
Another plank of the Trump energy policy is getting rid of subsidies for alternative energy (from the Guardian):
especially considering he chose Myron Ebell, a known climate denier without any scientific degrees or qualifications, to oversee the Environmental Protection Agency. Ebell does not think the government should support subsidies to catalyze adoption of solar or wind energy.
However, here is something to keep in mind (from Cleantechnica):
Studies by the International Energy Agency point out that global subsidies for fossil fuels outstrip those for renewable energy nearly 10-fold. The International Monetary Fund said if climate and environmental costs were included, then the fossil fuel subsides increased another 10 times to nearly $5 trillion a year.
One can wonder:
Given the enormous progress shale production has made to date (especially the last couple of years), whether deregulating the fossil fuel sector will make that much of a difference in terms of added production.
Perhaps more seriously, insofar as it will be successful, whether the US will not fall in the same trap as the Saudis as this could be seen as the equivalent of the 'maintain market share' strategy that the Saudis pursued the last couple of years. A strategy that cost them hundreds of billions in lost revenues and brought them close to the brink of financial ruin.
Of course, the US isn't going to bring itself close to financial ruin like the Saudis just did, at least not by means of their energy policy.
But one wonders what the opportunity costs are from going for broke in the fossil fuel sector. We'll give you some elements to ponder. If going for broke means increasing environmental damage, as we suggested above it very well might, then this avenue isn't without opportunity cost.
The US isn't likely to experience Chinese or New Delhi type killer smog, but make no mistake, fine particle pollution and stuff like ozone and nitrogen oxide (NO2) are big silent killers.
According to the WHO, a staggering 7M people die prematurely as a result of air pollution. We already mentioned that just fine particle pollution kills 7,500 persons a year just from power plants in the US. That's only one source and one form of pollution.
Cars, most notably diesel powered ones, are another great source of fine particle pollution and other noxious gases, like nitrogen dioxide (NO2). In a city like London it leads to 5,900 early deaths, and in some parts of the city annual NO2 limits have already been breached in the first five days of 2017. Then there is ozone...
Since much of this comes from diesel cars perhaps US cities are not quite as bad. Funny enough, diesel cars got popular in Europe because they received favorable regulation as they emit less greenhouse gases, a stark reminder that regulation cuts both ways (and they need to be policed as well, witness VW dieselgate).
But we now know living near a busy road also increases your risk of dementia.
Hybrids and EVs got developed and market traction mostly as a result of government policies like minimum emission standards and subsidies, and it's these that are now in danger.
But from a public health perspective, there is no doubt that coal fired plants and traffic have serious externalities, why would a rich country like the US want to double down on these when there are cleaner alternatives available? And there are other costs attached.
The next energy revolution
Insofar as incentives for alternative energy are reduced or even abolished, and research and regulations that favor their development are cut or eliminated, the US could shoot itself in the foot with respect to the next energy revolution.
That energy revolution is already well underway, the cost of solar, wind, and batteries have plunged and there is no reason to believe they will not continue to decline.
Solar and wind are now competitive in large parts of the US with coal, gas or nuclear power plants, according to the authoritative Lazard report.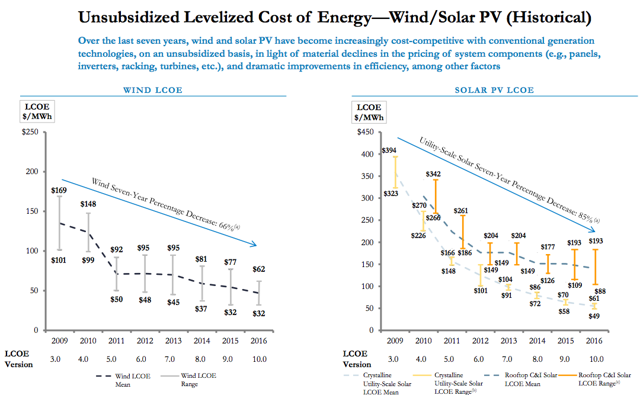 Perhaps this is why, for the second year running, the majority of new electricity generation in the US comes from alternative energy (from Bloomberg):
Developers installed 16 gigawatts of clean energy in 2015, or 68 percent of all new capacity, Bloomberg New Energy Finance said in its Sustainable Energy in America Factbook released Thursday with the Business Council for Sustainable Energy.
And this year, there is more new solar installed capacity compared to new natural gas powered plants (from Greentechmedia):
Utility-scale solar photovoltaic power added more than 9 gigawatts (NYSE:AC) of capacity to the U.S. power grid in 2016, making it the most dominant new fuel source for the first time in a calendar year, according to the U.S. Energy Information Administration. Natural gas was not far behind at 8 gigawatts of new capacity and wind added nearly 7 gigawatts, according to the EIA. Wind, solar and natural gas made up 93 percent of new capacity, with some hydropower and nuclear rounding out the fuel mix of new additions.
But in part this was due to rushing projects as subsidies expired. These have since been renewed so the US market will cool considerably in the wake of that. It remains to be seen what, if any, the effects of new energy policies by the incoming Trump presidency will be but it definitely seems driven by a desire to shift towards fossil fuels.
One of the consequences could be that the US is forfeiting its lead in some of the industries of the future. China, driven by a horrific pollution problem, is going all-in on alternative energy, from the New York Times:
China intends to spend more than $360 billion through 2020 on renewable power sources like solar and wind, the government's energy agency said on Thursday. The country's National Energy Administration laid out a plan to dominate one of the world's fastest-growing industries, just at a time when the United States is set to take the opposite tack as Donald J. Trump, a climate-change doubter, prepares to assume the presidency.
And here is the Institute for Energy Economics and Financial Analysis (pdf, our emphasis):
According to the International Energy Agency (NASDAQ:IEA), China will install 36% of all global hydro electricity generation capacity from 2015-2021. Similarly, China will install 40% of all worldwide wind energy and 36% of all solar in this same period. Given that the rapidly improving cost competitiveness of renewable energy is driving expansions of renewable energy capacity in an ever-increasing number of countries around the globe.. A change in leadership in the U.S. is likely to widen China's global leadership in industries of the future, building China's dominance in these sectors in terms of technology, investment, manufacturing and employment.
Not just China, other countries and companies as well, here is Bloomberg:
Solar power is now cheaper than coal in some parts of the world. In less than a decade, it's likely to be the lowest-cost option almost everywhere. In 2016, countries from Chile to the United Arab Emirates broke records with deals to generate electricity from sunshine for less than 3 cents a kilowatt-hour, half the average global cost of coal power. Now, Saudi Arabia, Jordan and Mexico are planning auctions and tenders for this year, aiming to drop prices even further. Taking advantage: Companies such as Italy's Enel SpA and Dublin's Mainstream Renewable Power, who gained experienced in Europe and now seek new markets abroad as subsidies dry up at home.
Yes, these alternative sources suffer from intermittancy, but the relentless march downward of energy storage cost is going to deal with that sooner or later.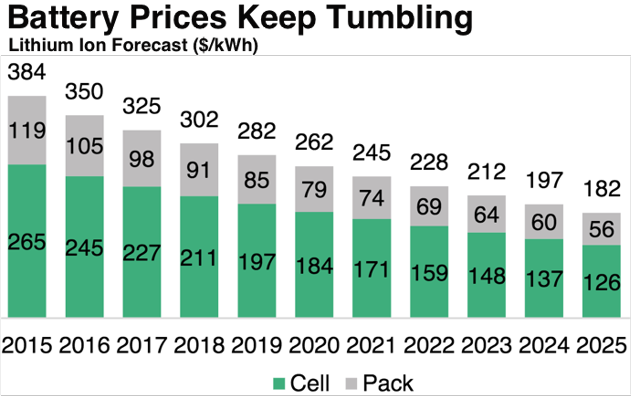 After the gas glut, an oil glut?
Another element to ponder is what an all-out, going for broke fossil fuel policy could do to oil supply. This isn't entirely hypothetical. In a way, it has already happened with natural gas where the shale revolution has unleashed an era of cheap gas that isn't likely to end anytime soon.
Of course there are differences, the main one is that oil is a global commodity and natural gas is still very much a local one (witness the large price differentials between the US, Europe and Asia, for instance).
One could, in fact argue the opposite. With the advent of LNG, it could very well be more likely that US shale gas will be internationalized and the gas market will start to resemble the oil market more than the other way around.
But one thing we learned the past two years is that shale is a moving target. Break-even costs have been reduced significantly, and there is no reason to assume we're at the end of this.
If that process continues, it means that more oil becomes gradually available at constant prices. Apart from that, the US isn't the only part in the world where there are large shale deposits.
Some of the same methods and techniques developed in US shale can be applied to shale formations elsewhere, although we are aware of the fact that local conditions often differ (for instance, much of Chinese shale formations are in the Gobi desert, where water isn't available).
One of the more promising shale formations outside the US is the massive Vaca Muerta resource in Neuquen province in Argentina, where a host of world class players are already operating and which is benefiting from liberalizations by the more market friendly Macri government.
And there is another important variable left out of the picture, oil demand. Opinions differ widely as to how that will develop in the coming decades.
Conclusion
While we'll have to wait for policy details, it seems clear that the incoming Trump government will embark on a wholesale deregulation of the energy sector. This could give the fossil fuel sector a boost.
However, such a policy shift isn't without downsides. Insofar as it relaxes regulation on activities that increase pollution, it will have clear public health consequences. While the US doesn't suffer from killer smog like parts of China and India, the consequences are still serious.
Given the rapid price declines of alternative energy sources, a shift in emphasis from alternatives toward fossil fuels also threatens to forfeit US leadership in the former, just when China is doubling down on these.
Insofar as it meaningfully boost supplies the policy could become the victim of its own success even in the more limited space of fossil fuels themselves. It could pin the price of oil down, something which has already happened in natural gas.
The latter also has a significant upside, of course. It's likely to make the US energy less dependent on the rest of the world, or even bring energy independence.
But the significance of that is dimmed considerably if the price of alternative energy keeps on falling anywhere close to the rate it has done for the last couple of decades and the US loses focus on this revolution.
Disclosure: I/we have no positions in any stocks mentioned, and no plans to initiate any positions within the next 72 hours.
I wrote this article myself, and it expresses my own opinions. I am not receiving compensation for it (other than from Seeking Alpha). I have no business relationship with any company whose stock is mentioned in this article.