Thesis
I see the US and Italy (NYSEARCA:EWI) as divergent economic situations, with the former strengthening to a degree and the latter weakening. I am long US government bonds and short Italian government bonds through ETF proxies.
Overview
Over 2017, I expect the US to see a slight uptick in economic activity over previous years owing to expansionary fiscal policy moves that could stimulate business activity and encourage investment. The US is not in a perfect situation economically at the moment, with just 1.7% in year-over-year real GDP growth, sub-2% inflation, negative interest rates in real terms, industrial capacity utilization near a 7-year low (source: Bloomberg), waning labor force participation rates, and a debt-to-GDP ratio above 100%. The big three credit rating agencies (S&P, Fitch, Moody's) assign the US a credit rating of AA+, AAA, and Aaa, respectively.
Italy is the world's eighth-largest economy, but comparatively worse in most metrics. Year-over-year real GDP growth comes to 1%, headline inflation is at 0.5% y/y, benchmark interest rates are at 0% yet have had little stimulatory effect, the country's jobless rate is around 12%, and it possesses a debt-to-GDP ratio of over 130%. Its banking sector is currently in the midst of government intervention after large write-downs in connection with non-performing loans affected their stability.
Political uncertainty is high with the failed referendum vote in early December that saw the subsequent resignation of prime minister Matteo Renzi. Elections are possible in the early part of 2017, but first would necessitate a reform in the country's electoral laws. S&P, Fitch, and Moody's assign Italy a credit rating of BBB-, BBB+, and Baa2, respectively.
Yet if we look at comparative bond yields, the US is currently yielding around 2.4% on its 10-years while Italy yields just 1.9% in terms of nominal yield, despite the former being of better credit quality than the latter. Much, and maybe all, of the difference may be attributed to the inflation differences/expectations between the two countries. Ten-year breakeven inflation for the US is currently at a 28-month high at 1.99%.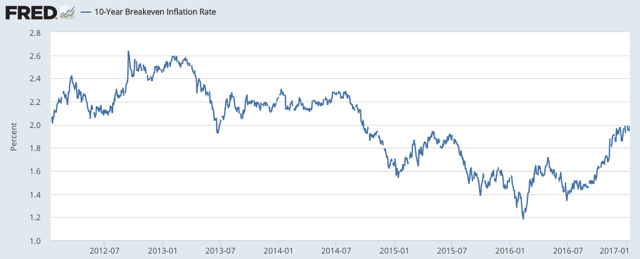 (Source: US Federal Reserve Bank of St. Louis)
Italy is hovering around inflation rates of 50-100 basis points, effectively representing a 100-150 basis point inflation spread between the two countries. The differential is officially 120 bps as of the last official monthly readings. In real terms, this would put the US 10-year at a 40-bp yield with a ~70-bp yield for the Italian 10-year.
Is a ~30-bp spread enough to compensate for the very different risk profiles between the two countries? I don't believe it is. With the banking problem, weak growth, sub-optimal inflation, and largely ineffective ongoing monetary policy initiatives in Europe generally, the election calendar offers the opportunity to bring to light the various economic anxieties on the continent.
Similar to election results from 2016 (e.g., Brexit, Trump), this year's political contests may bring many of the same populist and nationalist political sentiments to Europe in 2017. The rising popularity of anti-EU parties and sentiment among the European populace also threatens to disrupt the status quo and create uncertainty for the region as a whole. The UK's exit from the EU could reduce trade and overall economic activity in the region depending on how much of a nationalist bent the UK is inclined to take.
In terms of central bank policy, the EU's asset-buying program is likely to last until year-end 2017, with changes/increases in the benchmark rate unlikely before year-end 2019. The US Federal Reserve is likely to tighten twice in 2017, or 1-3 times in terms of a ~90% confidence interval. This should continue to cause capital to flow to US-based assets in lieu of European assets and increase the dollar (NYSEARCA:UUP)(NYSEARCA:UDN) against the Euro.
However, starting in April, the ECB is set to cut asset purchases down to €60 billion per month, down from €80 billion. If inflation continues to accelerate - as it did in Germany (where the rate was 1.7% y/y in December, up 70 bps from its November reading).
The rise of rates in the US relative to the EU should theoretically push up government bond yields in the US relative to EU sovereigns. However, uncertainty in Europe and its weak economic situation relative to the US should continue the process of capital migration from the EU to the US.
Moreover, I believe that there are strong structural impediments to higher inflation that will likely limit the Fed's number of 2017 rate hikes to two, as the market is mostly implying, rather than its stated beliefs of three. Expansionary fiscal policy in the US will help the Fed raise rates to a degree, but fundamentally altering the structural winds of many global economic forces are simply beyond the control of Washington DC politicians. If inflation remains relatively muted, Treasury bonds will still remain heavily priced and keep yields low. If volatility picks up in Europe over the coming year as I expect it will and many of the underlying fundamental problems across the continent are more tangibly exposed, bond yields - particularly in highly leveraged, volatile economies such as Italy - will increase.
Trading This Idea
This involves a pair trade going long US Treasuries and short Italian bonds in equal monetary amounts to profit off the performance differential, with Italian bond yields increasing relatively to US Treasuries.
I believe Italian bond yields are likely to increase as the country's numerous economic problems become better appreciated by the market, creating more selling, while the US Treasuries should remain relatively flat, with the various headwinds to growth and inflation in the US, including underutilization of the world's productive resources (e.g., oil, with supply continuing to outstrip demand), industrial overcapacity in larger developing Asian economies such as China and India, unsustainably large public debt scenarios in numerous developed economies that limit forward growth prospects, an overall slowdown in globalization, and 8-9 years of ultra-low rates that have worked to pull forward a large amount of growth into the future at the expense of the future.
Purely in terms of capital flows, if the US Treasury were to climb to 2.7%, 2.8%, or higher, the risks of remaining invested in stocks - as the Fed, ECB, and BOJ highly incentivize with their ultra-accommodative monetary policies - becomes more difficult to justify. The equity risk premium in the market is currently about only 3.2%, which means market participants are taking on a ton of volatility over essentially a risk-free investment, for merely an additional 320 bps worth of yield on an annualized basis. At a certain point, it becomes absurd.
If Treasury yields were to rise into the high-2% area, this premium becomes compressed even further and investors at some point will be inclined to bail and cause a material correction in stock prices. For this main reason, I simply don't foresee the 10-year Treasury taking off to 3%+ as many are predicting. The expansionary fiscal policy measures can be beneficial and are overdue, but at some point investors are simply not going to be okay bidding up asset prices to the point where their differential with a practically risk-free investment doesn't compensate for the risk undertaken.
With respect to the trade itself, shorting sovereign bonds is difficult. It's difficult to do even for institutional investors, especially in sufficient quantity to make a position meaningful to put on in the first place. With the investing world steadily being democratized through the proliferation of ETFs, there is the option of shorting Euro-denominated Italian government bonds through an ETF (LN:SITB) offered by Barclays, which is available through the London Stock Exchange. Most brokers these days should be able to accommodate this order.
On the long side of the order, one can buy an equivalent monetary amount of US Treasury bonds through Treasury Direct or an ETF. SITB's effective duration is 6.68, as of the time of writing. To match durations as closely as possible to hedge interest rate risk to the best extent possible, iShares 7-10 year bond fund (NYSEARCA:IEF) would be the best match, with an effective duration of 7.60. A longer-term US bond fund (NYSEARCA:TLT) could also work, but provides greater interest rate exposure with an effective duration of 17.44.
This trade involves essentially no outlay of capital (aside from broker's fees) and is made to profit off the differential between US and Italian government bonds.
Disclosure: I am/we are long IEF, SHORT LN:SITB.
I wrote this article myself, and it expresses my own opinions. I am not receiving compensation for it (other than from Seeking Alpha). I have no business relationship with any company whose stock is mentioned in this article.
Additional disclosure: I am net long the US dollar, and am long call options on IEF through a separate trade idea discussed in one of my articles dated December 4, 2016.