December is not a month that most gold bugs are fond of. The Gold Miners Index (NYSEARCA:GDX) has been down 4 of the last 6 Decembers, with an average return of (-) 3.84%. This one was no different, as we saw the GDX plunge 10% mid-month, but thankfully end slightly in the green. Only those with the most intestinal fortitude come out as winners in December, as typically the mining stocks see very strong January performances. The GDX has seen a positive return in January 4 of the 5 past years, with an average return of 7.09%. There has been no better month than to accumulate beaten up gold stocks over the past 5 years than December, but the gold majors haven't seemed to figure this out yet. Despite the gold juniors seeing boxing day sales of 50% off, not a single gold major made a move. I find this irresponsible on the gold majors part, as they are in desperate need of replenishing reserves.

(Source: Goldcorp Company Presentation)
The only acquisition of any real value last year by a gold major was the Kaminak takeover by Goldcorp (NYSE:GG). The deal was done in May in the midst of the miners bull market, and was valued at $520 million. I'll applaud Goldcorp for acting when they did and not at the highs in August, but I'm amazed they waited that long to make a move in the space. The gold juniors were trading at 5-year lows just 4 months earlier, and they could have bought Kaminak plus another junior for that same $520 million in January. While I don't expect gold majors to be able to time the exact bottom in a 5-year bear market, the reward far outweighed the risk at Q1 2016 valuations, and they should have realized this.
Having said that, some credit is due to Goldcorp as they actually made a move unlike the rest of the gold majors. Goldcorp has been one of the only companies making strategic investments in companies, and was the sole major to make a substantial acquisition last year. The rest of the gold majors seem to be content with having no production growth from 2017-2019, which I believe is deterring investment dollars.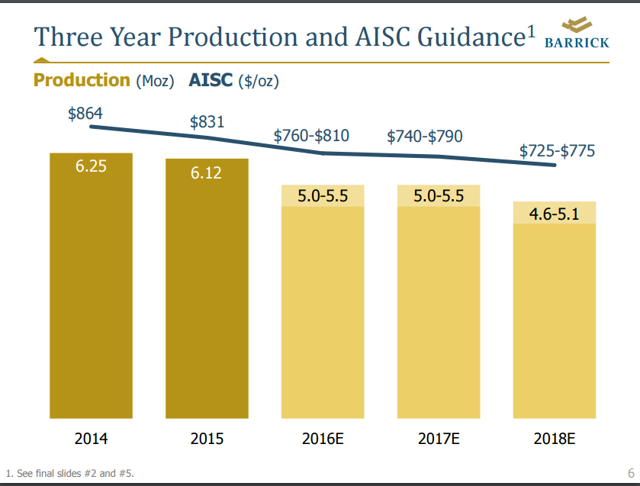 (Source: Barrick Presentation)
If I was an investor in the gold space that was looking to acquire a company to hold for the next bull market in gold, would I rather own B2Gold (NYSEMKT:BTG) with 70% production growth over the next 2 years, or Barrick Gold (NYSE:ABX) with (-) 10% production growth over the same period? Both companies have very similar all-in sustaining cash costs when it comes to producing, but one is a growth company, the other is contracting. This means that even if the price of gold goes up 10%, Barrick will not see a large improvement in earnings as their production is dropping at the same rate.
Fast-forward one year from the early 2016 buying opportunity, and the gold majors still didn't learn any lessons from the previous year. We had a 370,000 ounce Mexican producer trading for $1.1 billion (Torex Gold (OTCPK:TORXF)), the highest grade gold company in the world trading for $1.3 billion (Pretium (NYSE:PVG)), and a soon to be 950,000 ounce producer trading for $1.9 billion (B2Gold). These valuations were unheard of, and would have allowed some majors to add 10% to their global production profiles for less than 7% of their market capitalization. Apparently these screaming buys were much less obvious to the gold majors who stood by twiddling their thumbs once again. To show just how undervalued some mid-tier producers were during this correction, I have built the below table:

(Source: Author's Table)
I have built the above table using prices and valuations from the December lows for all of the above companies. As we can see from the table, I have used B2Gold and Torex Gold as potential takeover targets for Barrick. I've used production profiles and all-in sustaining cash costs based on 2018 projections for each company, as well as a conservative gold price of $1,175/oz.
Taking a look at the chart we can see that B2Gold was trading at 8.7% of the market capitalization of Barrick in December, yet would have added over 19% to Barrick's global production profile. Meanwhile Torex Gold was trading for just over 6% of Barrick's market capitalization, and would have added over 7.7% to their total gold production on an annual basis. You may be saying, "Barrick could never take out either company at the December lows", and you'd be correct to make this statement. This is why I've added separate slots at the bottom of the table to show what B2Gold and Torex Gold would have offered even after a 30% premium to their share price assuming a takeover offer. The average premium paid for acquisitions over the past 5 years is 30% to current share price, therefore I've used a 30% premium to stay in line with past takeover parameters.
Even using 30% premiums for each company, Barrick still would have been getting a great deal long term. Barrick could have paid $2.47 billion for B2Gold (14.9% of Barrick's market cap), and added 925,000 ounces in annual production at the same all-in sustaining cash cost as their current operations. This would result in a 17.9% increase in pre-tax earnings, for a price of 14.9% of their market capitalization, a no-brainer in my opinion. In terms of Torex Gold, the proposition was not as impressive, but still a great deal. Barrick could have purchased Torex Gold for $1.3 billion (7.87% of Barrick's market cap) after a 30% premium to their December lows, and added 375,000 ounces of annual production. This would represent an 8.2% increase in pre-tax earnings for Barrick, for a cost of 7.87% of their market capitalization. This is nowhere near the deal that B2Gold offered, but still an excellent value proposition.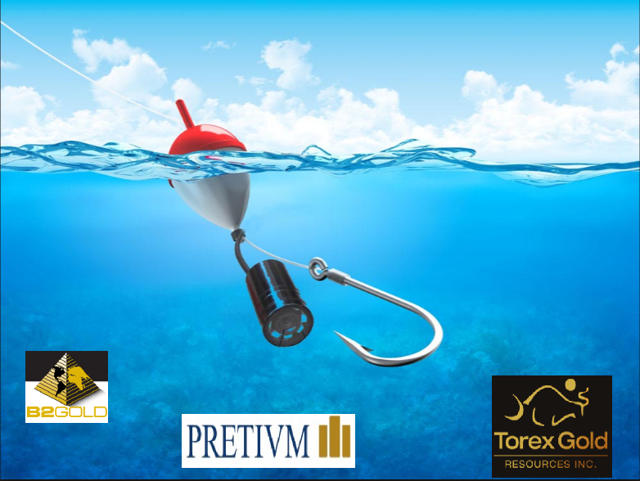 So when are the gold majors going to grow some balls? They've had two opportunities now to go bottom fishing and increase production while replenishing reserves, but have instead elected to sit back and let investors scoop up the deals. The Gold Juniors Index (NYSEARCA:GDXJ) is more than 30% off its lows, and the gold majors should be ashamed of their inability to strike while the iron is hot. Sure the mining stocks could go lower, and yes there's always a possibility that gold goes lower, but passing up opportunities to add nearly 18% to pre-tax earnings using less than 15% of market cap is irresponsible to say the least.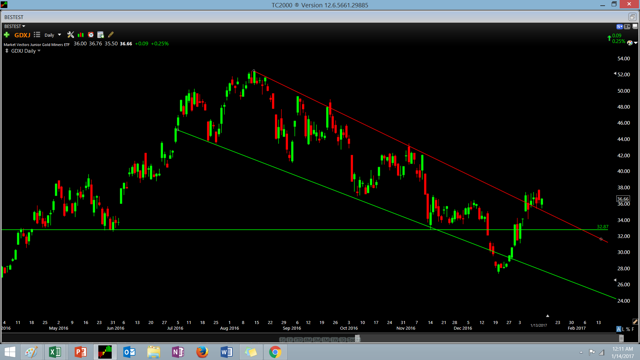 (Source: TC2000.com)
Fortunately for us investors, the lack of interest by the majors allowed many of us to accumulate gold juniors near the lows. I could care less if the majors want to make my job easier, as I moved to my largest net long position in mining stocks since last February during tax-loss season in December. I made what I expect will be my final purchase today, and am holding all of my mining stocks despite the unrealized gains I'm sitting on from the recent rally. I am now 47% net long the mining stocks, and slightly above my allowed exposure to one sector for diversification purposes. I am planning to hold for higher prices, and believe the breakout in the GDX to be a sign of better days ahead. The GDX continues to base above its descending channel, a very impressive development given the explosiveness of the recent rally.
(Source: TC2000.com)
Despite the gold majors needing to add reserves to supplement their production profiles, they're in no rush to do so. They'd rather acquire projects in 2011 and 2012 near the peak of the gold market, than do so near 52-week lows. It's no surprise to me that their share prices are punished for the majority of their acquisitions, as their timing could not be worse. Maybe one day the gold majors will learn that they should get aggressive with acquisitions when prices are oozing with value, but that day is not today. For now investors should be pleased that gold majors' timing is as bad as it is, as many of us have reaped the rewards from their circumspection.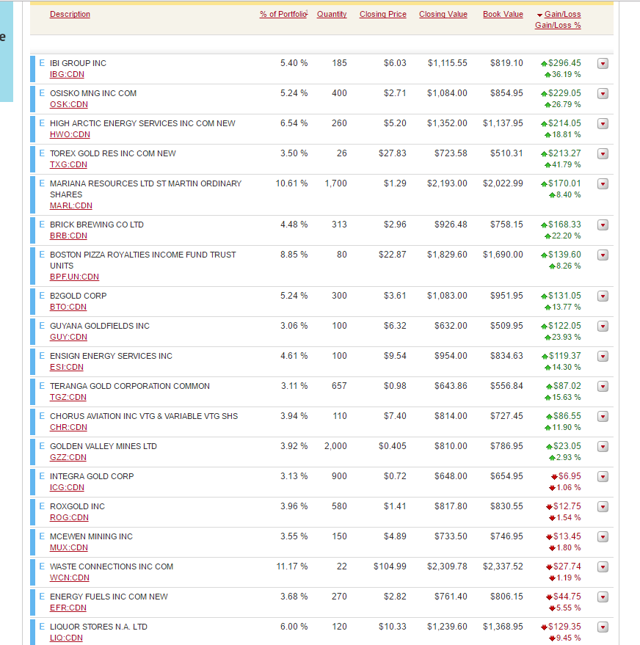 (Source: CIBC Investors Edge Account)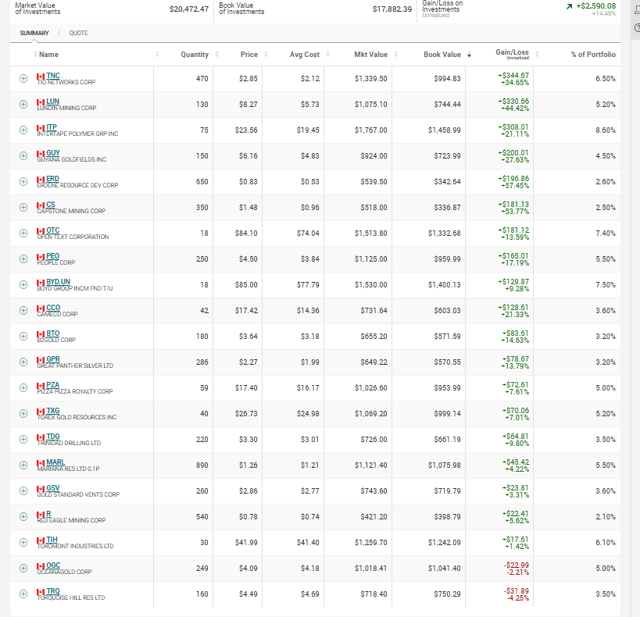 (Source: TD WebBroker Account)
For full transparency, I have shown my two main accounts above. My top 3 heaviest weightings for gold positions in no particular order are Mariana Resources (OTCPK:MRLDF), Torex Gold, and B2Gold .
Disclosure: I am/we are long GLD, MRLDF, TORXF, BTG, PVG.
I wrote this article myself, and it expresses my own opinions. I am not receiving compensation for it (other than from Seeking Alpha). I have no business relationship with any company whose stock is mentioned in this article.
Additional disclosure: If you liked this article and found it useful, please feel free to follow me by clicking on my name next to my avatar at the top of this article. I also invite you to follow me at www.twitter.com/TaylorDart01 where I routinely share my entries, exits, and stops on new positions, as well as updating followers on sentiment data on markets I am following.
Editor's Note: This article covers one or more stocks trading at less than $1 per share and/or with less than a $100 million market cap. Please be aware of the risks associated with these stocks.