Bright and early on Saturday morning, I noted with some amusement that the massive Treasury (NYSEARCA:TLT) short had reached four standard deviations.
Here's the visual: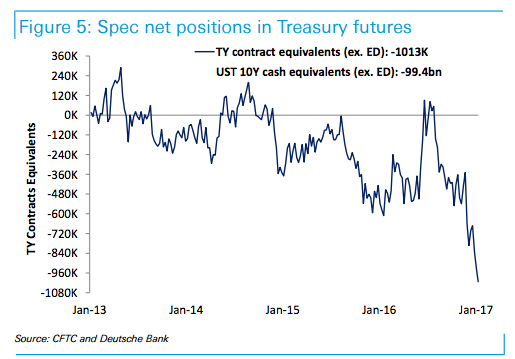 (Chart: Deutsche Bank, CFTC)
While I've been pretty adamant with regard to my contention that circumstances could easily conspire to trigger a new VaR shock sometime around mid-year (with the yield on 10s spiking above 3%, causing panic selling), I'm getting more skeptical by the minute when it comes to the (deflating) reflation trade.
The chart shown above is suggestive of a disturbingly deterministic outlook for rates which I'm not sure adequately reflects the vagaries of a Trump administration.
If you keep track of what rates and FX strategists are talking about, you know that this week was all about a partial reversal of the reflation trade. All it took to start the unwind was Trump's failure to mention fiscal stimulus at a press conference. That seemed to meaningfully dent investor confidence in the prospects for an aggressive approach to boosting growth.
Since Wednesday, the tide has turned in terms of the tone coming out of the Street. Previously, every note seemed to center around justifying the same two crowded trades - long USD and short USTs. From mid-week, every note seemed to be about why those trades might not pan out. Sentiment is a fickle beast.
One particularly interesting thing to note is the 10Y auction that went off splendidly shortly after Trump left the podium. Here's the bullet point summary from Bloomberg (note the highlighted bullets):
The U.S. Treasury sold $20.0b in 10-year notes at a yield of 2.342 percent.
High yield 2.342% vs last auction 2.485%
Bid-to-cover 2.58 vs last auction 2.39
Dealers awarded 20.7% vs last auction 36.5%
Direct bidders awarded 8.7% vs last auction 6%
Indirect bidders awarded 70.5% vs last auction 57.5%
Total bids of $52.7b for $21.1b in notes sold vs $47.7b in bids for $20.0b in notes sold at last auction.
Settlement date Nov. 15, 2017. Maturity date Nov. 15, 2026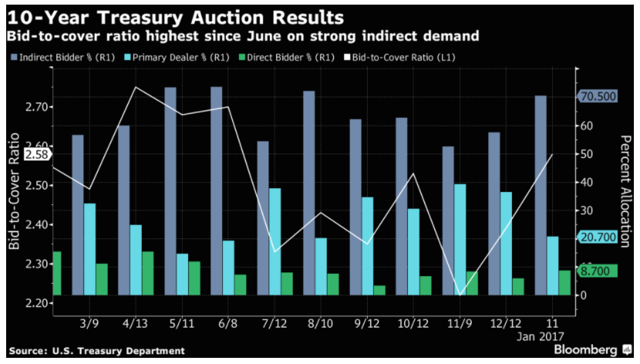 (Chart: Bloomberg)
And here's a bit more from Reuters:
U.S. Treasury debt yields fell on Wednesday with benchmark yields briefly touching the lowest in a month following stellar demand at a 10-year note sale, while President-elect Donald Trump's remarks spurred safe-haven demand for bonds.

Trump's first news conference since the Nov. 8 election contained no details on tax cuts and infrastructure spending, which were two factors that ignited a five-week global bond market selloff after his surprise presidential win.

The absence of details on these key issues Trump campaigned on during the news conference added to bids for longer-dated Treasuries with traders buying to close out some of their bearish bond bets, analysts said.
Note the strong indirect bid which according to Citi was in the 73rd percentile of the last 12 auctions:

(Charts: Citi)
What does that mean exactly? Well, it probably means short covering and strong demand from foreign money. Here's some additional color from Citi that speaks to the latter:
Foreign investors, who had stayed away from US Treasuries in the immediate aftermath of the election, are possibly re-investing again in USTs. Data released yesterday by the MoF and BoJ show that Japanese investors were sellers of USTs in November (the weekly data series shows sales in December as well). As Figure 4 shows, Japanese investors have typically come back into the market to buy Treasuries subsequent to a month of selling. The well subscribed auctions this week, particularly for the 10y are further evidence of this end user demand.
A weaker dollar doesn't hurt either. Remember, foreign demand is affected by the cost of hedging as reflected in widening cross currency bases.
So what all of the above suggests is precisely what Didier Borowski, head of macroeconomics at Amundi, Europe's largest money manager told Bloomberg earlier this week:
The bond market isn't dead yet. There are many unpredictable risks still looming and that's why we really doubt that bond yields can jump that much. Investors will keep an exposure to U.S. Treasuries as a safe haven.
Does this mean the reflation trade is "dead on arrival", so to speak? Probably not. But what it does suggest is that when it comes to Trump's policy proposals, the market is starting to focus on execution risk.
That means the new President is going to have to communicate a very clear path forward when it comes to implementation, otherwise we may see a whole slew of Trump trades unwind in the days and weeks ahead. On that note, I'll give the last word to Citi:
The start of the year has been remarkable for the turnaround in market sentiment in USTs from bearish to what feels like trepidation at the very least.

What has been driving the rally? We suspect that there is some short covering going on. Treasury shorts, curve steepeners, long USD especially against the yen - different popular flavors of the same reflationary/ growth theme are retracing in the New Year.

We also think that end user demand is picking up for Treasuries at higher yield levels - a healthy sign for Treasuries. Also, the consumer is not exhibiting animal spirits yet.

One of the key points in our outlook for rates is peak optimism - the idea that once expectations have reached a sufficiently high point, Treasury yields would start falling again, because the balance of risks shifts to the onus of meeting expectations.
Disclosure: I/we have no positions in any stocks mentioned, and no plans to initiate any positions within the next 72 hours.
I wrote this article myself, and it expresses my own opinions. I am not receiving compensation for it (other than from Seeking Alpha). I have no business relationship with any company whose stock is mentioned in this article.