Performance and Valuation Prime™ Chart
As a market leader in dentistry equipment, Dentsply Sirona (NASDAQ:XRAY) has historically been able to drive robust 3x cost of capital returns. After seeing profitability decline following the turn of the century, with UAFRS (Uniform Adjusted Financial Reporting Standards) Adjusted ROA (ROA) falling from 27% in 2000 to 18% by 2003, the firm has been able to largely stabilize returns since, with Adjusted ROA ranging from roughly 17-20% since.
Meanwhile, after consistently growing its UAFRS Adjusted Asset (Asset) base by 2-29% annually from 2000 to 2013, excluding 3% shrinkage in 2005, the firm has shrunk its Adjusted Asset base by 9% in each of the past two years, a sign that it may have begun to struggle to find organic growth.
However, the firm saw growth rebound this year with the close of the Sirona acquisition last February, and markets are expecting growth to continue to pick up in coming years. The market also is expecting the firm to see Adjusted ROA start expanding as soon as this year, towards 35-40%.
For context, the PVP chart below reflects the real, economic performance and valuation measures of Dentsply Sirona after making many major adjustments to the as-reported financials. This chart, along with all of the charts included in this article, as well as the detail behind the graphics, can be found here.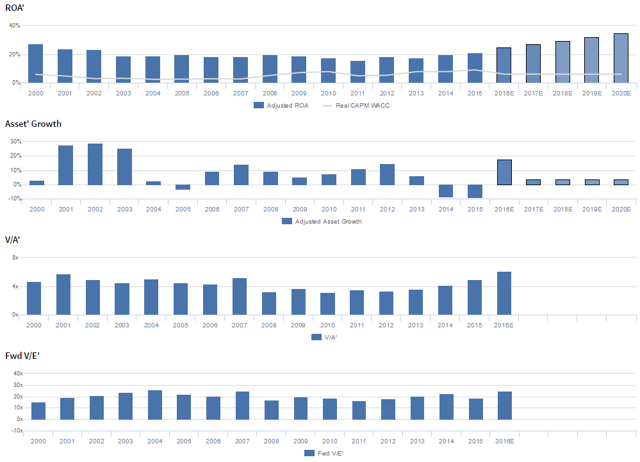 The four panels explain XRAY's historical corporate performance and valuation levels plus consensus estimates for forecast years as well as what the market is currently pricing in, in terms of expectations for profitability and growth.
Performance Drivers - Sales, Margins and Turns
It can be helpful to break down Adjusted ROA into its DuPont formula parts, UAFRS Earnings Margin and UAFRS Asset Turnover, which are cleaned up margins and turns metrics used to calculate Adjusted ROA. The chart below details both Adjusted Earnings Margin and Adjusted Asset Turns historically to help us better understand the drivers of the firm's profitability and performance.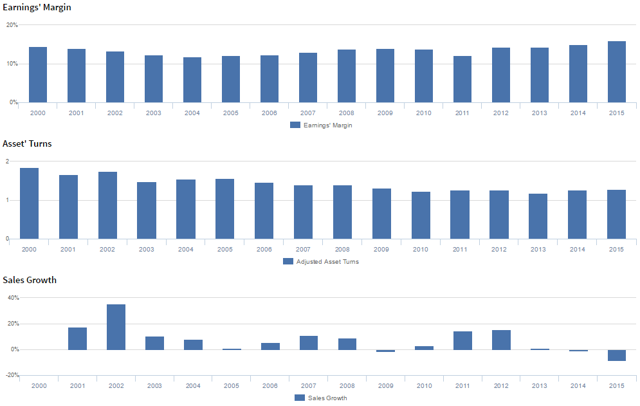 Relative stability in Adjusted ROA has been driven by the firm's ability to offset declining UAFRS-based Asset Turns with improvements in Adjusted Earnings Margins. Adjusted Asset Turns declined from 1.8x in 2000 to 1.2x in 2010, and have ranged from 1.2-1.3x since, as the firm has struggled to improve the productivity of its R&D lately and has also invested heavily in its PP&E base over the last several years, while not seeing equivalent sales growth. Meanwhile, from 2000 to 2004, Adjusted Earnings Margins declined from 15% to 12%, before recovering to 16% in 2015.
Impact of Adjustments
This analysis uses UAFRS metrics, or adjusted metrics, which remove accounting distortions found in GAAP and IFRS to reveal the true economic profitability of a firm. This allows us to better understand the real historical economic profitability of a firm as well as allows for better comparability between peers. To better understand UAFRS, please refer to our explanation here.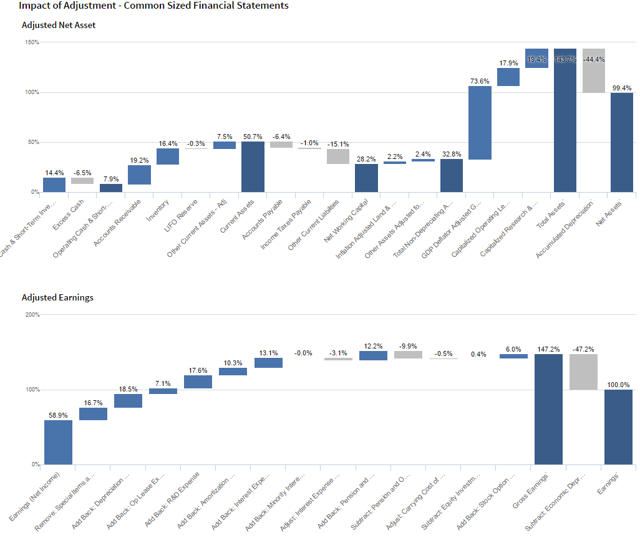 The chart above (and available here for XRAY and its peers) highlights the impact UAFRS adjustments have on the company's asset base and earnings. The largest adjustment to the firm's Adjusted Net Asset base comes from UAFRS capitalization of R&D. XRAY has regular, and material, investments in R&D each year that as-reported financial statements treat as expenses. This violates one of the core principles of accounting, which is that expenses should be recognized in the period when the related revenue is incurred. R&D investment is an investment in the long-term cash flow generation of the company. Because as-reported metrics treat R&D investment as an expense as opposed to an investment, net income is artificially decreased.
In the same vein as R&D, XRAY's operating lease expense is somewhat material. However, the decision management makes between investing in capex and investing in a lease is not one between an expense and an investment, but rather a decision about how management wants to finance the company's investments. If the management team would rather spend cash up-front for the asset, it will spend capex. However, if it wants to spread the cost of the asset over several years, it will instead choose to lease the asset. That said, as-reported accounting statements treat one as an investment and the other as an expense that does not impact the balance sheet. Because XRAY spends materially on operating leases, as-reported metrics like Total Assets and ROA materially overstate the firm's true profitability and capital efficiency versus UAFRS metrics.
Moreover, as-reported financials show the price that a company pays for the assets of the acquisition as goodwill and operating intangibles on the balance sheet. However, these adjustments are purely accounting and not representative of the company's actual operational performance. This creates incomparability between XRAY's profitability versus that of its peers by artificially inflating the asset base of the company's operating business.
Because of the firm's recent merger with Sirona, its asset base is being materially overstated. Investors who have looked at the company's as-reported Total Assets when judging its performance and who use an as-reported ROA metric as opposed to Valens Research's Adjusted Net Asset and ROA metrics are materially overstating XRAY's operating asset base and understating the company's economic profitability.
These adjustments alone have a dramatic impact on XRAY's Adjusted Earnings, as the company actually has material earnings power and is not generating near-cost-of-capital ROA like the as-reported metrics suggest.
Embedded Expectations Analysis
In addition to understanding the true profitability of the firm, understanding what the market is embedding in the stock price in terms of expectations is paramount to making good decisions. Without understanding what the market is pricing in, it is impossible to claim that the market is wrong. We derive market expectations for the firm from valuations and historical performance trends, to give a clearer picture into what the market is projecting for the firm.
XRAY is currently trading at a 24.9x UAFRS-based P/E, which is at its highest point since 2007. At these levels, the market is pricing in expectations for material improvements in Adjusted ROA, from 21% in 2015 to 35% by 2020, accompanied by 4% Adjusted Asset growth. With these expectations, it appears equity markets are expecting XRAY to see substantial, sustained benefits from the Sirona merger as well as potential benefits from the recent MIS acquisition. While there are likely to be some benefits of this merger, expectations for historically high profitability are far too aggressive, especially considering management's concerns about headwinds to integration.
Acquisition Analysis - Sirona
On February 29th, 2016, Dentsply closed its merger with Sirona, acquiring the firm in a $5.4 billion deal. At that price, Dentsply was pricing in expectations for Sirona to see profitability rebound toward levels not seen since 2008. Expectations are for the firm to be able to combine Sirona's capabilities in the digital dentistry space with Dentsply's market-leading position in order to drive improved growth and material cost improvements. However, management has since seen wavering confidence surrounding these expectations, and considering the fundamentals of each firm, the core of the bull thesis for the firm rests on the ability to drive initially expected synergies.
Sirona - Adjusted ROA and Asset Growth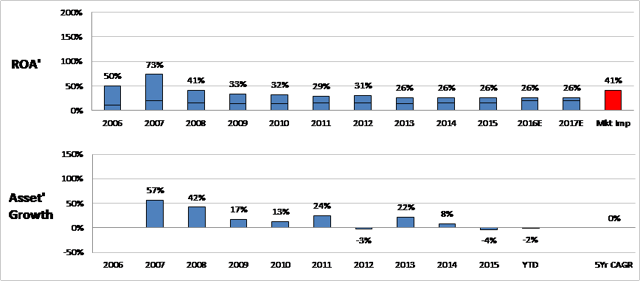 Above is the ROA and Asset growth chart for Sirona. As we can see above, Dentsply acquired a higher UAFRS-based ROA business than itself. However, after generating Adjusted ROA in the 40%+ range from 2006 to 2008, Sirona saw profitability fade materially to just 26% by 2013, where it remained through the close of the merger. While this represents a material premium to Dentsply's historical 18-20% profitability levels, in order to justify the valuation that Dentsply paid for Sirona, the ROA of Sirona itself would have to ramp materially through synergies or other factors. Specifically, at the price Dentsply paid, ROA for the acquired company would need to rise from 26% pre-acquisition to 41% going forward.
Sirona - UAFRS-based Earnings Margins and Asset Turns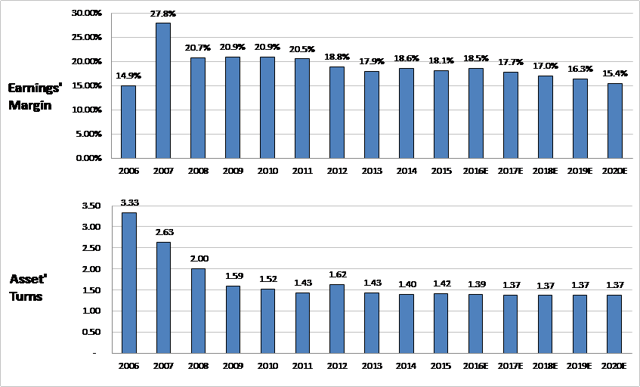 Additionally, as we can see above, while Sirona had also historically delivered stronger Adjusted Earnings Margins, profitability had fallen in the several years leading into the merger, from 21%+ pre-2011 to 18% in 2015. These levels are not materially higher than Dentsply's margins. This means, aside from synergies across both companies, there are not likely quick margin improvements that could be made to one or both to get to "best practices" to offer low-hanging fruit for profitability expansion.
Meanwhile, Adjusted Asset Turns have consistently been slightly higher than those generated by Dentsply historically. This indicates there may be some low-hanging fruit for asset utilization improvement Dentsply to help get it to Sirona's operating performance levels. However, even with those improvements, ROA for the combined company would only reach Sirona's pre-acquisition 26% levels. With markets expecting substantially more ROA improvement, and growth, the company would need to find material synergies, both in costs and growth, to justify current premium market expectations.
Analyst and Management Expectations and Alignment
Analysts currently have more rational expectations than the market, projecting Adjusted ROA to only improve to 25-27% levels, which would reflect the combined firm's ability to drive profitability toward those of the legacy Sirona business.
Raising concerns about both analysts and market expectations, Valens' qualitative analysis of the firm's recent earnings calls highlights management's lack of confidence in its ability to successfully integrate the two firms. During the firm's Q3 2016 earnings call, management generated multiple highly questionable markers when talking about recent reorganization initiatives aimed at combining manufacturing, logistics, and distribution processes. In addition, management appeared to be concerned about its ability to effectively integrate IT systems, and it might be downplaying concerns about gross margin and bottom line headwinds related to the merger. Furthermore, it may be downplaying concerns that the company overpaid for MIS, and might be exaggerating the opportunities created by that acquisition.
Management also generated highly questionable markers during the Q2 2016 earnings call, indicating that it may have concerns about the company ability to meet the $125 million synergy target, and appears concerned about longer-term margin headwinds related to the merger.
These markers clearly highlight a management team that is not confident about hitting its synergy targets or executing on its merger strategy. Considering market expectations, this spells potential for the company to disappoint investors in coming quarters.
Valuation Matrix - UAFRS-based ROA and Asset Growth as Drivers of Valuation
When valuing a company, it is important to consider more than a singular target price, and instead, the potential value of a firm at various levels of performance. The below matrix highlights potential prices for XRAY at various levels of profitability (in terms of Adjusted ROA) and growth (Adjusted Asset growth). Prices that are in excess of 10% equity upside are highlighted in black, and prices representing an excess of 10% equity downside are highlighted in red.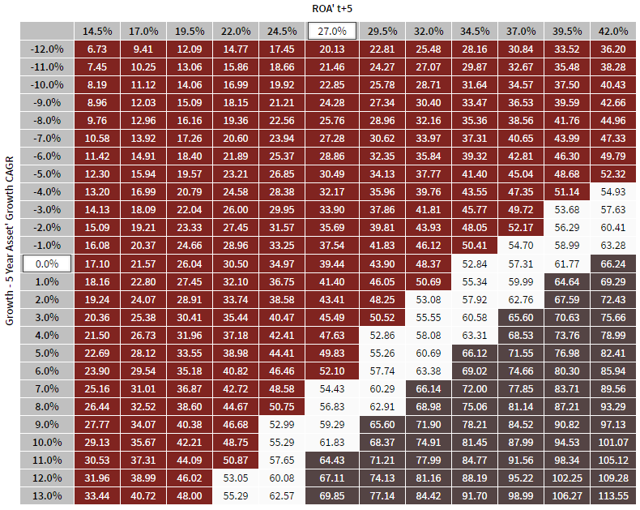 To justify current prices, XRAY will need to see its Adjusted ROA expand significantly, while also continuing to grow the business going forward. Considering the historical profitability profile of these firms and the integration headwinds, these expectations appear overly bullish. While analysts are projecting Adjusted ROA to improve toward the levels seen by the legacy Sirona business in order to justify current prices, let alone further upside, the firm would need to generate substantial synergies, in which management has consistently lacked confidence. As such, should the firm falter at all during the integration process, material equity downside may be warranted.
To find out more about Dentsply Sirona and how their performance and market expectations compare to peers, click here to access the open beta of the Valens Research database.
Our Chief Investment Strategist, Joel Litman, chairs the Valens Equities and Credit Research Committees, which are responsible for this article. Professor Litman is regarded around the world for his expertise in forensic accounting and "forensic fundamental" analysis, particularly in corporate performance and valuation.
Disclosure: I/we have no positions in any stocks mentioned, and no plans to initiate any positions within the next 72 hours.
I wrote this article myself, and it expresses my own opinions. I am not receiving compensation for it (other than from Seeking Alpha). I have no business relationship with any company whose stock is mentioned in this article.