Results season for U.S. Banks is underway and it's hard enough trying to stay on top of the individual bank reports let alone think of comparative analysis. The headlines largely concern themselves with EPS beats and misses, without putting this data in a broader context for the stocks.
To help SA readers get a sense of what is going on at the sector level, and therefore insight into their own individual bank stocks from a broader angle, FIG Ideas will be publishing regular insights pieces comparing important trends between banks as the results roll out, with the aim of these being efficient to read and hopefully providing some food for thought from time to time.
Today we are kicking off with five banks that reported Friday: three of the big guys ((NYSE:BAC), (NYSE:JPM) and (NYSE:WFC)), a large regional (NYSE:PNC) and a smaller regional (First Horizon National (NYSE:FHN)).
Here's net loan growth: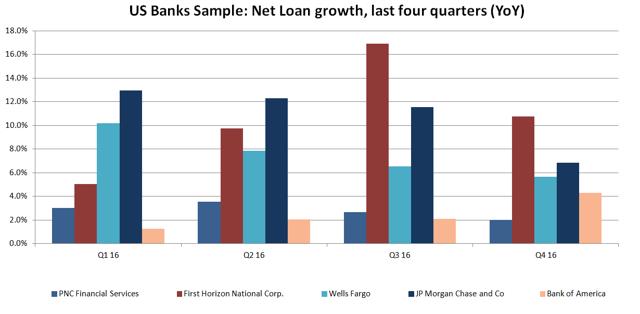 Source: Company data
PNC is grinding along at between 2-4% annually while the three big banks, WFC, BAC and JPM are in a 4-6% range as of 4Q 2016. First Horizon spiked in 3Q due to the acquisition of a GE loan portfolio and will now moderate absent further increases.
I would expect that kind of rate to repeat in 2017, but lifting in the second half of the year and for 2018 to be a little stronger again for those names assuming the colorful President elect actually delivers on growth when in office. One message from this is don't assume that big banks can't grow.
Turning to revenue, here is growth in net interest income: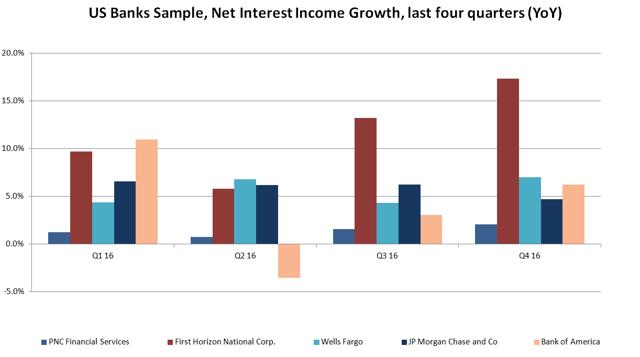 Source: Company data
Broadly speaking this follows the loan growth trends. PNC is the slow coach. Yes, it's high quality, but little has been going on. Can it pick up into 2017? First Horizon National reflects its rapid loan growth. Its valuation implies it has to keep doing this or it will look a little rich. Look at the three big banks on the right there: ~5% annual growth in net interest income, consistent with their loan books.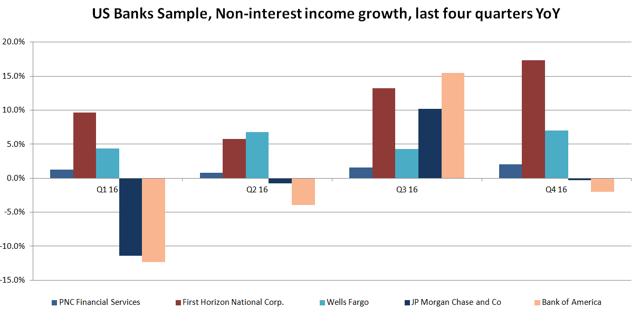 Source: Company data
This uniformity through loans and NII breaks down with non interest income. The two big investment banks, JPM and BAC, obviously suffered heavily in Q1 2016 and the bond rout pinned back non interest streams again in 4Q'16 (both trading and bond underwriting fees). The strong 3Q data for both players is worth noting too though - the lesson there is don't write off these investment related streams even if they are not as stable as other sources of revenue. First Horizon National remains punchy, and PNC is typically dull.
How is the income growth interacting with costs? The metric here is the "jaws", which is simply total revenue growth less total operating cost growth.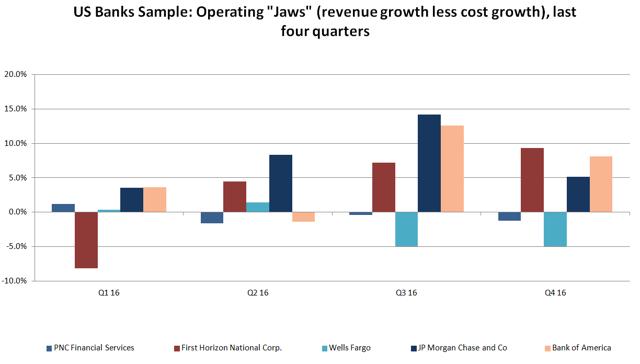 Source: Company data
For our banks here, 2016 turned out to be a pretty strong year for operating leverage with only Wells Fargo dipping into sustainably negative territory in Q3-4. Some of this was one off, as was the dip in First Horizon National in 1Q'16.
PNC? You guessed it: grinding along either side of zero. JPM and BAC were particularly strong in the second half of the year, and note that this occurred while non interest income wasn't showing consistent growth due to the volatility in the markets lines.
One key bet I am making in my views on U.S. banks is that the pattern you see emerging in the chart above will persist at BAC. It opens up a valuation advantage for BAC over JPM by 2018 (of about 7% on a PE basis).
Conclusion
So far, the picture is of healthy loan growth and pleasing developments in operating leverage. As the market starts to push back on Trump-euphoria with Trump-realism, it's useful to bear in mind that the operating context of U.S. banks is (on this sample evidence at least) pretty good.
Disclosure: I/we have no positions in any stocks mentioned, and no plans to initiate any positions within the next 72 hours.
I wrote this article myself, and it expresses my own opinions. I am not receiving compensation for it (other than from Seeking Alpha). I have no business relationship with any company whose stock is mentioned in this article.