In November, I wrote to you about a pair trade opportunity regarding some floating-rate preferred stocks. You can read the original article here. Since my publication a lot has changed and I wanted to show you how my trade has fared over this period. I am doing this not to brag about the success of the trade, but to show the readers that sometimes using simple statistical approaches can lead to significant gains. Without any further ado, let's go into the details.
In my article from November, I wrote about the relative mispricing of MS-A [Morgan Stanley (NYSE: MS) Series A Non-cumulative Preferred Stock] as compared to similar floating-rate securities issued by other financial institutions such as AEB [Aegon (NYSE: AEG) Floating Rate Perpetual Capital Securities], BAC-E [Bank of America (NYSE: BAC) Series E Dep Shares Non-cumulative Preferred Stock] and GS-C [Goldman Sachs (NYSE: GS) Series C Dep Shares Float Rate Non-cumulative Preferred Stock]. At the time, MS-A was yielding 4.29%, much less than GS-C and BAC-E, with all three securities sharing the same credit rating. Moreover, despite MS-A having a lower rating than AEB, the former had a lower current yield than the latter, something I would not expect to see under normal circumstances. All these observations coupled with some additional insights I shared with you in my previous article, led me to believe that there is a pair trade opportunity between MS-A on the one hand and the other three securities on the other.
What happened since the initiation of the trade? Take a look at the table below for more details.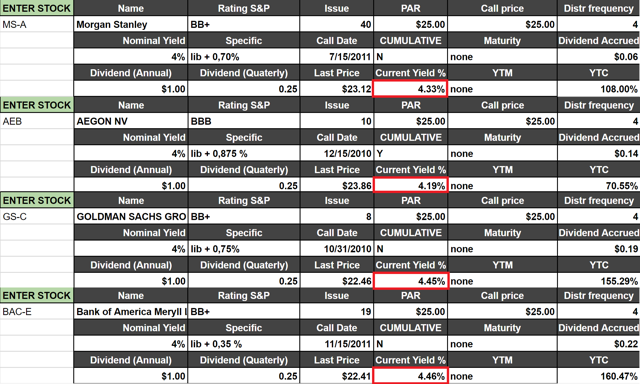 Source: Author's spreadsheet
As you can see, MS-A still has a lower current yield than GS-C and BAC-E, but the gap has closed somewhat. Also, MS-A no longer offers a higher current yield than AEB. Overall, the pair trade I suggested in November has yielded the desired result. Another way to see that is through the chart below.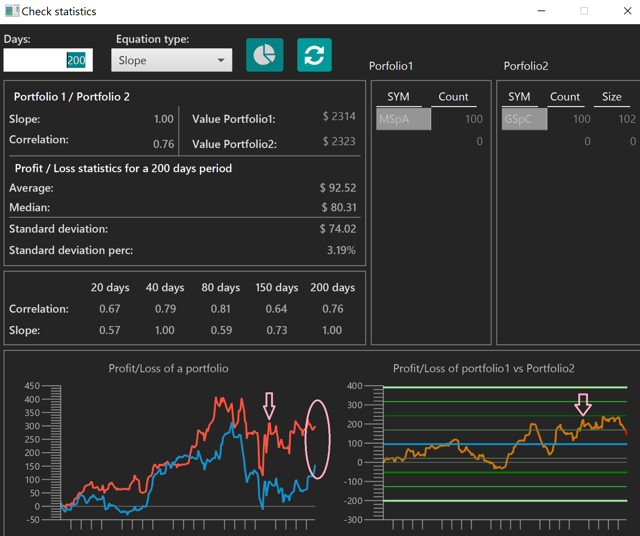 Source: Author's software
The picture above looks at the historical relationship between MS-A and GS-C. The two instruments are characterized by a strong correlation, but at the end of November when I was writing my article, their prices had diverged significantly. The chart at the bottom left corner indicates what your return would have been had you invested in two equally valued portfolios - one in MS-A (Portfolio 1) and another in GS-C (Portfolio 2). I would expect the return of both portfolios to be similar since both securities bear similar credit risk and pay the same amount in coupons. But, in fact, MS-A has significantly outperformed GS-C over the period. And the difference between the returns of the two portfolios is evident in the chart at the bottom right.
At the point I initiated my position, indicated by the arrows on both charts, the difference in the prices of MS-A and GS-C had become quite significant and as a result the difference in returns between the two hypothetical portfolios had also increased. Since then the price difference between MS-A and GS-C increased a little more, but then started to shrink as GS-C appreciated, while MS-A moved slightly lower. If you were to look at the relationship between MS-A and the other two securities, you would notice the same trend. For the sake of brevity, I am not showing those here. I will just mention that the arbitrage opportunity between AEB and MS-A is currently almost fully eliminated. There is some room for profits when you consider MS-A in the context of GS-C and BAC-E, but, in my opinion, the risks do not warrant building a position there.
Finally, I want to address some of the risks that I talked about in my previous article. The likelihood of a call of any of the four securities still remains low in my opinion as all mentioned preferred stocks are yielding so little for the credit risk they are bearing that I cannot imagine any of their respective parent institutions redeeming them. And second, there turned out to be no fundamental driver behind MS-A's movement, which just confirms my initial conclusion that the discrepancy was purely driven by supply and demand mismatch.
Conclusion
In November, I noticed that MS-A had become overvalued when compared to AEB, BAC-E and GS-C. I suggested a pair trade to take advantage of the opportunity. Two months after the trade, I wanted to present to you what the trade has yielded. The price discrepancy between MS-A and AEB is now completely eliminated. A pair trade between GS-C and BAC-E on one hand and MS-A on the other would also have resulted in a profit, although the gap there is still not completely closed.
All this goes to show you that by using simple statistics and relying on basic fundamental knowledge, you can still manage to find profitable opportunities. You just have to pay attention.
Disclosure: I/we have no positions in any stocks mentioned, and no plans to initiate any positions within the next 72 hours.
I wrote this article myself, and it expresses my own opinions. I am not receiving compensation for it (other than from Seeking Alpha). I have no business relationship with any company whose stock is mentioned in this article.