Floating rate securities were all the rage after Trump got elected as president in November of last year. Market participants got worried that the policies that the new president-elect would be following would lead to rising rates and higher inflation. CEFs with exposure to floating rate instruments also grew in favor. Senior loan funds became especially popular as senior loans are instruments that usually pay a return in the form of LIBOR + a spread, and thus are less susceptible to changes in interest rates. The increased demand for the senior loan funds coupled with their relatively illiquid nature led to many of these funds moving into overpriced territory. I already mentioned that in a recent article I wrote. In that same article, I shared with you a pair trading opportunity in THL Credit Senior Loan Fund (NYSE: TSLF). At the time, the fund had a z-score of close to 5 in relation to its NAV and was the most overvalued CEF from all the ones I track in my tradable universe.
What has happened since I wrote the article only around 10 days ago? Well, first of all, the yield on 10-year Treasuries continued moving lower, extending their decline after the high of 2.60% it hit in December. That led to demand for floating rate instruments easing somewhat, and as a result, TSLF moved closer to its mean discount levels to NAV. Just take a look at the picture below.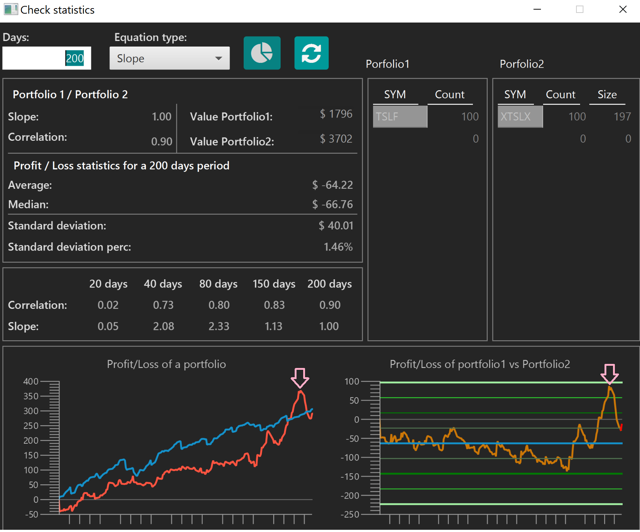 Source: Author's software
Portfolio 1 and portfolio 2 represent equally valued portfolios with the first one invested in TSLF and the second one in the NAV of TSLF. From the bottom left chart, you can see that historically TSLF has underperformed its NAV, but that changed in early January. The arrow, in fact, represents the time of my previous article when I initiated my pair trade. The chart on the right tells the same story, just in a slightly different way. It represents the difference in realized profit/loss from portfolio 1 and portfolio 2. Again, the arrow indicates the point of entry. Since I wrote my article, TSLF trended lower and is once again underperforming its NAV in terms of returns. Things seem to be moving back to normal, and another way to see this is through the premium/discount distribution chart below.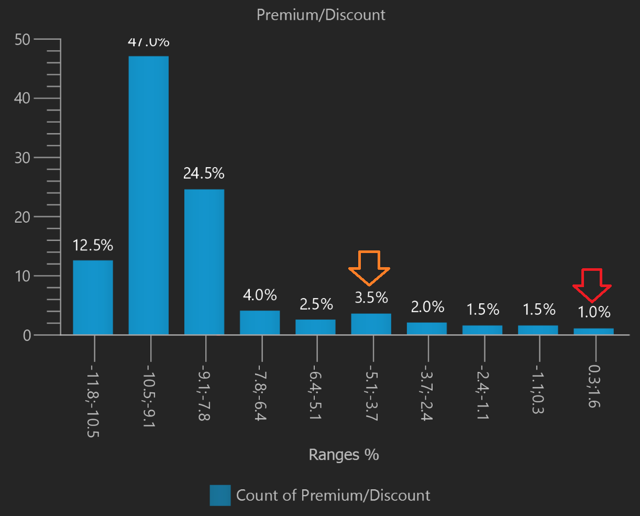 Source: Author's software
The red arrow indicates where the fund was trading in relation to its NAV at the time I was writing my previous article. The orange arrow indicates where it is now. Even though the current discount is nowhere near the historical average, TSLF is nevertheless trading at much more reasonable levels than it used to do in the beginning of January.
What about the pair trade? In my previous article, I spoke about pairing TSLF with the PowerShares Senior Loan Portfolio ETF (NYSEARCA:BKLN) in order to take advantage of the mispricing in TSLF. My bet was on the spread between the two securities closing. So what happened since trade initiation? See in the charts below.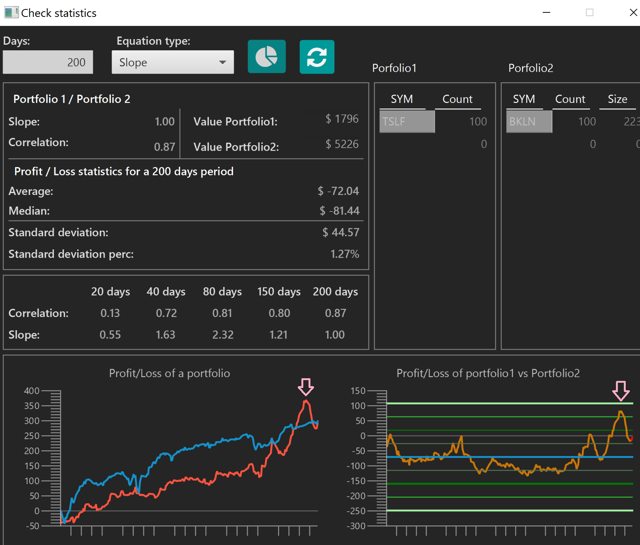 Source: Author's software
Again, the chart in the bottom left corner represents the relationship between two hypothetical equally valued portfolios - one invested in TSLF and one in BKLN. TSLF underperformed BKLN for the majority of the period, but shot up in the beginning of January. That's when I initiated my pair trade and the arrows reveal my point of entry. Since then, the spread between TSLF and BKLN has closed somewhat, and although it is still not at historical mean levels, it is heading there.
Finally, a word about the z-score. While it previously stood at close to 5, now it is close to 2 - yet another indication that things are moving back to normal.
Conclusion
The macro environment constantly changes and market participants try to adjust to the new reality as fast as they can. Some securities grow out of fashion and new ones become market favorites. For the new favorites, demand usually outstrips supply and prices deviate from fundamentals. And that's when opportunities start to emerge. That's exactly what happened in the beginning of January with senior loan CEFs.
Now suddenly the wind seems to be blowing in a different direction and funds such as TSLF are no longer the market darlings they used to be. Sooner or later instruments grow out of fashion and people start paying attention to fundamentals once again. When I initiate a trade, I am counting on this, on sanity returning back to the markets again. It has paid off in the past and it paid off in the case of TSLF.
Disclosure: I/we have no positions in any stocks mentioned, and no plans to initiate any positions within the next 72 hours. I wrote this article myself, and it expresses my own opinions. I am not receiving compensation for it (other than from Seeking Alpha). I have no business relationship with any company whose stock is mentioned in this article.