Verizon Communications (NYSE: VZ) will report Q4 earnings on January 24. The stock has had a slightly weak start to 2017, but the sentiment is about to shift in the favor of bulls. The wireless telecommunications company is prepping up to a highly coveted bullish indicator - Golden Cross.
Golden Cross is the bullish crossover of a security's short-term simple moving average (50-day) above its long-term SMA (200-day). Generally followed by volume appreciation, this crossover can bring in gains for the underlying.
In this article, I will discuss:
What does it mean for the investors?
Should they create fresh long positions in VZ at the current level?
The risks involved.
As one can see from the daily Verizon price chart below, the 50-day SMA (purple line) is rapidly catching up to the horizontal black line representing the 200-day SMA, setting the stage for a potential bullish crossover. The current values of 50-day and 200-day SMAs are $50.7918 and $51.9164 respectively.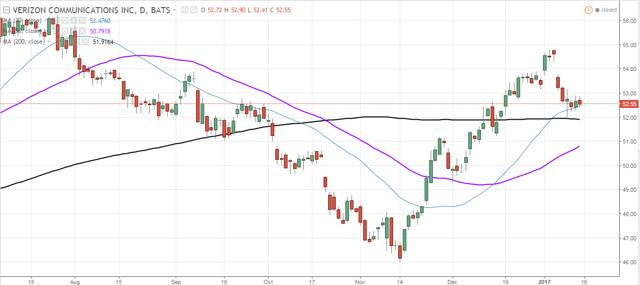 Source: TradingView
If the bullish crossover indeed happens, it would indicate that the momentum has turned positive in the near term and gains can be expected.
I recently discussed golden cross and death cross extensively in an article using GE (NYSE: GE) and Apple (NYSE: AAPL) and debunked widespread myths. If you are interested in learning more about them, please read the article.
On another note, it is important to consider that the stock is respecting the 200-day SMA, which further establishes that the market is in no mood to punish the stock, not at least until the Q4 results are announced. This enhances the probability that the stock is about to begin its next jump higher.
Before giving it so much weight, it is imperative that an investor understands how much additional return can he expect to make following a golden cross in VZ. Well, this is not an easy task, but I will attempt to provide some perspective using history as a guide. Indeed, I am taking the safer route here.
In the multi-year chart (2009-present) below, I have marked all seven golden crosses.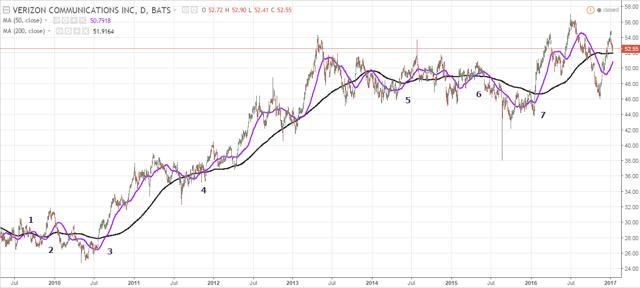 Source: TradingView
Upon a careful inspection, it reveals that the golden cross has failed 3 (1, 2, 6) out of 7 times in rewarding the investors. This means that it is 7 golden crosses in 7 years with a success rate of 57 percent. This is simply not reliable and can be compared to a flip of a coin.
By putting this forth, I want to suggest that an investor does not have to create fresh long positions in Verizon at the current level, but simply ride the rally, if it comes.
On the other 4 occasions, the minimum return has been approximately 10 percent, while the maximum has been close to 50 percent. So, if the golden cross does take place now, an investor can expect roughly 10 percent in gains. From the current level of $52.55, this would indicate levels north of $57, which would be the highest levels in last 16 years. Obviously, the probability of this occurrence depends significantly on the action in the broader market and the company's Q4.
Analysts are currently expecting the company to report $0.90 in Q4 EPS. In the last three quarters, the company has beaten these estimates by $0.02 twice, while it has missed revenue projections every time.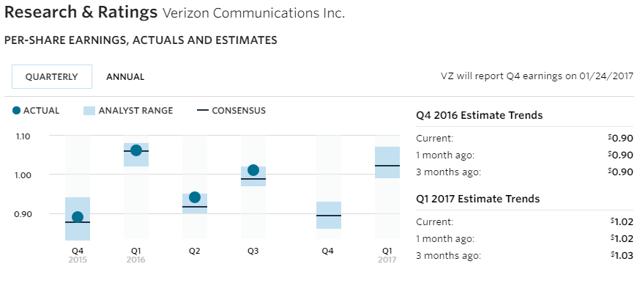 Source: WSJ
In case, the company disappoints on EPS or revenue estimates this time, the stock may fall. The company's valuations look comfortable considering the current PE of 15.4, forward PE of 13, and a dividend yield of 4.3%, but are rich when looking at the PB ratio of 10.5, PS ratio of 1.7 and PCF of 7.7. Therefore, there is little scope for disappointment.

Source: Morningstar
The crux of the story is: An investor needn't create fresh long positions in VZ at the current level even though the structure is bullish. He would be better off riding the rally which follows the potential golden cross and can expect 10 percent in stock price appreciation. A raise of this magnitude will catapult the stock to fresh multi-year highs.
There is a good probability that the gains don't materialize as expected due to a disappointment in Q4 earnings on January 24 or due to broader market weakness.
Note: I cover several stocks in different sectors as well as S&P 500, crude oil, gold and silver, U.S. dollar, etc. So, if you liked this update, and would like to read more of such informative articles, please consider hitting the "Follow" button above. Thank you for reading!
Disclosure: I/we have no positions in any stocks mentioned, and no plans to initiate any positions within the next 72 hours.
I wrote this article myself, and it expresses my own opinions. I am not receiving compensation for it (other than from Seeking Alpha). I have no business relationship with any company whose stock is mentioned in this article.