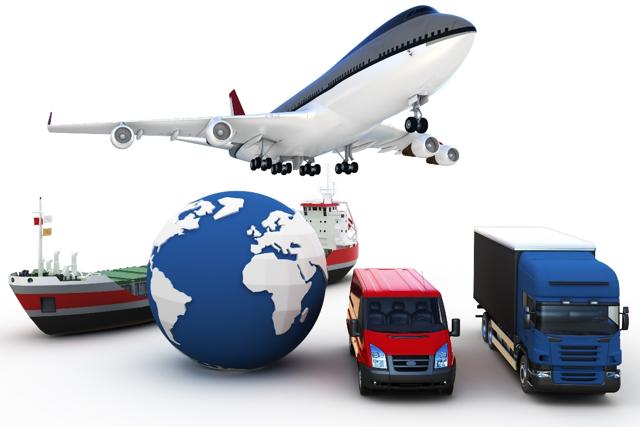 Source: Google Images
The first week of 2017 got off to a mixed start with broader indices taking the lead over transports. But this week things changed in-line with last year's results as transports drove higher across the board.
Strength for transports has been broad-based, as higher risk plays have been in-favor early in the year. Initial reports from FedEx Corporation (NYSE:FDX) and The Greenbrier Companies (NYSE:GBX) have been met with mixed results. FedEx declined offering investors a good entry level, while Greenbrier has skyrocketed and remains overvalued.
As we approach President-elect Donald Trump's inauguration this week, we take a step closer to what the near-term will begin to truly look like. A lot has been said, so many are waiting in anticipation as to how policy changes will impact all sectors.
YTD 2017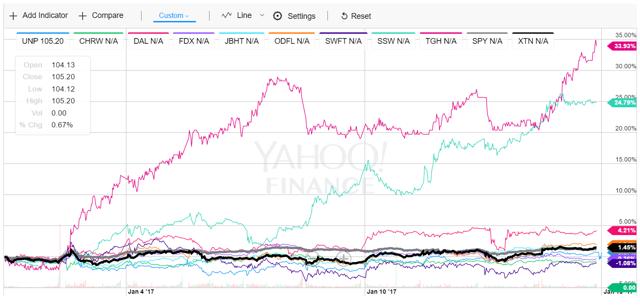 Source: Yahoo! Finance
First Week Revision
The previous weeks' results were improperly stated. It appears that Yahoo! Finance does not provide the exact date for the percentage performance per the entered fields. For the first week of the year, the SPDR S&P 500 ETF (NYSEARCA:SPY) was up 1.6 percent, and the SPDR S&P Transportation ETF (NYSEARCA:XTN) was up 0.3 percent for a 1.3 percentage point difference.
For the second week of 2017, the spread between the S&P 500 ETF and the S&P Transportation ETF reversed with the S&P Transportation ETF up 0.5 percentage points. The S&P 500 ETF was flat at 1.6 percent for the year; while the S&P Transportation ETF improved by 180 basis points (bps) to 2.1 percent for 2017.
While some companies within the container shipping line industry have gotten off to strong starts, other industries displayed strong performance during the week. Results have been mixed early on, with both large and smaller peers performing both well and poorly. For investors, it is a good thing when transports display strong performance, as there is a correlation with economic activity and freight shipments.
The monthly retail sales report was out with the advance and preliminary estimates for December and November 2016. Growth ramped up during the fourth quarter; the retail and food services total sales were up four percent versus last year. This reflected the strongest quarterly performance of 2016.
Rail Operators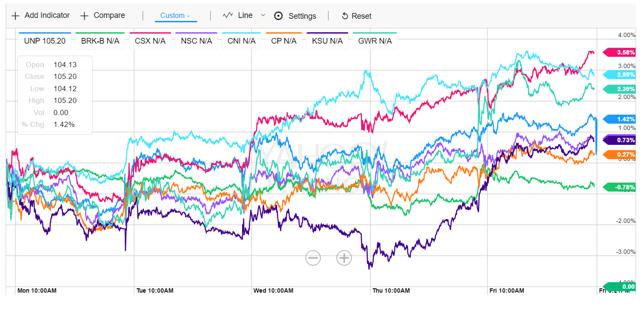 Source: Yahoo! Finance
Rail operators were positive this past week and continue to be a leading transport industry. Kansas City Southern (NYSE:KSU) continued to lag peers through Thursday, but displayed a bullish upward trend by Friday's close. With strong expectations for an improving economy, rail stocks will be positioned to benefit.
The first week of 2017 did witness double-digit declines for all Class I total carloads carried, but last year's performance still presents a low comparable baseline for the remainder of the year. My picks for 2017 include Canadian Pacific (NYSE:CP), Kansas City Southern and Union Pacific (NYSE:UNP).
Railcar Manufacturers & Lessors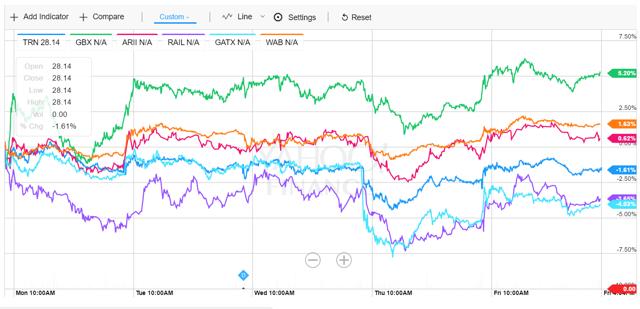 Source: Yahoo! Finance
For railcar manufacturers and lessors, Greenbrier continues to lead the way as this week's top performer. The stock is up 45 and 18 percent from its fiscal year 2016 and December 30, 3016 dates.
I like Greenbrier as an investment at some point, but I do not believe now is the time to be going long. There is still further downside for the company's performance over the next couple of years and the stock has gotten ahead of the cycle. I could be wrong, but I do not see a lot of current value in railcar manufacturers and lessors.
Truckload Carriers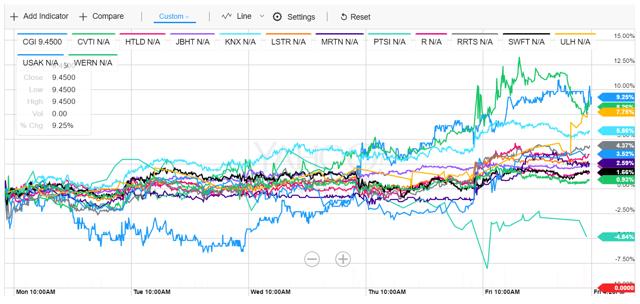 Source: Yahoo! Finance
Truckload carriers continue to trade in a close range with exceptions to the positive being Celadon Group (NYSE:CGI), Covenant Transportation (NASDAQ:CVTI) and Landstar System (NASDAQ:LSTR). The laggard for the week was P.A.M. Transportation (NASDAQ:PTSI). Overall, the industry was positive for the week.
I continue to be interested and focused on how the dynamics of any tightening in the trucking industry will impact larger versus smaller peers. There have been quick gains to be made by owning smaller peers, but large companies continue to grow organically while smaller players need acquisition deals to expand.
As Stephen Simpson highlighted with Heartland Express (NASDAQ:HTLD), this can lead to reduced margins and years of adjustments for customers and freight mix. Improved prospects will lift the group collectively, but as long-term investors, we want to own the strongest businesses.
Less-Than-Truckload Carriers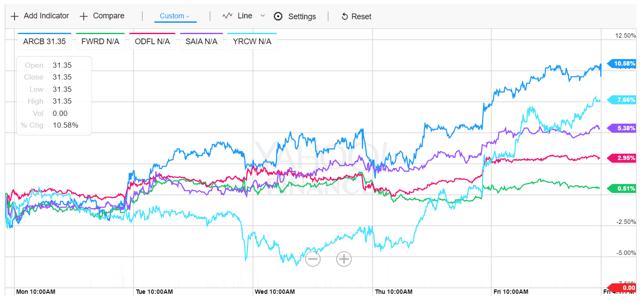 Source: Yahoo! Finance
Less-than-truckload (LTL) peers displayed similar strength during the week as their truckload peers. This was led by ArcBest Corporation (NASDAQ:ARCB) and YRC Worldwide (NASDAQ:YRCW).
Like truckload carriers, I expect there will be similar possibilities and challenges during 2017. A tailwind which may provide an added benefit is the expected improvement for industrial production. I view both YRC and ArcBest as riskier plays due to their unionized labor. But YRC may give investors one last push during the year to the $20 per share level or higher if volumes pick up.
Air Freight, Package & Delivery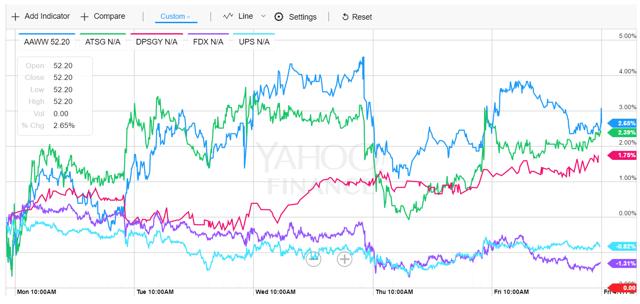 Source: Yahoo! Finance
Air freight package and delivery peers displayed a continued variance in performance this past week. The difference was that FedEx and United Parcel Service (NYSE:UPS) were the laggards. Deutsche Post DHL Group (OTCPK:DPSGY) has been the top performer thus far.
E-commerce will continue to be a tailwind for air freight and package delivery. I continue to like FedEx the best at current price levels, but I do believe that both airfreight lessors could offer value in the event a market pull-back occurred.
Contract Logistics, Forwarding & Brokerage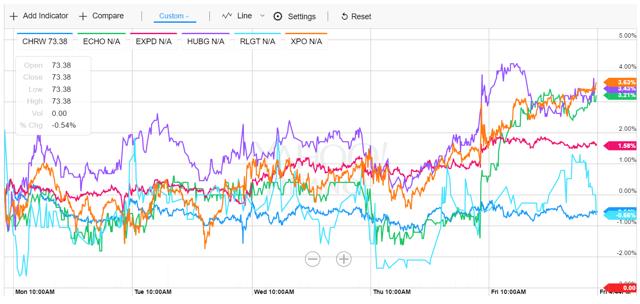 Source: Yahoo! Finance
Contract logistics companies remained mixed during the week, as CH Robinson Worldwide (NASDAQ:CHRW) and Radiant Logistics (NYSEMKT:RLGT) were laggards. XPO Logistics (NYSEMKT:XPO), Hub Group (NASDAQ:HUBG) and Echo Global Logistics (NASDAQ:ECHO) all performed better by greater than three percent.
I continue to believe XPO is the best investment option moving forward. The stock has been in a range between $43.50 to $45 per share. Analysts have quietly been moving their target prices higher, now approaching $52 per share. Smaller players like Echo and Radiant may offer value as well this year.
Container Shipping Lines, Charter Owners & Container Lessors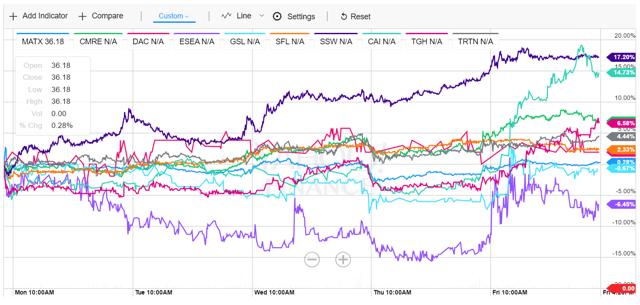 Source: Yahoo! Finance
The container shipping industry continued its strong start to 2017 with most companies performing strongly during the week. CAI International (NYSE:CAI) is officially on fire as the stock is now up around 44 percent through the first two weeks of the year. Seaspan Corporation (NYSE:SSW) also had a very strong week up 17 percent.
If average spot market freight rates remain at or near current levels, we could see further improvement for container shipping industry companies through June of this year. Some trade lanes, and depending on the direction, could even see solid performance throughout the year. But it remains to be seen whether rates will return to volatile swings and less predictability, which has been the case due to the overcapacity issues. I don't find much value in this area for investments, other than Matson (NYSE:MATX).
Airlines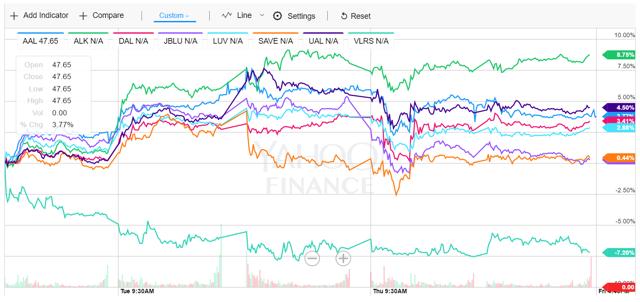 Source: Yahoo! Finance
The upgrades and strong numbers keep coming in for airline stocks. This week, both were announced for Alaska Air Group (NYSE:ALK) and Delta Air Lines (NYSE:DAL). Unsurprisingly, Alaska Air was the top performer for the week, up nearly nine percent. The laggard during the week was Controladora Vuela Compania de Aviacion (NYSE:VLRS).
I have not dabbled in airline stocks ever. Upon a high-level review of the industry over the past few years, I have always been intrigued by Alaska Air, JetBlue Airways (NASDAQ:JBLU) and Southwest Airlines (NYSE:LUV).
Demand Trends
Key demand-based indicators that are monitored include Class I rail traffic, trucking industry tonnage, shipments, and loads, air cargo tonnage, container shipping line twenty-foot equivalent units, TEUs, North America seaport TEUs, shipping lane port calls, North America cross-border trade, and freight rates for most of these indicators.
U.S. & Canada Class I Rail Traffic - Carloads & Intermodal Units Carried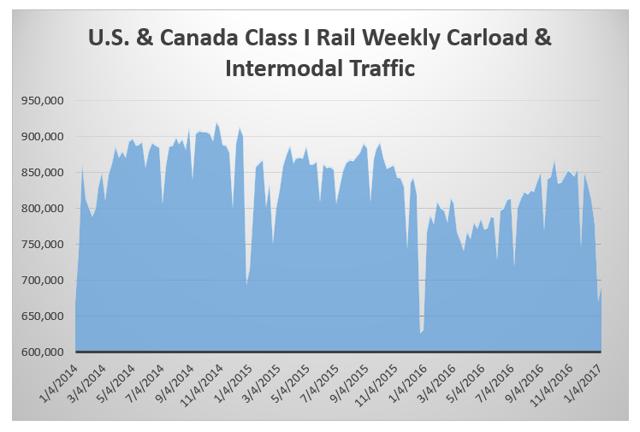 Source: Class I websites and personal database, carload and intermodal units carried
For the first week of 2017, total traffic was at -9.7 percent with carload traffic at -6.2 percent and intermodal traffic at -13.9 percent. The slow start to the year should get back on track through the remainder of the month and into February.
Container traffic was at -13.5 percent. The Asia-Pacific trade lane has continued to witness improved average spot market pricing as of early January 2017, and late December 2016. The Trans-Atlantic spot market activity remains much lower than last year's levels; it is not clear whether material improvement will occur this year.
Week 1 witnessed weekly coal carload traffic at just below 96,000 carried carloads. This reflected a two percent decline versus last year, a much better start than the 28 percent decline during week 1 in 2016. Grain performance was also down two percent versus last year.
Motor vehicles and equipment carload traffic remained substantially below 40,000 carloads due to seasonality, performance was down two percent versus last year. Chemicals were down seven percent, petroleum products were down 23 percent and crushed stone, gravel and sand were also down two percent.
Trucking Industry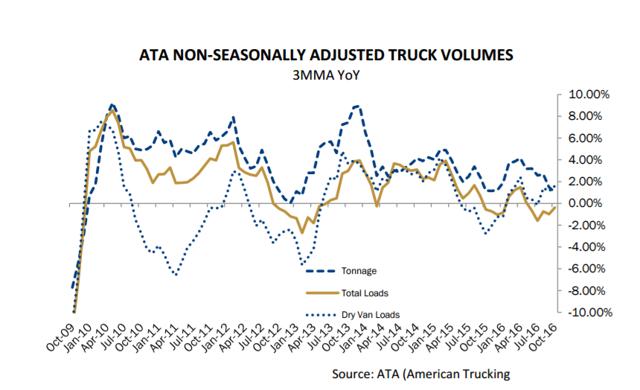 Source: Cass Information Systems, Cass Freight Index
As mentioned in a previous week, truck tonnage increased by nearly six percent during November 2016 versus the previous year. This performance reflected an eight percent improvement from October.
As stated by some experts, truck tonnage has moved in a seesaw pattern throughout all of 2016. The information provided by the American Trucking Association, ATA is seasonally adjusted. Compared to the Cass Freight Index information without seasonal adjustments, volumes were down for the year for the same time periods.
Regardless, what both trends display is a correlation between the improved seaport container traffic and rail intermodal traffic. All of these data sets also correlate to the peak shipping season timeframe of September through December for 2016.
Air Cargo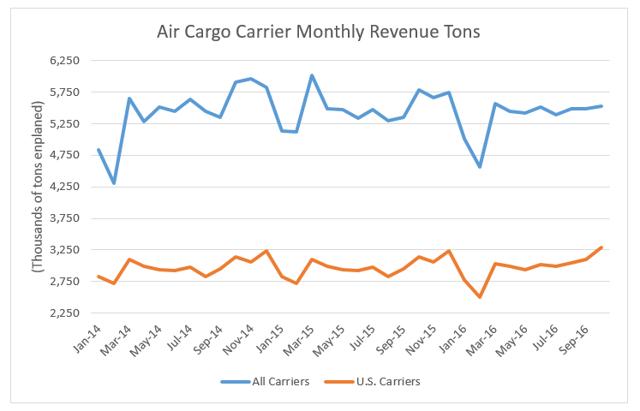 Source: U.S. Dept. of Transportation, Bureau of Transportation Statistics, Air Cargo Summary Data
As reported last week, air cargo traffic numbers for November 2016 were very robust, as international air cargo demand improved greater than five percent versus the previous year. The preceding updated air cargo carrier monthly revenue tons enplaned for October displayed weakness for global growth versus U.S. carriers.
All air cargo carries witnessed a total decline cargo revenue tons enplaned at -4.5 percent. For U.S. air cargo carries, growth was positive at 4.5 percent. Through October 2016, global performance was at -2 percent, while U.S. air cargo carriers were up one percent.
Domestic growth was at 4.5 and one percent respectively for UPS and FedEx through October. Internationally, UPS took market share from FedEx for the Atlantic and Latin America lanes, while FedEx took market share from UPS for the Pacific lane. FedEx's international performance has been weaker than UPS throughout the year; but the company still generated 23 percent greater cargo revenue tons enplaned through October 2016.
Container Shipping Lines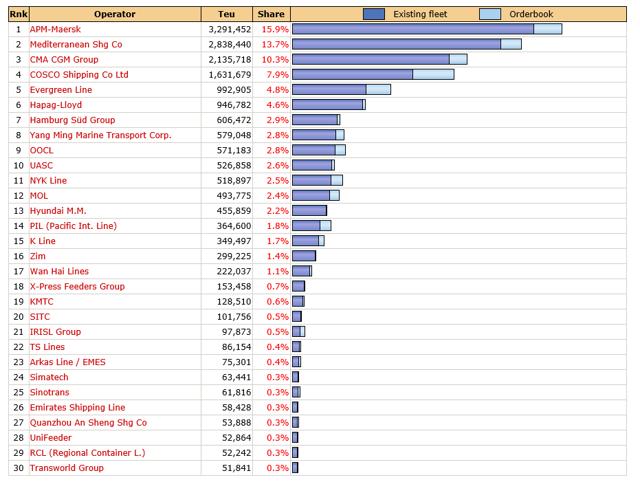 Source: Alphaliner - Top 100 Operated Fleets as Per January 15, 2017
Recent publications have indicated that the Chinese New Year has added to the current tight market for average spot market pricing. This has sustained the run-up during the peak shipping season in the U.S.
Despite the improved freight rate environment over the past few months, talk remains dire regarding the long-term health of the industry. Some companies and experts in the industry have mentioned that in the event new alliances which will be coming online soon, do not improve the freight rate instability, more shipping line carriers could go bankrupt.
This viewpoint still places concerns regarding the strength of today's freight rates once the Chinese New Year demand is over. It also instills distant thoughts of what an even more consolidated container shipping industry looks like, with more empowerment to dictate rates paid to ship goods.
North America Seaports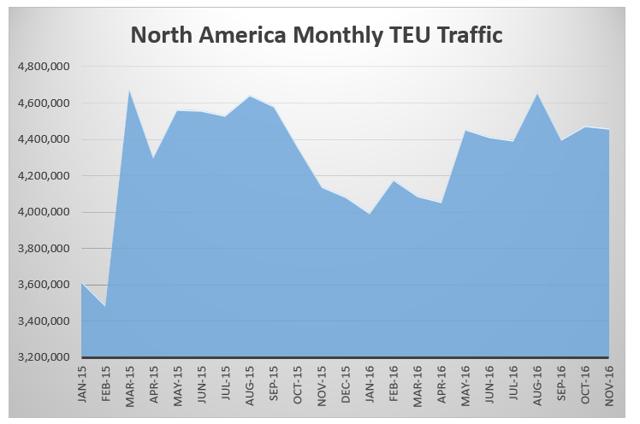 Source: North America seaport websites and personal database
Early TEU numbers are indicating that the theme from November will have continued through December. The ports of Los Angeles and Long Beach have sustained the recent trend, with Los Angeles substantially outperforming its neighbor. The Port of Virginia as an early read for the East Coast, has witnessed robust results during December.
The Port of Oakland has come out announcing that it expects to outpace the estimated three to four percent West Coast container growth for 2017. Oakland had a solid year during 2016, but it will remain to be seen whether infrastructure developments and process improvements can drive market gains.
North America Cross-Border Trade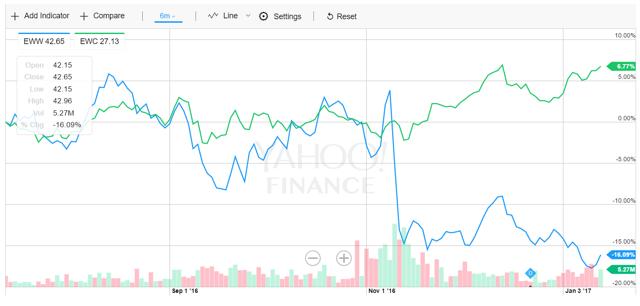 Source: Yahoo! Finance
Since President-elect Donald Trump is going to be inaugurated this upcoming week, I figured we might as well begin tracking Mexico and Canada ETFs. Currently the iShares MSCI Mexico Capped (NYSEARCA:EWW) has substantially underperformed the iShares MSCI Canada (NYSEARCA:EWC) ETF. This makes some sense since Trump has targeted Mexico, but from an overall more stringent trade policy possibility, there may be some readjustments on the horizon.
With the recent lows set for the Mexican Peso to the dollar, as well as stock market indices, some have called this past week's latter rebound a positive sign. I think we still have some further transparency needed as to how the Trump administration is going to refine the North America Free Trade Agreement (NAFTA). But the declines which have occurred may have priced in negative expectations, especially if tangible actions are not as aggressive.
Summary
It is getting exciting as we approach a new presidential administration. I will not be the first or the last to say that President-elect Trump's public interaction has been a bit challenging as to the impacts on individual stocks. But I am in agreement with those who view Trump's presidency as a stronger leader for the U.S., both domestically and within the global community.
The excitement for Trump's administration stems mainly from the opportunity to begin to see what tangible policy changes will be implemented, and how any changes will impact sectors, industries and individual companies.
Disclosure: I am/we are long FDX, KSU, MATX, XPO.
I wrote this article myself, and it expresses my own opinions. I am not receiving compensation for it (other than from Seeking Alpha). I have no business relationship with any company whose stock is mentioned in this article.
Editor's Note: This article discusses one or more securities that do not trade on a major U.S. exchange. Please be aware of the risks associated with these stocks.