Gold miners (VanEck Vectors Gold Miners ETF GDX) added almost 20% since the bottom in mid-December of last year. Gold (SPDR Gold ETF GLD) added almost 7% since then.

Source: casino.com
I have been bearish since November as many people know by now. I wrote a few articles discussing bearish fundamentals and the reason why I thought that gold would drop further. At first it worked out perfectly. However, I missed a few important signs since December. That's why I missed out on a very nice rally. I didn't short miners and the purpose of my articles was not to justify misplaced trades. A trader has three choices. Buying, shorting or doing nothing. I chose the third option because of the high volatility of gold stocks and the ability to rally within a downtrend. At this point, I believe that we are going to see some more gains. In this article, I will explain why.
The first graph I am going to show you is about the ISM manufacturing index. This index is a leading indicator. Leading means that we can get a pretty good outlook of the next 1-3 months by looking at this indicator. The ISM index started to accelerate since September which has caused retail sales to rally and even industrial production is about to enter the growth zone again.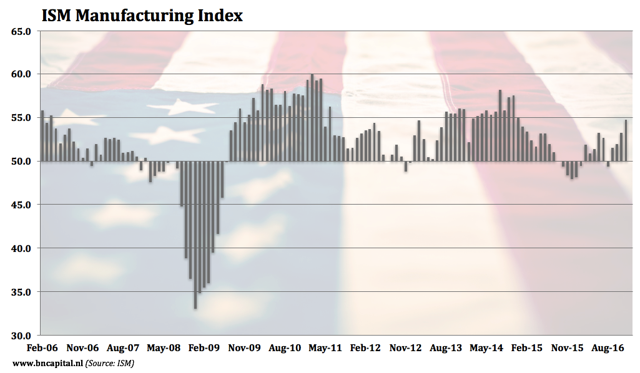 -----
Extra: if you are interested in leading indicators and the importance to look at the right indicators, feel free to read my article about this topic. I am giving a complete overview of leading indicators and information of how to use them.
Article: Establish A Solid Macro View Using The Top-Down Method
-----
When analyzing gold, it's also important to look at inflation. The ISM prices index has increased at the fastest monthly pace since at least six years.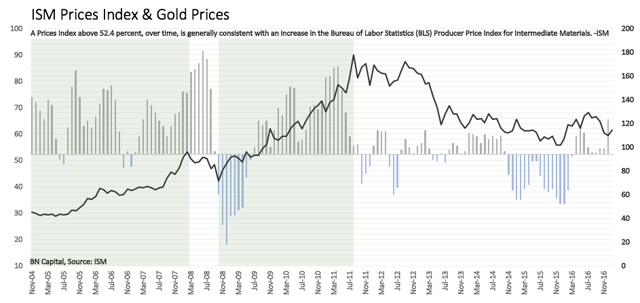 Longer periods of higher prices are generally very bullish for gold. Gold rallied massively between 2004 and 2007 and 2008 until 2011. Following the commodity peak in 2011, we haven't seen massive price increases. One interesting thing that caused (or at least contributed) to the rally in 2016 is the fact that the prices index went from almost 34 to 64.
One reason for higher inflation is the fact that base metals have bottomed in 2016 and rallied massively since then. Even the high correlation to the USD has been completely ignored since the election.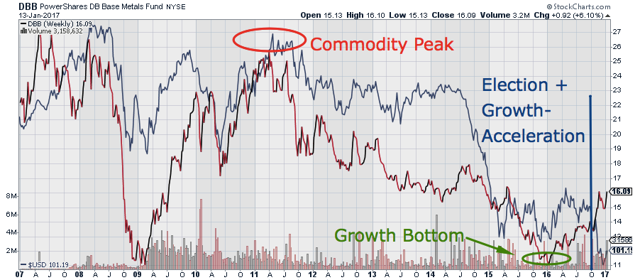 The USD has hit a 13 year high after the election of Trump. Mostly because of the higher growth outlook and stimulus plan. This is why commodities and the USD rallied simultaneously. I personally don't believe that the USD is going much higher in the first half year of 2016. Much has been priced in and every disappointment will push the USD lower. Just think about Trump's latest press conference. He didn't mention his infrastructure plan and caused a massive intraday drop of the USD.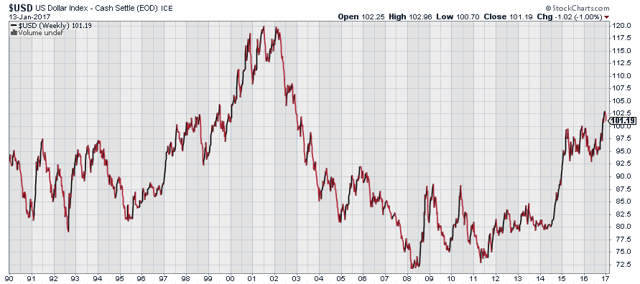 Another thing that caught my attention is the fact that speculative net positions have been reduced to levels that are very common during bear markets (2012-2015). The overcrowded gold trade has been unwound.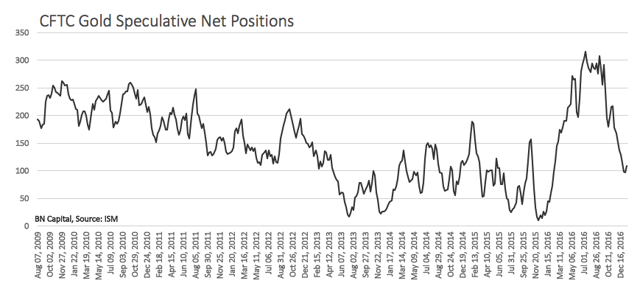 Another indicator I have used in almost every article is the Gold Miners Bullish Percent Index. This index shows what percentage of gold miners is giving bullish signals. I decided to go back to 2008 to get an interesting long term picture. Note that a bull market has many peaks around 80%. This makes total sense since an uptrend has only minor corrections. A bear market is a different story as you can see.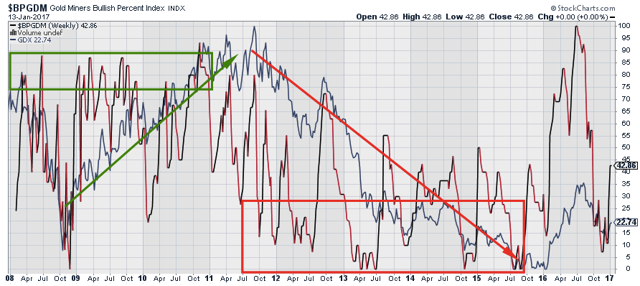 That being said, we see that the current level of 42% is not a warning signal. Even after the latest rally. This is backed by much lower net speculative gold positions and the chance that core inflation is going higher because of economic growth. I also believe that the USD is overcrowded and that we won't see a much higher USD index in the first half of this year.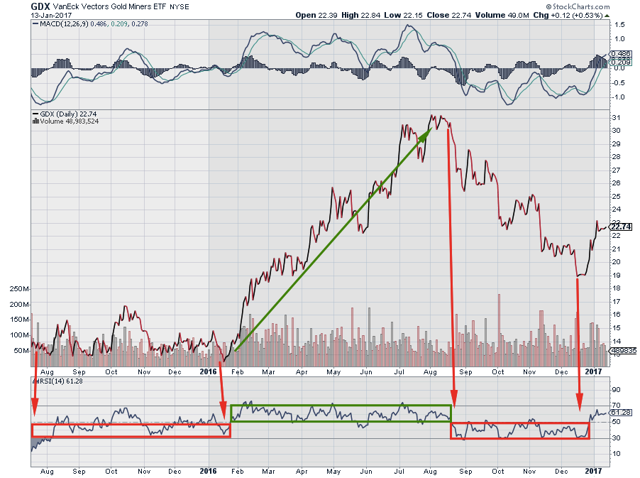 I am going to add a small GDX position to my portfolio based on the reasons I mentioned above. I believe that GDX can reach 25 in the short term. Note that the RSI indicator in the graph above has gone above 50. A strong uptrend doesn't let the RSI go below 50. At least not for long. That being said, I want to mention again that I am adding small positions. Mainly because I missed out on a rather big rally and because the bull case is in an early stage.
Many thanks for reading my article. As always, I want to encourage everyone to leave a comment below if you have questions or remarks. My latest comment sections have been filled with the most interesting facts and opinions about this topic. Also keep in mind that you can always send me a direct message if you have questions. I often lose track of comments directed to me if the comment section is too busy.
Thanks and good luck!
Disclosure: I/we have no positions in any stocks mentioned, but may initiate a long position in GDX over the next 72 hours.
I wrote this article myself, and it expresses my own opinions. I am not receiving compensation for it (other than from Seeking Alpha). I have no business relationship with any company whose stock is mentioned in this article.
Additional disclosure: Note that I might add a component of GDX instead of buying the entire ETF. Also keep in mind to always stick to your own risk management.