IMPRESSIVE STOCK PRICE PERFORMANCE
When we compare the long-term performance of Facebook's (NASDAQ:FB) stock price with the performance of the NASDAQ Index (NASDAQ:QQQ), we can see Facebook has strongly outperformed the tech stock index.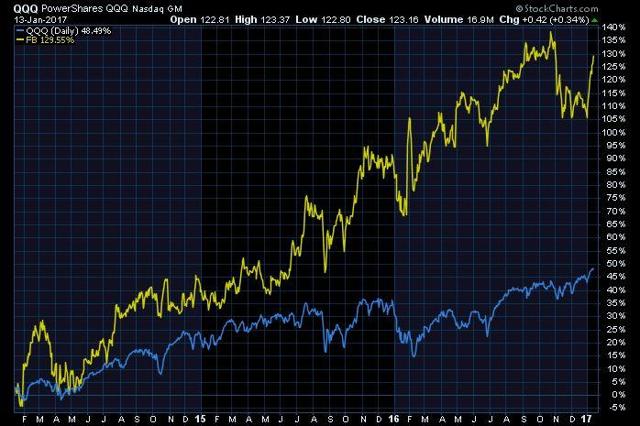 Source: stockcharts.com
Since the end of 2013, Facebook has also been outperforming similar large tech stocks (Google (NASDAQ:GOOG) (NASDAQ:GOOGL), Twitter (NYSE:TWTR), Yelp (NYSE:YELP)):

Source: ycharts.com
Currently, we have only seen 2 weeks of price action in 2017, but Facebook is again rising strongly in stock value: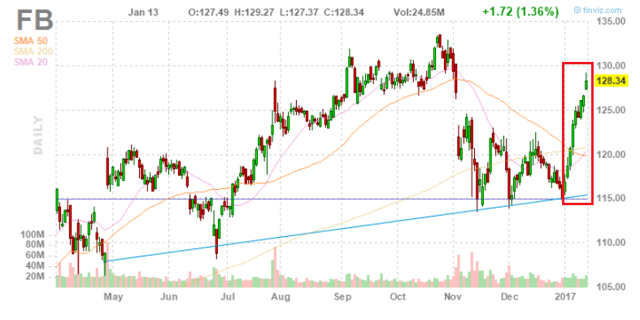 Source: finviz.com
FACEBOOK FUNDAMENTALS
It's important to see if this appreciation in stock value is backed by a growth of the underlying fundamentals of Facebook. Looking at the earnings, we can see they have been rising consistently throughout 2015 and 2016: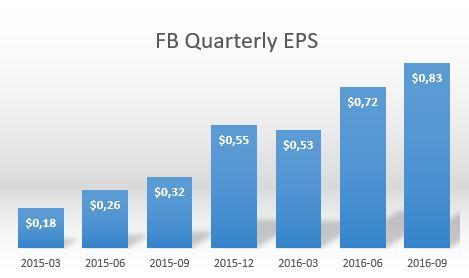 Source: ycharts.com
The book value of Facebook has appreciated in a similar fashion and is currently at $18.84 (it tripled in total compared to the book value in 2012). The Return on Equity has been improving as well and is currently solid at 15.8%.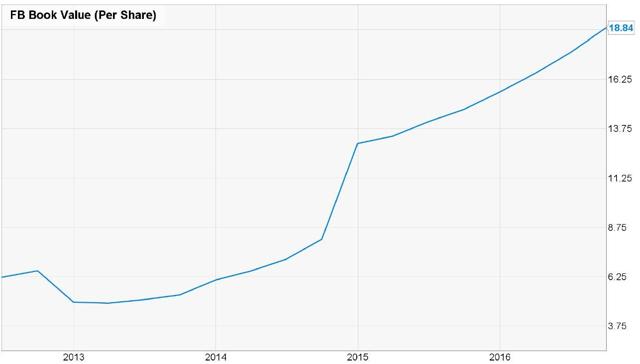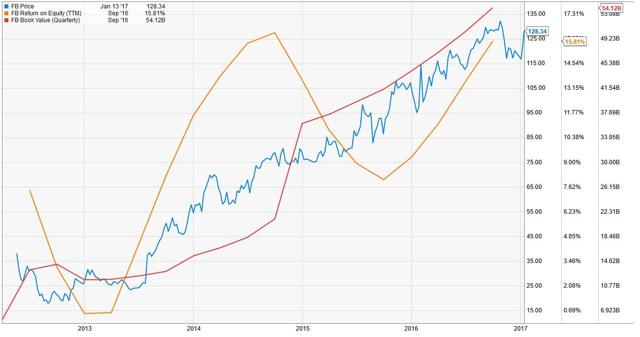 Source: ycharts.com
CURRENT VALUATION
As we can see from the graphs above, the fundamentals of Facebook have been improving consistently in the past years. It's interesting to see the current P/E valuation of Facebook and compare it with its historical valuation: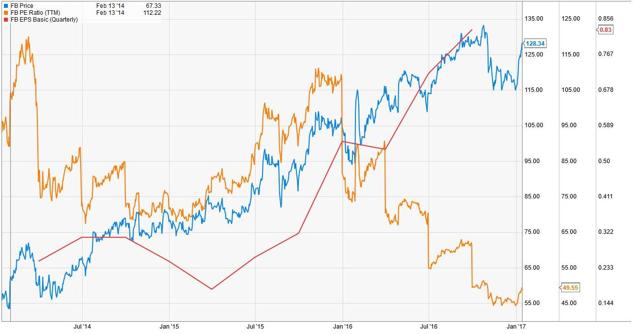 Source: ycharts.com
Looking at this graph, we can see the P/E ratio of Facebook has been declining since the beginning of 2016. Currently, it is at 49.5 which might seem high, but keep in mind investors have paid higher P/E multiples for this stock (going as high as 115 times its earnings). It is remarkable to see that even with the high appreciation in stock price, the P/E ratio declined in the past months. This highlights the strong growth in earnings.
2017 CATALYSTS
For 2017 (and future years), we believe the following events will sustain the earnings growth of Facebook:
A continuation of its growth in active users. The current number of active Facebook users is already high at 1.7 billion users and we believe this will grow even higher in the future. Much of the growth in users has come from the Asia-Pacific area and we don't anticipate this growth will face a slowdown in the near future.
Source: facebook.com
Facebook owns several highly valuable companies whose revenues will increase further in the future. Programs like WhatsApp, Instagram, Oculus VR and Facebook Messenger are bound to grow their market share in the future. This will reduce the advertising dependency FB currently has.
Facebook currently has the highest profit margins in its peer group. While we believe the earnings of FB will grow higher in the future, it is just as important to consider the profit margins the company realizes over these earnings. Facebook has done an excellent job here, compared to its peer group:

Source: finviz.com
OPPORTUNITY: Buy a long-dated call option on Facebook
Considering these points above, we think Facebook remains a strong investment in 2017 and in the upcoming years. The current P/E ratio might seem high at 49, but we need to keep in mind the growth rate in its earnings was also significant. Given Facebook's current user platform (1.7 billion users) and the valuable holdings (WhatsApp, Instagram, Oculus VR), we believe the uptrend in the stock price will continue further into the future.
To benefit from this uptrend we suggest to initiate a long position in long-term Facebook call options. In this way you can minimize your required investment to benefit from a rise in the stock price. Here we would suggest to buy a call option contract expiring on 19 January 2018 (this gives the stock price plenty of time to appreciate in value), with a strike price of $150 (around 16% above the latest stock price). This call option has the following advantages:
The required investment is low, only $675 for 1 call option contract. This will give you the right to buy 100 shares of Facebook at $150 in the coming year.
The ROI of your investment on these call options will be leveraged, compared to an investment in common Facebook stock.
The premium of this call option is rather low, given the implied volatility is only 20%, while the realized (historical) volatility is at 27%. This means the call options are currently anticipating low volatility in the coming months for FB, while we don't see a reason this should be the case. The reason for this low IV figure can be explained by the low implied volatility levels in general for the stock market. The VIX index is currently at yearly low levels.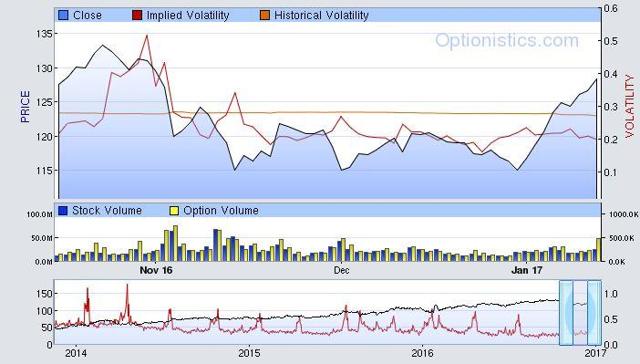 Source: optionistics.com
In conclusion: FB has significantly increased its market share and its earnings in the last years. The stock price has appreciated strongly and might seem high at a P/E ratio of 49, but this valuation multiple seems reasonable given the current market opportunities for FB. We expect the stock price to continue its uptrend and to close 2017 at a higher price level. The best way to benefit hereon is to buy long-term call options on FB.
Disclosure: I/we have no positions in any stocks mentioned, but may initiate a long position in FB CALLS over the next 72 hours.
I wrote this article myself, and it expresses my own opinions. I am not receiving compensation for it (other than from Seeking Alpha). I have no business relationship with any company whose stock is mentioned in this article.