Will the reflationary scenario continue to gain steam in support of equity valuations? Investors this week will have the chance to get a solid answer on this critical question, the positive outcome of which is definitely needed in order to provide more support to the equities as well as the corporate bonds bull market. US equities (NYSEARCA:SPY) have completed an anticipation cycle of not only a US pro-growth economic policy but an increasingly global fiscal coordination towards a common goal; the sustained uplift of the global growth cycle. The time it will take for markets to witness the first tangible moves by the new US administration is still too long to wait without any further incoming optimistic signals. Equity valuations are so stretched and corporate bond spreads (NYSEARCA:LQD) so tight that they are in need of new macro surprises, not only in US but on a global scale, in order to sustain themselves. In this light, the upcoming releases of inflation and activity data across the biggest economies of the planet will set an important short-term milestone for risk asset investors, making this week an extremely important one.
US Economy Watch
A mix of economic activity and inflation data will provide fresh evidence on the ability of the US economy to sustain its accelerating momentum despite a flurry of challenges. These challenges span an elevated dollar price with respect to its main advanced (NYSEARCA:UUP) as well as emerging market peers, to the impact that interest rate increases on sensitive domestic sectors, like housing, have. The ability of the US economy to extend its reflationary dynamics, under the light of these challenges, will become evident with the release of the inflation data for December. Should headline and core CPI inflation come at least in line with consensus expectations of 2.1% and 2.2% respectively, the US economy will reveal a decent flexibility to withstand a stronger dollar. This premise will be enforced further in case the NY Empire State Manufacturing and Philly Fed Manufacturing Indices for the month of January, the first macro activity data for the New Year, surpass expectations.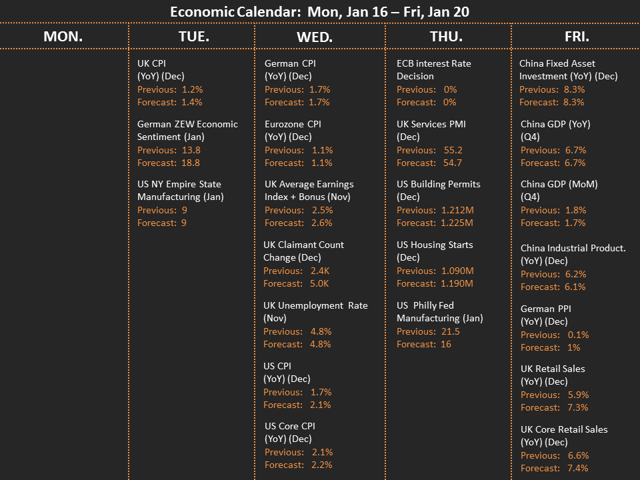 Source: investing.com
On the interest rate side, the scenario of new rate hikes by the Fed is gradually priced in by the off-shore USD market, and starts to put the real economy into the test. Recently, the 3-month USD LIBOR, a benchmark used to price a significant portion of mortgages, surpassed the 1% mark for the first time since 2009. Viewed through this development, the release of December building permits and housing starts will shed light on the ability of the housing sector to withstand rate increases. Markets will feel more comfortable if the economy manages to deliver 1.2M building permits and 1.1M housing starts, at the very least. Anything significantly less than these figures could spark increased nervousness especially given the extension of the USD LIBOR rates' uptrend towards new multi-year highs.
Global Economy Watch
The US economy is undeniably still the most critical to watch for, not so for its absolute contribution to the world's growth but mainly for its high flexibility and capability to lead cycle turnarounds. Having said that, the US economy is estimated to account for about one tenth of global growth in 2017, while China (NYSEARCA:FXI) and Europe (NYSEARCA:VGK), collectively, will contribute to more than 40%. This means that an equal, if not higher, weight should be put to the macro releases of these two critical regions which are also scheduled to be announced this week.
First and foremost, the resilience of the global reflationary cycle will be tested with a series of inflation releases in Eurozone (NYSEARCA:EZU); an economy still hampered by fiscal austerity and distortions from ultra-accommodative monetary conditions. An impressive record will be set in case the December's final headline CPI figure for Germany (NYSEARCA:EWG) manages to surpass expectations for another time. It will be the fourth month in a row that the finalized reading of German inflation beats preliminary analysts' forecasts, and the fifth one in the last six months. This will become more important if it is accompanied by the first positive inflation surprise at a Euro-area level as well. The preliminary CPI figure for Eurozone, released in the first week of January, came above expectations at 1.1% on a YoY basis. Thus, it will be extremely important for equity markets to witness a final reading at least as strong as the preliminary one. Apart from any new price pressures on a consumer level, the German producer price index for the same month will also be released. Any outcome above 1%, on an annual basis, will signify that the weak euro has started to import inflation to this hyper-hawkish nation.

Source: ieconomics.com
Euro-area imbalances, aggravated by a potential overheating situation in Germany, constitute only one focus area for investors who track the global economy. The other critical market is certainly Britain (NYSEARCA:EWU), which is challenged by one of its biggest historical bets; to settle a smooth divorce with the EU. While it is by all means evident that the UK economy has managed to navigate successfully through Brexit reverberations so far, there is no assurance for its ability to continue to do so in the near-to-medium-term future. This ability will be put to the test again this week during a series of important releases, spanning from the jobs market, the services industry, and the consumer sector.
On the inflation forefront, Sterling's depreciation after the Brexit vote has produced a dynamic turnaround of consumer price pressures after hitting the zero percent back in 2015. However, UK inflation is nowhere near its 2.5%+ levels experienced between 2009 and 2013. Moreover, the latest upturn in inflation is not demand driven, despite the fact that real economic activity indices have consistently beaten market expectations. Rather, it is fueled by the depreciating currency (NYSEARCA:FXB) and imported inflation. In this light, it will be extremely important to watch if the surprising resilience of Britain has more fuel in its tank, through the release of the UK services PMI, as well as the retail sales, all for the month of December. These indices will be accompanied by an assessment of the UK jobs market, for which special attention should be paid to the earnings growth figure for November. This figure will reveal if a secondary-effect of price pressures to the domestic economy should start to be expected by a tightening jobs market.

Source: ieconomics.com
The challenges the UK economy faces are numerous and important to watch for, nevertheless the sheer size and importance of the Chinese behemoth for the state of the world economy demands special attention ahead of a stream of macro announcements. Investors always feel extremely nervous when China releases GDP figures, and this week's schedule should not be different. Global risk markets are currently positioned for a steady rate of growth in the Q4 of 2016, which means that any deviation from the widely expected 6.7% annual rate will be highly impactful on asset prices. Apart from the headline figure of economic growth in China, two other important metrics will be released; industrial production and fixed asset investment, both for December. Markets should not be surprised if both industrial production and fixed asset investment keep their yearly growth rates unchanged for the last month of 2016. Barring any surprises out of these Chinese macro indicators, the nearest challenge for the Chinese is their ability to continue fighting the capital hemorrhage, which means that they might need to afford some extra soft landing of their economy down the line, in case their recent plans to throw half a trillion dollars in rail infrastructure projects do not translate into material action.
It is beyond doubt that this week's macro releases are by far the most critical ones since the beginning of the year. The global reflationary scenario, a prerequisite for the prolongation of the risk assets' bull market, will be put to the test across continents. Risk assets need to receive solid evidence from a spontaneous accelerating business cycle in order to defend their elevated valuations, before the actual policy shift in the US as well as internationally starts materializing.
The bar of expectations has risen quite high for equities and corporate bond markets, but the rapidly changing nature of the global landscape can deliver the surprises needed. Will policy makers act fast enough? That's the next thing investors will turn their attention to, after digesting the new stream of data. While there is no safe way to anticipate the outcome of macro announcements, there is something that can be argued with almost certainty; currencies will not be left alone anymore to bear the burden of global imbalances. Bond markets will start taking an increasing part as well in absorbing these imbalances, with the gradual normalization of global rates. Volatility will be the new king in markets, and investors should better get used to it.
Disclosure: I/we have no positions in any stocks mentioned, and no plans to initiate any positions within the next 72 hours. I wrote this article myself, and it expresses my own opinions. I am not receiving compensation for it (other than from Seeking Alpha). I have no business relationship with any company whose stock is mentioned in this article.
Additional disclosure: The views expressed in this article are solely those of the author, provided for informative purposes only and in no case constitute investment advice.