When Advanced Micro Devices (NASDAQ:AMD) reports quarterly earnings results on January 31 after the market closes, expectations are high that the company will miraculously report a profit. These expectations are too high, since PC graphics card sales and console sales during the holiday period are the primary drivers for revenue in the last quarter. Though AMD stock fell 15 percent since its $12.42 high in December, 2016, CEO Lisa Su's detailed plan on the Ryzen launch will give investors a better timeline on the company achieving profitability this year.
AMD showcased Ryzen this month, but gave no details on the pricing, power consumption, or performance. It only reported solid FPS (frames per second) numbers for one game: Doom. AMD will launch Ryzen on February 28 at GDC 2017. GDC is held between February 27 and March 2017. AMD shareholders may expect the stock to dip to $10.00 or slightly below, near its 50-day simple moving average, when it reports a loss for the quarter: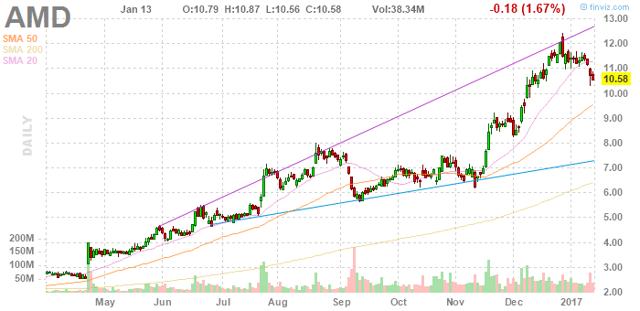 (Source: FinViz)
Quarterly loss
18 analysts cover AMD. They have an average earnings expectation of -$0.02 per share (loss). The range is between -$0.01 and -$0.03 per share as the table from Yahoo Finance indicates.
| | | | | |
| --- | --- | --- | --- | --- |
| Currency in USD | | | | |
| Earnings Estimate | Current Qtr. | Next Qtr. | Current Year | Next Year |
| No. of Analysts | 18 | 18 | 20 | 21 |
| Avg. Estimate | -0.02 | -0.04 | -0.15 | 0.05 |
| Low Estimate | -0.03 | -0.07 | -0.19 | -0.18 |
| High Estimate | -0.01 | N/A | -0.1 | 0.32 |
| Year-ago EPS | -0.1 | -0.12 | -0.54 | -0.15 |
Pre-booked chip sales to Sony (NYSE:SNE) for its PlayStation and Microsoft (NASDAQ:MSFT) for its Xbox likely rose in the quarter. Sony refreshed the PlayStation in November. It promoted the PS 4 Slim with 500GB storage by bundling the console with games like Uncharted 4. Microsoft bundled the Xbox One S with games like Forza Horizon 3 and a battery hatch. Its 1TB model included Gears of War 4. Such moves will have lifted console sales to AMD's benefit.
Ryzen release set for success
Intel (NASDAQ:INTC) handed an easy pathway for Ryzen's successful release, as I stated before. The company hoped to pass Kaby Lake's 7700K as a 25%+ performance increase over older computers. Intel compared the chip to systems released on January 3, 2011, a full six years ago. HardOCP is one of the only sites calling out Intel. It summed up AMD's strategic pathway for success:
AMD, it is your turn. We think we know where you are in terms of IPC; you had best get your pricing structure in line. Don't get greedy, deliver a solid non-beta platform, expand on core-width and chipset functionality going forward, and you are going to win a lot of us enthusiasts back. You get me close to parity with my Haswell, and I am building a new Ryzen system just on enthusiast principle alone.
(Source: HardOCP)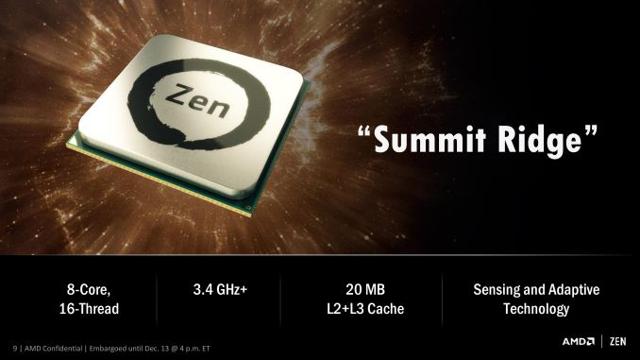 AMD will differentiate its chip from Intel by offering 8 cores, compared to Kaby Lake's 4 cores. When Ryzen is paired with AMD's Vega GPU, it stands to beat Nvidia's (NASDAQ:NVDA) 1080 card.
Takeaway
AMD's expected loss in the quarter may take some steam out from the stock's strong performance in the last year. Of all the stocks I covered, AMD accounted for the five-fold return. For this year, a successful release of Ryzen will not only mean AMD holding 2016's gains on the markets, but new yearly highs for its share price. Please "Follow" me for continued coverage on technology stocks having deep value. Click on my name next to my avatar at the top of the article.
Disclosure: I am/we are long AMD.
I wrote this article myself, and it expresses my own opinions. I am not receiving compensation for it (other than from Seeking Alpha). I have no business relationship with any company whose stock is mentioned in this article.