In this article, I want to give you some very important fundamentals that give us a strong bull case to buy companies in the motor vehicles & parts industry.
I am talking about companies like the ones listed below. The first three companies are in the car parts business. The others are dealerships for new and used cars.
O'Reilly Automotive (NASDAQ:ORLY)
Advance Auto Parts (NYSE:AAP)
AutoZone (NYSE:AZO)
Lithia Motors (NYSE:LAD)
CarMax (NYSE:KMX)
Copart (NASDAQ:CPRT)
....etc...
Let's start with the most important indicator. The graph below shows the ISM industry retail trade sentiment. A value close to 100% means that it is one of the strongest growing industries. A value close to -100% means that the industry is among the worst industries.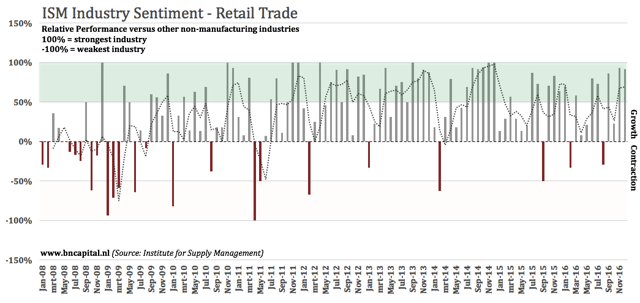 Retail trade has been one of the biggest winners during the last months of 2016. Growth sentiment is extremely strong. This is even more important if we consider that this ISM index is leading. This means that coincident indicators like the ones you are about to see in this article are likely to be higher over the next 1-3 months.
The latest December retail numbers confirmed this outlook. Retail numbers posted their strongest growth number of 2016.
Motor vehicle and parts retail numbers showed almost 7% growth in December. Motor vehicle sales are back at levels that are very common since 2011. I am especially pleased with the fast rally after the 0% growth numbers back in early 2016.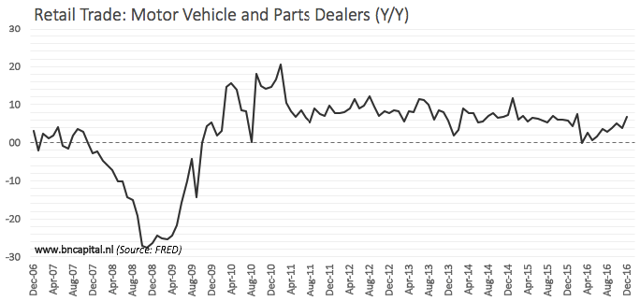 Retail trade confirms the outlook given by leading indicators. Motor vehicle and parts companies are back in a solid business environment.
Industrial production has not really slowed down. Note that this graph goes until November of 2016. Industrial production numbers for the month of December have not been published yet. The important thing is that industrial production stayed strong even though the economy slowed after Q3 2014. There is simply no comparison to the slowdown before the financial crisis.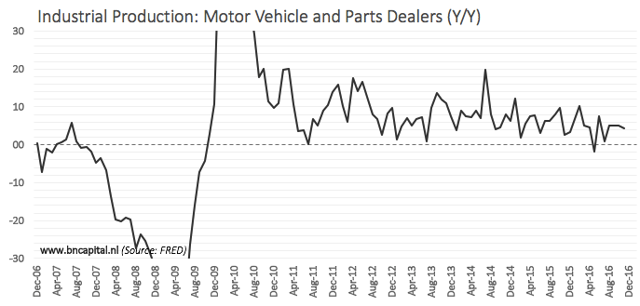 The graph below shows year-on-year growth of employment in the motor vehicle and parts industry. Year-on-year growth is a great indicator to see the core strength of employment. Employment growth almost hit 0% in Q2 of 2016 after slowing since 2014. This is interesting since employment actually shows the economic slowdown.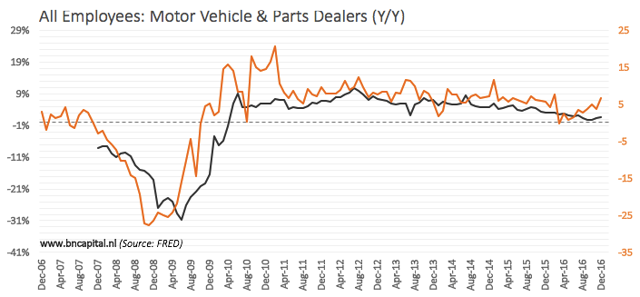 It is also important to see that the recent economic upswing has pushed employment growth up. Motor vehicle and parts companies are feeling the upswing and stepping up hiring.
We also see that inventories are growing again. During the slowdown, we saw a steep decline when it comes to inventory growth. Motor vehicle companies started to liquidate inventories in 2015. 2015 has also been the bottom of retail. So these numbers make sense. Especially since we are seeing a growth bottom.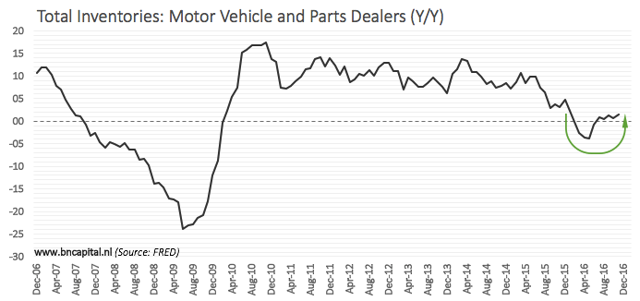 So, what does this mean for stocks in this business?

Source: FINVIZ
I expect that these companies are going to rally further. Some very strong companies like Copart are back at all-time highs. Others haven't recovered so well. However, one thing is clear: a strong new uptrend has started. I am putting Lithia Motors on my watchlist to buy on dips.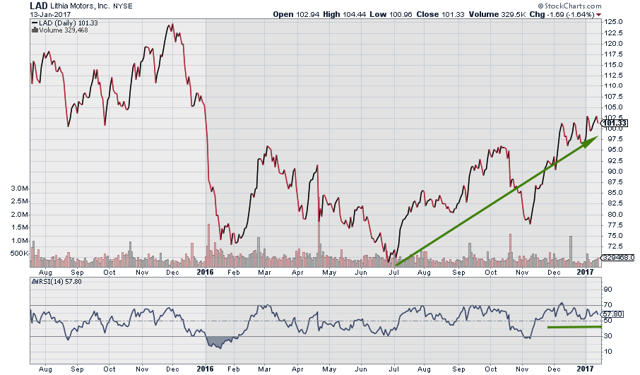 I hope to add this stock during a correction. Buying at an RSI of 40 within an uptrend would be an interesting point for me. Leading indicators are positive, coincident indicators are growing and the rally should continue without any big problems.
Many thanks for reading my article. Please leave a comment below if you have questions or remarks.
Disclosure: I/we have no positions in any stocks mentioned, and no plans to initiate any positions within the next 72 hours.
I wrote this article myself, and it expresses my own opinions. I am not receiving compensation for it (other than from Seeking Alpha). I have no business relationship with any company whose stock is mentioned in this article.