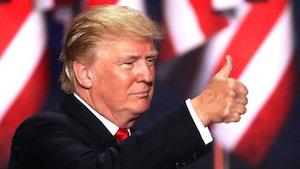 It's inauguration week, Trump is about to become our president and there is skepticism galore about whether he will succeed. The media and establishment in DC, including members of his own party, are rooting against him, hoping that he will fail so they can regain power and credibility. Unfortunately, for all of them, he won't play in their sandbox, abiding by their rules, so they are attempting to discredit him and his policies even before he steps into office. And everyone is wondering why there is a rise in populism? Hah!
While we have always been a centrist nation, the fringes today are most vocal trying to dictate policy and influence the mood of the country. The East and West Coast elite really don't understand Middle America, which explains Trump's victory against all odds.
Despite all of the rhetoric from the naysayers, consumer and business optimism continues to rise along with the stock market, too, for good reason, as we are about to embark on a different path away from both the far left and the far right. Trump and his team will move heaven and earth, even against his own party, if he really is a Republican anyway, to make "America Great Again." Change is in the air and reflation is the agenda, so you better keep looking through the windshield rather than the rear-view mirror with respect to asset allocation and specific investments.
Let me ask a few questions. Do you believe:
Obamacare is a failure?
We can get a better handle on healthcare inflation while improving the quality of healthcare?
Our tax system needs to be overhauled and globally competitive?
Government has gone too far in over-regulating the system impeding growth and innovation?
Our trade policy is fair and our industries are protected from dumping?
Our military is up to the task of protecting our country and what we stand for as a nation?
We have the respect of the world (or have we lost credibility)?
American industry should be given the same incentives here as abroad to build plants to satisfy our demand?
Our intelligence department and police forces need more support to make America safe again?
We need an immigration policy that welcomes foreigners after careful screening?
We need to shake up DC as it is totally ineffectively governing our nation?
We need to get rid of PACs?
China and Russia have gained power and status in the world at our expense? Remember what the "Godfather" said about keeping our friends close and enemies even closer?
We need to stand up for Israel?
The list could be longer, but I think you get the message. Our nation was going in the wrong direction, and it was time for a radical mindset shift. And that paved the way for someone like Trump and his mighty team of doers and activists who are not your typical lifelong bureaucrats who normally assume such positions.
Inauguration is this week! Let the party begin!
Change is difficult, and it will be met with roadblocks and challenges from the entrenched politicians, both Democrats and some Republicans in DC. What will Trump do to get his agenda passed? Keep an eye on his tweets as he broadcasts whatever and whoever is in his way. For those he can't persuade by negotiation, there are always executive orders, which Obama constantly used to get around Congress.
Despite the bluster and public relation efforts to the contrary, I expect foreign governments to work with the Trump administration on major global issues including terrorism, immigration and trade. Self-interest dictates such moves no matter what is said publicly. Exports to the United States are the key component of economic activity in most other industrialized nations, so who has most to lose if there ever really was a trade war? Have you noticed China's recent support of the Yuan along with decisions to cut back further on emissions, which translate into reducing steel production? Do you think this is a coincidence with Trump assuming power this week? And then there was the U.S. filing with the WTO over subsidized aluminum imports from China. You should also listen to the messages coming out of Japan and Mexico. Doesn't sound confrontational to me! Self-interest rules in the end.
Look at what has happened already, and the party has not even officially begun. How many companies, domestic and foreign, have announced plans to build additional plants here and hire thousands of U.S. citizens? Do you think that would have happened if Hillary Clinton won the election? And there is so much more to come over the next few months.
Trump and his team are tireless and have an agenda to "Make America Great Again." I am certain that there will be roadblocks along the way attempting to delay implementation of the new policies, which include rolling back many of the old, failed ones. We must keep our eye on the ball and not get distracted by all the noise that we will hear and read every day. Again, the media and establishment don't want him to succeed. How sick is that? Personally, I think that just changing the pendulum from swinging left further will be a victory as our country was headed in the wrong direction. Everything else that happens will be icing on the cake, but there will be so much more to stimulate domestic growth. Capitalism is alive and well once again. Reflation will lift all boats with far less left behind than if we continued on the Obama path.
As Trump ascends to the presidency, it is time for our nation to come together, work together and help to "Make America Again." Investors need to look through the windshield, understand all the mindset shifts and be patient, as change does not happen overnight. Sell the old winners that benefited from an overly easy monetary policy as economic growth stagnated and buy the beneficiaries of reflation who have spent the last several years rationalizing their businesses and reducing their breakeven points. You will be surprised by the positive earnings leverage for the more cyclical and industrial commodity companies over the next few years. Also, sell all bonds, stay long the dollar and own industrial commodities.
Let the party begin!
Remember to review all the facts; pause, reflect and consider mindset shifts; alter your asset allocation and risk controls; do in-depth independent research and…
Invest Accordingly!
Disclosure: I/we have no positions in any stocks mentioned, and no plans to initiate any positions within the next 72 hours.
I wrote this article myself, and it expresses my own opinions. I am not receiving compensation for it. I have no business relationship with any company whose stock is mentioned in this article.