By Parke Shall
Pandora (NYSE:P) investors likely felt both despair and hope at some point last week, as the week started on a negative note for the streaming music company and finished on news that it was going to likely beat its Q4 forecast and that it would be laying off 7% of its workforce to improve operational efficiency. Seeking Alpha summed up the news:
Pandora Media has jumped 5.1% after hours after saying it expects to exceed previously announced guidance for Q4 revenue and EBITDA, thanks to solid ad performance.
The company added that it's surpassed 4.3M paid subscribers. Pandora Plus had generated more than 375,000 net new subs by the end of December, it said.
The company's also pursuing operational efficiency measures, which include reducing U.S. employees by about 7% by the end of Q1 (those cuts exclude Ticketfly), and "leveraging its analytics platform and ad insertion logic to drive additional revenue and realize leverage in content costs."
Full results for Q4 and the fiscal year will be released on Thursday, Feb. 9, after the close. Analysts expect revenue of $368.2M, EBITDA of -$43.8M, and EPS of -$0.23.
In addition to this good news, there was chatter going around on Friday afternoon that Sirius XM may, in fact, still want to bid for the company, but "at the right price". This NY Post article was doing the rounds late Thursday/early Friday, stating:
Gregory Maffei, chairman of SiriusXM, has told some shareholders this week that the satellite radio company is still interested in buying Pandora, The Post has learned.

"Sirius would look at [Pandora] at the right price," said a source familiar with conversations.

Maffei reached out to Pandora's board late last year, according to a report at the time, sparking a 20 percent run-up in the streaming radio player's shares, to $13.85.
Those who read us know that our last article on Pandora speculated that the company may be close to a long-winded, weathering death based on its inability to attract a bid from another company and the fact that its technology and offering lags those of competitors in quality and innovation.
The market giveth, the market taketh away and the market giveth yet again.
The ink wasn't even dry on our last story before the company came out with this good news on Friday and more speculation around Sirius XM came forward in the form of the NY Post article linked to above.
The stock did what it always does in these situations and ran up over 10% without rhyme or reason in speculative anticipation of a potential merger or acquisition and the hope that Pandora, as a streaming music service, still has hope going up against far superior competitors like Apple Music (NASDAQ:AAPL). You can see the reaction to the late Thursday article in the below chart, where Friday's open is nearly 10% higher than Thursday's close.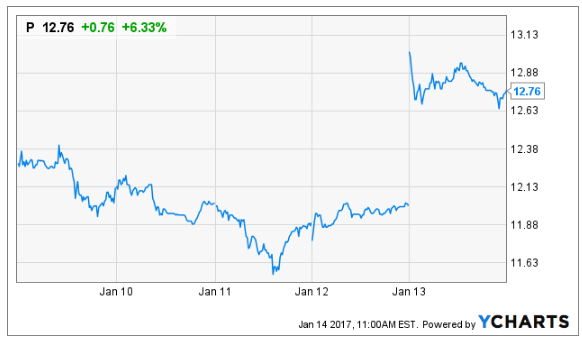 Our article today is hopefully going to play the role of the skeptic when it comes to Pandora. We don't believe these new developments last week are any reason to go and buy the stock now, nor do we think the long-term future of Pandora has changed significantly because of these events. We still believe the most likely scenario for the company is that nobody bids for it and that the price sinks into single digits. Once the price gets to five or six dollars per share, the question of whether or not additional bidders come out of the woodwork can then start to be tossed around. But, like Sirius XM said, it has to be at the right price.
Let's address the layoffs first. Layoffs are generally bad news for the people receiving them and good news for a company's stock for the most part, especially when the company is an enormous powerhouse like Microsoft (NASDAQ:MSFT) or one of the banks. Stockholders like to see layoffs in these bigger companies as management looks to cut the fat off of operations and help a little bit more drop to the bottom line.
In larger corporations that have been around for a while, layoffs can be a very healthy thing. Throughout the course of time, extra fat builds up in a company and not only slows things down but also winds up costing the company more than it should be spending. However, what you don't want to see is layoffs in what is supposed to be an early-stage growth company or one trying to organically develop its business to become profitable. Similar to the layoffs at Twitter (NYSE:TWTR) recently, buying stock of a company like Pandora because it is laying off some of its workforce isn't a sign of operational efficiency - rather, it is a sign that growth has stopped to a certain degree.
When you are a company like Pandora that is now still trying desperately to achieve profitability, laying off part of your workforce is almost an admission that you have been allocating resources towards growth that may not be coming to fruition. Again, in a larger company that is struggling, this could be a positive for the bottom line. For a company like Pandora, while it may help the bottom line, it is also a sign that the company isn't growing the way it should be.
With growth apparently stalling, and despite the company claiming that it is going to meet Q4 metrics, Pandora is still on a quest to achieve cash flow positive and profitability. It is likely going to take the company several quarters to get to this point, if it does ever get there. The question then becomes whether or not somebody will come in and acquire this cash-burning company with second-rate technology before it does itself in. If Pandora were on the forefront of streaming music, it may have been a worthwhile investment for a larger company to make. We still don't understand why a larger name would come in and acquire a company that is rapidly being outdone by its competitors in a niche market that is relatively close to being saturated.
When it comes to Sirius XM, it doesn't even make logistical sense to us for this acquisition to happen. Sirius XM has a great streaming offering for use on phones and computers, and it certainly has a leg up over Pandora when it comes to content. The only reason we could see Sirius XM acquiring Pandora would be to capture its user base. Other than that, it doesn't make sense to us.
Finally, in terms of the Q4 beat, let's just see what kind of a pattern Pandora can make with beating financial estimates. The release of the news this week had a bit of a "Elon Musk/Tesla third-quarter-all-hands-on-deck" feel to it. If the company wasn't cutting all corners necessary to come up with a great quarter, it should be able to continue with the impressive results for the next two or three quarters. We will go on record right now and say that if Pandora continues to beat estimates for the next 2-3 quarters and shows that it has drawn a consistent path to cash flow positive for itself, we will reconsider our view on the company.
Until then, we remain of the standing position that Pandora is second rate in its niche. It has everything to prove, not only to its consumers but also to the market. We remain skeptical of Pandora and continue to believe it is not a worthwhile investment at its current valuation.
Disclosure: I/we have no positions in any stocks mentioned, and no plans to initiate any positions within the next 72 hours. I wrote this article myself, and it expresses my own opinions. I am not receiving compensation for it (other than from Seeking Alpha). I have no business relationship with any company whose stock is mentioned in this article.