This was a very light news week for the United States. Most importantly, the Census' retail sales figures increased .6% M/M and 4.1% Y/Y. The comparable ex-auto numbers were 3.4%. The following graph shows both numbers meaningfully increasing in 2H16:

The BLS released the latest JOLTs data. On a percentage rate basis, the quits level has reached the highs achieved in the preceding expansion, indicating increasing confidence in the job market. The hires level is also very high, but could increase a bit more to attain previously registered levels:

Finally, the University of Michigan's Consumer Confidence Number remained unchanged M/M, but is still near cyclical highs.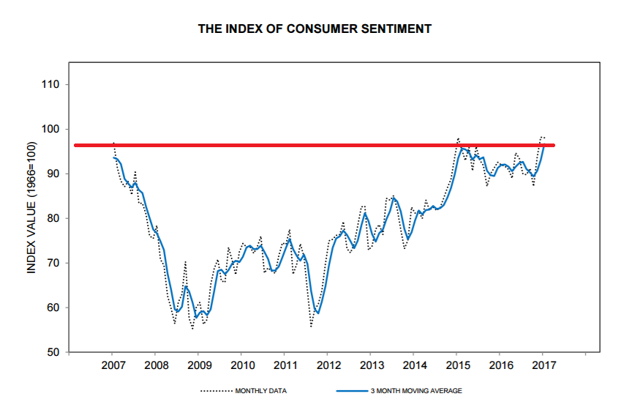 The NY Fed's GDP 4Q GDP forecast is 1.9%, while the Atlanta Fed is projecting growth of 2.8%; an average of the two is 2.35%.
While this week's news was light, its general tenor was positive. Consumers continue to spend at solid rates, which the University of Michigan survey indicates will continue. The JOLTS data supports the observations of most Fed governors that the labor market is near full employment. The two Fed districts are projecting continued moderate growth.
Market overview: The post-election rally continues to fade. The IWMs continue to consolidate sideways, the DIAs have failed to break 200 and the SPYs are still moving sideways. In addition, the Treasury market is reversing its post-election sell-off. The IEFs (top chart) have formed a rounding bottom of the 30-minute chart, and the TLTs (bottom chart) have moved consistently higher for the last 20 days.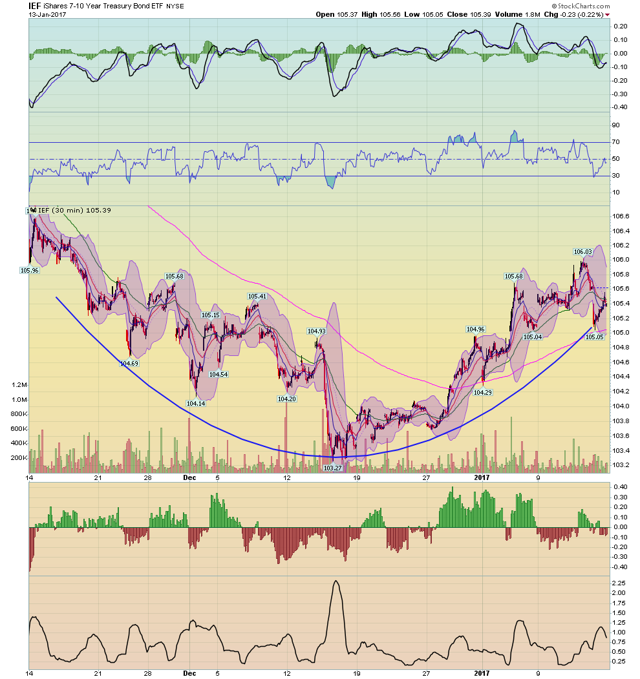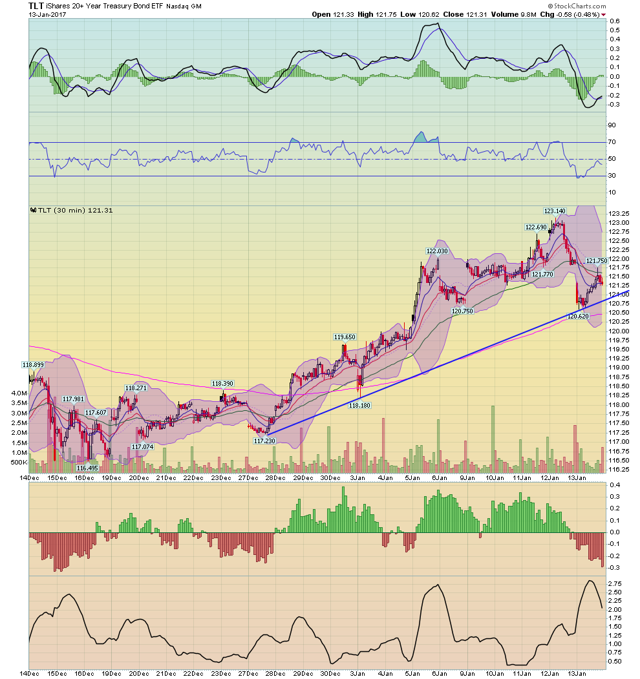 All this is occurring against a post-election backdrop where it appears traders are done with their post-election reallocation. Financials rallied strongly since the beginning of November as traders made large bets on a repeal or large trimming of Dodd-Frank rules and regulations. Industrials and basic materials benefited from hopes for larger infrastructure spending, while the energy sector moved higher on stronger oil prices. Treasuries sold off as inflation expectations rose. These initial moves are now over as the market waits to see if the new administration will deliver on its promises.