There was no central, unifying theme this week.
News from the EU continued in a positive vein. Industrial production rose a very strong 1.5% M/M and 3.2% Y/Y. More importantly, the overall level shows an increase beyond its sideways range of the last year: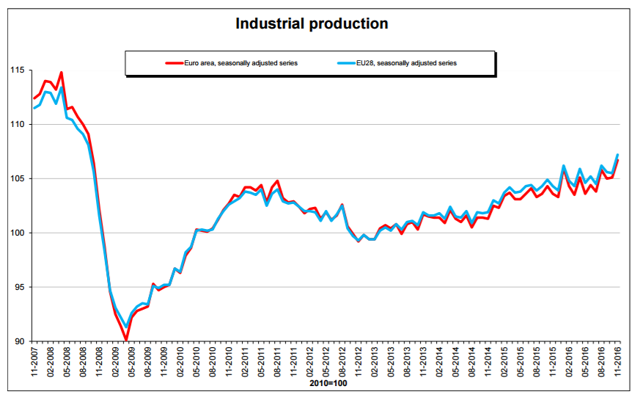 The unemployment rate was stable at 9.8%. And the most recent ECB meeting minutes described a growing economy:
Turning to the euro area, available information suggested that the recovery was continuing at a moderate but firming pace. Real GDP had grown by 0.3%, quarter on quarter, in the third quarter of 2016, following similar growth in the second quarter. Available data pointed to a continued broadening of the economic expansion and slightly stronger growth in the fourth quarter of 2016 and the first quarter of 2017, as also reflected in the European Commission's Economic Sentiment Indicator. The unemployment rate had further declined to 9.8% in October 2016, from 9.9% in September.

Private consumption had been growing mainly on the back of higher household income from employment growth and low interest rates. Business investment had continued its cyclical recovery in line with GDP growth and was supported by favourable demand and financing conditions, while real investment of non-financial corporations still remained below its pre-crisis peak. Improvements in corporate profitability and very favourable financing conditions continued to support business investment. As regards residential investment, both housing investment and building production had shown positive momentum, with building production increasing by 1.4% in the third quarter of 2016.
Retail sales have been growing for several years, supporting the bank's assessment of the EU consumer. For several months, the ECB has noted that its bond buying program, which has lowered rates in some cases into negative territory, has stimulated increased business borrowing. Higher profits are also providing additional sources of funding. Most importantly, residential construction - a long leading indicator in any developed economy - is picking up. As with last week's EU news, this week's economic releases showed the EU region's growth is picking up.
The Bank of Canada released its latest business survey, which showed a stabilizing environment. Expectations of future business, investment and employment all registered significant improvements, indicating the negative influence of the oil-induced slowdown continues to recede. While building permits decreased .1%, they increased 18% Y/Y due to solid improvement in residential and non-residential activity: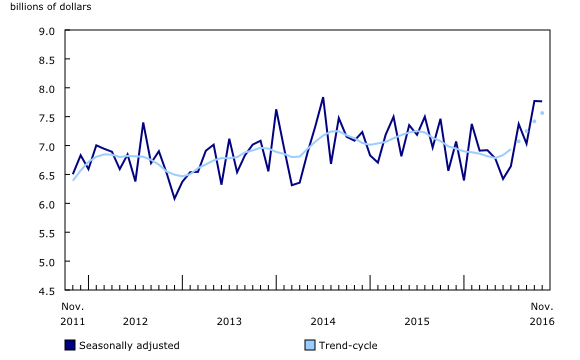 Housing starts continued their year-long trend between ~190,000-~215,000/year. Canada continues to make consistent progress after their 2Q16 contraction.
The only news from Australia was a .2% seasonally adjusted increase in retail sales.
UK news was mixed. Construction was down .2% and .1% on a rolling 3-month basis. While new work and output increased, private commercial and private industrial both contracted, indicating business is hesitant to invest in the current environment. Although production and manufacturing increased - rising 2.1% and 1.3%, respectively - both are still below pre-crisis levels: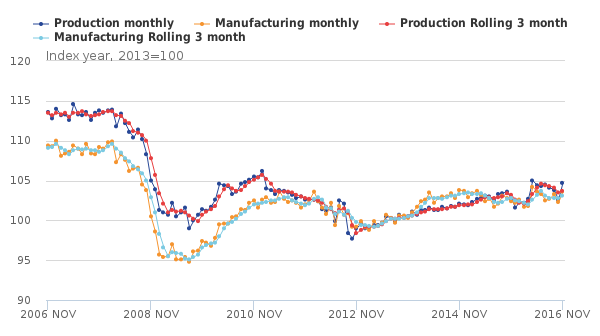 Finally, the trade deficit widened, but continued to be negative.