Barely a couple of weeks forward, India's Finance Minister Arun Jaitley will present the Union Budget on February 1. This budget is likely to be very crucial for the Indian stock market (INDY) as well as gold (GLD). India, the second-largest consumer of gold, is widely expected to cut the import duty on gold imports, which can greatly alter the mechanism of demand-supply in the country.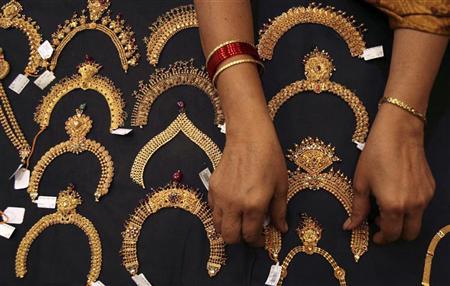 Source: Reuters
Some analysts are contemplating that the import tax cut would make the gold cheaper and exert a downward pressure on the price. Moneycontrol.com reported earlier that the government could reduce the tax to 6 percent from 10 percent. This has pushed the futures gold price for February and April contracts lower by 2 percent on India's Multi Commodity Exchange (MCX).
But, will the cut really affect gold (GDX) adversely? I don't think so. I will present forth my view - contrarian to the general sentiment - and establish why the import tax cut could prove to be beneficial for gold.
India's December gold imports crashed 55 percent (M-O-M) by value to $1.96 billion, according to the latest report from Bloomberg. Now, it must be understood that the fall in demand has to be attributed to a severe cash crunch in the system which popped up due to the demonetization of Rs. 500 and Rs. 1000 notes in November. With the cash supply still not completely restored, there may be a near-term weakness in India's gold demand.
However, I do not believe that the discount in gold futures is justified, not at least in the April contract. India's gold (NUGT) demand has taken a beating both in the retail and wholesale markets. But, according to a report from India's biggest public sector bank State Bank of India (OTC:SBKJY), the cash crunch will ease by the end of February. Before that, a substantial amount of money will have flowed into the system which would release pent-up demand from both retail buyers and deep-pocketed gold merchants. Jewelers who have taken big hits following the demonetization drive will be eager to load up on the cheaper yellow metal, as they expect the situation to normalize eventually.
So, one has to take a slightly broader view and observe that gold hasn't really gone out of favor, but is simply witnessing a passable headwind. Even so, what we now have are just the rumors that there could be a cut of around 4 percent. What if the magnitude is lesser or if there are no cuts? Even then, the gold futures would jump and reverse from 'discounts' to 'premiums.'
Right now, it must be looking like I have completely missed the point that a majority of the gold purchases in India are done in cash. Well, that may once again happen after the cash restoration in the economy, albeit not at the same pace as before. There is a major chance that people who have deposited old notes in the banks will rush to withdraw cash and invest in lucrative investing opportunities such as gold. Even the ongoing discounts of 1 percent when paying for gold purchases online have failed to spur the demand, which indicates that demand will eventually come from cash.
All of this plays well into my bullish thesis on gold. This could be my bias, so please do your due diligence as well.
In my last article on gold titled Gold Is About To Face Its First Major Test On The Rebound, I had established that the precious metal will likely breach the important resistance zone of $1200-1220 in the coming weeks and head higher. Convincing inputs from the Indian government will be available in less than three weeks from now. Investors who went long closer to my target price of $1140 should continue to ride the rally. I will make sure to provide an update to my valuable readers if something upends my bullish thesis.
Note: I cover several stocks in different sectors as well as S&P 500, crude oil, gold and silver, U.S. dollar, etc. So, if you liked this update and would like to read more of such informative articles, please consider hitting the "Follow" button above. Thank you for reading!
Disclosure: I/we have no positions in any stocks mentioned, and no plans to initiate any positions within the next 72 hours.
I wrote this article myself, and it expresses my own opinions. I am not receiving compensation for it (other than from Seeking Alpha). I have no business relationship with any company whose stock is mentioned in this article.