Argument
The market is implying that General Mills (NYSE:GIS) will continue to grow revenue at about a 3% year-over-year rate, while maintaining its newly expanded margins. The market is also banking on the notion of continued share buybacks given the company's relatively modest leverage and management's incentives to do so. Based on various valuation methodologies, the stock appears fully valued to perhaps overvalued, like the market as a whole.
Overview
General Mills is one of the more reliable companies on the market in a niche that appeals to a massive swath of the broader population. It holds market share among a diverse array of core food categories among brands such as Big G cereals, Yoplait, Pillsbury, Nature Valley, and Progresso, and drives stability in its cash flows through a robust product mix and meaningful brand value.
The company is backed by a management team that is committed to creating shareholder value, as demonstrated by somewhat aggressive initiatives to support shareholder returns. General Mills remains conservative with its financial leverage, which allows for the buyback of shares, while more optimally balancing its capital structure toward an appropriate debt-to-equity balance.
The shareholder focus is a function of how heavily weighted management's pay is toward stock performance, as outlined in the company's proxy statement. For FY2016, 60.1% of compensation was based on restricted stock units ("RSUs"), performance stock units ("PSUs"), and stock options. Another 6.5% of total pay is derived from stock performance factors in the "annual incentive reward." This part of the compensation plan took up 26.0% of CEO pay and is weighted evenly among four factors, including organic net sales growth, operating profit growth, diluted EPS growth, and adjusted return on average total capital improvement. Base pay takes up the remaining 13.9%. With approximately two-thirds of the pay explicitly a function of stock performance, it's natural that management would dutifully work toward creating shareholder value.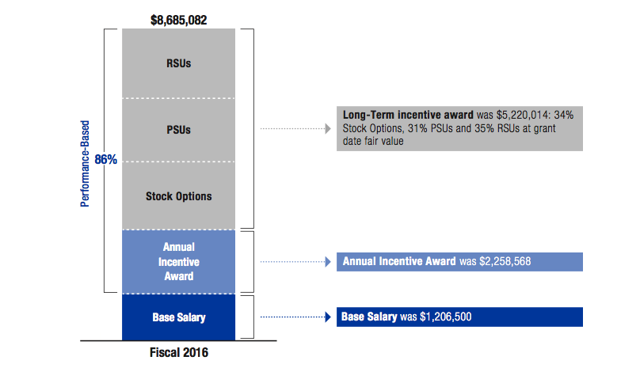 (Source: FY2016 Proxy Statement)
With General Mills' maturity, nonetheless, comes a level of stagnation. For the past several years, the company has come in at around $17 billion in revenue, 34-36% gross margins, depreciation costs of $600 million, 14-16% EBIT margins (with the exception of the FY2015 due to special expense charges of $766 million), and profit margins of 10-11% (Source: Company filings).
Over the next two years, revenue is expected to dip to $15.5-16.0 billion. However, new efficiencies are being driven in the company's cost structure, as General Mills is observing the results of its cost-cutting initiatives of reducing headcount and divesting of less profitable assets, such as plants and food brands. EBIT margins came in at 18.7% in the last fiscal quarter and added up to 17.2% over the past two quarters. EBITDA margins have come in at 23.1%. If revenue is stagnating, then this margin expansion is key to keeping the stock price afloat. GIS cannot maintain a $60+ price with revenue dipping below $17 billion and with margins retracing back in line with recent norms.
What is the stock's worth on a cash flow basis? It depends on one's return requirements. If we assume $15.7 billion in FY2017 revenue (the company's fiscal year calendar runs from September 1 to August 31 each year), 1% y/y revenue growth, assume capex and depreciation expense are in equilibrium, and there is no working capital growth, we can create a standard sensitivity chart to find where GIS might trade based on certain revenue growth and long-run margin attainment scenarios.
(Source author)
Based on this scenario, the stock looks to be trading at around 6.5-7.0% forward returns expectations.
If we go by EBITDA multiples and assume a range running from 10x-13x, off $3.6 billion in FY2017 EBITDA, it would provide an enterprise value of $36-47 billion. After subtracting the $9.47 billion in total debt, this provides an equity value of $20.5-29.5 billion. (I don't add the company's cash balance given that current liabilities are presently higher than current assets, with the spread being larger than existing cash reserves.) At 602.25 million fully diluted shares outstanding as of the last reporting period, this provides a per share value of $44-62.
In terms of earnings, an earnings multiple can be calculated from the formula (1 - g / ROIC) / (WACC - g), where g is the long-run growth rate of the economy, ROIC is return on invested capital, and WACC is the weighted average cost of capital of the company. ROIC is not a standardized definition, and it's often calculated differently depending on one's interpretation of what constitutes "return" and what counts as "capital" that contributes to said return.
My interpretation is that net operating profit after-tax (NOPAT or EBIT(1-t)) should be used in the numerator, whereas capital is comprised of total assets minus current liabilities minus excess cash and cash-like equivalents. Total assets minus current liabilities gives the sum of long-term liabilities plus shareholders' equity, roughly equal to the debt and equity that represents total capital. Some liabilities may be of the non-operating variety and can be excluded as well. As stated above, given the current liabilities exceed current assets, no part of the company's ~$800 million cash balance is considered "excess."
The long-run growth rate of the economy, g, is currently set as 1.8%, equal to the US Federal Reserve's projection brought forth at its September 2016 meeting. General Mills' WACC is based on a capital structure comprised of about 79% equity and 21% debt. Cost of equity can be taken at a standard mark of about 7.7%, using 5.7% forward real returns plus 2% inflation, given the 10-year breakeven rate.
The cost of debt can be calculated taking comparable bond yields of other BBB+ rated (according to S&P and Fitch) and A3 rated debt (according to Moody's). As of the last trading day of 2016 (December 30), A3 rated debt was trading at 3.58% average yields, based on Moody's data compilation, while a BBB bond basket issued by Bank of America Merrill Lynch yielded 3.72% as of January 12, 2017.
The BofA basket has contracted 9 basis points since December 30, which might entail that A3 debt is trading at around 3.50% currently. Also, the BBB bond basket lumps in BBB+ and BBB- debt in the same basket. The differential between each notch in the BBB tier can be worth 30-50 bps.
This might suggest that General Mills' intrinsic cost of debt is around 3.4-3.5% or about 2.3-2.4% after tax. So the company's cost of capital is approximately 6.6% (79% * 7.7% + 21% * 2.35%). Being overly scientific with the cost of capital isn't too necessary unless trying to back out the market's median interpretation. Cost of capital (or cost of equity) is based on returns expectations to determine a price, and is specific to each individual.
With all those components plugged in, I obtain a P/E ratio of 18.0x using the same financial performance assumptions as above. At a projected 2.97 in FY2017 GAAP earnings, this would get us to a price of about $54 per share. Adjusting by +/- 3x in each direction would provide a range running from $45-63.
Conclusion
I don't necessarily want to say GIS is "overvalued," as different things are worth different prices to different folks. But on the basis of all three valuation measures - discounted cash flow, EBITDA multiples, and earnings - the company does appear expensive like much of the market. GIS values in the low-$60s at higher-end multiples in the case of the latter two valuation measures. On the basis of discounted cash flow, the market seems to imply 18% long-run EBIT margins (better than it's done historically, but in line with current expectations) and 3% year-over-year sales growth. This is not wholly unrealistic, but not very conservative either.
The company prices at a forward annual dividend yield of 3.2% and holds the merits of having a diversified product portfolio and substantial brand equity. Management also remains fully committed to creating shareholder value through the incentives inherent in the compensation plan. In the cash flow and earnings-based valuations, share count was considered just over 600 million (fully diluted), but will be lower moving ahead.
Management is very likely to continue buy back shares with its light leverage base. The company is levered at a debt-to-EBITDA ratio of just 2.7x, or a debt-to-capital ratio of 21-22%. I believe the company can be levered at close to double that without imperiling its investment-grade rating with the degree of consistency in its year-to-year cash flow metrics.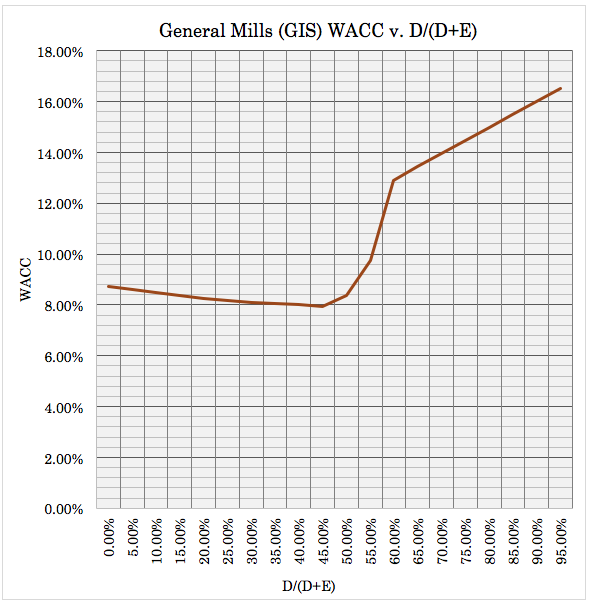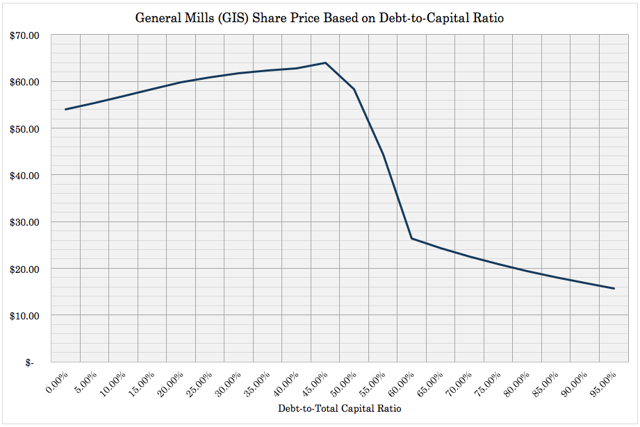 (Source: Author)
General Mills does not have large cash reserves, but with relatively moderate capital intensity combined with stable cash flow, the company could reasonably buy back 6-9 million shares per year (or ~$350-550 million worth of stock, or 1.0-1.5% of all outstanding shares) in addition to the $1.1 billion it expects to pay out in shareholder dividends.
With that said, it's difficult to foresee a substantive amount of capital appreciation in the stock going forward absent continued buybacks, as the company would need to materially grow its top line while maintaining (or growing) its newly expanded margins.
Disclosure: I/we have no positions in any stocks mentioned, and no plans to initiate any positions within the next 72 hours.
I wrote this article myself, and it expresses my own opinions. I am not receiving compensation for it (other than from Seeking Alpha). I have no business relationship with any company whose stock is mentioned in this article.