As 2016 holiday spending reports have trickled in, traditional mall retail stocks have fallen, while shares of Amazon (NASDAQ:AMZN) have rallied. We think the move is justified, and argue that shares can still go higher. We point to the Q4 earnings report as a potential upside catalyst for the stock and remain bullish on the company's long-term growth story, while maintaining a favorable outlook on the valuation.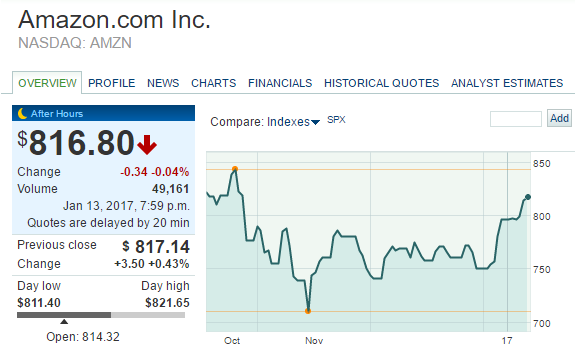 (Source: MarketWatch)
In our opinion, multiple early data points support the thesis that Amazon dominated the 2016 holiday spending season. Most crucially, we point investors to the Census Bureau's Advance Monthly Retail Report released on Friday, 1/13. While December Retail Sales fell short of expectations, they confirmed a 2016 sales shift trend which is bullish for Amazon and bearish for department stores like Wal-Mart (NYSE:WMT) and Target (NYSE:TGT). Investors have become accustomed to non-store retailers putting up the biggest growth numbers in the Census Bureau's monthly reports, but that growth rate has been slowing. In 2010, non-store retailers saw a 14% increase in sales in the important holiday shopping months of October, November, and December. In the same time frame the following year, sales were up 13%. That slowed to 11% in 2012, 8% in 2013, and 7% in both 2014 and 2015.
The multi-year downtrend in non-store retailers' growth rate, though, broke this year, and in significant fashion. In October, November, and December, non-store retailers' YoY growth rate jumped to 13%. That is the strongest holiday sales growth the segment has experienced since 2010, and is additionally impressive considering how much larger the sales base is today than it was in 2010.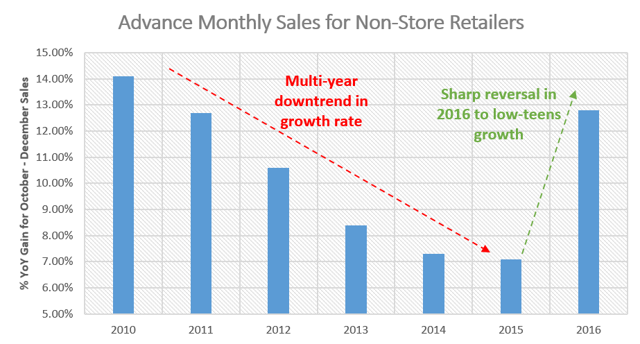 Not by coincidence, department stores saw an acceleration in their sales decline rate this year in the holiday shopping season. Department stores have been in decline for several years, but the declines have been predictable and marginal. Since 2010, sales at department stores have fallen between 1% and 3% per year in October, November, and December. That trend broke this year, and in equally significant fashion, as losses expanded to nearly 8%.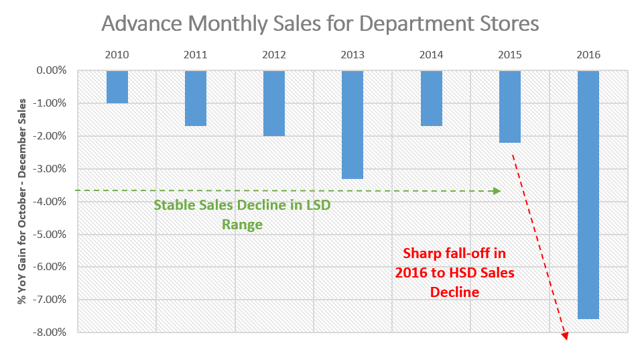 This is the macro backdrop to poor holiday sales updates from Big Box department stores like Macy's (NYSE:M), Kohl's (NYSE:KSS), and J.C. Penney (NYSE:JCP). It is also coupled with data from Slice Intelligence, which reported a near-40% market share for Amazon in the rapidly expanding e-commerce market, and First Data, which reported that online sales grew to account for 21.3% of all holiday spending in 2016 (up from 15.4% in 2015), while department stores saw sales decline 4.8%. All together, we think the takeaway is pretty clear: Amazon is killing department stores and growing its retail business at a continued high rate.
We think this puts the Q4 ER on the map as a potential upside catalyst. The report is due in less than a month, so investors won't have to wait that long for the catalyst, and we think Amazon is set to report pretty big numbers given the aforementioned data points. The stock has moved up quite a bit in the past week, so expectations are building, but AMZN remains off the $840 highs it made in October before Q3 earnings came in well below expectations.
As we have pointed out earlier, the company's tremendous earnings growth is starting to make the valuation look quite reasonable. A 900x trailing P/E multiple in December 2015 has compressed to roughly 190x, and this multiple compression will continue. The stock is now trading at a 92x forward P/E multiple on earnings that are projected to nearly double (86% YoY growth). That means the stock is only trading at a slight premium to its growth, and that's pretty good for a hyper-growth company like Amazon.
Overall, we think Amazon had a very good quarter on the retail front. The Q4 ER is less than a month away, so we think there is potential for a big move upward in the near future. We continue to like the valuation, and remain bullish on the company's long-term growth trajectory.
Disclosure: I am/we are long AMZN. I wrote this article myself, and it expresses my own opinions. I am not receiving compensation for it (other than from Seeking Alpha). I have no business relationship with any company whose stock is mentioned in this article.