My first investment came when I was a sophomore in high school. With the guidance of my father, I opened a custodial account. Through my own efforts, I funded it with a few hundred dollars, and bought stock in Gateway Computers for about $5.00. It was the early 2000s, and the tech bubble had burst. It was a simple strategy on my part: look up P/E ratios, find the lowest one, and if it was a company I liked, buy the shares (we had a Gateway computer at our house). I let my Gateway shares sit for about a year, and when I was fed up with it not going very far, I sold it for a small profit. At the time I remember thinking, wow, investing is really easy. That was 15 years ago.
Nowadays, I spend an inordinate amount of time (outside my normal job and accompanying social life) working to improve my investment skills. Actually, a lot of this time is spent reading; a small snapshot of my personal library would include some books that are great reads for any budding self-taught investor. These are just a few:
· Security Analysis, Benjamin Graham and David Dodd
· The Intelligent Investor, Benjamin Graham
· The Interpretation of Financial Statements, Benjamin Graham
· Understanding Wall Street, Jeffrey B. Little and Lucien Rhodes
· Margin of Safety, Seth Klarman
· Talent is Overrated, Geoff Colvin
If I may say so, I have come a long way from watching P/E ratios, and my investments have evolved into escapades that include value investing, event-driven outcomes, options, bonds, merger-arbs, and more. Things are getting complicated; yet, I do not believe complexity is a vice. To many, the notion of a self-taught investor is probably laughable, especially when it comes to sophisticated investments. With an academic background, and no professional business or finance experience, why would I even attempt to become a proficient investor? In the discussion that follows, I hope to answer this question, and provide some unusual ideas along the way. I am simply volunteering personal experience connected with outside-the-box thinking. A lot of what I will discuss requires prerequisite knowledge of credit risk, credit scores, and interest rates. Credit and leverage are perilous financial tools that are not meant for every investor. Tread carefully.
In order to propel my discussion from personal to practical, I will borrow from Mr. Klarman and his famous (or rather infamous) book Margin of Safety. Of particular mention is the chapter entitled "The Institutional Performance Derby: The Client Is the Loser," which explains a rather poignant, yet wholly misunderstood, conflict of interest between investors and institutional money managers:
Hundreds of billions of other people's hard-earned dollars are routinely whipped from investment to investment based on little or no in-depth research or analysis. The prevalent mentality is consensus, groupthink. Acting with the crowd ensures an acceptable mediocrity; acting independently runs the risk of unacceptable performance (pp. 37).

The pressure to retain clients exerts a stifling influence on institutional investors. Since clients frequently replace the worst-performing managers (and since money managers live in fear of this), most managers try to avoid standing apart from the crowd. Those with only average results are considerably less likely to lose accounts than are the worst performers. The result is that most money managers consider mediocre performance acceptable. Although unconventional decisions that prove successful could generate superior investment performance and result in client additions, the risk of mistakes, which would diminish performance and possibly lead to client departures, is usually considered too high (pp. 38).
In my own travels, I often refer to Mr. Klarman's description of institutional investing as the triumph of mediocrity. As a client, I have experienced this routine phenomenon (oxymoron intended) first hand. In 2011, I opened a tax-sheltered annuity account with AXA, and just like any responsible customer, I would meet with my financial adviser on an annual basis. He would recommend funds where the manager has outperformed over a 3-year or 5-year time frame, and suggest that I move my money to those "working" funds in order to create a low-risk, balanced investment portfolio... two standards any investor would sign up for. But over time, as I looked at each quarterly statement, I became more and more miffed at my returns. I was invested in well-performing funds like BlackRock Basic Value Equity, GAMCO Small Company Value, and Oppenheimer Global, among others, yet something wasn't right.
Borrowing Against An Annuity (Difficulty - Hard)
From 2011 to September 2015, a four-year span, my annuity achieved a total return of 7.7% - under 2% per year (based on the percent increase of my current annuity value against my total contributions since inception). Over the same time period, the S&P 500 (NYSEARCA:SPY) returned 57.9% (adjusted for inflation, calculated by DQYDJ. As I write this, I need to remind myself to keep my emotions in check...):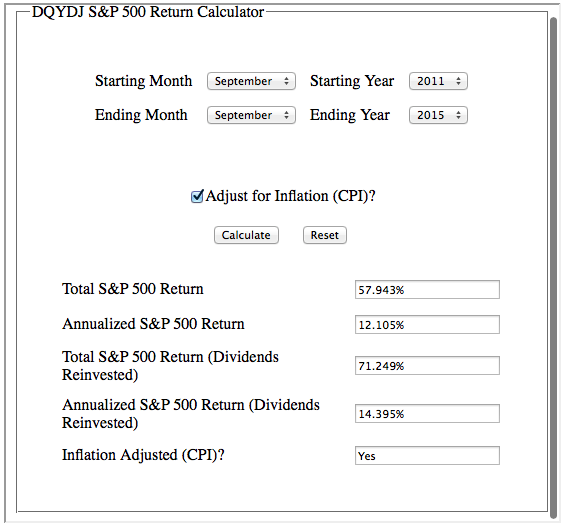 It's nothing against my financial adviser. He was (and still is) simply performing his intended job. But for me, I was fed up. I achieved a better annual return on investment as a high school kid with a Gateway. I wanted change...
I stopped the return calculator at September 2015, because in October 2015, I borrowed against my annuity, at a net cost of 4% annually (simple interest), for five years, to put into my personal investments. At the time, it was over $8,000 - peanuts for any high net worth individual or institutional manager, but boatloads for a young DIY investor longing to turn pro. I put half of it in BGC Partners (NASDAQ:BGCP), a company I have invested in since April 16th, 2012. At the time BGCP was paying a dividend over 6%. BGCP remains my largest investment, I already had a significant position build up even before I took the loan, and it was a company that I researched intensely. Logic dictated that I could put the money in BGCP, earn at minimum a 6% dividend to help cover the cost of the loan, and pocket any future stock appreciation. It was a risky move to say the least, but so far it has fared better than my annuity: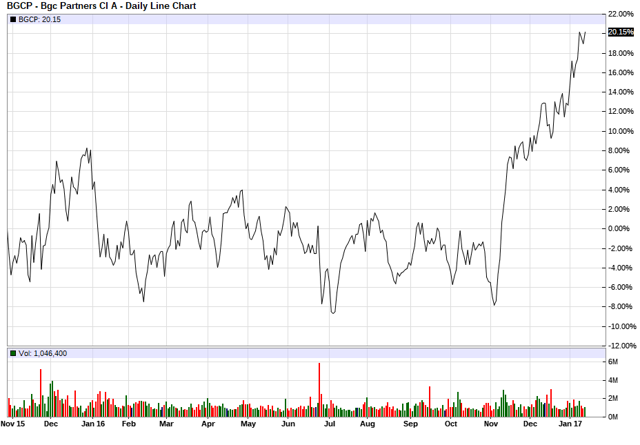 (Source: Barchart. Dividends not included)
It is not a strategy I would wish upon anyone else, and it is possible I am acting contrary to the margin of safety principles that Professor Graham championed. But given the small amount of the loan, and my ability to handle the financial stress in the event of failure (although I would be financially set back several years in the process), I was willing to accept the risk. As of today, there is still some upside remaining for the company, and multiple catalysts exist that make BGCP an interesting investment. Thank you to my father for first introducing me to this company, and to CEO Howard Lutnick, et. al., for executing well on so many levels for an extended period of time.
A College Credit Card (Difficulty - Easy)
At this point, I will diverge from DIY investing and risky arbitrage to provide an opportunity where one can grow credit while learning at the same time. In order to handle more complex investing situations, one must become adept at credit card financials. Ergo, I present the Discover (NYSE:DFS) it card for students (source: CreditCards.com):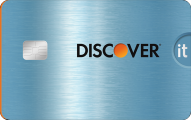 The card has several advantages not found elsewhere. It has no annual fee, you can earn 5% cash back in rotating categories, Discover matches all the cash back you earn in the first year, and you do not need excellent credit to own one. Most importantly, if you are in school, the card offers "Good Grade Rewards" in the form of $20 cash back for each year you earn a GPA of 3.0 or higher. It is a tremendous introductory credit card that links financial management to academic success. Thank you to students for finding this opportunity, and thank you Discover, for providing cash back rewards in a unique and advantageous way.
Multiple Credit Accounts (Difficulty - Medium)
Continuing with small tidbits for credit arbitrageurs, once your credit is good enough (partly as a result of using the above student credit card successfully), companies will sometimes offer credit cards with sign-up bonuses achieved at minimum spending levels. For example, the Blue Cash Everyday Card from American Express (NYSE:AXP) is offering $100 cash back after you spend $1,000 in the first three months (in addition to the perpetual 3% cash back at supermarkets, 2% at gas stations, and 1% everywhere else). My monthly expenditures on credit cards are well in excess of $333 per month; therefore, I find no trouble in spending $1,000 and earning a 10% return (40% annualized).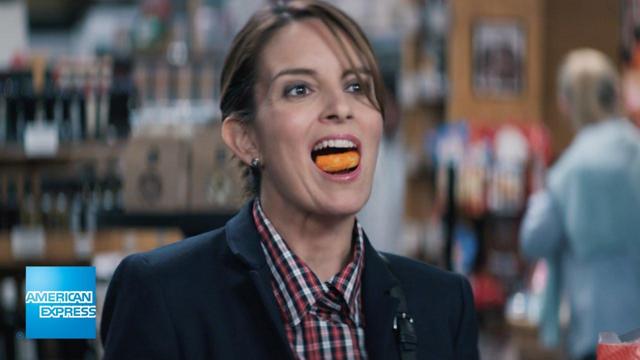 (Thank you, Tina Fey, for making funny movies)
Other cards that offer similar deals include the Wells Fargo (NYSE:WFC) Cash Wise card ($150), the Chase (NYSE:JPM) Freedom Unlimited card ($150), the BankAmericard (NYSE:BAC) Cash Rewards card ($100), and the U.S. Bank (NYSE:USB) Cash+ card ($100), to name a few. The right suitor could envision himself opening five different credit card accounts, rotating monthly expenditures between cards, and earning up to and in excess of $600 in free cash. But timing is important here - opening too many credit cards in a short amount of time can negatively affect your credit score, so be wary.
Admittedly, I am a sucker for exploiting cash back opportunities. To date, I have opened a total of 7 different credit card accounts in order to obtain introductory cash back rewards. But there are a few ground rules here. First, never pay credit card interest. Avoid this by making the monthly payment on time, every time. Second, always choose credit cards with no annual fee. There are definitely good offers out there that have been discussed, like the Chase Sapphire Reserve card, but it carries a $150 annual fee. I am always skeptical when I have to pay fees to a bank. I'd prefer they pay me for owning their credit card.
There are also clear risks to owning multiple credit cards that must be mentioned. The holder needs to be able to manage the accounts on a monthly basis by paying off the cards on time and not incurring any interest fees, and rotate charges on each card to keep the accounts current. Personally, I restrict my expenditures to one card for gas, one for groceries, one for restaurants, and so on. In this way, my expenditures are kept in check and I am able to maximize cash back reward potential. Thank you, American Express, Wells Fargo, Chase, Bank of America, and U.S. Bank for competing with each other.
Connecting Credit and Investments Via Blank Checks (Difficulty - Hard)
More recently, I have been given "money saving offers" by BarclayCard (NYSE:BCS) in the form of blank checks that allow me to write a check up to the maximum amount of my credit line. I can use the check for balance transfers, or to deposit into my personal account, with 0% APR for about 12 months, depending on the timing of the offer. If I take advantage, Barclays charges a one-time 1% fee. Effectively, I am presented with the chance to borrow from the bank at 1% interest, but rather than paying off a balance (spoiler alert - I never carry a balance, and therefore never transfer balances between credit card accounts), I will use the money to fund my investments.
Years ago, investors were able to buy U.S. Treasury Bonds using credit cards. Given the right circumstances, if an investor obtained a credit card with an introductory 0% APR for say, 1 year, then he could buy bonds using credit, earn ~2% on a Treasury note, and at the end of the year sell the bond, pay off the card, and pocket the 2%. Unfortunately, the credit card bond buying program ended in 2003. Yet in my view, this credit arbitrage opportunity has returned, only in the form of blank checks with a 1% fee.
In addition to borrowing against my annuity, I have utilized the "money saving offer" to borrow over $10,000 against my credit card, and have put the funds toward my personal investments. The challenge now is to make sure my portfolio returns over 1%, to cover the fee for borrowing off of the card, and profit off of any excess gains. I will present a few ideas that will help me achieve this goal.
My first idea comes from Steel Partners' (NYSE:SPLP) acquisition of Steel Excel (NASDAQ:SXCL) for $17.80 per share, payable in preferreds. There is relatively no deal risk, because the merger is small (about $200m), is not contingent upon financing, and by owning 64% of SXCL shares, Steel Partners is already a majority shareholder (not to mention both corporate offices are in the same hallway of the same office building on Madison Avenue; I think both managements are familiar with both companies). Upon completion, SXCL holders will receive 6% preferred units with a 9-year term. Although the spread has closed significantly since announcement, there is still room for about 7% return if the deal closes in February, plus the 6% annual distribution paid out to the preferred units: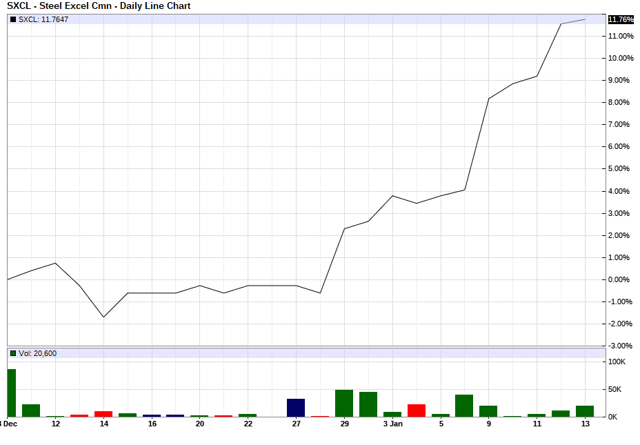 Thank you, GAMCO Investors, for suggesting cumulative dividends and a 20% liquidity event after three years.
My second idea is Alere (NYSE:ALR), and its impending merger acquisition (or termination) by Abbott (NYSE:ABT). On February 1st, 2016, Abbott Labs announced a deal to acquire Alere, Inc. for $56 per share in cash, or $5.8 billion. Since news of the deal broke, the merger has had its share of hiccups. On March 16th, Alere disclosed that the Department of Justice was investigating the company, specifically concerning sales practices related to the Foreign Corrupt Practices Act. That was only the beginning. By December 2016, Abbott filed a complaint to terminate the merger, arguing that the company "has suffered a series of damaging business developments, including the government eliminating the billing privileges of a substantial Alere division, the permanent recall of an important product platform, multiple new government subpoenas, including two new criminal subpoenas, and a five-month delay in filing its 10K coupled with admissions of internal control failures requiring restatement of its 2013-2015 financials." Indeed, there are some issues with this merger.
At $40 per share, Alere may end up renegotiating with Abbott to lower the deal price. It could be that Abbott's lawsuit is a ploy to bring Alere to the table and cut a deal. There is uncertainty here, but Delaware courts have yet to terminate a merger based on Material Adverse Change. While waiting for a decision, one might consider writing put options on ALR to capture return in a time-sensitive manner.
As a slightly more moderate third idea, considering that the $10,000 credit borrow costs 1%, an investor in a similar situation could buy 10-year Treasuries yielding 2.4%, and at the end of the year, pocket the 1.4% spread. Similarly, Transocean (NYSE:RIG) bonds trade at a discount to par, some carrying yields in excess of 9%. Even though Transocean has long since ended its dividend payments to shareholders, the company managed to pay its interest expenses without interruption through the 2014-2015 collapse in oil prices. Thank you, Professor Graham, for enlightening me on the importance of earnings coverage.
Best Bet for 2017 (?)
"I am a great believer in luck, and I find the harder I work, the more I have of it." -Thomas Jefferson
All told, I have borrowed against my annuity and three credit cards for over $27,000, at rates of 4%, 3%, and 1%, for a total cost of about $670 this year. I am deliberately being open and cavalier about these loans so that others might gain a different perspective. My actions are a literal and figurative metaphor demonstrating my disdain for traditional institutional investment, and a testament to how much I believe in what I am doing as an investor.
As far as the utility of this discussion, that is for readers to decide. I expect many will see these credit strategies as either foolish or shrewd, perhaps a few will be in between. By leveraging credit and investing in complex opportunities, I am exposing myself to a higher level of risk, and the outcome is not clear. What is my best bet for 2017? It is my work ethic. I work to find successes by making connections between credit, research, investments, Seeking Alpha, and the like. In doing so, I consistently learn more about investing each and every day. In short, I am a great believer in luck, and I find the harder I work, the more I have of it.
Disclosure: I am/we are long ALR, BGCP, RIG, SXCL. I wrote this article myself, and it expresses my own opinions. I am not receiving compensation for it (other than from Seeking Alpha). I have no business relationship with any company whose stock is mentioned in this article.
Additional disclosure: Nothing in this article is an offer or solicitation to buy or sell, no information contained in this article should be construed as financial advice, and is for entertainment purposes only.