Back on November 21st, I wrote an article about natural-gas pipeline partnership Williams Partners (NYSE:WPZ). In that article, I wrote that "the distribution was becoming safer."
Well, I'm sorry to say that recently Williams Partners and its parent corporation Williams Companies (NYSE:WMB) (which I was less confident about) held a conference call last week in which, among other things, Williams Partners "right-sized" its distribution from 85 cents per quarter to 60 cents per quarter.
I believed that Williams Partners would cling to its "oversized" distribution, which yielded in excess of 11% if memory serves me right. Williams Partners simultaneously announced that it would sell $2 billion of non-strategic assets and also raise $2 billion in equity, which Williams Partners will sell to Williams Companies at $36 per share (lower than the some $40 per share closing price on Friday). Finally, Williams Partners has permanently waived payment obligations under incentive distribution rights and converted Williams Companies' general partner interest into a non-economic interest, in exchange for another 289 million newly-issued Williams Partners units.
Personally, I thought Williams Partners would be able to carry on without losing its investment grade credit rating. Management thought otherwise, and has actively worked to improve its coverage ratio while reducing debt. These actions should, at the very least, bode well for the partnership's credit rating. This article takes a look at the totality of Williams Partners' actions, and what they mean for investors going forward.
Removing 'distractions'
Before looking into the specifics of these actions, let me first address some of management's rationale. Both Williams Partners and Williams Companies have "premier assets," but despite that there have been some distractions hanging above everyone's heads. First was a merger between Williams Partners and Williams Companies which was ended by an acquisition of Williams Companies by a much larger outside company; an acquisition which was ultimately called off under legal dispute. Also, there were persistent worries about credit downgrades in Williams Partners, due partially to Moody's outlook for Williams Partners was negative, but this month its rating was changed to "stable."
The reason for management's "adjustment" is to remove some of those "distractions" investors were tied up which were holding back both the stock and management's ambitious growth projects. The dividend cut is indeed some tough medicine, as are the other actions, but I do believe these actions will ultimately be beneficial. The market tends to agree with that sentiment, if the latest stock action is any indication. Have a look.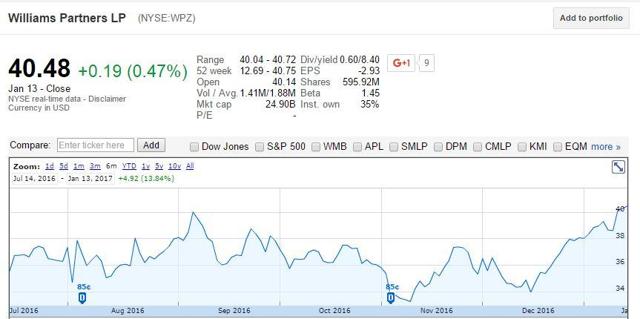 Courtesy of Google Finance.
After this transaction, Williams Companies will own 72% of Williams Partners' common units, which means these companies will be closely joined together going forward. Going forward, Williams Partners expects to have a debt/EBITDA level below 4.5 times, with a 2017 coverage ratio of 1.2 times, and most likely a 1.1 times coverage ratio thereafter. It's no wonder that Moody's upgraded its outlook of Williams Partners. If this action is what was necessary for Williams Partners to retain its investment grade credit rating, then so be it.
The $2 billion of assets up for sale include the Geismar NGL plant in Louisiana. But in addition to that, there are other "select assets" which 'don't support the company's growth strategy.' These assets will likely include midstream assets associated with Geismar, as well as some mid-continent midstream assets.
When management says that it will henceforth be focusing more on "growth assets," what it really means is that it will be focusing on its Transco natural gas pipeline and the burgeoning web of pipelines centered around it. Projects associated with this bi-directional northeast-to-Gulf Coast pipeline are going to be the focus of Williams Partners, and likely with Williams Companies as well.
Is Williams Partners a buy?
If there's one thing I've learned about investing in midstream partnerships through this downturn, it's that doing so is a tight-rope walk of sorts. Yes, it is always good for potential buyers when the price of a stock is low. However, a low stock price for partnerships means that it becomes difficult to issue equity needed to fund some of these ambitious growth backlogs. This can lead to a sort of "death spiral" of equity being too costly, leading to yet lower unit prices, and this cycle can only be remedied by drastically cutting distributions. We want high distributions, but there is such a thing as too high.
Right now Williams Partners yields 6%, even with the lower distribution. What I found particularly encouraging is that, after this offering, management will be able to fund its ambitious backlog, which should bring about 5%-7% annual distribution growth, without having to tap equity markets. That's reassuring, and it pretty much ensures that Williams Partners will keep its investment grade credit rating.
I continue to believe that Williams Partners is a buy. The rock-bottom drilling costs for a lot of natural gas in Pennsylvania will keep the Transco Pipeline busy and active for years to come, particularly as LNG export terminals get completed in a handful of places across the country. There is a decent chance, in my mind at least, that Williams Companies may try and re-launch an attempt to buy the partnership. If that were to happen, hopefully Williams Partners would go for a nice premium like it definitely should. Nevertheless, I believe that Williams Partners is a buy.
If you're interested in Williams Partners, feel free to follow me on Seeking Alpha. I am personally long this stock, and I will continue to write update articles when doing so is both material and relevant.
Disclosure: I am/we are long WPZ.
I wrote this article myself, and it expresses my own opinions. I am not receiving compensation for it (other than from Seeking Alpha). I have no business relationship with any company whose stock is mentioned in this article.