Looking beyond the headlines
One thing that's always frustrated me about financial news is the mad rush to put out reactive content for clicks. It's no wonder then that the level of analysis comes down to picking winners and losers, deciding good and evil, and judging companies by earnings hits and misses. In today's world, something can only be the best thing ever or the worst that ever was. Who's got time for nuance when there's a buck to be made?
The articles and comments sections on the Wells Fargo (NYSE:WFC) scandal perfectly captured this phenomenon. People rushed to make value judgments before all the facts were in. Few stopped to consider whether the scandal merited a $20B correction to the stock. Sadly, despite the predicted retracing of October's losses, I'm not sure people have learned anything. It's only human to see the things that confirm what we already believe.
There's a better way to cover quarterly earnings. This involves first taking a day or two to fully process the results, but also its long-term implications. Quarterly capitalism is not inherently harmful if placed within its proper context: each quarter represents a single step towards or away from the holy grail of a sustainably profitable business.
General Takeaways
Wells Fargo's Q4 2016 results:
Reported $0.96 in EPS and $21.58B in revenue
Missed on earnings by $0.04 and revenue by $840M.
This may seem like bad news. Especially when you compare it to the glowing quarter JPMorgan Chase (NYSE:JPM) just had.
But again, context is important. Here are the important data points that have been glossed over:
$5.3B net income is the 17th consecutive quarter of earnings greater than $5B.
Industry leading net interest margin trending up again, plus 5 bps to 2.87%.
$0.07 loss recognized due an accounting quirk related to interest rate hedges. Here's the net impact of those hedges over 2016:

As you can see, the impact was neutral. Interest rate hedges zero out when held to maturity. Adjusting for this, WFC's earnings miss wasn't really a miss at all.
YoY revenue growth identical to JPM's (+2.5%) despite stronger headwinds related to the accounts scandal.
YoY loan performance can be summarized with this graphic: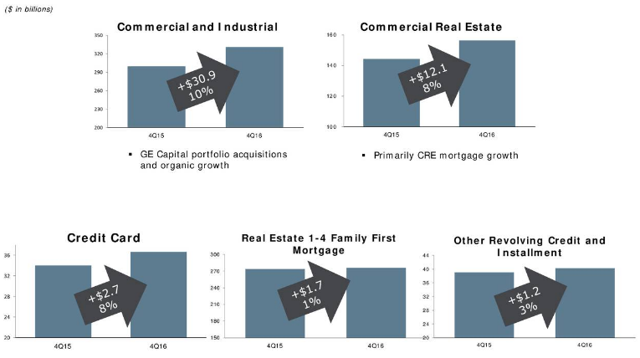 Positive Signs For the Long Term
1. Management seems to have learned the right lessons
Two things I worried about after the scandal:
Management would underreact to the public and political blowback.
Cosmetic changes would be made to incentive programs without addressing root causes.
Only my first fear came true and ended up costing Mr. Stumpf his job. Perhaps learning from his predecessor's mistake, the new CEO, Tim Sloan, has taken a proactive approach by giving his hourly employees a 12% raise. At 86% over the federal minimum wage, this is both a PR win and a much needed morale boost for WFC's customer-facing team members.
2. Auto originations trending down
Banks are essentially black boxes. You almost have to take a leap of faith to invest in one and hope that it doesn't have and never will take on too much toxic stuff on their books (despite every mgmt incentive to do so).
All investors have to rely upon is management's reputation, which is often unearned and/or untested. Reputations are built by the accumulation of data points over the good years and the bad.
Auto originations being down 15% YoY is another data point in WFC's favor. What investors are looking for is a management team that's willing to sacrifice volume for safety. In an industry known for its herd mentality during boom years, that's a skill that's extremely hard to come by (and worth the premium).
3. Non-performing assets down $644M
A positive trend has been established over the past two quarters, and given WFC's geographic concentration in the U.S., I see no reason why this shouldn't persist in 2017. For some of the competition, it's a different matter.
The thing to watch out for
In the coming quarters, look for measurable progress on WFC's new team-based incentive programs and whether management remains vigilant in monitoring their unintended consequences. Basically, shareholders need to make sure that the lesson is learned for good.
Conclusion
Overall, I'd say the market hasn't overreacted to the earnings miss, as the stock was trading up 1.5% on Friday following the earnings report. You can attribute some of that to the newfound consensus on financials being great investments. This should make the long-term investor cautious, but Wells Fargo owners have less to worry about than most. I backed up the truck on the bank back during the height of the scandal and remain very bullish over a long horizon.
Writer's note: I'm always looking for ways to add value for investors beyond my irregular long only articles I use to test my own theses. Let me know in the comments below if "The Long View" was helpful and something you'd like to see more of in the future.
Disclosure: I am/we are long WFC. I wrote this article myself, and it expresses my own opinions. I am not receiving compensation for it (other than from Seeking Alpha). I have no business relationship with any company whose stock is mentioned in this article.