In this article, I want to discuss a few important fundamentals of the apparel retail industry.
First of all, let me give you the link to my article about the latest retail numbers. Retail sales growth hit the highest number since 2014 after bottoming this year:
"Retail sales are confirming the outlook given by leading indicators. This means that the economy is in a growth acceleration phase. I believe that we are going to see nice returns in the motor vehicle industry and a likely start of a rally in the clothing retail industry."
The quote above is a part of the conclusion from the article I mentioned above. One of the leading indicators I referred to is the one seen below. ISM non-manufacturing industry sentiment has been very strong among retail companies. Retail is one of the strongest non-manufacturing industries.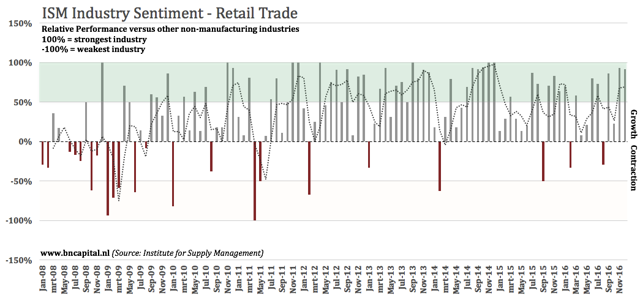 When we look at ISM manufacturing sentiment among apparel, leather & allied products producers, we see that there has been trouble after the growth peak in 2014. Apparel sentiment has been a real bloodbath. Note that you will see this displayed in the coincident indicators I am going to show you in this article. Keep in mind that ISM sentiment is leading and telling us what we can expect over the next 1-3 months.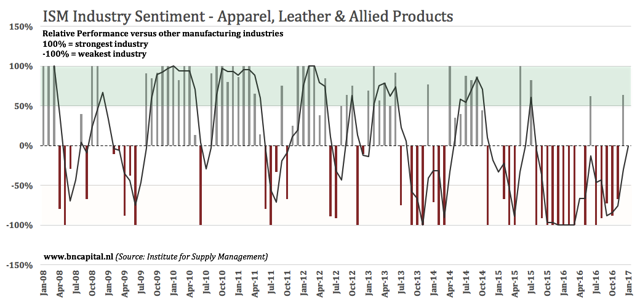 The latest retail number showed that clothing and accessories are growing 0.9% versus the same month one year ago. This is 0.5 points higher than the 0.4% increase in November. To me it looks like we are seeing a bottom, which is supported by the stronger overall economy. But as I mentioned before, apparel producer sentiment (leading) is not convincing - yet.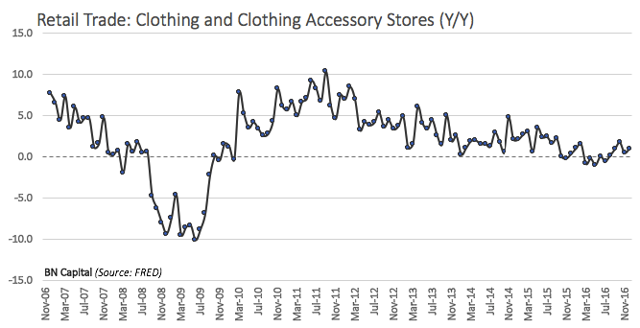 We also see that apparel companies are increasing prices again. There has been almost a consistent price inflation since the first quarter of 2016. These numbers are not convincing, but definitely not bearish as the numbers in 2015 and during the 2014 slowdown.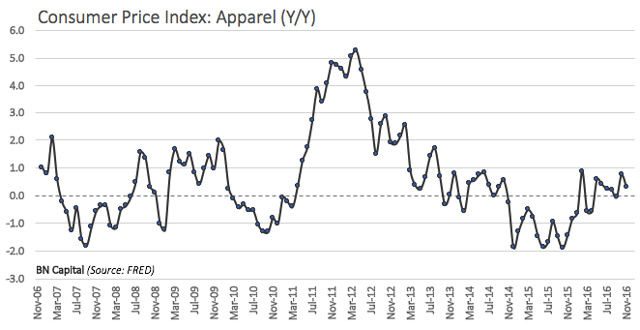 Another thing that indicates a better market environment is the fact that the inventories-to-sales ratio has stopped going up in 2016. This ratio has increased in 2010 after the recession. In 2013/2014, we saw a further acceleration above "normal" levels. This indicated that retail companies were stocking massive amounts of unsold goods in their warehouses. I believe these companies changed their approach during slow growth times combined with deflation.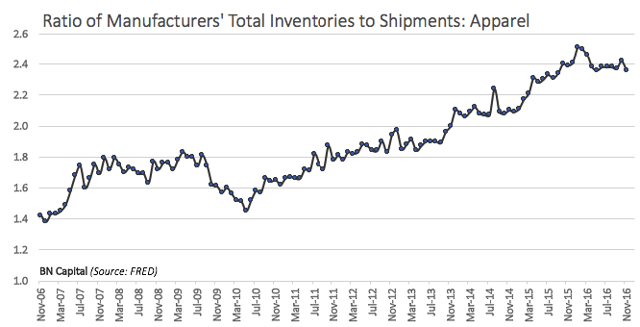 Below, you see a few of the biggest companies in the clothing business. One thing that strikes is that only the best stock pickers made money in the longer term. Especially, well-managed companies like VF Corp. (NYSE:VFC), HanesBrands (NYSE:HBI) and G-III Apparel (NASDAQ:GIII) started to feel the pain in 2015.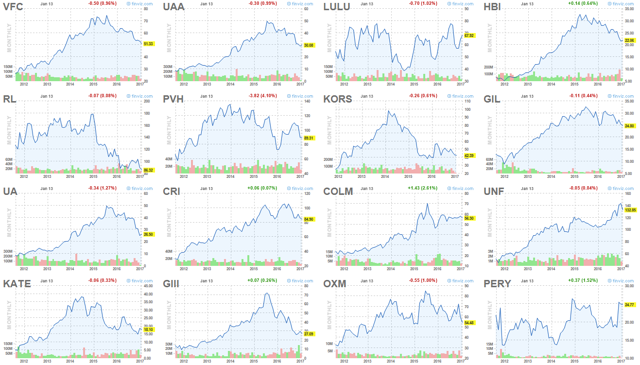 (Source: FinViz)
Conclusion
The current situation shows that things are changing. Leading retail sentiment is strong and total retail sales are accelerating. Apparel producer sentiment showed positive signs in December. The inventories-to-shipments ratio is declining and clothing retail sales are bottoming. It is really early to call it a new upswing, but keeping a few clothing companies on your watchlist seems like an appropriate approach at this point.
Many thanks for reading my article. Please leave a comment below if you have questions or remarks.
Disclosure: I/we have no positions in any stocks mentioned, and no plans to initiate any positions within the next 72 hours.
I wrote this article myself, and it expresses my own opinions. I am not receiving compensation for it (other than from Seeking Alpha). I have no business relationship with any company whose stock is mentioned in this article.