We're all stuck in the reflation narrative.
Or at least we were until last Wednesday.
Donald Trump gave the markets a script to follow and on balance we've all played our part; yields up, dollar up; stocks up.
If you ask me, last week's blockbuster 10Y (NYSEARCA:TLT) auction did more to undercut that script than the underwhelming press event that preceded it. The strong indirect bid (takedown was 70.5%) seemed to show that either i) foreign money is still sniffing around in long-term US debt, ii) at least someone, somewhere is starting to cover a Treasury short which, in standard deviation terms, is nearing tail event territory, or iii) both.
Bonds, the auction seemed to be screaming, are not dead.
Have a look at 10Y yields YTD versus yields on German, Japanese, and UK 10s: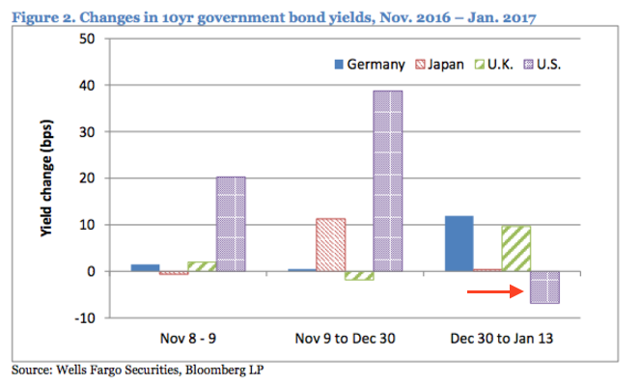 (Chart: Wells Fargo)
Incidentally, this is the fourth January in a row that yields have fallen. Meanwhile, stocks are up just ~1% since December 30, while the dollar is lower.
What we learned last week is that no matter how powerful the narrative (i.e. no matter how good we think the script is), the market is going to demand results. Telling us you're going to build some stuff and cut taxes isn't the same as telling us what you're going to build, how much you're going to spend on it, when the tax cuts are likely to come, etc. etc. It's show and prove time or, as Citi puts it, "the balance of risks has shift[ed] to the onus of meeting expectations."
Well, when it comes to expectations, it's worth noting that one reason why the narrative was able to gather so much momentum in the first place was because, thanks to easy comps, the bar was set pretty low in H2 2016.
As Morgan Stanley notes, low oil (NYSEARCA:USO) prices and a "pretty dire" quarter for S&P (NYSEARCA:SPY) earnings in Q4 2016 are making Y/Y comps a veritable cakewalk. Beats are easy to come by and those beats reinforce the narrative. Here's a bit more (my highlights):
Many remarkable things happened last year. But one of the most striking had to be the huge swings in sentiment towards growth and inflation. Even adjusting for the market's amazing ability to change its mind quickly, it was a very big shift. What happened?

Many things. But one least appreciated (in our view) was the swing in how key YoY metrics appeared. In January and February 2016, both earnings and inflation were falling relative to stronger levels a year prior. Narratives matter,and declines in both made it that much easier for investors to shun stocks and embrace bonds. But as time passed, those YoY comps changed. Oil moved from being down -50%Y, to being down -10%Y, to being flat. USD strength moderated on a year-over-year basis. And thanks to this, as well as some real growth improvement, YoY earnings and inflation data started turning higher around August. A new narrative now fits with the incoming data: Reflation.
You can probably see where Morgan Stanley is headed with this. Their contention - although they're more diplomatic in their choice of words - is that the reflation narrative (at least when it comes to inflation and earnings growth) is a mirage created by easy comps.
"4Q earnings still benefit from being compared to a pretty dire 4Q15," the bank says, adding that "headline inflation across the G3 should accelerate higher, given depressed energy prices at this time last year."
The problem - clearly - is that comps will eventually get harder.
Actually there's no "eventually" to it. The whole dynamic is set to be turned on its head as early as next quarter when i) the bump to inflation from Y/Y increases in oil prices will be "less pronounced" and ii) Y/Y gains in the dollar will weigh on earnings growth.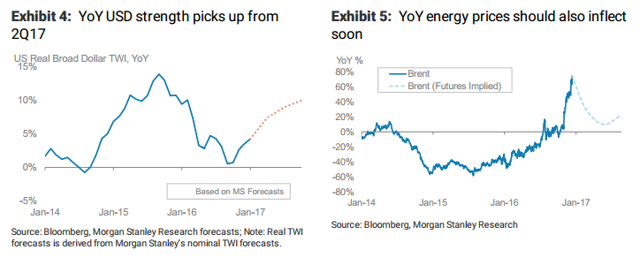 (Charts: Morgan Stanley)
The bank is remarkably candid when it comes to assessing how large of an impact harder comps will have when it comes to undermining the reflation narrative. There's no mincing of words here (my highlights):
We think the [comps factor] will help to take the steam out of the 'reflation' trade by undermining its narrative. It's easy, now, to buy into a world of better growth and rising inflation while both EPS and inflation are inflecting higher. But how confident will the market feel with these same trades when inflation looks to be flattening out, EPS once again faces difficult comps and China's data look to be moderating? Our concern is 'not very'.
Now, you might fairly ask why in the world anyone would care about this when it comes to keeping the reflation faith. After all, it's not like we didn't know the comps were going to get tougher, and if the market is truly efficient, then it should have priced this in a long time ago.
Morgan's answer: narratives are powerful. As I've pointed out before, we have a tendency to seek out data that validates our own deeply held convictions. When the market is as convinced of something as it is (or at least was) of the reflation story, no one is really interested in why inflation looks to be climbing or why the six quarter earnings recession finally ended.
But as powerful as narratives are, sentiment is equally fickle. And that means that in the absence of details regarding fiscal stimulus, the market will look to the data for validation that the script everyone is following is still compatible with reality. And given the above, that might not be a good thing.
Disclosure: I/we have no positions in any stocks mentioned, and no plans to initiate any positions within the next 72 hours.
I wrote this article myself, and it expresses my own opinions. I am not receiving compensation for it (other than from Seeking Alpha). I have no business relationship with any company whose stock is mentioned in this article.