Following my articles on Bank of America (NYSE:BAC) and JPMorgan (NYSE:JPM), a couple of people have asked me about my views on the two stocks on a comparative basis, including the dreaded question which one I would buy if forced to choose.
On the margin, the answer is BAC, but JPM is very good too and were I not forced to choose I would own both.
Comparing BAC and JPM
Let's start off with a look at profitability. JPM is ahead on this measure. Here is return on common equity: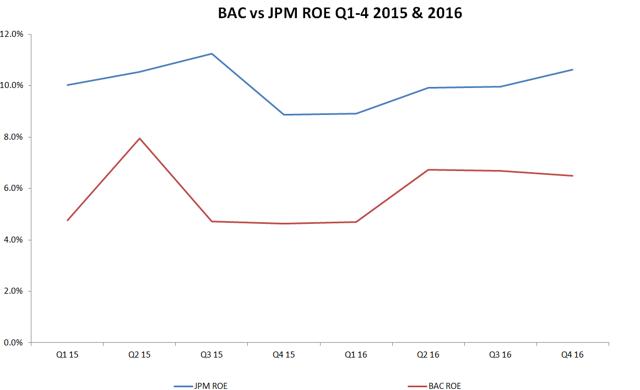 Source: Company Data
The sectoral ebbs and flows are evident from the same directional moves in the two ROE lines in the chart above. What counts is that JPM is consistently ahead by roughly the same extent quarter in and quarter out.
How do we begin to get at what drives this difference? Broadly, I would look at two things next to get started on this: margins and balance sheet structure. Within these, the relationship of costs to income and then how much each bank gives away in loan loss provisions in the margin analysis is critical and, to start with, simple equity/assets in the balance sheet analysis.
Looking at the P&L story, it's clear that more of JPM's income gets down to the bottom line.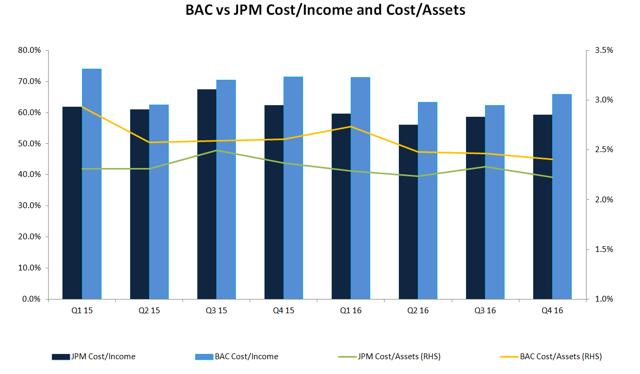 Source: Company Data
Again, the consistency is what stands out: JPM runs lower costs vs. its income and also vs. its asset base.
What about the impact of loan loss provisions? Running LLP/Income in the same way as we run cost/income, we find this isn't such an important factor with generally BAC a little better than JPM but normally only a ~100 bps difference in the hit each bank takes in terms of LLP/Income.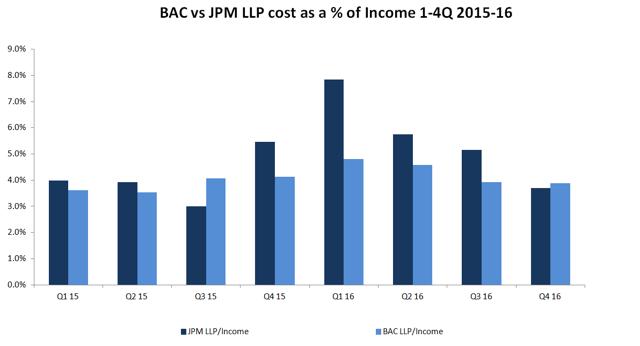 Source: Company Data
So, JPM is a higher net margin business than BAC, and the main difference is in the cost/income relationship and in cost/assets. And in the next chart we see that JPM does this on a lower level of equity relative to those assets.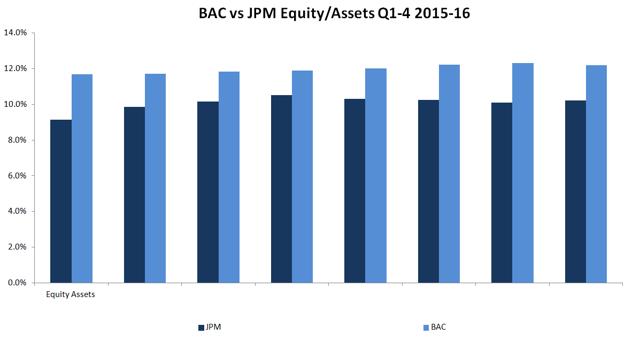 Source: Company Data
Purists will cut in here and start talking about regulatory capital vs. unadjusted common equity and off balance sheet assets and sources of income. All that is important, but would in reality serve mostly to finesse the conclusion from the evidence we've accumulated already: BAC makes less on its assets from a margin perspective and has more equity vs. assets than JPM. JPM is more efficient on these two critical counts. The result is it's about 40% more profitable in terms of return on common equity, which is of course what shareholders own.
The equity/assets ratio is important here as it is a simple structural feature that marks the two banks apart. Is JPM just more leveraged?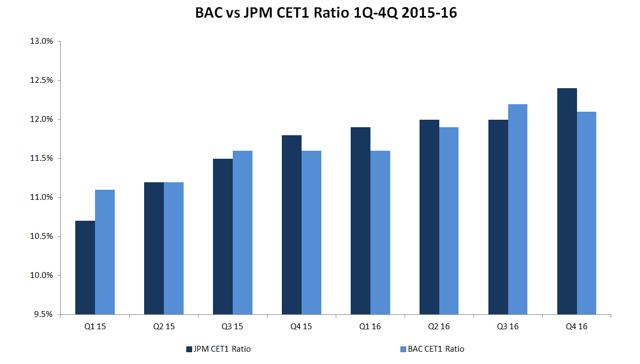 Source: Company Data
Not really. In fact not at all: The two banks have similar CET1 capital adequacy and both have built capital adequacy impressively over the last couple of years. The Tier 1 ratio is, if you like, the "real" leverage in a bank since it is regulatory thresholds that determine how much Tier 1 capital, which is a refined version of equity capital, a bank must hold at a minimum.
So JPM is getting more out of its equity: it carries more assets, but at no greater cost to its regulatory capital reserve. And it has a better relationship of income and cost.
Is this because of "more" income or "more" cost. The next chart shows all operating revenue (net interest plus non interest income) relative to average assets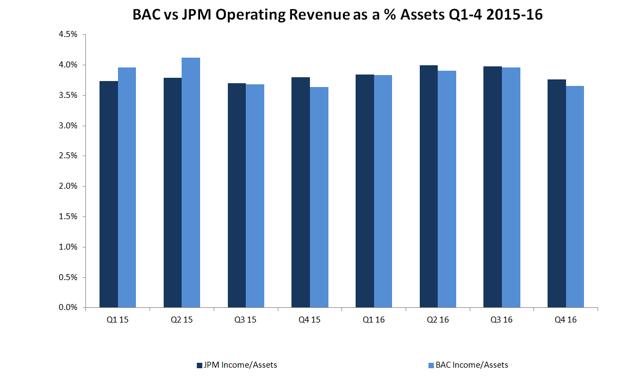 Source: Company Data
So this is really close. JPM remember has less risk weighted assets in proportion of its regulatory capital, so it's sweating its capabilities (assets and personnel) better than BAC since it has a similar level of income vs. its average asset base quarter to quarter. But BAC isn't giving much away in this regard. After all, it's a different bank, and the bottom line vs. its assets is that its revenue performance is similar to that of JPM.
What matter for equity investors is the direction of travel
It's for this reason that so much of BAC's value creation strategy rests on its cost reduction planning. To my mind a lot of what it is doing could be summarized as being "a bit more like JPM" in the constant attention on the optimization of the productivity of its unit costs. It will also pay BAC to whittle down its risk weighted assets, stripping out those that are minimally profitable.
In my recent article on BAC's 4Q results, I focused on operating cost reduction. Here is that chart from that piece: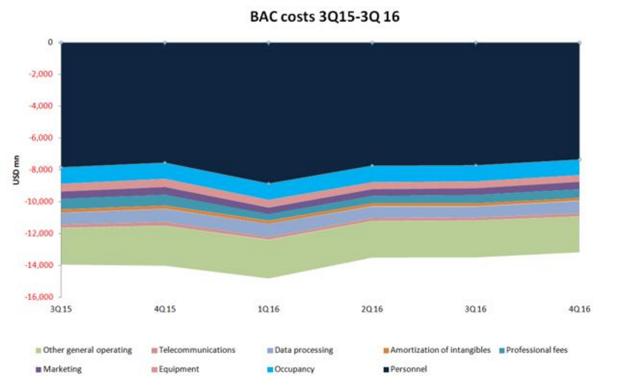 Source: Company Data
Conclusion:
What does this mean for investors in practice? I've tweaked my JPM numbers up a little post 4Q while taking BAC down very slightly.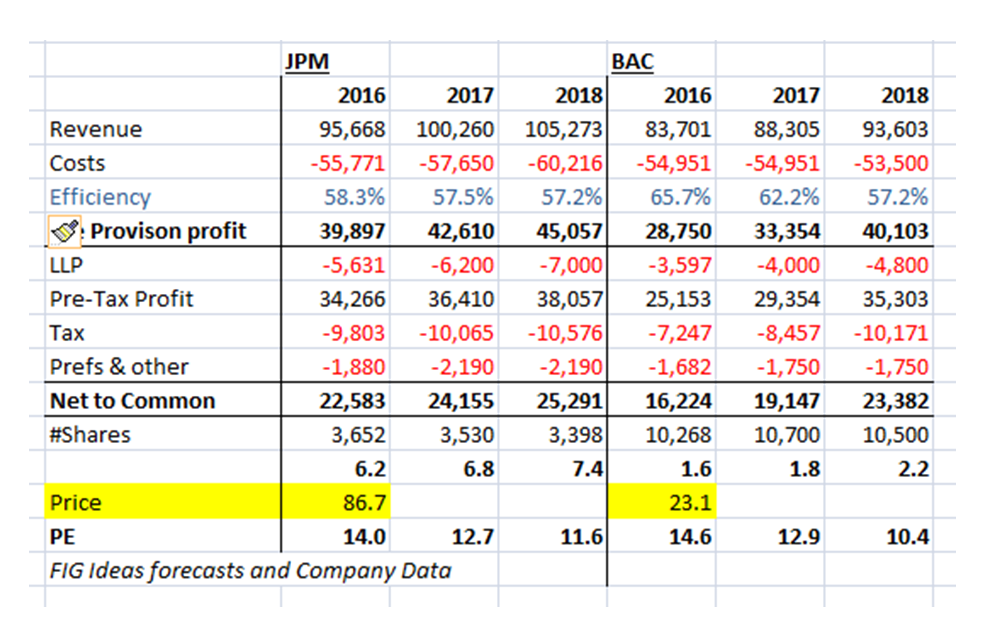 In essence, I see a convergence between these two stocks in valuation terms on prospective 2018 EPS. The main dynamic is the reduction of BAC's cost/income ratio from nearly 66% in 2016 to 57.2% by 2018, which is implied by its underlying cost forecast for that year. BAC is a bit cheaper than JPM out there due to the risks around its cost target. Both stocks should be able to trade around 13x 2018 and should obtain this level one year forward, leaving substantial upside over the next twelve to twenty-four months. All told, the risk/reward is a little higher in BAC. Since it is executing, BAC
Disclosure: I/we have no positions in any stocks mentioned, and no plans to initiate any positions within the next 72 hours.
I wrote this article myself, and it expresses my own opinions. I am not receiving compensation for it (other than from Seeking Alpha). I have no business relationship with any company whose stock is mentioned in this article.