Global markets rang in the New Year with a rally. Japan, Hong Kong, the United States and most of the European bourses all posted gains on the first trading day of 2017. But that's a far cry from a year ago because markets got off to a horrendous start ringing in 2016.
Plunging oil prices and a vicious selloff in the high-yield corporate bond market was pretty much all it took to send the major stock indices reeling towards correction territory.
In fact, at one point towards the end of January, the S&P 500 was down a little more than 10% making it one of the worst starts to a calendar year in the entire history of the index.
Fears of the "R" word - recession - began to pop up.
ISM: A Very Important Leading Indicator
Just have a look at the ISM manufacturing index, which is basically a business activity barometer. Readings above 50 suggest business activity is expanding, which is a good thing. But readings below 50 are considered contractionary, meaning that business conditions are eroding. And that's bad.
In early January of last year, the government reported that the December 2015 manufacturing reading was 48.2. That happened to be the lowest reading since mid-2009, when the U.S. economy was in recession.
(ISM Manufacturing Index: A leading indicator of economic activity)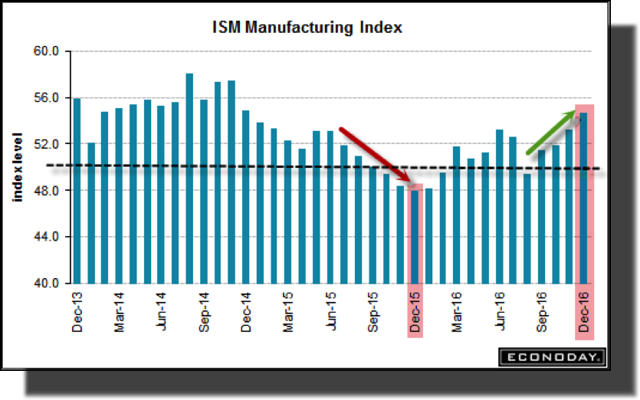 Ironically, that turned out to be the low point in the monthly diffusion index and within two months, the ISM readings flipped from contraction to expansion. Oil prices also quickly found a bottom just below $30 per barrel while the high-yield corporate bond market began attracting heavy institutional demand. So even with that low ISM reading to begin the year, things turned out OK.
Now, as we move into 2017, the markets are starting off on a very strong footing. If you refer back to the ISM chart, the government recently reported the December 2016 manufacturing reading which registered 54.7; that's the strongest in two years!
Oil prices have risen above $50 per barrel, an 18-month high and the yield spreads between junk bonds versus risk-free Treasury bonds have narrowed substantially.
In a sense, 2016 was quite a unique year for the stock market. The S&P 500, despite digging a deep hole during the first two months of the year, still ended up posting a 10% gain, including a flurry of record-high closings along the way. And here's the thing…
The two best-performing broad sectors in the S&P were the very two that the market feared the most, Energy and Financials! As I mentioned, the S&P 500 index gained 10% in 2016.
But... if you happened to have exposure to the Energy sector, you gained 25%. And the Financial sector wasn't too far behind, gaining 20%.
Below is a relative performance chart of the S&P 500 as compared to the Energy and Financial sectors.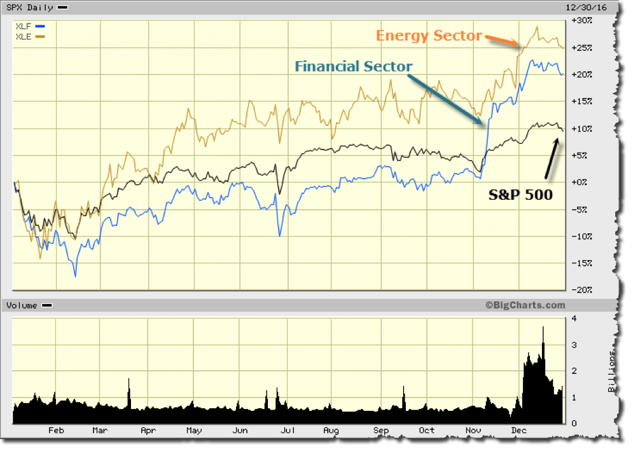 (Financials and Energy were relative outperformers in 2016)
Aside from the encouraging expansionary trend in the ISM data, two other key developments should provide meaningful influence in early 2017.
Strong U.S. Dollar
The first is the U.S. Dollar index which recently broke out to a 14-year high. That's right, "king dollar" finally broke above 100, a key level of resistance that held for nearly two years.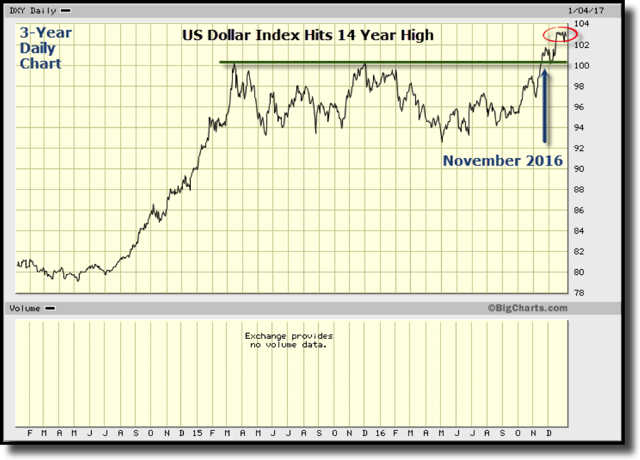 The breakout suggests that an even stronger dollar is more likely than not. And here what's most compelling about the rising dollar. It's rising alongside crude oil prices. You see, since crude oil is priced in dollars, a rising dollar generally puts downside pressure on oil prices.
But as I mentioned earlier, crude oil recently hit 18-months highs. So what gives?
Though it's true that a rising U.S. dollar is generally negative for oil prices, the oil story is more focused on the demand/supply side of the price equation.
Now that OPEC has cut a deal with Russia to curb production output (the agreement went into effect January 1st), this should tighten available supply on the market, which is bullish for oil prices and the Energy Sector.
Also, a strengthening dollar means weakness in other currencies, specifically the Eurozone Euro and the Japanese Yen. These two economies, the second and fourth largest in the world, rely heavily on exports for their economic growth. A weaker currency helps the Eurozone members and Japan by making goods sold abroad much more competitive. So higher expected economic growth means more demand for oil and energy-related products in those two regions.
The bottom line is that, as I mentioned, a strong dollar is happening, not alongside falling oil prices (as is the norm) but alongside rising oil prices. And there's yet another development to take note of.
U.S. Interest Rates are Rising
In December, the Federal Reserve hiked short-term interest rates by 25 basis points, the second time in 12 months. The rate setting committee also forecasts that it intends to raise rates another 75 basis points by the end of 2017.
As for the banking sector, depository institutions have parked about $2 trillion worth of excess reserves with the Fed. Those reserves earn interest. So every interest rate hike accrues directly to the bank's bottom line as profit.
Yields have also moved notably higher at the long end of the curve, particularly yields on 10-Year US Treasury bonds. In fact, after a multi-year downtrend, interest rates appear to have broken out and are poised to climb even higher.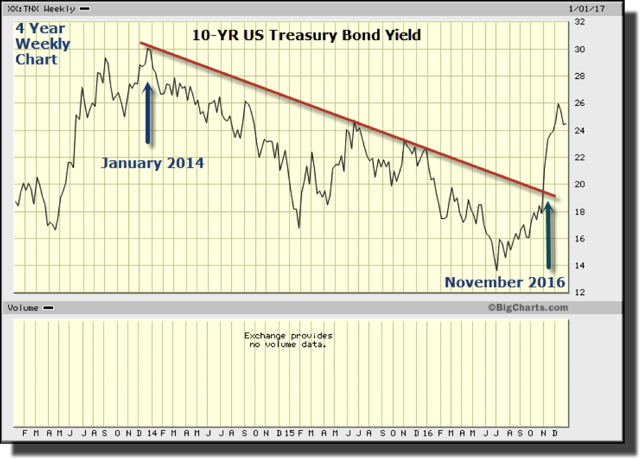 This development is also very beneficial for the banking sector, which can pass along higher interest rates to their customers. These higher net interest margins translate into higher revenues and increased earnings for lending institutions. That's bullish for the Banking sector.
Harness Relative Strength
As the New Year kicks off, investors should continue to focus on the strongest areas of the market. And even though the Energy and Financial sectors have posted market-busting gains last year, there's no reason why the outperformance cannot continue in 2017.
You see, just like in the physical world, momentum is a powerful force in the markets. As long as an asset class, sector, or an individual security continues demonstrating relative strength, it's favorable to maintain the investment - that is, until it begins showing weakness.
And right now, Energy and Financials continue to maintain favorable traits with respect to relative strength.
Keeping a close eye on the movements of the U.S. Dollar, interest rates and key economic data such as the ISM should be a helpful guide as we move through the year.
And if these trends continue, it could be another banner year of outperformance for the Banking and Energy sectors.
Disclosure: I/we have no positions in any stocks mentioned, and no plans to initiate any positions within the next 72 hours.
I wrote this article myself, and it expresses my own opinions. I am not receiving compensation for it. I have no business relationship with any company whose stock is mentioned in this article.