We continue our series of articles dedicated to the CEF space. This article will focus on municipal funds and hopefully reveal some relevant information to our readers who can use it to make better decisions and realize higher returns. Since these weekly reports are a fairly new type of publication we are experimenting with, we would really appreciate your input in their development. Any suggestions and recommendations are more than welcome.
The Muni Benchmarks
As we mentioned in our report from last week, municipal CEFs have exhibited a particularly strong relationship with Treasuries recently. This is clearly visible in the picture below which illustrates the relationship between iShares 20+ Year Treasury Bond ETF (NYSEARCA: TLT) and the iShares National AMT-Free Muni Bond ETF (NYSEARCA: MUB).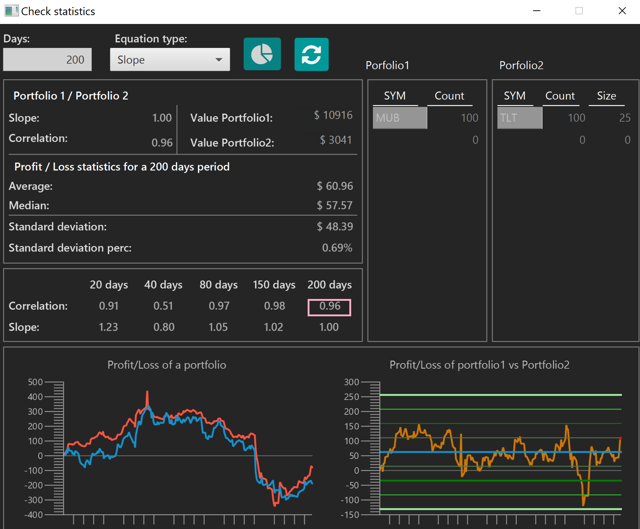 Source: Author's software
For the past 200 days, the correlation between TLT and MUB has been 0.96, which goes to show you that munis have largely been driven by what is happening with Treasuries. With 10-year yields continuing to move lower, TLT has extended its rally into the last week and has taken MUB along. Going forward, as markets become less and less convinced that Trump's proposed policies will come to fruition, we are likely to see further declines in rates that could in turn lead to a continued upward move in Treasuries. If that were to happen, we believe that municipal CEFs will also benefit. So far, we do not see any indications for credit quality deteriorating in the underlying holdings of muni CEFs, so we believe that the macro environment is likely to be the driver behind any future movements in those instruments.
If you want exposure to munis, but at the same time want to limit your exposure to interest rate volatility, you might want to consider the term trusts I listed in my previous article. Those have a much lower correlation with TLT, and to illustrate that, I will give you an example with BlackRock California Municipal 2018 Term Trust (NYSE:BJZ).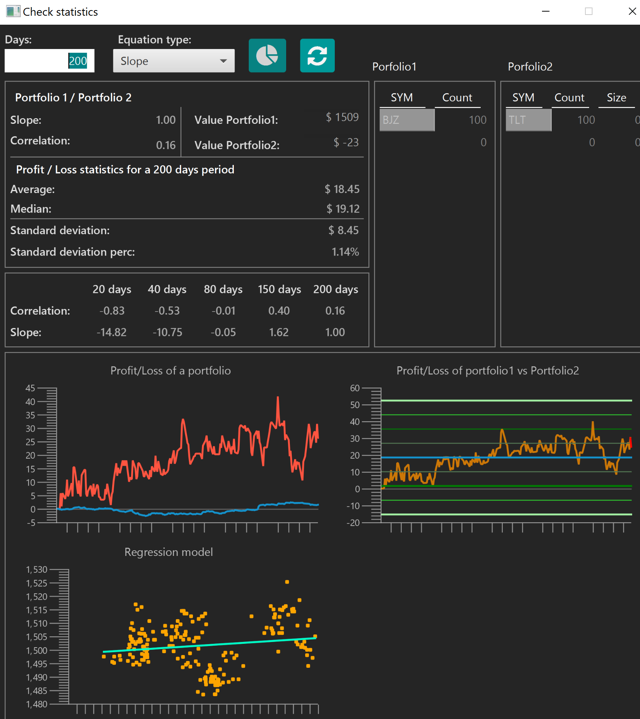 Source: Author's software
Notice that the linear relationship between BJZ and TLT is almost nonexistent over the last 200 days. Not only that, but BJZ has actually moved in the opposite direction to TLT over shorter time frames.
Averages
The average muni looks like this: 3.68% discount, correlation to its NAV of 91%, correlation of its NAV to MUB of 96%, z-score of -0.46.
Top 10 undervalued/overvalued based on 200 days z-score

Source: Author's database
In the table above, you can see 20 funds that have strayed too far away from their NAVs as indicated by their high z-scores. If you are a believer of mean reversion, those funds offer a way to generate profits. Due to the high correlation between the funds on one hand and their benchmarks on the other, you can engage in a pair trade betting on spread tightening between fund and benchmark. If you want to find more details about what exactly I mean by that, you can check my recent articles on BTT, PYN and PCQ here, here and here.
Top 10 premium/discount funds

Source: Author's database
In the list of funds ranked by magnitude of the premium/discount, not much has changed since last week. Again, we see a bunch of Pimco funds trading at a premium. Two of those funds - Pimco New York Municipal Income Fund III (NYSE: PYN) and Pimco California Municipal Income Fund (NYSE: PCQ) we covered in recent articles with links in the previous paragraph. Among the funds trading at the highest discounts, we see a bunch of Nuveen CEFs. I am not going to try to rationalize why the markets don't like Nuveen so much. I am leaving you to decide why that is the case.
A possible pair trade
I propose the same pair trade as the one from last week - going long the 5 funds with the lowest z-scores and shorting the 5 funds with the highest z-scores. Why do I think this is a good trade? Well, check out the chart below.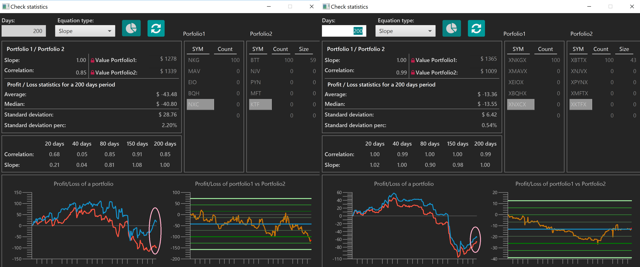 Source: Author's software
You can clearly see the divergence between the returns of the portfolio of the 5 most overvalued funds and the portfolio of the 5 most undervalued funds in the left panel of the picture above. On the right, you can see the relationship between the NAVs of the same two portfolios. The correlation between the two NAVs is almost one. So, fundamentally speaking, engaging in a trade such as the one suggested in the first panel would be very well justified. There is, however, a practical matter you should consider - some of the funds I have used in my proposed pair trade have a very thin daily volume and are sometimes hard to borrow (for the ones in the short leg of the trade). That creates some issues for building a position in the securities and may sometimes lead to forceful unwinding of the trade before it could yield the desired result.
Last week I proposed a similar pair trade to you. What has happened since? Check out the picture below.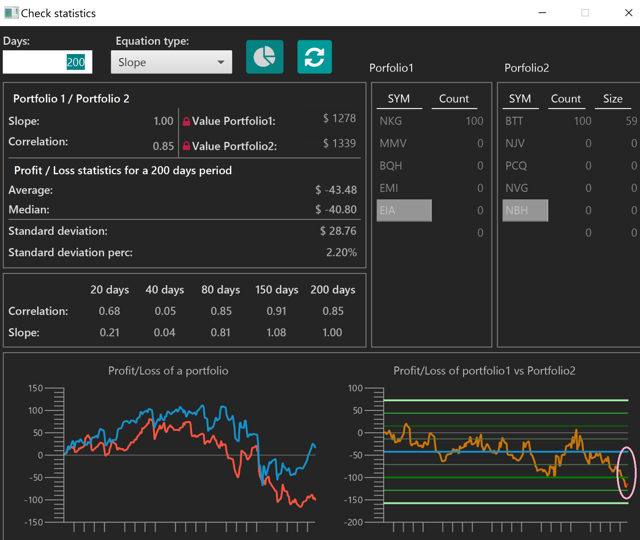 Source: Author's software
Not much has changed so far. Just a small positive uptick. I will continue to track this trade in future articles, so you can see how using z-scores to construct pair trades can improve your profitability.
Dividend cuts
Once again I urge my readers to be mindful of any dividend cuts announced by CEFs. One of the top ten funds with lowest z-scores from the table above has actually suffered a dividend cut recently and its shares took a hit after the announcement. The fund in question is Pioneer Municipal High Income Advantage Trust (NYSE:MAV). MAV was already trading at a discount, and when the dividend cut was announced, it moved sharply lower. Be mindful of the possibility of other funds also suffering the same fate. Funds with the highest risk of price decline are ones that are commanding unsustainably high dividends, are trading at a premium, and have underperformed in recent history. My advice is to stay away from those.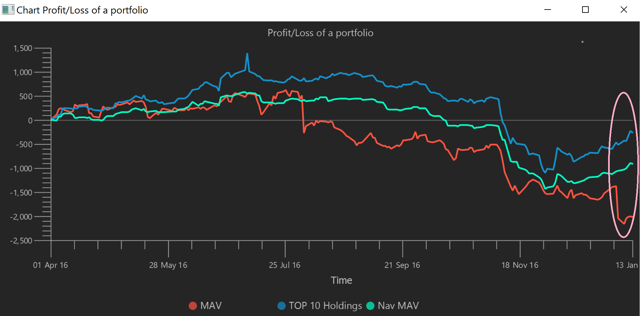 Source: Author's software
How to take advantage of a continued rally in TLT and MUB?
I would focus on muni funds with high correlation with MUB, which are also trading at a discount and command a very low z-score. Nuveen Georgia Dividend Municipal Fund 2 (NYSE:NKG) is one such fund. Below you can see some of the relevant metrics for the fund.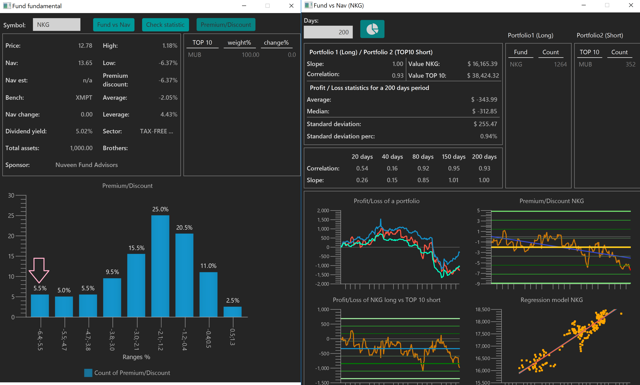 Source: Author's software
Up until recently, the fund was trading at a premium, but now it is trading at a historically large discount. Correlations both with its own NAV and with the fund's benchmark - MUB - are high, so if you believe that Treasuries will continue moving higher, this might be just the fund for you.
Conclusion
Muni CEFs have been trending higher in January in response to the rising Treasuries. In this article, we have presented the top ranked funds in terms of z-score and premium/discount. We also suggested a potential pair trade you can try. Do not throw caution to the wind when you buy munis and try to stay away from CEFs that are likely to cut their distributions. If you believe that the rally in Treasuries is here to stay, you can look into NKG.
The weekly muni CEF report is currently under development, so any thoughts or comments would be highly appreciated.
Disclosure: I am/we are long AKP, EVY, NKG, NUM, EVJ, EMI, BSE,NQP, EIO, MIY, NTC, NPV.
I wrote this article myself, and it expresses my own opinions. I am not receiving compensation for it (other than from Seeking Alpha). I have no business relationship with any company whose stock is mentioned in this article.