For a long time, airline stocks have been seen as safe, dividend-paying value investments. This concept was rejected by Warren Buffett, who has long been opposed to adding airlines to his portfolio. However, two months ago, Berkshire Hathaway (NYSE:BRK.A) (NYSE:BRK.B) added four large airlines to its portfolio:
The airline industry is highly profitable despite having tight margins and having already hit its capacity peak, as I have shown in my past articles on airline stocks. Because airlines are operating on max capacity and tiny margins, the sector is making its extra profits from upsells and specific targeting. For example, many airlines have converted first class into a B2B offering, selling to corporations, who are willing to pay nearly any price, instead of the individuals who, in the past, paid a few hundred bucks extra for some additional in-flight comfort.
The airlines business these days is rather simple:
First, attempt to outspend your competitors to get in front of the buyer.
Second, offer the cheapest possible prices for the flight.
Third, upsell. This is where the real money is made. Charge for meals. Charge for seat selection. Charge for "business class," which is an attempt to replace the first class of yesteryear.
Extra credit: Split some of the ticket prices into a "fuel surcharge," which has no tax liabilities.
The recent addition in the airline industry's profits has been due to fuel prices and taking upselling as a science. Gross profits are not higher than normal, but margins are up because of the maximized load factor (more consumers flying) and lower fuel prices. However, these recent improvements to the sector cannot last in the long term.
What we should expect moving forward is more consolidation and bankruptcies. Indeed, an often ignored fact is that the industry sees an average of 2.4 bankruptcies per year. The business is becoming increasingly commoditized and supported by government subsidies.
Name an airline with a clear unique selling proposition, and I say buy. But you cannot name such an airline…
From this standpoint, Berkshire Hathaway's investment is logical: Diversify over the industry. Hopefully, the analysts at this fund have bought airlines in the expectation that these four major players will be the kings at the end of another consolidation/bankruptcy cycle. Many individual investors look to Buffett as a final indication that an investment is "correct," thus reopening the question as to whether and which airline stocks to buy.
I'm personally partial to DAL, as per my discounted cash flow (DCF) valuation. I looked at DAL last year. This year, I've updated the chart, and it looks more bullish than ever.
Below, you will find novel data analyses for the year of 2017. I have been waiting for FQ4 reports to update these analyses. This article provides 4 novel data analyses:
1. The updated discounted cash flow model for DAL, including all of 2016's data.
2. My DCF model run on:
a. LUV
b. UAL
c. AAL
We begin with DAL: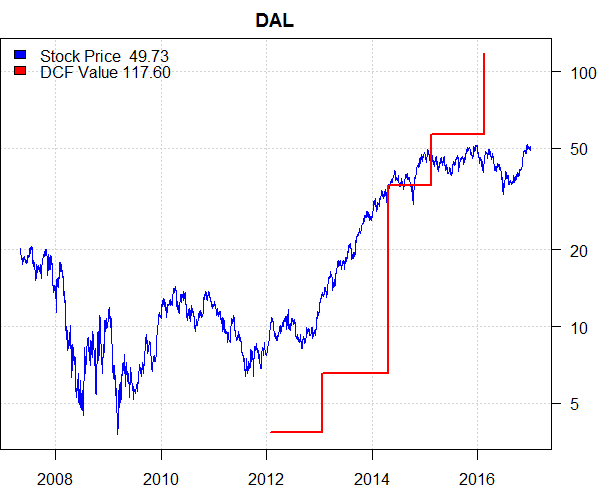 My DCF calculation is likely more sensitive than most standard calculations. However, it appeared to hold accurately for 2014 and 2015. The recent valuation of $117.60 certainly looks high. However, I never put too much faith into the valuation itself, preferring to use the trend as a predictor of the stock price.
Now, the trend is stating that DAL will grow at a rate similar to that of 2014-2015. Note that we also saw a huge increase in the DCF price as DAL quadrupled, from $10 to $40. The trend has been moving upward in an aggressive fashion and is now out of line with the stock price, implying a significant undervaluation.
I recommend DAL on the DCF basis alone, but what about the other players?
LUV is also showing an upward trend in DCF valuation. My model has tracked the true stock price quite well in the past. This is worrisome, as LUV is currently overvalued by 100% according to this model: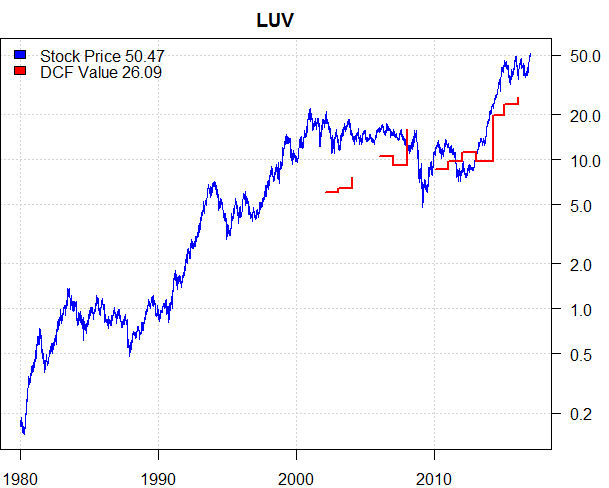 UAL has seen its first signs of future growth prospects in the past three years. Still, the model values the stock at $20 below its current price: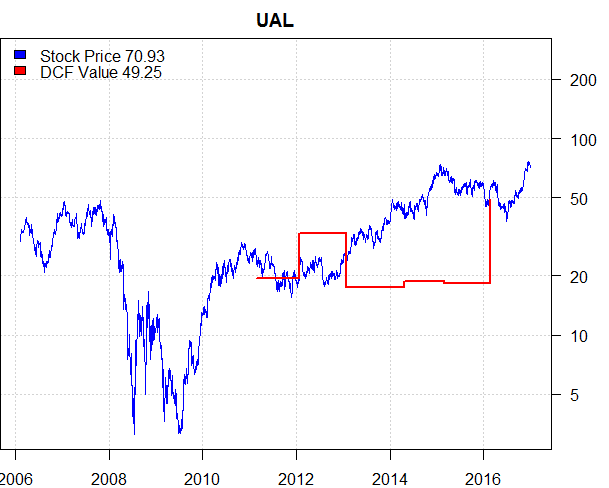 AAL shows a pattern similar to that of UAL's. However, my model states that AAL is fairly valued, or slightly undervalued: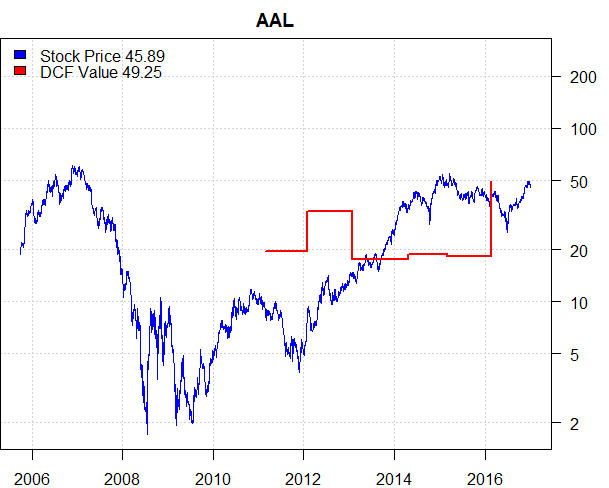 From a DCF perspective, DAL is the clear winner. Other factors should be considered prior to an investment in an airline, and we can look at a LUV-UAL-AAL comparison in a future article if there is enough interest. For now, I think the DCF valuation is a good "pointer" to the best choice for investors looking to invest in a market in which companies are increasingly similar and therefore difficult to differentiate as potential long-term holdings.
If you want a more in-depth comparison of the three "losers," please let me know below.
Notes:
Note: Get my articles as soon as they are published by clicking the big orange "follow" button at the top of this page. Make sure you choose "real-time alerts." Trade alerts sent through this service.
Note: All unlabeled figures were created by me from data pulled from Yahoo and ADVN through R. Charts with blue backgrounds are from Etrade Pro. Fundamental charts from a paid subscription at simplywall.st.
Learn More about Earnings
Exposing Earnings - my earnings prediction newsletter - is now live, here on Seeking Alpha. In this newsletter, we employ both fundamental and pattern analyses to predict price movements of specific companies after specific earnings. I offer specific strategies for playing those earnings reports. To-date, we are 94% accurate on earnings report predictions.
Disclosure: I/we have no positions in any stocks mentioned, and no plans to initiate any positions within the next 72 hours.
I wrote this article myself, and it expresses my own opinions. I am not receiving compensation for it (other than from Seeking Alpha). I have no business relationship with any company whose stock is mentioned in this article.