Whirlpool (NYSE:WHR) is one of the leading manufacturers of home appliances worldwide. The company is headquartered in Michigan and has brands such as Whirlpool, Maytag, KitchenAid, Embraco, Brastemp, Consul and Indesit in its portfolio.
In October, the company released its financial results for Q3, which showed that the revenues declined from $5.28 bln to 5.25 bln Y/Y. Whirlpool management noted that the decline was mostly due to the FX change, since a lot of its operations are in Latin America and other emerging markets. At the same time, net income was $238 million, which is 1.2% higher in comparison with the same period last year.
Earnings per share also improved and were $3.45 in comparison with $3.86 in the year earlier. While analysts expected EPS to be around $3.86, I still believe that Whirlpool could outperform the expectations going forward and show better results in the next quarters.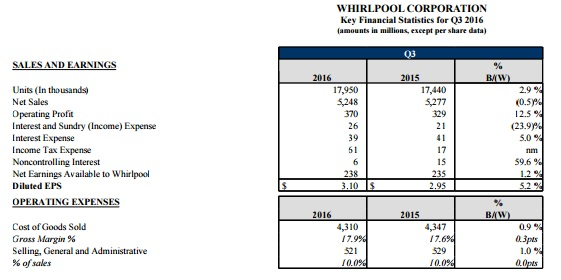 Source : investors.whirlpoolcorp.com
It's also important to note that the company managed to cut its costs by 2.4% and improve its operational profit by 90 points. In my view, those stats show that the company's management is ready to make hard choices in order to improve Whirlpool's stance in the market. A few examples are management's aggressive firing of staff from the unprofitable enterprises in 2014 and the effective use of its resources in 2008-09 that saved the company's profitability in the long run.
Whirlpool also has a buyback program going on. In Q3, the company bought back its shares for $425 million and still has funds left to achieve its $800 million buyback goal for the whole financial year. It's also a good signal for investors to buy Whirlpool's stock at the current market price and profit from the management's strategy to improve its financial metrics and increase its attractiveness.
At the moment, Whirlpool's business share by markets looks like this: North America - 53%, Europe - 25%, Latin America - 16%, and Asia - 6%. The company is also one of the leaders of home appliance in North America with 30% of market share. Also, after the purchase of Indesit in 2014, Whirlpool is constantly improving its stance in Europe, by holding around 20% of market share, which is the biggest share among European manufacturers of home appliance and has a 25% share in Latin America. The only market, where the company is beaten by competition is Asia (around 7% of the market share), due to the domination of the Chinese players that sell cheap home appliance products.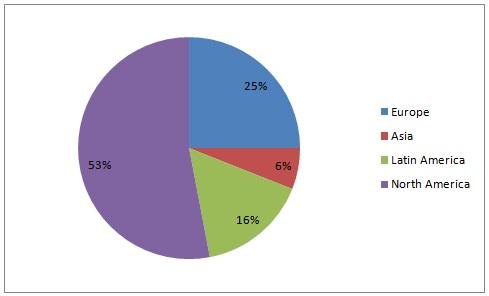 Source : www.whirlpoolcorp.com
As we can see from the chart above, North America plays a major role in the company's business portfolio. If we look at the latest financial data from the US, like Housing Starts, Existing Home Sales, Unemployment Rate, Consumer Sentiment etc., we will see that there is a positive dynamic of growth, which translates into more sales of home appliance products, particularly for Whirlpool.
As for Latin America, the economic situation of the different countries in the region are declining in the last couple of years. Brazil, as one of the biggest players there, leads the decline and will have a negative GDP for 2016 year over year. However, based on the forecast of Brazil's central bank, 2017 will be the year of growth and might bring a lot of positive surprises for the big companies, such as Whirlpool, going forward.
The European market, in my view, also has decent chances for growth in the upcoming quarters. The recent decision of the ECB to continue its QE program will give a push for a more stronger customer purchasing power. In addition, the growth of the real estate market in Germany, France and Benelux countries will translate into more consumer spending for long-term products from the home appliance segment.
Also, the demographic tendency for urbanization in the region will lead to a higher demand for such products. This development will help Whirlpool's major brand in the region Indesit to continue to increase its market share in Europe and benefit its shareholders.
I should also note that Whirlpool is undervalued by all major metrics. Its P/E (ttm) and Forward P/E have a growth potential of 13.3% and 46.2%, respectively. And its EV-to-EBIT and EV-to-EBITDA could grow by 2.8% and 21.6% respectively.

Source : www.gurufocus.com
Besides that, its ROA and ROE are considerably higher in comparison with the Global Home Furnishings & Fixtures industry average and could hint that the current and future investors of Whirlpool will continue to have better returns among its peers going forward.
Conclusion
Considering all the facts that I described above, I believe that Whirlpool is a great investment for those who are interested in the home appliance industry and are targeting the companies for near and long-term growth. Based on the management's past experience to achieve its goals, as was seen in 2008-09 and its ability to successfully cut costs without harming the business are the main reasons to purchase the stock. In addition, the forecasted growth of its major markets will help Whirlpool to continue as one of the leaders of the home appliance industry and reward its shareholders.
My first target is $191 per share. I'm long Whirlpool.
Disclosure: I/we have no positions in any stocks mentioned, and no plans to initiate any positions within the next 72 hours. I wrote this article myself, and it expresses my own opinions. I am not receiving compensation for it (other than from Seeking Alpha). I have no business relationship with any company whose stock is mentioned in this article.