As we move into 2017, I'm getting pounded by YouTube viewers asking for a 2017 version of The Top 5 Dividend Stocks for 2016:
This year, I thought I'd do an article before a video, as articles on SA are more in-depth and the commenters here are more - how should I put it... informed. I'll be making a video as well, but I'd like the article to go up first so that I can send YouTube viewers to this more in-depth look at my dividend picks for 2017. This year, I'm going to focus on 3 high-yield dividend stocks, which I define as paying at least 5% in annual yield.
I might make a more conservative, longer list later, but for now, let's be more aggressive and selective with our picks. Here we go.
#3 Royal Dutch Shell (NYSE:RDS.A) (NYSE:RDS.B)
Many oil investors were waiting for crude to bounce back in 2016. Some are suspecting 2017 will be the year that oil returns to a bull market. I'm not so sure, but at the very least I would like to offer my favorite dividend pick in this industry.
Many investors feel that RDS.A has been irresponsibly spending during an oil bear market. I'm of the opposite viewpoint: A bear market is the correct time to acquire assets, as you can do so at a discount. When oil eventually does rebound, RDS.A will be better positioned than most of its peers to capitalize.
Currently, the stock looks undervalued:

If things even out, we can expect stock price growth in addition to dividend growth. This is more than speculation; it's a current trend. While revenue and profits have fallen, the company still outperforms the energy market: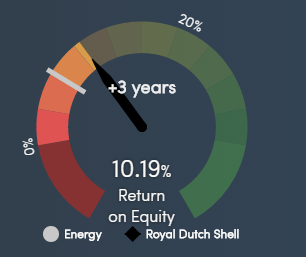 But the dividends are really where it's at here. RDS.A currently offers nearly 7% yield and a rising dividend per share ((NYSE:DPS)). Dividends have increased while the sector's have fallen:

The only reason we see a declining yield is because the stock price has risen. RDS.A seems determined to protect its investors' dividends tooth and nail, negative profits be damned. With oil essentially at a bottom, we have seen how RDS.A acts in the worst of times and should only be bullish when the situation improves.
#2 GameStop (NYSE:GME)
The video game industry has been a hot one for investors this year. With Google (NASDAQ:GOOG) (NASDAQ:GOOGL), Nintendo (OTCPK:NTDOY), and Activision (NASDAQ:ATVI) all gaining huge product catalysts (e.g., Pokemon Go for the former two and Overwatch for the latter), investors have rethought the growth prospects of these stocks and the industry. But while most games are hit-and-miss, retailers stand to profit no matter what's the hot game of the season.
GameStop recently reported a lack of results from its expansion. The stock has been greatly punished, and the stochastics are showing the stock as oversold. The selloff has many investors concerned, but my seasonal analysis shows that most Januaries - about 80% since the stock's public listing - end in the red anyway; the bullish season starts February: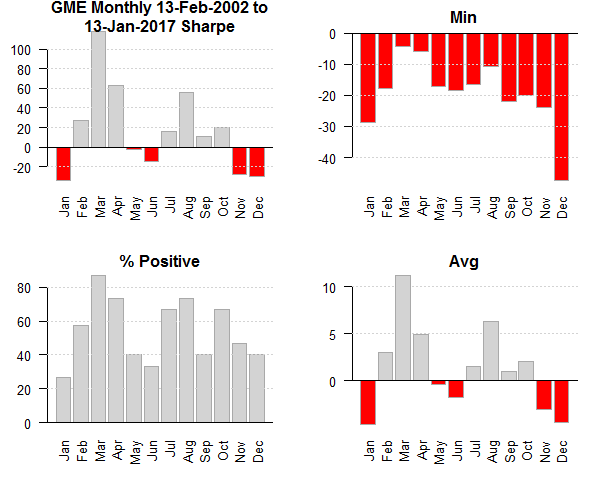 And the situation has only exacerbated since the new volatility regime, which I define as beginning in 2012: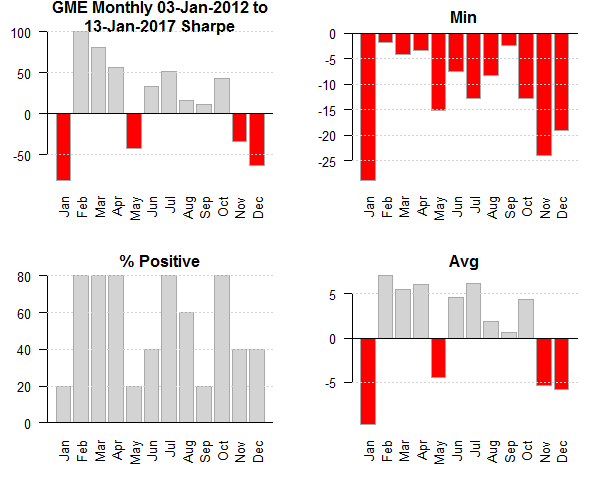 Thus, if anything, a poor start to the year is expected for this retailer, which has traditionally been a poor choice for holiday holdings. Let's look on the bright side: Buying now not only gives you access to the GME bull season but also gives you a fiscally conservative choice of a greatly undervalued stock:

It can be argued that the entire retail industry is overvalued and is punishing the already beaten-down as a whipping boy: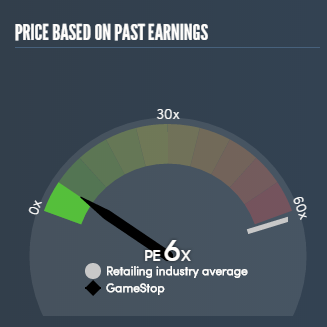 We know from statistical findings that low PE stocks outperform the market and the sector due to mean reversion principles. If you want exposure to the growing video game industry, I cannot think of a better long-term holding than a stock with a 6% dividend yield, highly undervalued, currently oversold, and about to enter its bullish season: GME is the stock to own here.
#1 Braskem SA (NYSE:BAK)
Pretty much everyone agrees that the US market is expensive at the moment, and we are hard-pressed to get value for our money. Many have looked outside the US for growth, unsuccessfully for the most part as 2016 wasn't much greater for emerging markets than for the US market. But hey - at least we have diversification, right?
Now, with a Republican president in office, the US dollar is more likely to acquire strength, making the forex issue an even larger one for investors. Still, some emerging markets have their hidden gems. While not exactly hidden, BAK is not exactly popular either - but it should be.
BAK is one of those rare stocks that offers both growth and value. The dividend, while lacking a stable history, is currently on a violent upswing:

The 7% yield offered comes with the addition of a huge stock price discount. Like the other stocks mentioned, BAK is trading at a significant discount to its future cash flows:

Expected revenue growth is still bullish, and BAK has managed to increase its earnings by 50% over the past five years. The main reason you haven't heard of BAK is its debt issue: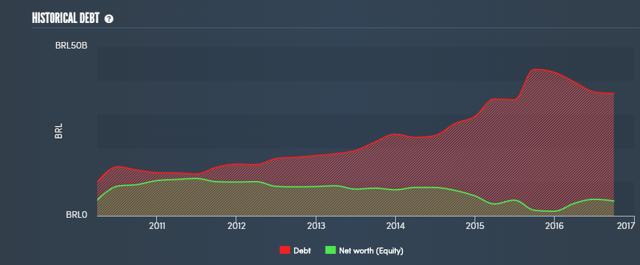 Indeed, the debt risk here cannot be ignored. But BAK has recovered from hard times and still manages to turn a profit: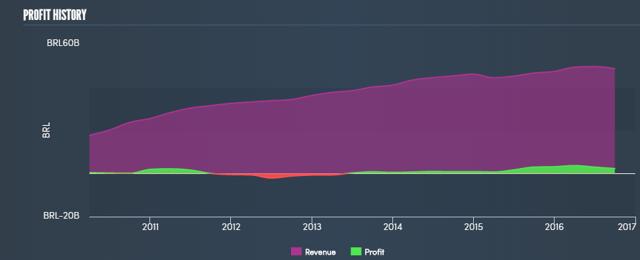 If you see BAK as a growth stock, the above debt charts don't look so strange. BAK has managed to outperform the industry:

BAK is beautiful from every angle, barring that debt thorn sticking out. At the very least, it's worth a look, though you might wish to wait for the dollar to even out before deciding on your entry point.
If this article was helpful, let me know in the comments section below. I can run another dividend article without the 5%+ yield requirement if requested. The 2017 dividend picks video will also be posted on Seeking Alpha, when ready.
Notes:
Note: Get my articles as soon as they are published by clicking the big orange "follow" button at the top of this page. Make sure you choose "real-time alerts." Trade alerts sent through "Copy My Trades."
Note: All unlabeled figures were created by me from data pulled from Yahoo and ADVN through R. Charts with blue backgrounds are from Etrade Pro. Fundamental charts from a paid subscription at simplywall.st.
Learn More about Earnings
Exposing Earnings - my earnings prediction newsletter - is now live, here on Seeking Alpha. In this newsletter, we employ both fundamental and pattern analyses to predict price movements of specific companies after specific earnings. I offer specific strategies for playing those earnings reports. To-date, we are 94% accurate on earnings report predictions.
Disclosure: I/we have no positions in any stocks mentioned, and no plans to initiate any positions within the next 72 hours.
I wrote this article myself, and it expresses my own opinions. I am not receiving compensation for it (other than from Seeking Alpha). I have no business relationship with any company whose stock is mentioned in this article.
Editor's Note: This article discusses one or more securities that do not trade on a major U.S. exchange. Please be aware of the risks associated with these stocks.