Short America, Long Europe - Not A Bad Strategy For 2017
I don't mean to sound unpatriotic, but I'm getting the feeling that as investors, we might be doing ourselves a favor by lessening our exposure to the US and getting more exposure to Europe.
I'm not saying this because I'm worried about what having a loose cannon as president might cause (although I am worried about that). I'm not even saying this because I'm worried about what rising US interest rates could do to American stock prices (although I'm worried about that too).
What my short America, long Europe call is all about is valuation.
High-quality stocks in the US are expensive. High-quality stocks in Europe aren't. It is as simple as that.
First The Expensive - The S&P 500
I learned to swallow my pride years ago. I'm smart enough but I'm no genius. I am certain that there are much better investors in this world than I.
So what I decided to do was think less for myself, and instead start paying attention to what all of the truly great investors are saying. As soon as I started doing that, I started learning more about investing than I ever knew before.
I also started making better investments.
Today, what the great investors are saying (for the most part) is that the S&P 500 is expensive. When a bunch of the really top investors start saying the same thing, I take it to most likely be true.
What I've been doing over the past few months is gathering data on what the S&P 500 valuation actually looks like today. I have to tell you, it is concerning.
First, the length of the current bull-run frightens me. How long the market has been rising isn't a data point on valuation, but it isn't useless information either. Today, we are coming up on eight full years into a bull market. That is the second longest bull market in the history of the S&P 500.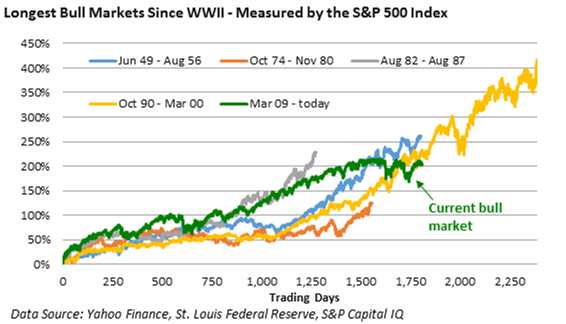 Source: Monument Wealth Management
The chart above is as of last April when the current bull market became the second longest bull market in history. We have added almost another 300 days to that since then.
The length of the bull market concerns me. The valuation of the market concerns me a lot more.
I found these data from Goldman Sachs that I came across last week especially concerning.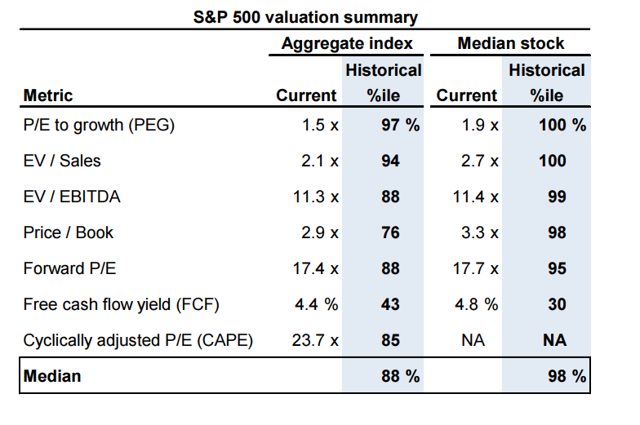 Across seven different valuation metrics, the market today isn't just more expensive than average, it is in the 88th percentile for the aggregate index and the 98th percentile for the median stock.
Honestly, I don't know what more I would need to see to be convinced that valuations are dangerously high today. That makes me uncomfortable heading into a rising interest rate environment.
Across The Pond - You Can Get Quality At A Reasonable Price
When I first got into investing, I was a real dumpster diver. I was so obsessed with buying what was the cheapest looking stocks using traditional valuation metrics that I ended up building portfolios full of mediocre companies.
The nice thing about investing is that you really do get better with experience. You don't peak at 30 or 40, you can keep improving as long as your mind stays sharp. I've learned (painfully) that buying really good companies at reasonable valuations is better than mediocre companies at really cheap looking valuations.
Today, in Europe, I think that many world-class companies can be had for reasonable valuations. That is something that I don't think is true in the US, and the Goldman data back me up on that.
If you would take a look at the chart below you will see the performance of the S&P 500 (NYSEARCA:SPY) over the past five years laid out against the performance of the Vanguard FTSE European ETF (NYSEARCA:VGK).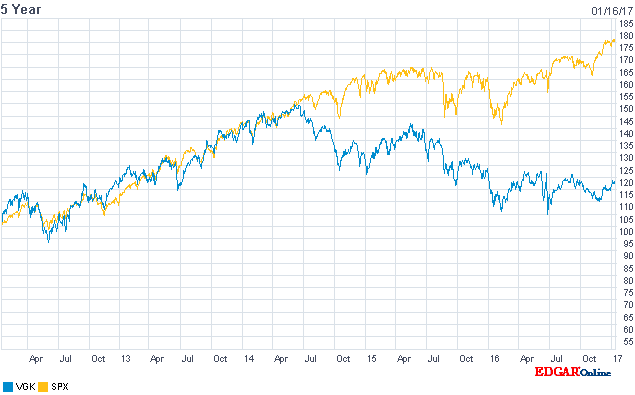 Source: Nasdaq.com
The performance isn't even close. While the S&P 500 is up 80%, the European ETF is up only 20% over the same five-year period.
This European ETF that is heavily weighted to some of the highest quality companies in the world can be had for almost the same price at which it was available five years ago.
The ETF has 1,256 different holdings with 17 percent of its assets invested in the 10 companies that are listed below. The expense ratio on the fund is only 12 basis points (0.12%).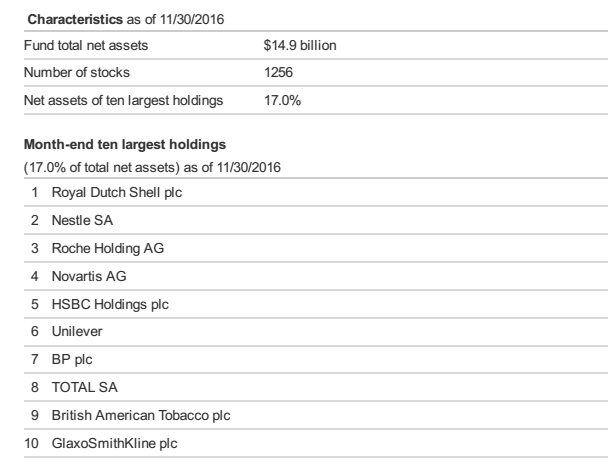 Source: Vanguard
Today, I think buying an ETF or index fund that matches the performance of the S&P 500 is looking for trouble. Buying a similar investment that provides exposure would be a much better option.
I'm not pounding the table on this ETF, but I do think there are worse places to hide out what could be a bumpy couple of years here at home. Also, important to note would be that VGK is not hedged so investors are exposed to the Euro and the Pound. British stocks make up 30 percent of the holdings.
If you don't like that, you can look to other ETFs that do hedge out the currency exposure.
Please make sure to click the "real-time" follow button at the top of this article if you would like to receive more of our articles in the future.
About The Superinvestor Bulletin
The ideas that make up our portfolio are currently ahead of the S&P by 12.58% on average since inception (as of January 6, 2017). We just released our latest idea which represents a staggering 15 percent of the portfolio of a world-class activist investor who has averaged 20% annualized returns.
With the activist investor providing the catalyst to realize value, we believe that this company would be a great one to own should the market find itself in a correction.
You can take a free trial of our service here and lock in our current subscription rate of $169 per year. As of February 1, 2017, our subscription rate increases to $195 per year.
Disclosure: I/we have no positions in any stocks mentioned, and no plans to initiate any positions within the next 72 hours.
I wrote this article myself, and it expresses my own opinions. I am not receiving compensation for it (other than from Seeking Alpha). I have no business relationship with any company whose stock is mentioned in this article.