The euro has been off to quite a positive start for 2017, rising significantly against the greenback: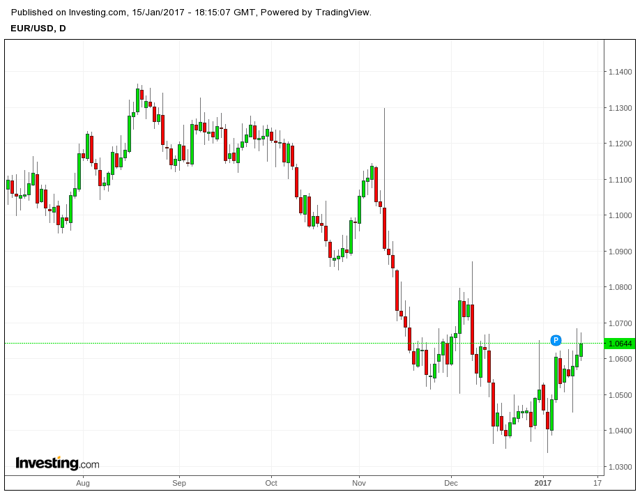 Particularly, the euro has seen quite the rise against the British pound upon reports that the United Kingdom could be preparing to leave the single market: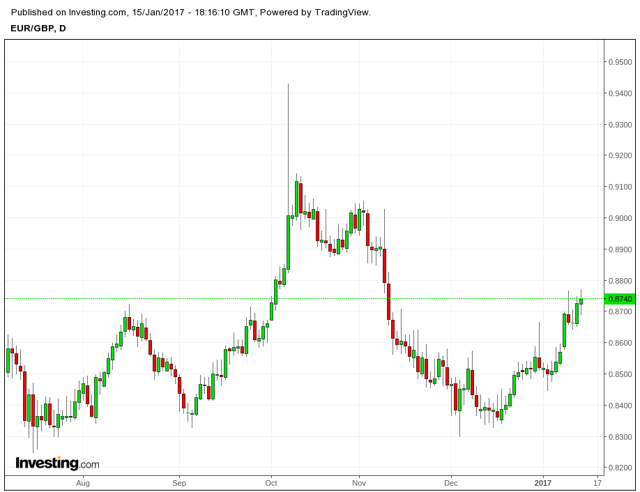 In a previous article, I had expressed my bearish sentiment on the euro due to an ECB policy of extended quantitative easing being deemed necessary to boost inflation rates, as well as fears of a right-wing resurgence across European countries spelling trouble for the future prospects of the currency.
With these fears in place, why have we not yet seen euro-dollar parity, which has been anticipated since 2015?
Since the rally in the greenback in light of a rate rise in the United States, it is only expected that the dollar has seen a decline since the start of the year. As far as the euro is concerned, the currency still has significant concerns on a fundamental level - with former French finance minister Emmanuel Macron arguing that the euro may not even be around in ten years unless the currency undergoes significant reform - primarily the need to account for the fact that a uniform monetary policy has failed to equally serve various European economies with different dynamics.
In the more immediate term, the euro has been on the longest winning streak the currency has seen since 2014. While there are concerns for the euro over a longer term, what could we see going forward?
On the basis of current trends, it looks more likely than not that we could see the euro strengthen up till March, as the run-up to the triggering of Brexit by the United Kingdom will likely lead to further pound weakness, and apprehension regarding elections across major European countries will likely kick in after such time. In the meantime, the eurozone economy remains strong, with industrial output in November 2016 having risen by 3.2% from the previous year.
In this regard, we could see the euro strengthen further and test the 1.10 mark against the dollar.
Disclosure: I/we have no positions in any stocks mentioned, and no plans to initiate any positions within the next 72 hours.
I wrote this article myself, and it expresses my own opinions. I am not receiving compensation for it (other than from Seeking Alpha). I have no business relationship with any company whose stock is mentioned in this article.